Singapore's 'bad boy' chef Ryan Clift says he's happier than he's ever been
Between running Tippling Club and having big roles in home appliance brand V-ZUG and fine dining establishment V-DINING, he even made time to drop by MasterChef Singapore.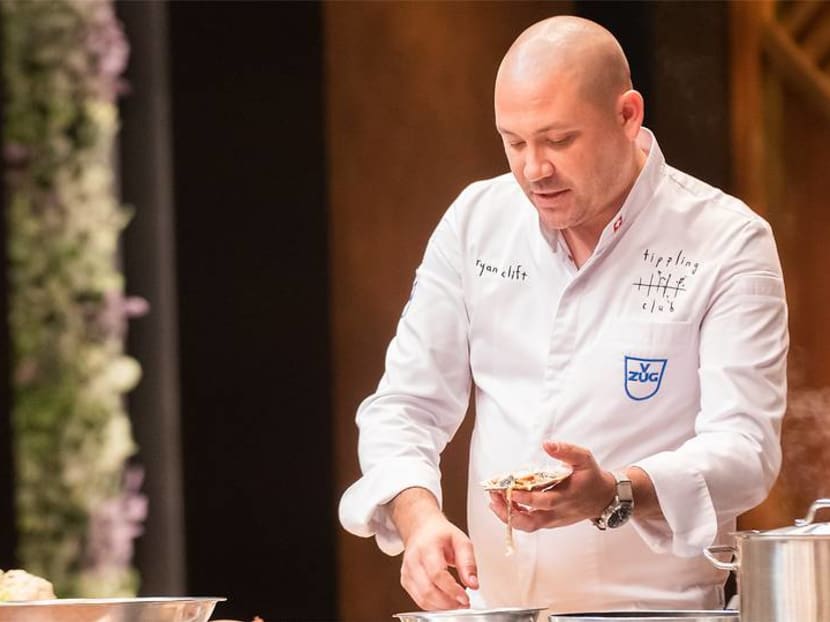 Despite the bad boy public persona he's got going, Chef Ryan Clift proved an empathetic figure during his Keeping Up With The Chef segment in MasterChef Singapore.
In the show's most recent episode on Sunday (Mar 21), contestants tried their darndest to follow along with Clift while he made a faux boudin noir with seared scallops and cauliflower veloute at high speed – as the British chef dished out nuggets of advice and compliments with a side of cheeky smiles.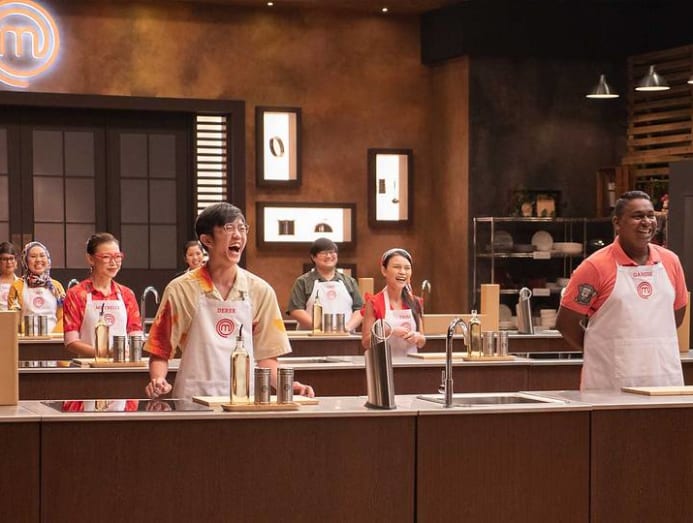 This chippier disposition may have something to do with the fact that Clift "has never been happier". In a recent interview with CNA Lifestyle, the 44-year-old let on that he had given up drinking five months ago, a move he describes as "an eye-opener and a life-changer".
"(It's given me) more energy and I've become more focused and creative. I've been doing this professionally for 30 years and, looking back, I think about the number of times I haven't had the drive or creativity, it's purely because of alcohol. It's a sad realisation, but it is a realisation and I'm happy that I've finally realised it and done something about it," he said.
His renewed energy is now parlayed to 10 kilometres on the paddle board every morning, weekly golf games that keep him calm, and his varied roles as chef-owner of his acclaimed restaurant and bar Tippling Club, global ambassador of Swiss home appliance brand V-ZUG, and culinary director of its fine dining establishment V-DINING. 
"I'm feeling the best I've ever felt in my professional life and I'm excited about what we are doing. We are far more creative in the restaurant now. And in my personal life and professional life, it's just a lot better. I'm very happy; it's the happiest I've been."
Now, firmly anchored in Singapore, Clift said that post-pandemic business has been successful for Tippling Club and that it has drawn a new set of clientele that had not noticed the restaurant before the coronavirus made it to our shores.
"My focus is now here. The Bali thing was good for a while," he said referring to the restaurant Grow in Seminyak, which he established but no longer has ties with. "But it loosened my business here, so I've planted myself here now and have taken Tippling Club back to where it was. It's now my baby; it's got me behind the range again."
His regular presence at the restaurant means that Tippling Club's menu changes constantly. "I like to change things. Ours is not a restaurant that constantly keeps the same menu for a year. It was a bit slow when I was not here, so it's more about keeping the development (going). It was more about me getting frustrated that things weren't developing fast enough."
Next on the cards is Tippling Club's takeover of Japanese restaurant Noka by Open Farm Community. "We will be overseeing and re-designing the menu," he explained. "There will be a small change in aesthetics and a slight rebranding but it will still be Noka. All the food will be created by me and I have two sushi chefs that will work alongside me."
Noka's new menu is slated for launch in end-April or early May.
New episodes of MasterChef Singapore air every Sunday on Channel 5 and meWATCH at 9.30pm, with reruns every Wednesday, 7.30pm on Channel 5. You can also catch up on meWATCH.