Kitchen Stories: The personal tales behind the tattoos of Singapore chefs
CNA Lifestyle traces the personal and culinary journeys of three Singaporean chefs through their body art.
If you're dining at a restaurant and you glance into its kitchen, chances are, amidst the flurry of pots, pans and plates, you'll see a heavily inked arm here and a full sleeve there – greyscale patterns on skin weaving through the method and madness.
Chefs are known for being visual artists when it comes to what's on the plate, but from the empirical evidence, it certainly seems like they enjoy making canvases of their bodies, too.
Why do so many of them have an affinity with tattoo art? Kenneth Foong, head chef at Cure, feels it has to do with the profession's particular brand of emotion and expression. "I think chefs tend to be the kind of people who wear their hearts on their sleeves – quite literally," he said.
It helps that "in our working environment, people don't judge that much," said Jeremmy Chiam of Le Binchotan. "People would probably be sceptical of, say, a doctor with a full sleeve."
In a kitchen, where you have to roll up your sleeves and get to work, you're allowed – maybe even encouraged – to communicate your sensibilities in the most direct way possible.
But what's the point of expressing yourself with body art if nobody asks you about it?
We asked if we could explore the stories of these chefs by navigating our way through their tats – and found a maze of heartfelt narratives living on the skin of their arms. 
JEREMMY CHIAM: A CHEF'S ASCENT, A FATHER'S LOVE
Jeremmy Chiam isn't just the head chef of buzzy, back-alley-chic Le Binchotan in Amoy Street. As of December last year, the 32-year-old has taken over the reins and is now chef-owner, piloting the business as the kitchen serves up his signature French-Japanese dishes, shot through with the smokiness of binchotan or Japanese white charcoal.
It's not the easiest path to choose for someone who describes himself as happiest in the kitchen, but the chef constantly pushes himself out of familiar territory into brave new worlds for one reason only: His son.
For the past seven years, Chiam has been a single dad to nine-year-old Asher, and the ace of spades inked on the inside of his left bicep is a reminder that "I want to ace whatever I do for my son".  
Another tattoo, of a cherub with a banner proclaiming, "Don't you worry, child", was inked onto the inside of his right bicep after his divorce, during which he obtained full custody of his son. "I was in bad shape back then. After things got on course again, I went and got this," he said.
On his left torso, a giant black koi swims powerfully up his back towards his shoulder blades. "In Japanese culture, black koi represent determination and perseverance," he said. "Throughout the course of my career, it's always been 'never back down'. Even when I'm at the bottommost point in my life, I'll crawl back up. Legend has it that if a koi is able to swim past the strong current to reach the dragon's gate, it will one day become a dragon."
For Chiam, who honed his skills working in kitchens, including that of modern European institution Iggy's, inspiration is abundant in Japanese culture, thanks to one of his early mentors Yoshitake Hiroki of Michelin-starred Sola in Paris. This is evident in his creations, such as uni and caviar on corn mousse, or littleneck clams served with vichyssoise and sake broth.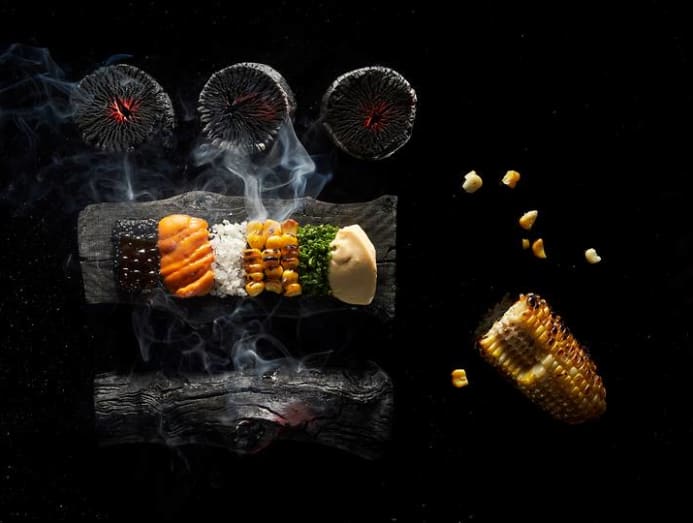 The black koi motivates him to keep challenging himself. "In life, no matter what you do, whether you're a chef or something else, there are always ups and downs. If you don't go against the current, you'll be swept away. It's about pushing yourself to the end," he said.
As chef-owner of the restaurant, he is able to express himself "further and better". "When you work for somebody, sometimes, the business owners only care about numbers, or they don't understand the direction. Sometimes, they don't even understand food. I want to stick to what I believe in, that food is for everybody, and everybody should have the chance to savour it. People should be able to enjoy quality food without spending lots of money on it."
One of his favourite meals to cook is the daily staff meal at Le Binchotan. "We all sit and eat together, even the cleaner. We see one another more than we see our own families, so the staff meal is something I place a lot of emphasis on."
They say that food is about love and family; in Chiam's case, that's true in more ways than one, and that truth is inscribed on his body.  
KENNETH FOONG: PAST, PRESENT, FUTURE AND FLOW
The first piece of ink that modern European restaurant Cure's head chef Kenneth Foong decided to put on his body was both an introspective guiding force, and an homage to the culinary forces that shaped him: The phrase, "Tourne vers demain mais soucieux d'hier".
The motto of renowned French chef Pierre Gagnaire, it means "looking towards tomorrow but respectful of yesterday," explained the 29-year-old. Gagnaire is the mentor of Andre Chiang, with whom Foong began his career in fine dining at Restaurant Andre in 2010. He went on to work for six and a half years in New York City in the kitchens of Eleven Madison Park and Betony before returning to Singapore nearly two years ago.
Foong recalls how Chiang's cuisine was about building on and respecting the classical principles of cooking, while attempting innovation and pushing himself to be better. "That's what he used to tell me. I held on to that for a very long time."
Having worked in some of the world's top restaurants, Foong is a chef who holds to a philosophy of studied simplicity. "The way I compose my food tends to be with very clean lines. A lot of technique goes into making said food, but you may not necessarily see it on the plate. It's not a plate with 25 different elements that looks like a skate park. Instead, the essence of simplicity is in it. That does not mean it's simple to make, but that it's not unnecessarily complicated."
Clean lines happen to be what he appreciates in tattoos, too. "I like very traditional, Japanese Irezumi-styled tattoos, but I don't want their bold lines – I tend to like a lot of details and very clean lines," he said. "A lot of my work tends to lean towards more neo-classical Japanese styles. If I were to sum it all up, I would use the word flow – you can see water, you can see flowy hair."
On each of his biceps sits a woman with undulating hair: The one on the left is modelled after an art piece by Japanese-American artist Audrey Kawasaki; the one on the right, a painting by Taiwanese-American artist James Jean. The struggles and triumphs of these artists inspire him, as do their works, in disparate ways. 
On his arms, there are also the patterned tentacles of an octopus through which small red flowers weave their way. There are foliage, cresting waves, and the Empire State Building, the Chrysler Building and the World Trade Centre – icons of a city that welcomed him, trained him and honed his culinary identity.
"A lot of the artwork is modernism, but not quite. The way that I cook tends to be like that, too. I'm classically trained, so I use French techniques, of course, but a lot of it also draws on flavours that I'm familiar with and competent in. I draw from a lot of Japanese cuisines – working with Andre opened a door to all those flavours – and a lot of local flavours as well," he said.
And while food is this artist's chosen medium, art is also a stimulating force. "It's important to look for creativity or inspiration outside the medium that you're comfortable with," he said.
SAM CHABLANI: FROM DESTRUCTION TO PEACE
A beetroot, an ear of corn and a cinnamon stick dance around a whisk; a Peugeot pepper mill and what he calls "a war chicken in a pot" sit on the left forearm of Chef Sam Chablani - the lean, mean, grillin' machine of Asian barbecue restaurant Fat Lulu's. 
The 34-year-old has taken charcoal-grilled satay and smoky ribs to new heights of audacity, but if you ask him about his cuisine, he'll just tell you: "Essentially, I just burn everything and I enjoy it."
There's also a steampunk squid on his right arm because "I really love squid. I was obsessed with cooking squid for the longest time." Guess that tattoo is what you'd call squid ink.
Chablani is currently on hiatus, having closed Fat Lulu's in its River Valley location, but is gearing up to re-open in a central location come Oct 1. (Meanwhile, you can catch him grilling at the electronic music festival Ultra Singapore next month.)
On the inside of Chablani's right forearm sits his very first tattoo, which he got at the age of 27 while working at the Michelin-starred Gotham Bar and Grill in New York City: The simple words, "Live to cook".
"During that week, I had connected more with food than ever before. For the first time in my life, I realised that this was what I wanted to do for the rest of my life: I wanted to cook," he said, adding: "The best part was that I was away from my mum, so she couldn't yell at me for getting a tattoo."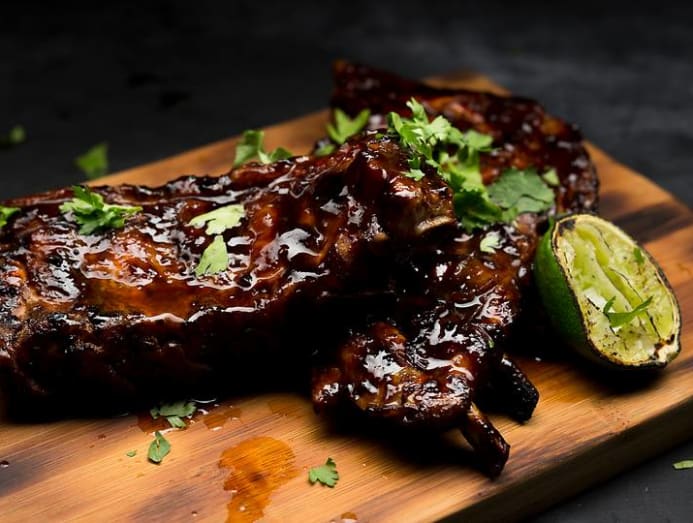 His second piece of ink consists of the words, "Be the change", on his right forearm. "When I came back to Singapore, I was very frustrated by the food scene here. A lot of it was freezer-to-fryer, salaries were really low, anybody who wanted to be a chef was looked down upon. And if you were a girl, it was like, just become a pastry chef. It was a very negative industry about six years ago, before the rise of culinary schools," he said. 
"So, I made it a point that one day, no matter what I did, I would try to change the way people viewed this industry."
For Chablani, this meant becoming "a chef instead of just a cook", so that he could provide an environment for young chefs to learn. "It's not just about food. Food is just 20 per cent of it. It's about your attitude," he said.
Next came the words, "Cook with your heart", inscribed on a knife on the outside of his right arm. This is his favourite tattoo, he said. Chablani had it done when, during a stint as head chef of The Steakhouse in Clark Quay, he had sharpened his skills so finely that he was able to sense rhythms in cooking. 
"You could look at the steak and tell when it needed to be flipped. These were feelings I was overwhelmed by. It was like this amazing high," he said. "You could close your eyes and imagine a whole service – and you would be completely chill after a storm. That was what 'cook with your heart' was about – letting go and focusing on what's within instead of what's in front of you." 
The panoply of kitchen paraphernalia came later, along with the words, "Curiosity", "Obsession" and "Clarity", standing for his idea development process.
Even though the piece comprises his favourite foods and tools of his trade, he calls it a "dark" tattoo because "at that point in time, I was a very angry chef". A partnership with unreliable investors resulted in his opening a restaurant that closed within three months, forcing him to fight for the staff to be paid their salaries. "That was the dark part in my life in cooking, where I was destroying myself," he said.
Confidence was fought for and salvaged by way of being appointed consultant chef when barbecue restaurant Naughty Nuri's opened at Capitol Piazza, and by the time he opened Fat Lulu's, he had gained valuable lessons and regained peace of mind.
Eventually, he said, he'll ink his way up his arms, moving "up into something with a more heightened state of inner peace". 
"I'm trying to build a deeper connection with food and with myself. The obsession is there always," he said.
Hair and makeup: Joanna Ang, Sono Bello