Winging it: 5 chicken alternatives that taste just like the real thing (sort of)
Don't be in a fowl mood over the chicken export ban. From frogs legs and crocodile meat to cultivated cell-based meat, CNA Lifestyle has a list of alternatives to consider.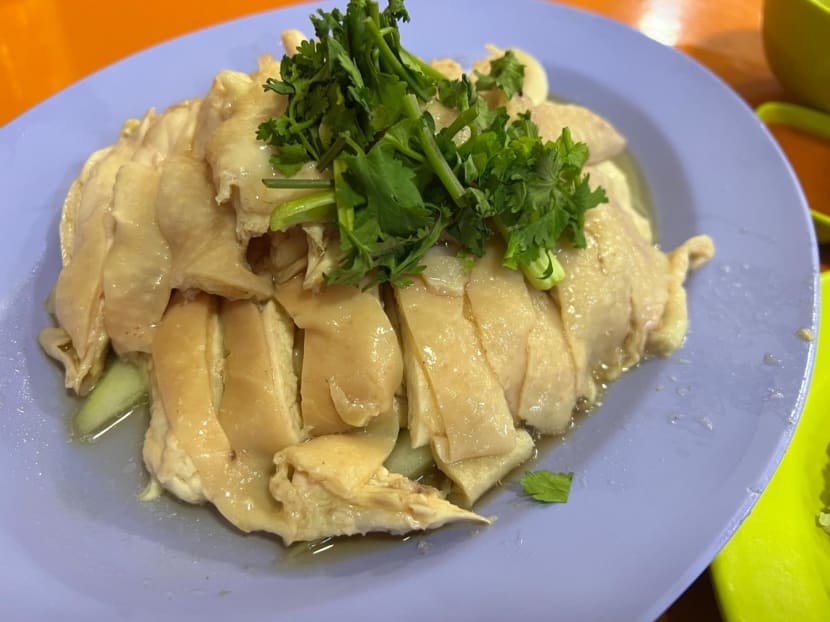 Malaysia's chicken export ban has ruffled some feathers across Singapore. And understandably so, seeing as how chicken is a mainstay favourite of pretty much everyone on the island.
Between buying out fresh stock at markets and fretting about its impact on our chicken rice fix, Singapore has been, well, in a bit of a fowl mood.
But as they say, eggs-traordinary times calls for eggs-traordinary measures. Yes, we know chicken is still available, but we thought, why not look at some alternatives, which have either the mouthfeel and texture or the taste of the real thing. And in some cases, even both!
So reject the urge to hoard fresh chicken, don't succumb to Carousell's insane listings and give these five foods a try. You'll be surprised.
FROGS LEGS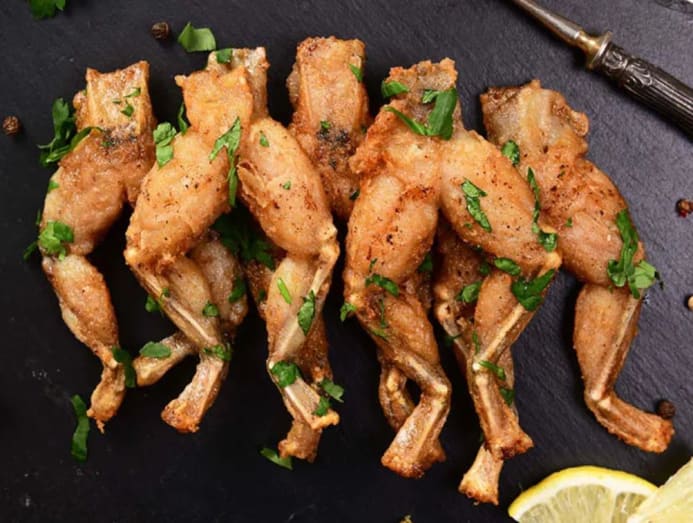 Not only is this lean white meat very often compared to chicken both in taste and texture, but it's also high in protein, low in calories and is packed with healthy Omega-3 fatty acids. It's also rich in minerals, such as potassium, iron and even a little bit of calcium. And we haven't even begun highlighting the numerous vitamins it boasts, including vitamins A, D and E.
Available farm fresh at Jurong Frog Farm, or at supermarkets like NTUC Fairprice. Also check out the many famous frog porridge stalls across the island like Geylang's Eminent Frog Porridge.
Taste: Incredibly like chicken when grilled or boiled (more like white fish when deep fried or sauteed).
Texture: Most similar to chicken wings.
Chick o'Meter: 4 clucks out of 5
CROCODILE MEAT
If you've never dared to try this exotic meat, now's the time. Because crocodile, according to aficionados, really does taste like chicken. And it truly isn't as strange as it may seem. Did you know that many parts of this aquatic reptile can be eaten, including the jaw, tenderloin, body, tail, ribs and, yes, feet?
The latter is said to boast a flavour and texture which resembles frogs' legs (something we already recognise as "chicken adjacent").  And similar to frogs' legs, crocodile meat has one of the highest protein and lowest saturated fat content in any lean meat, rivalling even that of chicken breast.
Exotic food devotees also attest to crocodile meat being an excellent superfood for regular consumption – it has anti-carcinogenic and anti-arthritic properties (said to be helpful in reducing the symptoms of inflammatory diseases such as asthma and arthritis), rich vitamin and mineral content as well as naturally-occurring Omega-3 fatty acids (great for heart and brain health).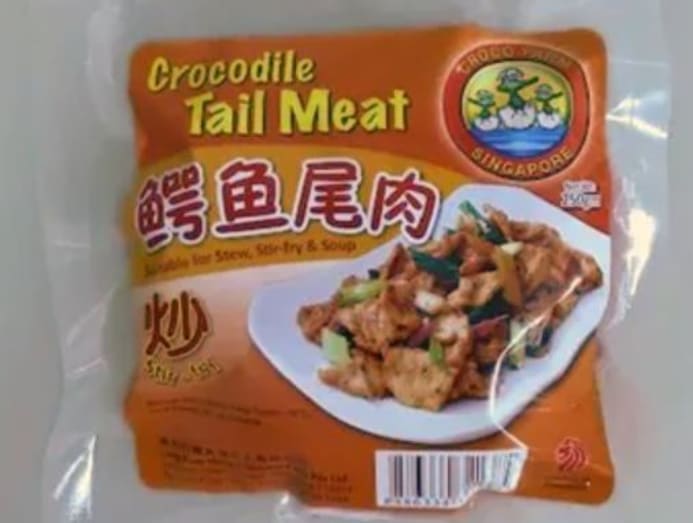 Available from Long Kuan Hung Crocodile Farm via websites like www.qoo10.sg, Jurong Frog Farm, or at The Dragon Chamber presented as "Dragon Claw" – a dish of Singapore-farmed crocodile foot braised in herbal sauce served on a bed of kale.
Taste: The meat found in the feet has the closest taste to chicken, especially braised, or in a soup.
Texture: The torso and tail of the crocodile has a texture very similar to chicken but a taste that may also lean towards being mildly fishy.
Chick o'Meter: 3.5 clucks out of 5
TINDLE
Yes it does sounds like a certain online dating app. But that shouldn't put you off this plant-based protein which really tastes and looks like chicken.
TiNDLE bills itself as an alternative to chicken thighs, is non-GMO and is made entirely out of plants. It comprises only nine ingredients, including water, soy, sunflower oil and coconut fat.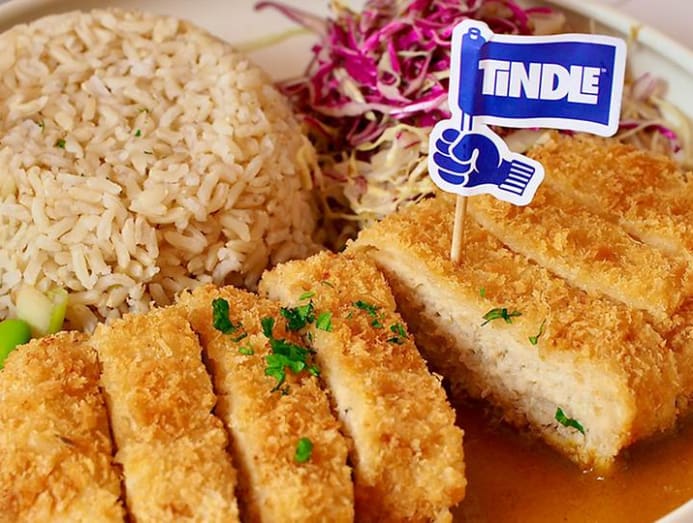 According to its makers Next Gen Foods, it's also "antibiotic- and hormone-free" and has been certified by Singapore's Health Promotion Board as a Healthier Choice option, with less saturated fat and sodium than other plant-based alternatives in the market.
And the overall realism, especially in patty form, is pretty uncanny – the taste, mouthfeel and texture are all on point.
Available in many restaurants across Singapore, including Three Buns Singapore by Potato Head, Love Handle Burgers, La Takorea @Harry's, Prive, Little Farms Bistro and Moonbow. 
Taste: Almost like the real thing. The key to TiNDLE's chicken-like flavour is all in its proprietary blend of plant-based ingredients – these soy-based chicken pieces uses "lipi", the trademarked mix of plant-based ingredients which emulates the smell, aroma and browning of a chicken when cooked. 
Texture: It has a defined, fibrous texture that looks convincingly like chicken.
Chick o'Meter: 4 clucks out of 5
GOOD Meat
How do you feel about eating "real chicken" with no animals involved in the process and that's not a plant-based protein.
That's what Eat Just's GOOD Meat is all about – cultured or cell-based meat that is developed in laboratories using animal cells, with nary a plant involved. This means, the meat is "grown", cell by cell, muscle fibre by muscle fibre, in a bio-reactor. And it's billed as "real meat".
Eat Just – a Californian food start-up responsible for bringing the world's first lab-grown chicken to tables – has made Singapore home to the company's Asia-Pacific headquarters and first factory in Asia. Two years ago, Singapore became the first nation to grant regulatory approval for commercial sales of Eat Just's cultured chicken.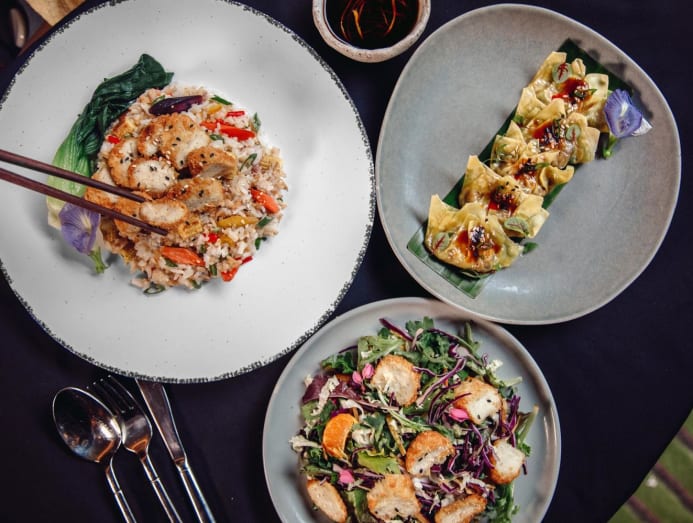 Promising no slaughter, no antibiotics and no hormones, GOOD Meat is currently available in Singapore at Madam Fan, in the form of cultivated chicken dumplings, cultivated chicken and fried rice and an Asian-inspired cultivated salad.
There's also a series of hawker trail pop-ups, organised to bring cultivated chicken to Singapore's beloved hawker stalls. The first two pop-ups were with Loo's Hainanese Curry Rice, a family-run business for 74 years, and popular zi char eatery Keng Eng Kee, serving up GOOD Meat's chicken in curry rice and as satay respectively. There will be more hawker stalls announced soon.
Taste: Like chicken because it's made from chicken cells gathered from a biopsy.
Texture: Like chicken because it's made from chicken cells gathered from a biopsy.
Chick o'Meter: 4 clucks out of 5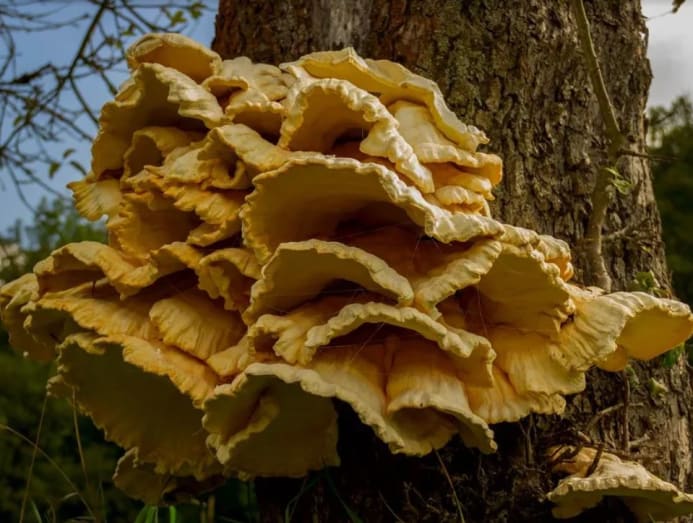 CHICKEN OF THE WOODS MUSHROOM
Rich and meaty, mushrooms have long been a popular meat replacement in a lot of recipes. But this particular one could just be the answers to our chicken prayers.
As they say, it's all in the name – the famed chicken of the woods mushroom. Scientifically known as a member of the Laetiporus sulphureus species complex, it's also commonly known as sulphur shelf, chicken mushroom or chicken fungus. And why is that? Simply because it does indeed have a similar meaty texture to chicken, and some (not all) even say it tastes like it, too.
A highly sought-after edible mushroom, it's easily spotted by its massive size and vibrant yellow-orange colours. Available to purchase online. 
Texture: Dense and meaty. Especially when cooked, it does look exactly like chicken.
Taste: Rather bland but also perfectly versatile because it absorbs flavours easily.
Chick o'Meter: 2.5 clucks out of 5