Love letters and plain bak kwa too boring? Try these unique Chinese New Year treats
Black pineapple tarts or mandarin oranges that are actually cakes, anyone? We've got some unconventional CNY snack options for everyone, from the adventurous to the fussy.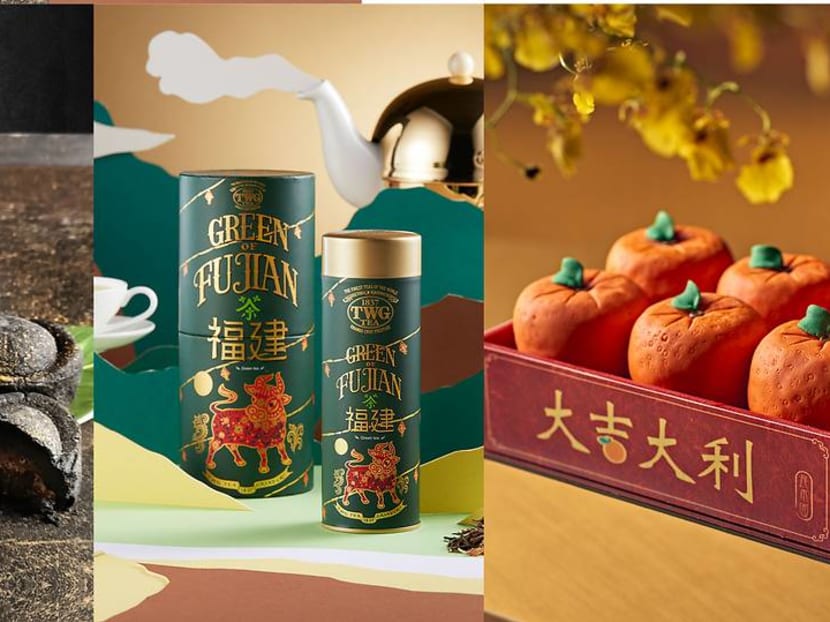 We are all partial to our own Chinese New Year food traditions, whether it is lining up for bak kwa from a specific brand, ordering pineapple tarts from our favourite store or baker, or drinking orange soda to wash down the reunion meal.
Given everyone's unique preferences, gifting food and drink during the festive season can be a challenge. After all, you want your recipient to like their gift enough to make precious stomach space for it. Enter the bevy of unconventional Chinese New Year treats that just get more abundant and creative each year.
We ate our way through them and picked out a few to suit various giftees and occasions.
FOR THE FUSSY FOODIE: CNY MIXED PASTRY BOX FROM TIGERLILY PATISSERIE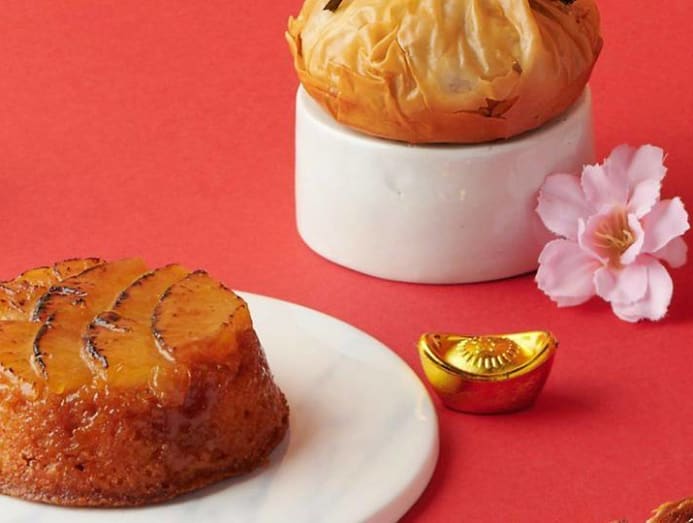 Following the closure of the Michelin-starred Vianney Massot Restaurant in the middle of last year, its young pastry chef Maxine Ngooi began selling pastry boxes from her online bakery Tigerlily Patisserie.
For Chinese New Year, she has created a box of five special pastries with distinctly oriental flavours. These include an upside down pineapple cake kissed with whiskey, a black sesame mochi brownie, a milk bun stuffed with dried shrimp sambal, a char siew-filled "moneybag" made of filo pastry, and a laminated brioche swirled with dried Dongguan sausages and caramelised onions. These boxes (S$40) make for lovely, not-quite-traditional edible gifts.
​​​​​​​FOR THE GLUTEN INTOLERANT: GLUTEN-FREE SALTED EGG YOLK PINEAPPLE TARTS FROM SIMPLE INDULGENCE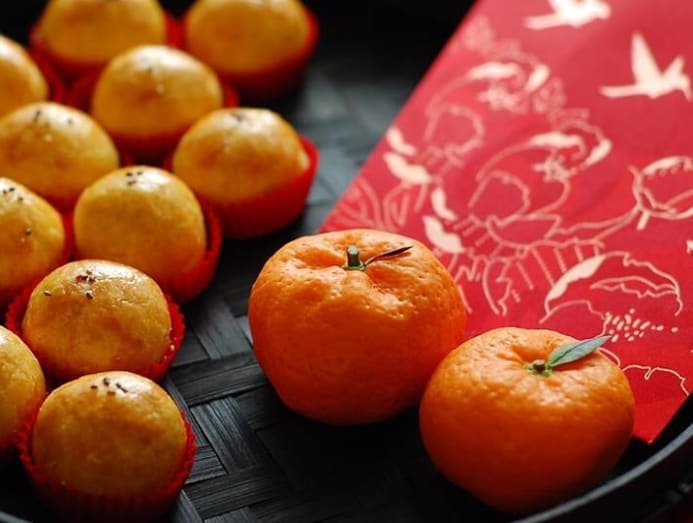 Gluten-sensitive folks can now have their pineapple tarts, and with salted egg too. This boutique pastry shop makes addictive salted egg yolk pineapple tarts (S$36 for 13 pieces) with a blend of flours including potato and tapioca starch. There are also Egg Free Lucky Pops (S$28 for 210g), which are essentially cookies in an assortment of Japanese matcha almond, coconut, and Maldon sea salt flavours.
FOR THE PASTRY ANGLOPHILE: MINI MANDARIN ORANGE MARMALADE TARTLETS FROM PAUL
These tarts (S$28 for a box of eight) taste as good as they look. Layered with mandarin orange jelly, milk chocolate crunchy pearls, mandarin orange mousse and almond cream, these petite bites are encased in delightfully buttery sable pastry shells.
Paul is also selling a selection of mini croissants (from S$18 for a box of eight) for the season in flavours like pumpkin floss with seaweed and mayo, bak kwa with bechamel and mozzarella, and hae bee hiam made with spicy sakura shrimp and kaffir lime. 
FOR THE HOSTESS WHO HAS EVERYTHING: TWG GREEN OF FUJIAN TEA
She's cooked reunion dinner and made all the festive pastries by hand. The last thing you want to give that adept home cook is a (gasp!) store-bought edible. Best to gift something rare for her to cherish, like this limited edition green tea (S$48) grown on a remote garden in the Tai Fu Mountain of Fu Ding in Fujian Province especially for TWG Tea.
With its downy jade-hued leaves that brew to yield hints of honey and night-blooming jasmine, it is just the ticket for your host or hostess who no doubt deserves a quiet moment with this exceptional cuppa.
FOR THOSE WITH PORK FATIGUE:  CHICKEN BAK KWA AND HONEY MUSTARD ROAST CRACKERS FROM THE MARMALADE PANTRY
Pork is a major protein at Chinese New Year – just look at those queues for bak kwa. But that doesn't mean that your friends who don't like it should miss out on the good stuff.
Check out The Marmalade Pantry's chicken bak kwa (S$30 for 250g), individually packed in  petite slices for easy serving. Made from minced chicken thigh and a marinade anchored in lots of fish sauce, the smoky chicken jerky is a worthy alternative to its porcine original.
Also addictive is the restaurant's honey mustard roast crackers (S$20 for 200g) made from soybeans and tossed in tangy honey mustard. They were so crisp and tasty, it was hard to stop at, well, some.
FOR THE KETO-LOVING GYM RAT: CASHEW COOKIES AND PECAN COCONUT TART FROM SERIOUSLY KETO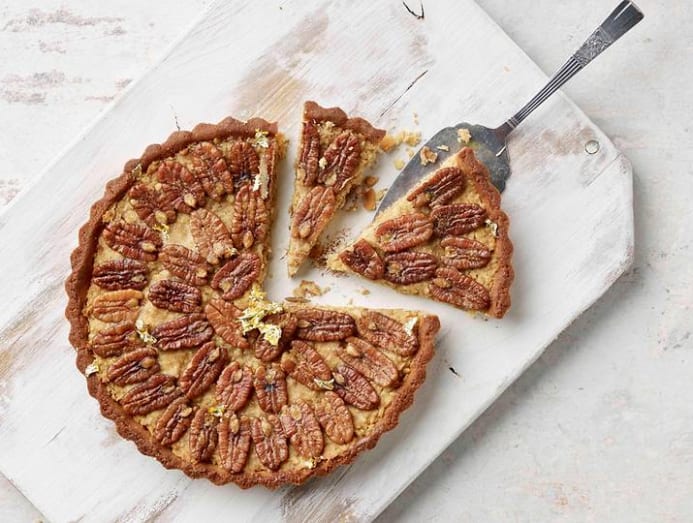 Life on a ketogenic diet can't be easy for sugar lovers, so thankfully, there's Singapore's first fully ketogenic bakery, Seriously Keto. Keto-practitioners don't have to sit out the festive bingeing now that it has introduced cashew cookies (S$19.80) which are both sugar and gluten free. If you're taking dessert to a party, there's the Pecan Coconut Tart (S$88.80), complete with gold leaves to justify its auspicious price tag.
FOR THAT VERY EXTRA FRIEND: LUCKY FORTUNE ORANGES FROM THE DELI AT GOODWOOD PARK HOTEL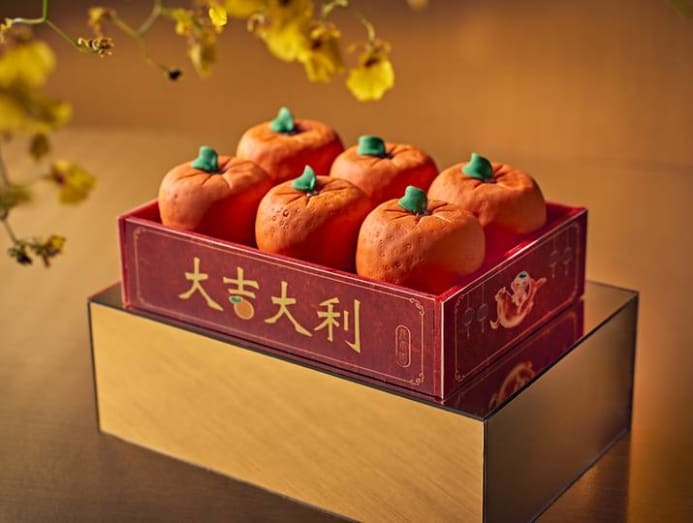 We all have that friend – the one for whom a carton of auspicious mandarin oranges just isn't enough. So why not a crate of mandarin oranges made of cake instead? Every Chinese New Year, Goodwood Park Hotel busts out imaginative 3-D cakes – if memory serves, the past years have given us gold-dusted mice-shaped tarts, a bright red fondant cake with sakura flowers, and a golden pineapple cake. 
This year, the orange cakes are comparatively toned down (not a gold flake in sight!). Think kumquat butter cakes layered with vanilla buttercream and artfully enrobed in orange fondant. Huat ah! But make it understated.
FOR THE CNY REBEL: BAK KWA PINEAPPLE TARTS FROM OLD SENG CHOONG
What? Black at Chinese New Year? Choy! But then again, these are pineapple tarts flecked with bits of bak kwa and kissed with Parmesan cheese, which give them a lovely umami depth. Their ingot-shaped exteriors are dusted with gold (making them less unlucky, if you're a traditionalist), while their insides feature a just-sweet-enough pineapple jam. Never mind if you're tempting fate with their black hue, these taste pretty damn good. 
FOR THAT GET-TOGETHER YOU'VE BEEN DREADING: COCKTAILS FROM JEKYLL & HYDE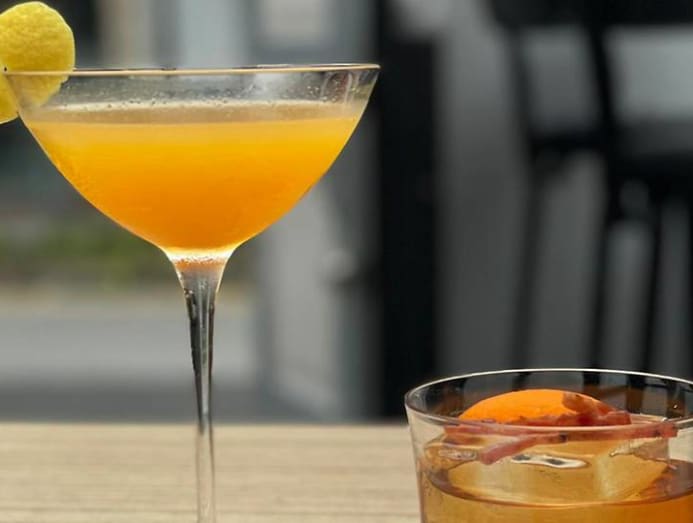 Do yourself a favour by buying a couple of fancy cocktails and making it a point to take a swig every time someone asks why you're still single, childless, jobless or gay. The Bak Kwa OF (S$39, serves two) has all the flavours of your favourite barbeque pork jerky brightened with caramel miso, homemade spiced butters and "butter bak kwa-washed bourbon".
Alternatively, there's the gin-based Mandarin Gallery (S$39, serves two) made with mandarin honey and orange bitters that will wash away the bitter taste of all that intrusive questioning.
FOR THE, AHEM, OLDER FRIEND: PINEAPPLE TART MILK KEFIR FROM LE VYR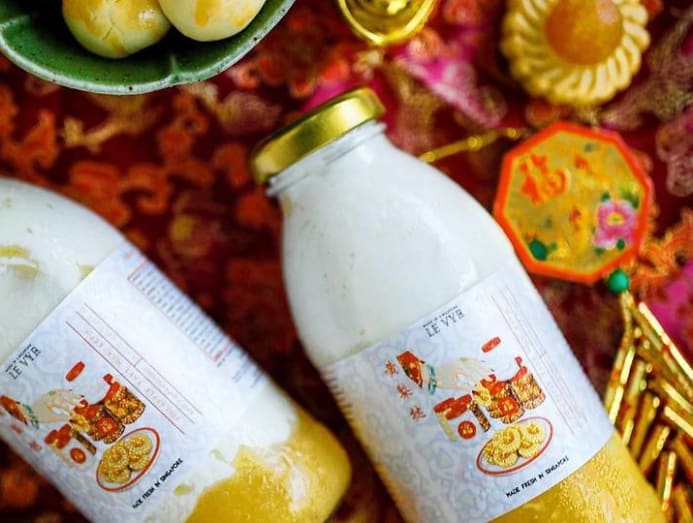 Too much festive feasting takes a toll on your belly. To keep your gut healthy and happy with the quintessential flavours of Chinese New Year, wash those treats down with a bottle of pineapple tart milk kefir (S$15.50 for 500ml).
Kefir is a probiotic-rich fermented milk drink that tastes much like yoghurt, but in more drinkable form. Le Vyr's version is fermented over three weeks and infused with citrus throughout its various stages of fermentation which yields a rich, aromatic brew.