From kueh to lor bak: Order these Chinese New Year food options via Instagram
Your CNY munchies options have just gotten more diverse thanks to the rise of home-based businesses. The best part? They're all just a DM away.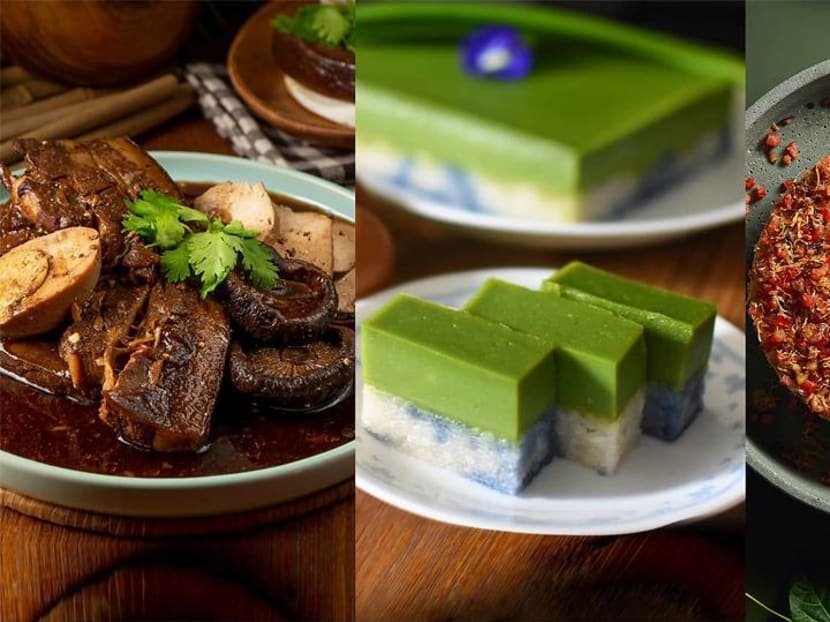 The bevy of Chinese New Year (CNY) snacks on the market is even more kaleidoscopic this year, thanks to the sheer number of home-based businesses that have emerged from the pandemic.
For many, these businesses are an important source of income. For others, it is an opportunity to practise their passion for creating good food.
Either way, it is a welcome development for die-hard Singaporean foodies who are always on the lookout for the next delicious thing. Here are some offerings to usher in CNY from home-based business owners from all walks of life.
ORANGE AND GRAND MARNIER BROWNIES FROM MOLTEN BROWN
Brownies may not be a quintessential CNY dessert, but chocolate is always welcome. For the festive season, Molten Brown's Nanette Zehnder has introduced Grand Marnier-infused brownies (S$45 for a box of six) topped with pretty candied orange slices.
The 47-year-old single mother owns and runs Mosaic Workshop, which holds mosaic art events and classes. When the pandemic hit, her business ground to a halt, so she started baking and selling her wares to make ends meet.
As its name suggests, Molten Brown purveys rich, fudgy-centred brownies made from high-quality Valrhona chocolate in flavours like Black Forest and Himalayan salt. To order, Whatsapp her at 9070 4443.
FACAI TART FROM FORK IT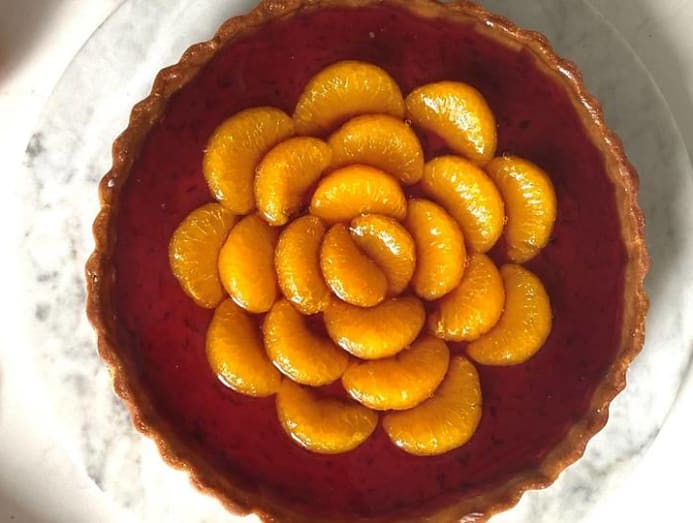 This fresh tart from Fork It features a lovely roselle custard hidden beneath a glassine layer of soju jelly topped with juicy mandarin orange wedges.
The home-based business was started by executive search professional Jo Henson and her childhood friend who prefers not to be named as she has a full-time job. "During the 'circuit breaker', business was slow, which gave us time to embark on this project since we both love baking," said Henson. "Business has improved, but we have been so buoyed by the incredible response to Fork It that we've kept it going."
The duo are also making a Cointreau semolina cake topped with white chocolate gold ingots, candied orange slices and pumpkin seeds for Chinese New Year. Orders open every Sunday at the Fork It website.
KUEH-KUEH FROM KUEHSTRY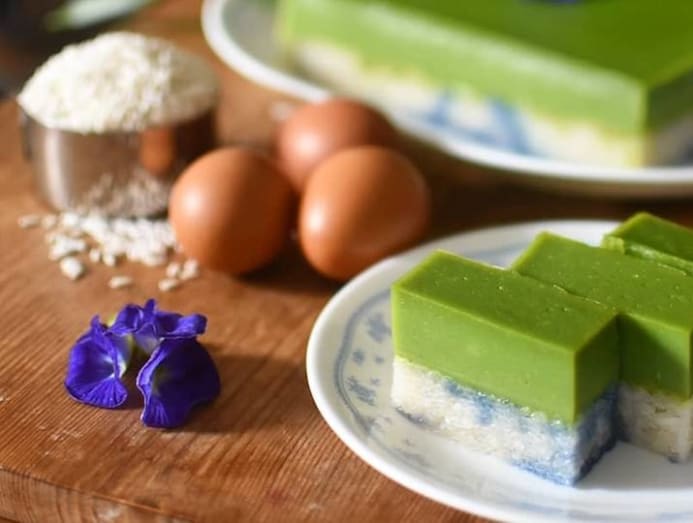 Gabriel Khoo works full time as a chef de partie at heritage restaurant Kin, but he is so passionate about kueh that he spends several hours after work each day making them for customers or experimenting with new recipes.
"I rush home and bake from about 9.30pm to 2am," said the 28-year-old. His kueh salat, comprising a layer of silky kaya atop another of pressed coconut-infused glutinous rice (from $45), is always a hit. 
He also makes a mean rempah udang (coconut and shrimp sambal rolled in glutinous rice, S$54 for 20 rolls) and excellent kueh ku (tortoise-shaped pastries with a mung bean filling, from S$26 for 20 pieces). Best to order early for Chinese New Year by messaging him on Instagram. 
BEGEDIL AND BROWNIES FROM PROJECT COOKOH
During the circuit breaker, Samantha Kwan, a member of volunteer organisation Readable, realised that many of the husbands and sole breadwinners of the families she was working with had lost their jobs.
"I thought about how to help the mothers of these families establish their own source of income and how to create something sustainable for them," she explained. Thus Project Cookoh, a collective of home-based businesses, was born.
Among them is 29-year-old Indonesian Heni S, whose husband lost his job as a cleaner. The couple have four children, all under the age of six. With Kwan's help, Heni learnt to bake and now sells delicious brownies from S$18 for eight pieces. 
Also part of the collective is Nurhazirah Binte Rahmat, who makes excellent begedil wrapped in crisp beancurd skin, and Aprizen Yuliana, who makes excellent Nutella tarts. Fill up this Google Form to order.
BRAISED PORK DISHES FROM LOR BAK MAMA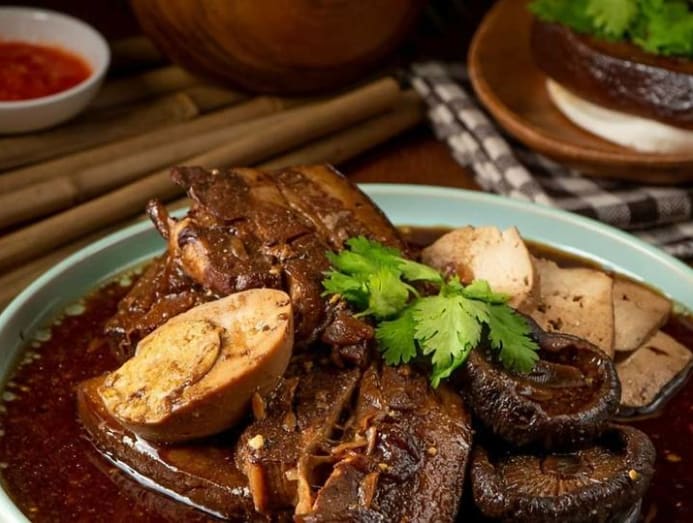 When her nail salon was forced to close during the circuit breaker, 39-year-old Christine Yue put her cooking skills to use, whipping up lor bak (braised pork belly), lu rou fan (braised pork belly with rice), and kong bak pau (braised pork belly with steamed buns) for sale.
The mother of a one-year-old son often cooked these dishes according to her grandmother's recipe for friends and family who encouraged her to sell them, but F&B was never in her cards.
Or so she thought. Once she began selling them, the dishes proved so popular that she was inundated with orders. While her nail salon has re-opened, business is still slow and her braised pork dishes continue to provide additional income for her family.
For CNY, she is selling her lor bak, S$18; kong bak pau, S$12 for four; and lu rou fan, S$10, but she may collaborate with other home-based businesses to offer something unique for the season. Check out her Instagram page for details.
CHINESE CARROT (DAIKON) CAKE FROM MUNCH-KINS
A former marketing director of a cruise company, Karen Yuen quit her job in 2019 and quickly realised that rather than remain in the corporate world, what she really wanted to do was cook.
She started Munch-Kins in December that year, selling Chinese carrot cake fashioned after her late grandmother's version. "I developed the recipe from the memory of my grandmother's carrot cake. I never thought she would pass away before I got the recipe from her. She used to make it every Chinese New Year and I would watch since I was too young to help," she recalled. "I took for granted that I would have it every year until I left for Hong Kong and then to the United States for college when I was 18."
The carrot cakes she tried at restaurants never satisfied her craving for them, so she set about recreating the dish. "I've lost count of how many cakes I tossed before one was edible enough to share with my friends and family. From there I tweaked the recipe to what it is today."
Karen's carrot cakes are made from Japanese and Korean radishes, and generously studded with with dried scallops, Chinese ham, mushrooms, dried shrimp and Chinese sausages. Each 1 to 1.2kg cake sells for S$68. Order by messaging her on Instagram.
KUEH AMBON FROM THE BURNT SUGAR LAB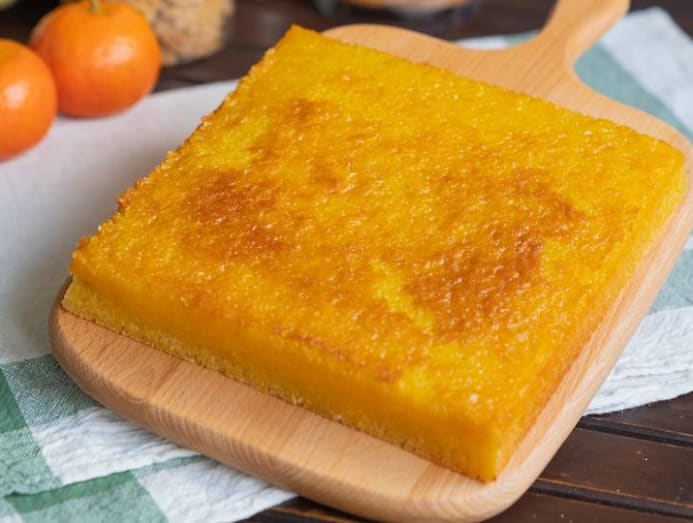 Kueh ambon is a notoriously difficult kueh to master, and photographer Edmund Leong had been slowly tweaking his recipe for months, trying to get the ratio of various flours and the cooking temperature right. When the circuit breaker hit, he ramped up on the experimentation process, "because I was so free!" he said with a laugh.
Now finally pleased with his kueh ambon, he is selling them on Instagram at S$45 for a seven-inch square portion. What the kueh lacks in height, it makes up for with its lovely fragrance and texture. For Chinese New Year, order by Jan 31 by messaging him on Instagram.
ONDEH ONDEH FROM A SWEET MESS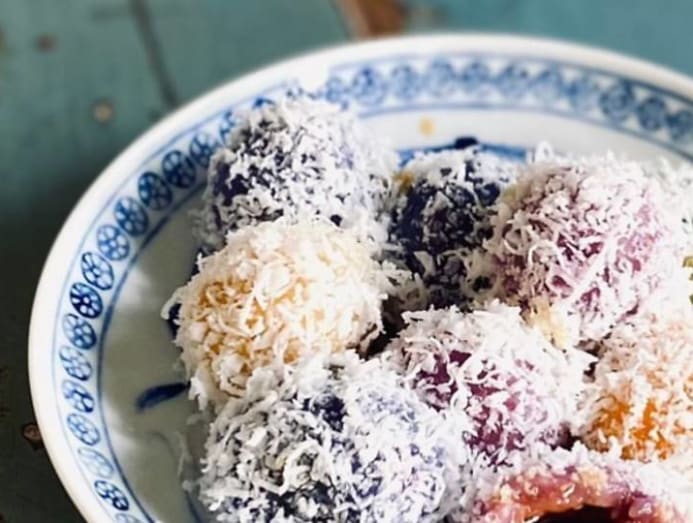 A craving for ondeh ondeh during the nationwide lockdown in April last year led Viviane Chew to learn how to make her own. "My mother-in-law loves eating the ondeh ondeh at (popular stall) Xing Xing in Maxwell Market, but since we couldn't go there, I started making my own," she said.
Her perfectly chewy gula Melaka-filled morsels are tinted in pretty colours using all-natural ingredients like red yeast powder, pandan paste and blue pea flowers. She also makes a fantastic ondeh ondeh burnt cheesecake. To order, message Viviane on Instagram.