Chinese New Year 2022: 5 restaurant options for your reunion dinner
With less than three weeks remaining until the Year of the Tiger, it's time to start planning the celebrated CNY reunion dinner. Don't know where to start? CNA Lifestyle has a choice list of where to place your reservations.
With Chinese New Year just around the corner, picking the right restaurant for your five-person reunion dinner is an important task.
We've put together a handy list to make ushering in the Year of the Tiger just that wee bit easier and a lot more festive: Trust these restaurants to offer a feast of sumptuous dishes that'll make your family's taste buds sing.
WHERE: YAN
ORDER: A must have is Yan's signature savoury Abalone and Salmon with Gold Foil Lo Hei in "Shun De" Style (from S$92++), featuring a mountain of crispy vermicelli crowned with shredded purple and yellow sweet potatoes, pickled ginger and gold flakes.
There is also the Harvest Pen Cai (from S$325++) with 18 delicacies including six-head abalone, king grouper fillet, sea cucumber, prawns, whole conpoy and collagen-rich pork tendons.
Other dish highlights from their set menus include: Double-boiled Chicken Soup with Morel "Yang Du Jun" and Fish Maw; Steamed Soon Hock with Preserved Lemon Peel Sauce; and Wok-fried Local Lobster Tail with Crab Meat and Crab Roe Superior Sauce.
ADDRESS: #05-02 National Gallery Singapore, 1 St Andrew's Road, Singapore 178957
BOOK: Click here for reservations or more information.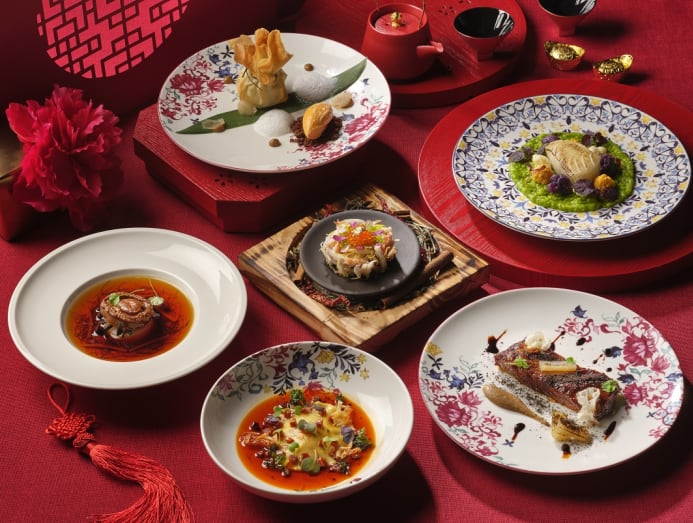 WHERE: 15 STAMFORD BY ALVIN LEUNG
ORDER: Capitol Kempinski's signature restaurant offers a three-course Chinese New Year set lunch at S$58++ per person, which begins with Mandarin Orange Cured Salmon or Bak Kwa Toast, followed by Wild Atlantic Sardine with air dried tomato puree and Pat Chun chicory or Braised Angus Beef Neck, and Spiced Persimmon to finish. 
For dinner, there's a six-course Chinese New Year set available at S$168++ per person, which offers a luxurious smorgasbord of Alaskan King Crab, Korean Abalone, Scottish Lobster Dumpling, Fried Toothfish, Japanese Wagyu Beef Rib and a delicious Pandan Nian Gao.
ADDRESS: 15 Stamford by Alvin Leung at The Capitol Kempinski Hotel Singapore, 15 Stamford Rd, Singapore 178906
BOOK: For more information or to make reservations, click here. You can also email reservation.15stamford [at] kempinski.com or call 6715 6871.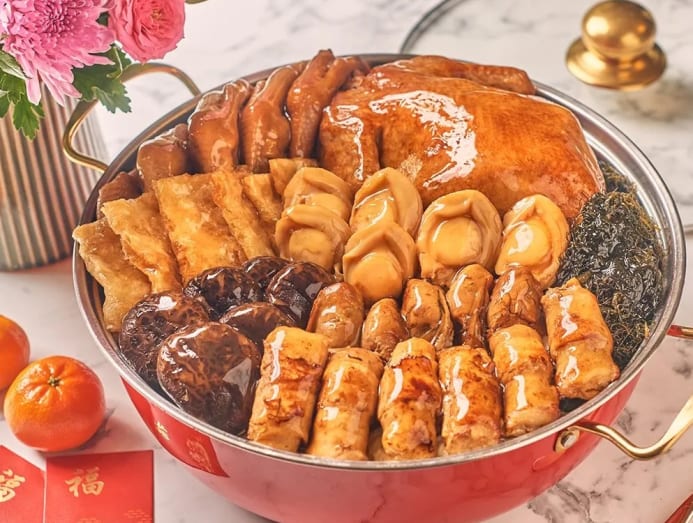 WHERE: MIN JIANG RESTAURANT
ORDER: The dish to try is the award-winning restaurant's new Braised Spring Chicken with Iberico Pork Rolls and Abalone (S$338++ for six persons), which is cooked with a plethora of goodies including deep-fried traditional goose web (an ingredient rarely used due to a lengthy and challenging preparation process), spring chicken, Iberico pork belly rolls, Chinese "Jinhua" ham and fried fish maw.
You can choose from either the six- or eight-course celebratory menus, which include dishes such as the restaurant's signature Roasted Silver Hill Irish Duck and Braised Six-Head Abalone with Sea Cucumber in Seasonal Greens.
There are traditional yu sheng platters (from S$88++) or the less-conventional Trio of Prosperity Blessings "Lo Hei" with lobster, salmon and abalone with fresh vegetables such as affilla cress, arugula and edible flowers, as well as deep-fried yam strips.
ADDRESS: Min Jiang Restaurant at Goodwood Park Hotel, 22 Scotts Rd, Singapore 228221
BOOK: Click here for reservations or more information.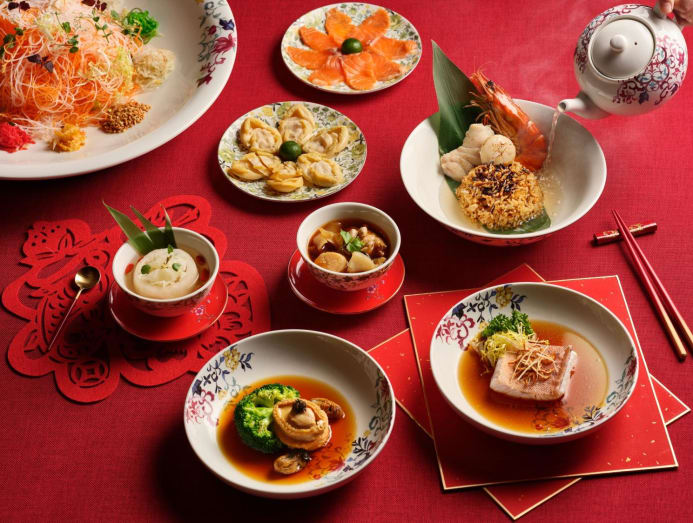 WHERE: THE ATELIER
ORDER:  Looking for individually plated set menus? The Atelier offers six-course lunches at S$118++ per person, which include Smoked Salmon Yu Sheng, Golden Pumpkin Broth and Wok-Fried Tiger King Prawns in superior soybean sauce, Braised Marbled Goby Fish with milk cabbage and broth, Five-Grain Fried Rice and a dessert of Mango Pomelo Sago with peach gum and mango sorbet.
For the six-course individually plated set dinners, which are priced at S$138++ per person, dig into Baby Abalone And Smoked Salmon Yu Sheng, Double Boiled Free-Range Chicken Soup with dried scallop, fish maw and black garlic as well as Steamed Red Garoupa with dried orange skin, Braised Golden Oyster, Seafood Rice in superior broth and a Chilled Hashima with Chinese pear and white fungus.
ADDRESS: The Atelier at The Capitol Kempinski Hotel Singapore, 15 Stamford Rd, Singapore 178906
BOOK: Click here for more information or call 6368 8888 for reservations.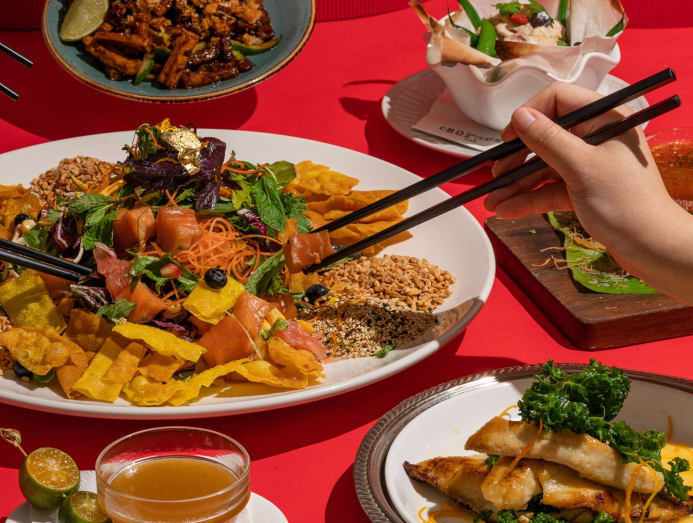 WHERE: Chopsuey Cafe
ORDER: This East-meets-West eatery offers a festive five-course menu that begins with a thirst-quenching Orange Basil Crush, and a prosperity toss of Chopsuey's Lucky Lunar "Lo Hei". This wholesome variation of yusheng is a healthy take on the traditional version, featuring ingredients such as trout, kale, celeriac, red radish, blueberries and wild rice.
Also on offer as starters are Shredded Filo Seafood Roll, Sticky Chicken Rice Balls and Caramelised Pork Belly Bites. The main course options boast an array of seafood such as Red Curry Slipper Lobsters, Grilled Yellowtail Cheek, Fragrant Lemongrass and Lime Clams and Caramelised Orange Barramundi.
The menu also features traditional choices such as a tender Steamed Shaoxing Corn-Fed Chicken, White Pepper Espresso Ribs and Chargrilled Beef Short Rib.
The dishes are accompanied with either Wok-Fried Claypot Rice or Smoked Duck Wok-Fried Noodles. And for dessert, there's a Steamed Kaya Pudding. There's also a special cocktail called Tigers In Paris (S$23), which is a delicious mix of champagne, gin and mandarin oranges.
These Chinese New Year set menus start at S$68++ per person for the two-person menu, all the way to S$88++ per person for the five-person menu.
ADDRESS: 10 Dempsey Road, #01-23, Singapore 247700.
BOOK: Click here for reservations or more information.