Turkey, canapes, mulled wine: What to order for your Christmas party at home
Your holiday shindig is just a few clicks away if your plan is to stay put at home with friends and family. Here are eight options to choose from.
When yours is a party of more than five, the party must happen at home. And whether you're host or guest this festive season, there's really no need to slave over the meal.
Outsourcing is key. If you're making the turkey, get someone else to bring the sides; if you've been tasked to bring the bubbly, let a specialty purveyor do the curating for you. All we're saying is that a festive feast at home can be as easy as a few clicks on your touchpads. Here are some suggestions for any element of a party or the whole shebang.
SURF AND TURF FROM BEDROCK BAR & GRILL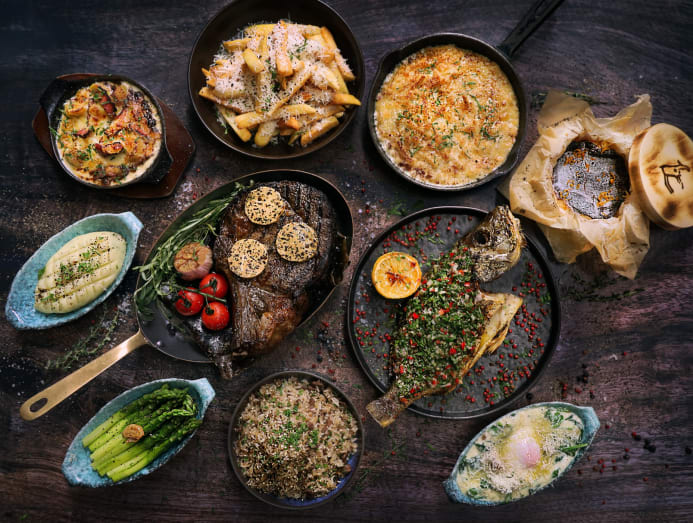 A whole grilled snapper and kombu-cured OP ribeye grilled over wood-fire? That's a triple yes from us. These are the highlights from stalwart steakhouse Bedrock Bar & Grill's Surf & Turf Set (S$328), which comes with three sides, four sauces and an applewood-smoked flourless burnt cheesecake for a sweet flourish.
Dry-ageing in kombu for a fortnight imbues the ribeye with deep umami, while cooking over applewood fire gives it a sweet-smoky complexity that's hard to beat. Choose from sides such as truffled mashed potatoes, sweet potatoes, beef drippings garlic rice, creamed spinach and Bedrock's signature mac and cheese. Personally, we're fans of the bacon and blue cheese. This set feeds up to four people amply.
SUCCULENT ROASTED BIRDS FROM DA PAOLO GASTRONOMIA
We are always impressed with Da Paolo Gastronomia's double-stuffed deboned roast turkey (S$298, about 3.5kg).
For starters, the maximalism of it is irresistible, with not one but two stuffings – a decadent Italian spiced sausage number called cotechino and another made of French chestnuts, mushrooms and braised leeks. Then there's the fact that it is easy to slice and serve (look Ma, no bones).
The best part is that the whole thing is succulent and tender, which is not something we can say of most store-bought roast turkeys. This feeds up to 12 people, so if you want something for a smaller soiree, there's a deboned roast chicken (S$118) that feeds up to six people, stuffed with roasted pumpkin, chicken sausage, pink peppercorns and fresh herbs. 
PRETTY CANAPES FROM PAUL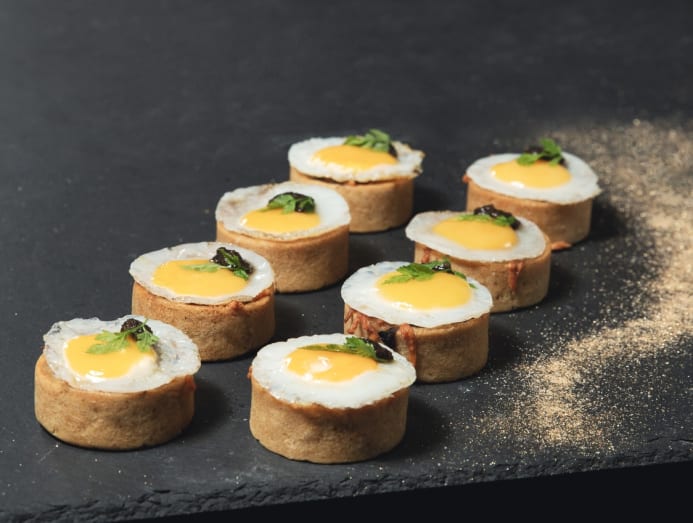 Someone else is taking care of the roasts and you've been tasked with bringing starters to the table. Such is an occasion to turn to the pretty canapes that French bakery Paul makes for the holiday season.
There are tartlets filled with wild mushrooms and truffle salsa, and topped with a sunny-side up quail egg (S$38); and others bearing chunks of Maine lobster dressed with chopped onions, mayonnaise, mustard and chives, with a crown of caviar (S$40). The sweet tartlets – mini berries (S$39) or mont blancs (S$40) – are just as seductive. All are available in boxes of eight.
MULLED WINE SET FROM THE ATLAS
Why take a bottle of something to a party when you can bring impressive drinks sets created just for the season?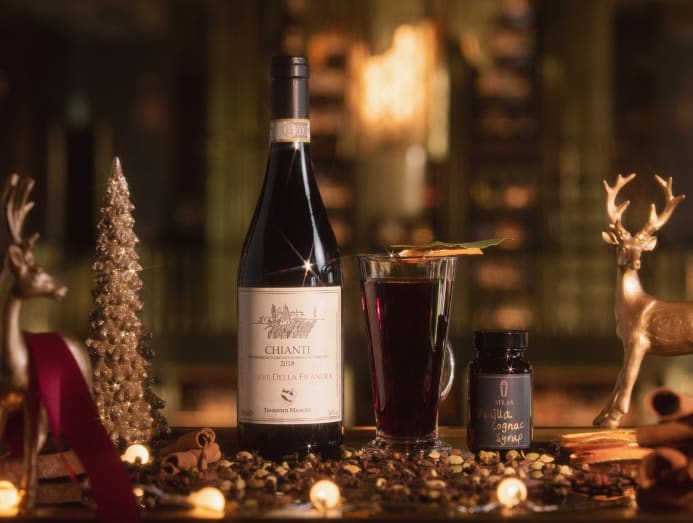 The Atlas' Mulled Wine Kit (S$50) makes it easy to put together this warming concoction. It comes with a house-made spice blend, vanilla cognac syrup, and a bottle of Tenimenti Mancini Pordere Della Filandra Chianti DOCG. All you have to do is combine everything in a pot, bring to a simmer, and serve.
WHOLE ROASTED DUCK WITH CHESTNUT STUFFING FROM SOFITEL SINGAPORE CITY CENTRE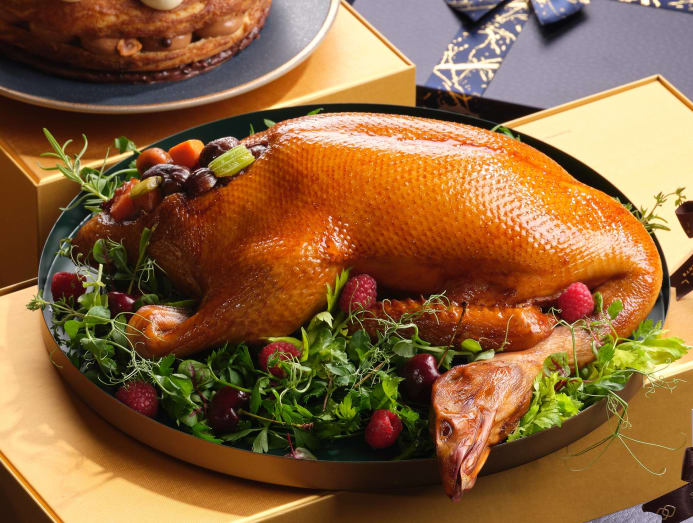 When turkey isn't your first choice of holiday protein, this is the other bird to turn to. Sofitel Singapore City Centre's roasted duck with chestnut stuffing (S$110) is simply divine. Low and slow roasting for about 90 minutes yields juicy, dusky pink flesh buffered by a layer of succulent duck fat. The roll of chestnut stuffing, too, is moist, earthy and tasty. While delicious on its own, a drizzle of the accompanying gravy elevates this bird from special to spectacular.
LOCAL FESTIVE FEAST FROM PO
At the heart of any festive feast from Po is the Prawn Popiah Platter featuring a roll-it-yourself set of all the popiah trimmings to make eight. Popo's Festive Table (S$250) also comes with servings of XO crab carrot cake, carabinero prawns and kombu mee, wing bean salad, braised mahjong tofu, sauteed Hong Kong kalian, belinjo and prawn crackers, as well as four bottled drinks (two cocktails and two mocktails). Serves up to five people.
CAKES AND TARTS FROM FOUR SEASONS HOTEL SINGAPORE
The colours of Christmas inform this year's dessert selection from Four Seasons Hotel Singapore. As its name implies, the Christmas Tree Velvet (S$108, 1kg) makes for a great table centrepiece and, when cut into, reveals lovely layers of moist red velvet sponge and cream cheese beneath jade-hued matcha buttercream.
The sophisticated Korean strawberry tart (S$88, 18 cm) is just as joyous, comprising a luscious layer of almond frangipane sandwiched between crisp tart shell and a topping of juicy Korean strawberries against sumptuous swirls of vanilla cream.
CHAMPERS AND WINE FROM CLINK CLINK
Created for toasting, Clink Clink's I'm A Grower, Not A Show-er: Edition 8 (S$345) brings together a medley of easy-to-appreciate bubbly that'll go down well at any holiday party.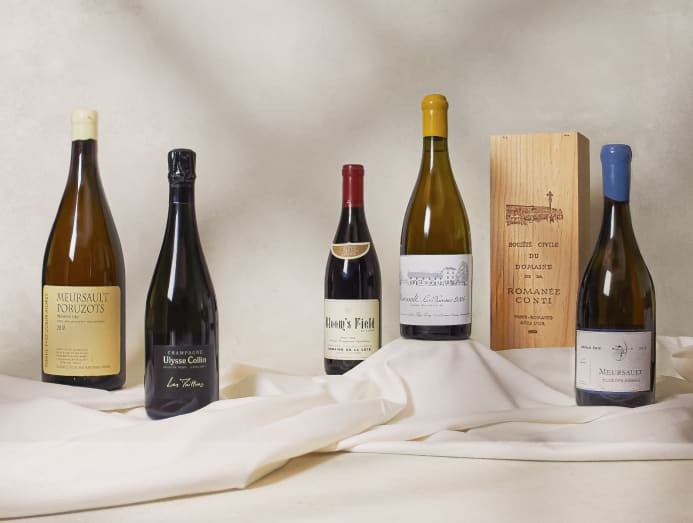 Curated from a range of small Champagne producers, you'll get surprising and delightful options, namely Domaine La Borderie Val More Blanc de Noirs, Andre Heucq Heritage Blanc de Meunier, and Ulysse Collin Les Maillons Blanc de Noirs.
Other wine bundles abound, including Burgundy's Avant Garde (S$610) that explores a selection of the most exciting producers in the region, and High On The Hill (S$510) featuring wines from the mountainous regions of Savoie and the Jura.