Turkey 'masak merah', DIY popiah, Eurasian dishes: What to order for your holiday feast with a twist at home
There's no need to slave over the oven or stove. These eateries take on the hard work of feeding your guests so you can enjoy the occasion. Time to plan for that Christmas feasting!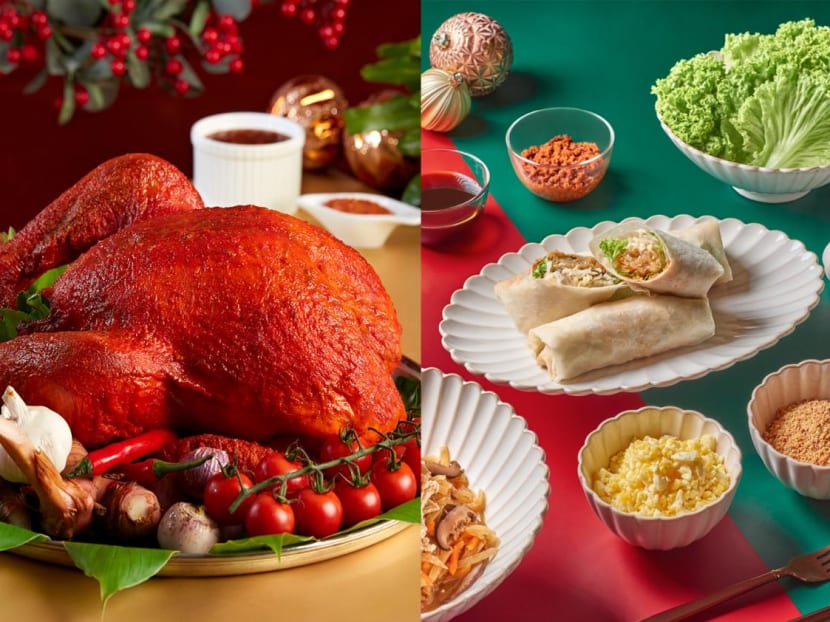 For many of us, the Christmas feast is the meal we look forward to most. When family and friends come together to share a tradition of roast turkeys, hams and log cakes that speak of our colonial past, never mind that the majority of us today have never lived it.
Which is why it is also easy to shake off those shackles and reach for feasting foods that veer from the holiday classics. A DIY popiah party, high tea instead of dinner, oysters for washing down the champagne… the point of the Christmas meal, especially among those who do not celebrate it as a religious holiday, is kinship, bonding, and well, a happy excuse to indulge.
Here's a selection of delicious-sounding options to partake with your nearest and dearest in the warmth of home.
ASIAN-FLAVOURED ROASTS: FULLERTON HOTEL SINGAPORE
If you want a roasted bird but also a Singaporean-style meal, head to Fullerton Hotel Singapore where the roast turkey is "masak merah" and the roasted Irish duck is served with a spicy kicap manis sauce.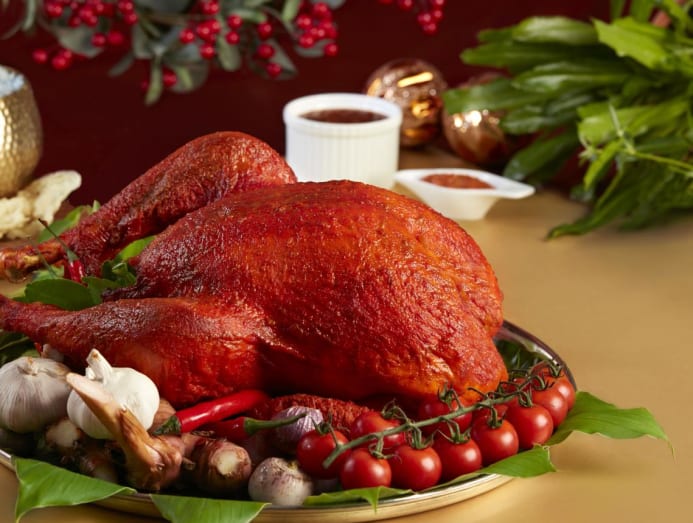 Rubbed with the classic flavours of the traditional Malay masak merah braise (think turmeric, chillies, ginger and tomatoes), the Turkey Masak Merah (S$190.40, 6-7kg) comes with basmati nasi lemak tinged with the comely hue of blue pea flowers, bitter emping crackers, sambal belacan and a spiced tomato gravy. The Roasted Irish Duck (S$134.40) is served with Brussels sprouts and roasted potatoes. Place your orders at least four days in advance.
GLAZED HAM WITH HONEY AND CITRUS SPICE: SOFITEL SINGAPORE CITY CENTRE
If it's a ham centrepiece you're after, the Glazed Ham with Honey and Citrus Spice (S$321) from Sofitel Singapore City Centre is an impressive number.
The 5kg leg will feed a large crowd with plenty of leftovers to go around – and you'll want leftovers because this baby is indubitably delicious. Fresh, tender and not saturated with salt, it is one of those rare meaty mains that will have your guests hoping for extras to bag home.
DIY TURKEY POPIAH: GOODWOOD PARK HOTEL
Get the family together and make it an interactive meal with the DIY Turkey Popiah (S$78, serves up to 10) from Goodwood Park Hotel.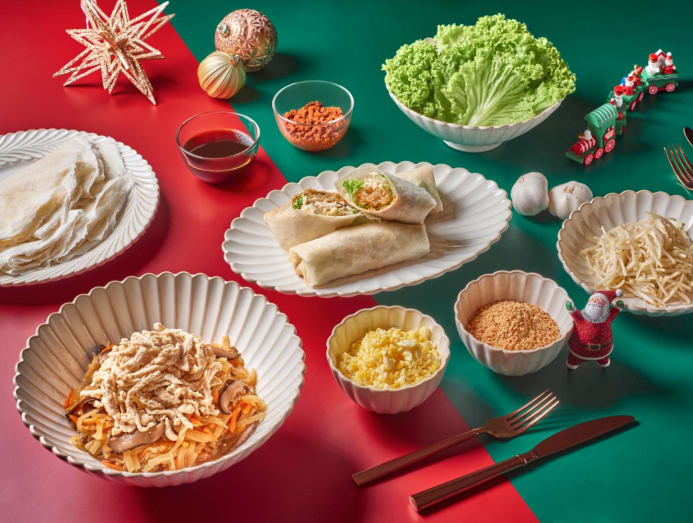 This meal kit comes with the works: A filling of stewed bangkwang (jicama), carrots, Chinese mushrooms and dried shrimps; curly lettuce, beansprouts, chopped hard-boiled eggs, crushed peanuts and shredded turkey breast. The highlight is a piquant homemade sambal to slather all over the supple popiah skins.
CHRISTMAS HIGH TEA TAKEAWAY SET: SHANGRI-LA HOTEL SINGAPORE
Catch-ups, gossip, whatever you choose to call it, there's nothing like a good old chin wag over bite-sized delights. This festive season, you can take home the Rose Veranda experience with a Christmas High Tea Takeaway Set (S$88, serves two).
The three-tiered trays come with 24 little treats, including bourbon smoked chicken sandwiches, blini sandwiches with maple cranberry whipped cream cheese, tuna roulade, Christmas tree macarons, fruit cake and vanilla scones with jam.
BRITISH-INSPIRED CHRISTMAS DISHES: REMPAPA
If you've ever wondered what influences the British colonials brought to holiday tables in Singapore, you'll find the answers in Chef Damian D'Silva's Christmas menu at Rempapa.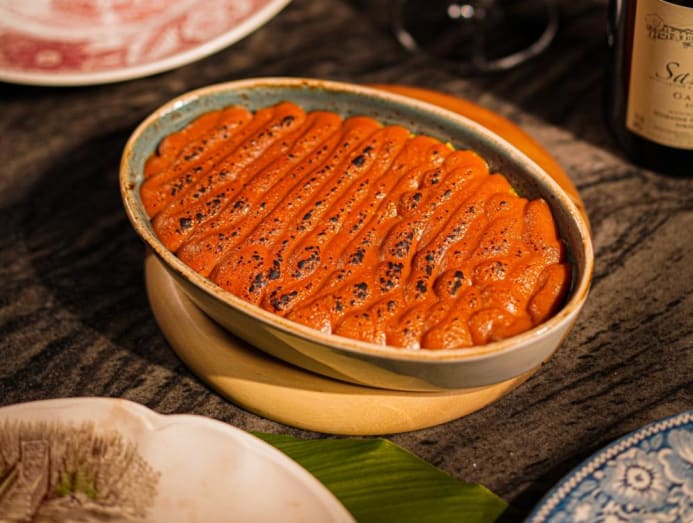 The Spiced Meatloaf with Sambal Mashed Potatoes (S$90, 1.2kg) has shepherd's pie vibes, with a filling of pork, onions, celery and carrots spiked with nutmeg and curry powder. Its layer of mashed potatoes is amped up with rempah titek (the basic Peranakan spice mix dominated by chillies and shallots) and baked to a bubbling crisp.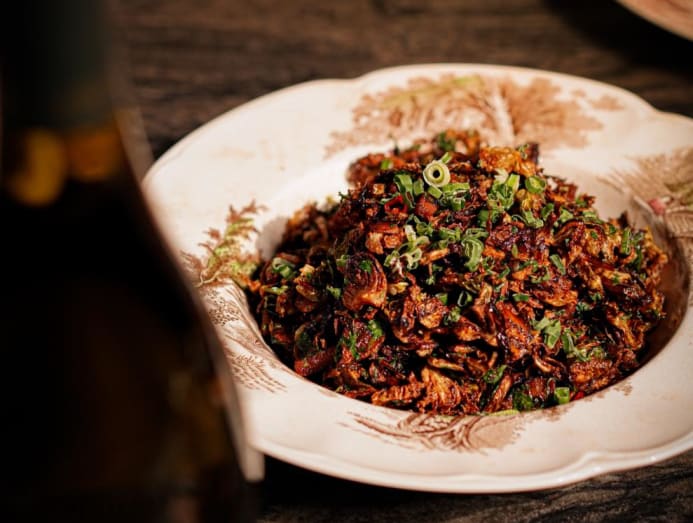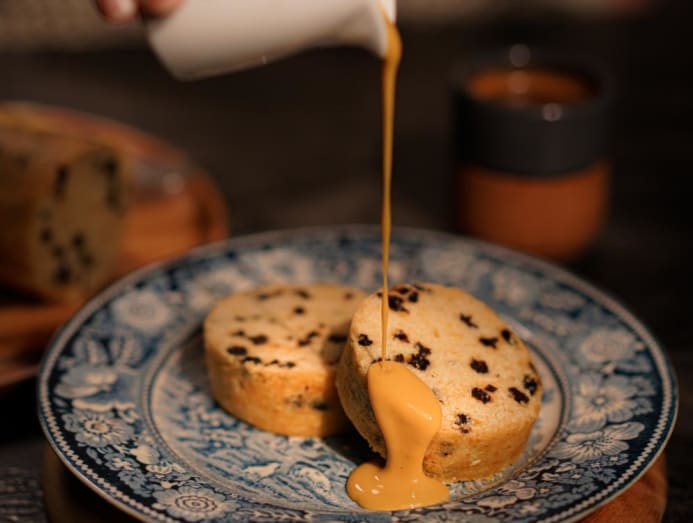 This comes with a side of Bubble & Squeak, which comprises Brussels sprouts and roasted pork tossed in a black bean, black vinegar, soy sauce and shallot oil glaze. For dessert, Spotted Dick with Gula Melaka Custard (S$35, 500g roll) is a steamed pudding rich with beef tallow, brandy-soaked currants and citrus zest served with a mellow gula Melaka custard. Available from Dec 15.
TURKEY HAM AND CANAPES: PAUL BAKERY
Paul Bakery has carved a lovely little niche for itself by dreaming up creative, delectable offerings for festive takeaways.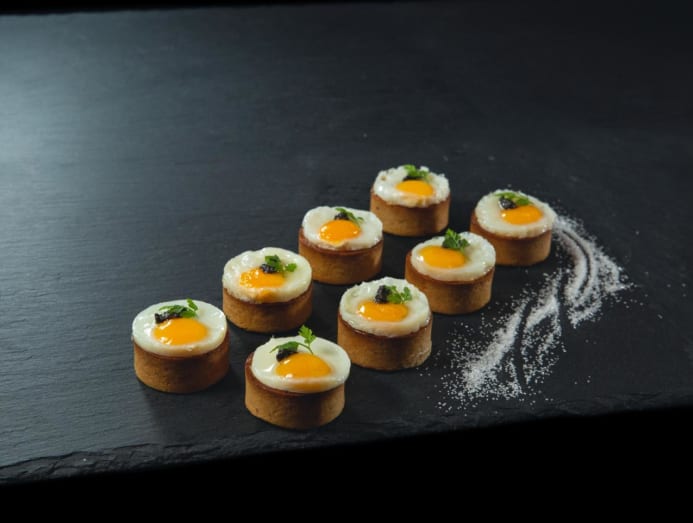 For starters, its Turkey Ham (S$89) has been a consistent hit over the last few years. A perfect 1.5 kg, the juicy log tastes so much like regular ham that even purists wouldn't guess it is made with turkey. This year, it comes glazed with cranberry and pineapple, or sansho and bonito. Also on the menu: canapes that are as pretty as they are tasty – think Wild Mushroom and Truffle Salsa Tartlets (S$40 for a box of eight), each topped with a sunny side up quail egg.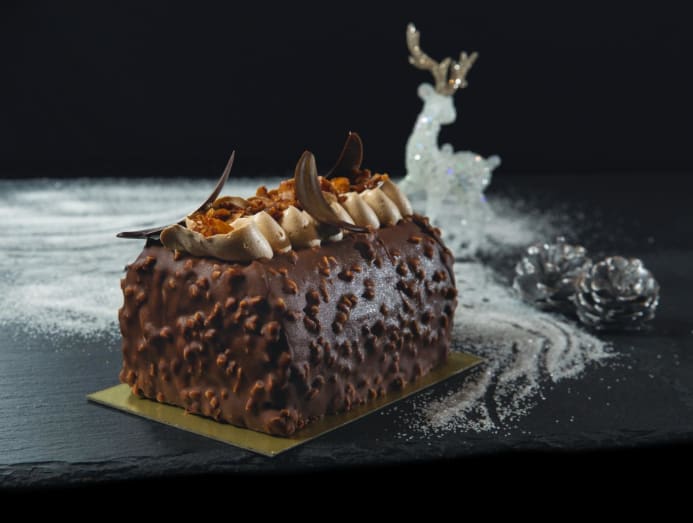 Naturally, the desserts are calorie-worthy too – from a Nuts Over You log cake (from S$42), that's like Ferrero Rocher in cake form, to chocolate tartlets with reindeer faces (S$9.90).
EURASIAN CHRISTMAS CLASSICS: THE COCONUT CLUB
Classic Eurasian Christmas dishes are hard to find outside of Eurasian homes. So it's lovely that this year, nasi lemak restaurant The Coconut Club is offering a taste of them.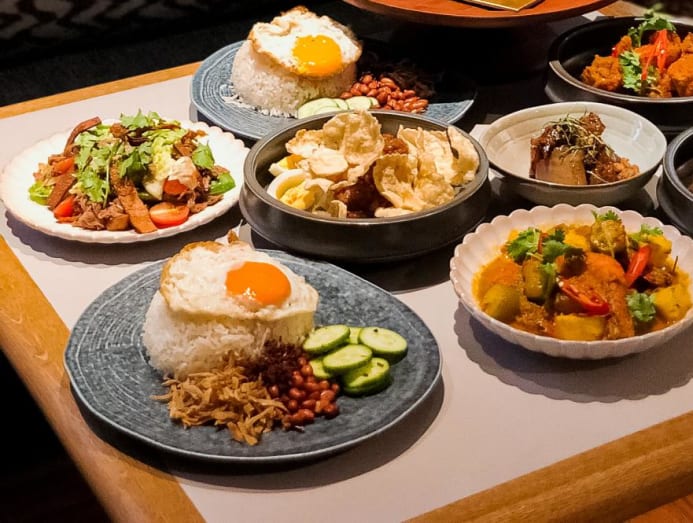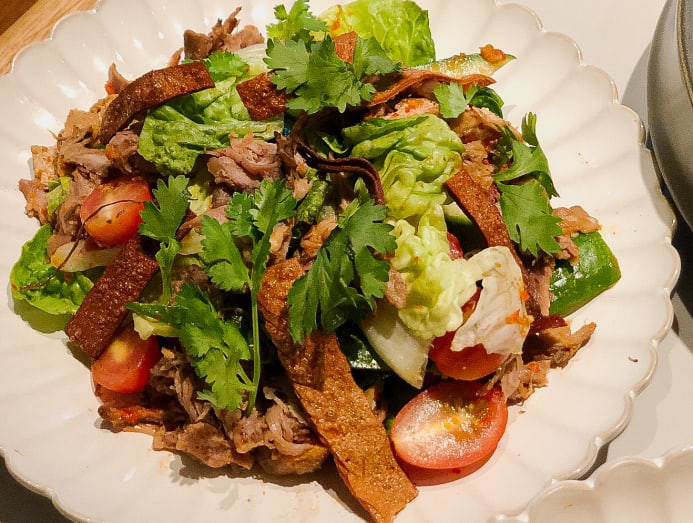 There is Kari Debal (S$32), the fiery braise traditionally made from holiday leftovers like sausages and roast chicken; Duck Seybak (S$16), a salad with braised duck leg, romaine lettuce, cherry tomatoes and tofu puffs dressed in a vinegary chilli dressing; and Oxtail Semur (S$36), a Dutch-Indonesian stew made with dark soy and aromatics like cloves and cinnamon, finished with vinegar. Also hard to find: Kek Kukus (from S$22.50), a Malay-style steamed fruit cake that's great for those not keen on its boozy cousin, the English fruit cake.
KYS OYSTERS AND SEAFOOD PLATTERS: GREENWOOD FISH MARKET
Meaty, sweet, minerally, briny. French KYS Super Specials No. 1 Oysters (S$155.40, half dozen) are all that and so much more. They are among the nine varieties that Greenwood Fish Market will be flying in just for the holiday season. If you're an oyster lover, you'll want to get slurping on these.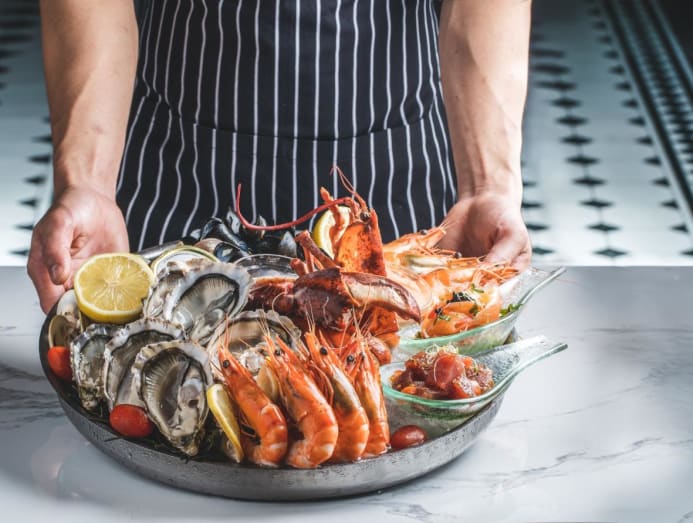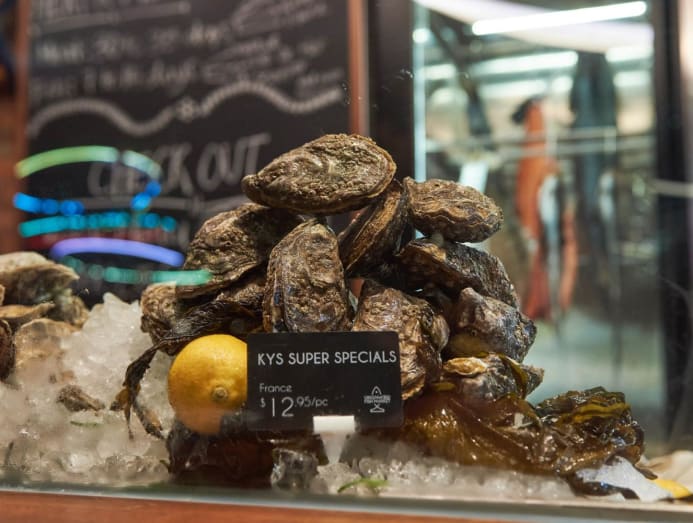 For everyone else, there are seafood platters (starting from S$109) heaving with the freshest catch, perfectly cooked and delivered to your door. Soirees don't get any easier than this.