Sneak peek at Claudine: Odette chef Julien Royer's new French restaurant in Dempsey
What does the Michelin-starred chef like to eat on his day off? Just peek at the menu at Claudine, which is named in honour of his mum, when it opens on Nov 16.
Chef Julien Royer must have had his ear talked off about how lovely but rare a treat dining at three-Michelin-starred Odette is. We surmise this because we personally have done this ourselves at some point.
Well, now he can tell people like us, "There's Claudine".
His third restaurant (after three-Michelin-starred Odette and one-starred Louise in Hong Kong) opens on Tuesday (Nov 16) in the Dempsey area, and if enjoying champagne and oysters in an erstwhile chapel sounds like your idea of a gastronomic good time, then you've come to the right place.  
Claudine takes over the space of The White Rabbit, located in a former military chapel built in the 1930s. Like Odette, the restaurant is opened in partnership with The Lo & Behold Group, under which the now-defunct White Rabbit also sheltered.
The beautiful heritage building has been given a cosmetic refresh, as well as a layout redesign – a large, bright open kitchen now occupies one end, while the bar sits at the opposite end under a carefully preserved stained-glass window.
The chapel's original elements, like its wrought-iron window grilles, are balanced out by bold design touches such as a deep red ceiling and a 15m-long decorative light snaking across the dining room, as well as mirrored lamps reminiscent of traditional French bistros and striking panels of pressed grasses.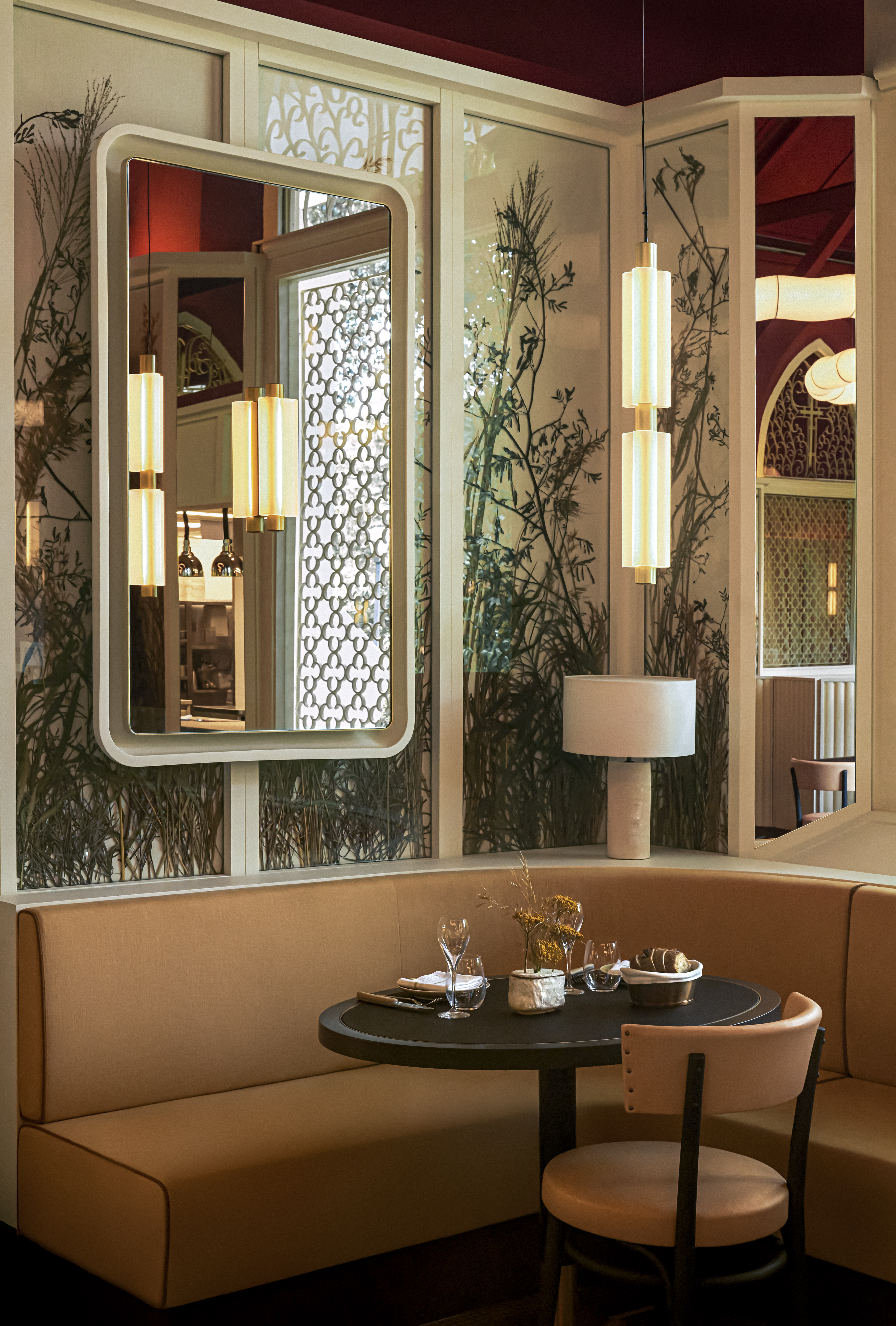 On the menu are luxed-up French classics like steak tartare, vol-au-vent, pepper steak and a show-stopping 'bouillabaisse'; and playful desserts like a new spin on the traditional ile flottante or floating island, and the "Pariterole", a hybrid of the Paris-Brest and the profiterole.
"Many dishes are inspired by what I like to eat when I go out. We'll have some very French classics like steak au poivre and creme caramel. This is stuff I really enjoy finding on the menu. You'll have a sense of locality and Southeast Asian influence on the menu as well, because I believe a sense of place in any restaurant is very important."
Asian influences in the cuisine come, for example, in the form of a dumpling dish with Mozambique langoustine and sugar snap peas; and also in more subtle ways such as Royer deciding to include prawn heads in the 'bouillabaisse' because he's come to enjoy their flavour as locals do.
The restaurant's kitchen is overseen by executive chef Julien Mercier, a longtime friend of Royer's; the two once worked together closely and Royer was insistent that Mercier was the right person for the job.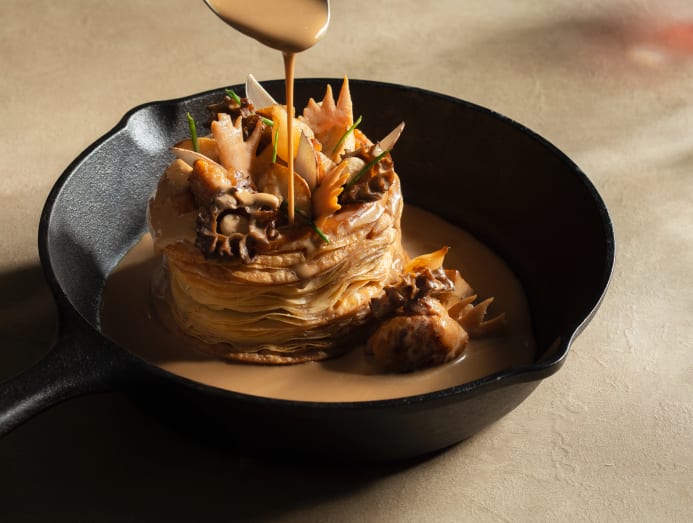 The idea for Claudine was born two and a half years ago, Royer told us. "I always thought there was a gap in the market in Singapore," he said.
Between your everyday bistro brasserie and your very high-end French dining destination, there was nothing in between. "The idea was to fill that gap in between, for people who like really high quality cooking, great ingredients and products, a Michelin-star level of cooking and precision, but at the same time don't want to spend three, four or more hours at the table."
Claudine, in fact, is the kind of place Royer himself envisions spending time at after a game of tennis on his day off.
"Maybe this is a bit selfish, but I personally love to go out and eat in a place like this on my day off. And I will!" he chuckled. "Claudine will be an everyday restaurant of joie de vivre, and most importantly, a neighbourhood French restaurant. You can come here and have a glass of wine and eat something at the bar, you can come with your family on the weekend for brunch, you can come for a business dinner in the middle of the week."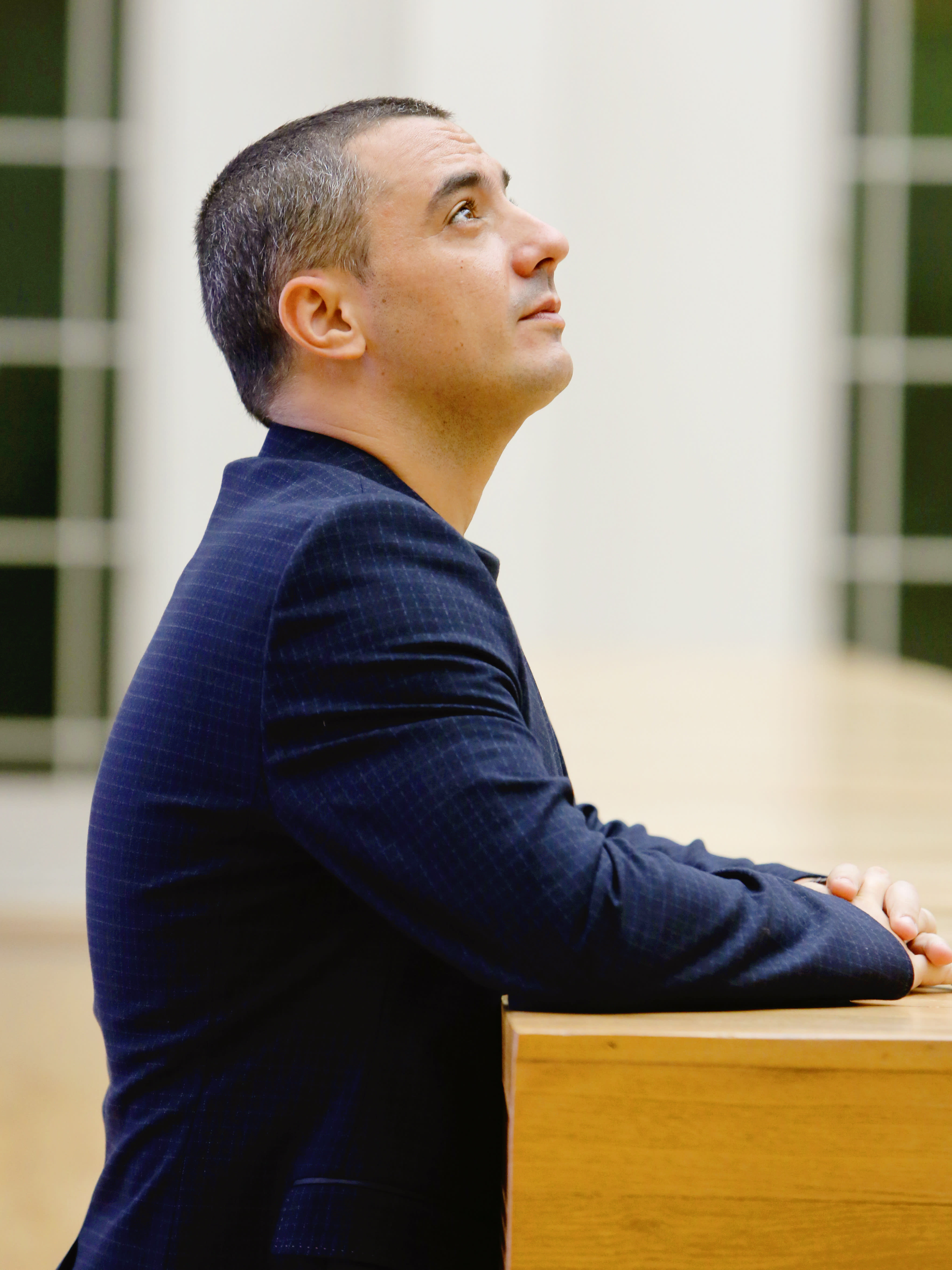 Odette, Louise, Claudine – how does he keep track of all the female energy in his life?
"It's very easy because they are the ones who are very close to my heart and shaped me as a chef and as a man," he said with a laugh. While Odette and Louise are restaurants named after his grandmothers, "Claudine is the name of my mum. So, this is coming from deep inside, and this is my humble roots and beginnings that I want to translate into the cooking".
Dishes from his hometown in central France's Auvergne region – the same ones his mother used to cook at home – will be given a luxed-up twist.
"There is a dish that is very typical for my hometown and something that I grew up eating a lot. It's called chou farci. It's a cabbage that has been blanched and then stuffed with pork," he said. While it's traditionally considered a humble dish of leftovers, "We add a little bit of luxury – we have a bit of foie gras here, and we balance the level of richness with a little bit of (prune). And then we put it back together and bake it".
Chef de cuisine Loic Portalier, who comes to Claudine from Louise in Hong Kong, took the time to show us the steps of making the dish, from layering the cabbage and pork to rolling it into a dense sphere to prepare it for baking.
Royer's early food memories growing up in France are of "very simple, very humble dishes that bring a lot of joy to the table", he said. A lentil salad, for example, "because lentils are quite popular in our region. We used to do lentil salad with pork. My mum would saute pork trotter quickly in a pan and we would eat it with a very intense vinegar dressing. We're going to have a version of that here, a little bit elevated again.
"But, you know, I think the pleasure of food can come from something very simple. And I don't really value the notion of luxury ingredients. I think a piece of carrot or parsnip can be as beautiful as lobster or caviar."
He added: "The restaurant is named after my mum, but the concept really is what I think a French restaurant could and should be in 2021.
"I think the ultimate pleasure and the ultimate goal of us as cooks, as chefs, is when you can manage to give emotion to people through food and cuisine. And this is what my grandma Odette and my mum Claudine did – giving us pleasure and happiness through food."
Claudine is at 39C Harding Road.