Cognac connoisseurs, rejoice: Martell unveils limited edition 100-year-old cognac
The Martell Centenary 1921 will have a limited quantity of 70 worldwide, with just five bottles allocated to Singapore.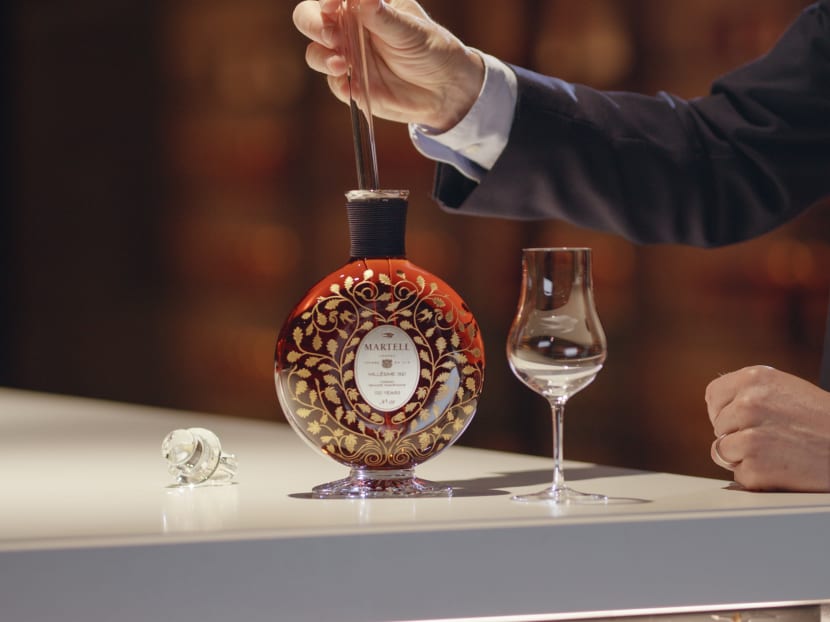 For the first time since its inception, Martell has released a rare collection of cognacs that have passed the 100-year milestone. 
The Martell Centenary 1921, part of the French cognac house's Ultra Prestige Range, embodies some of the finest spirits from their cellars. 
Cognac aficionados can discover notes of candied fruit and a hint of orange zest on the nose. Meanwhile, the palate boasts notes of honey, coupled with hints of red and black fruit and dried tobacco leaves.
Having reached aromatic maturity, it goes without saying that these centenarian cognacs possess great length on the palate and exceptional potential for ageing.
Known for their Cordon Bleu and Blue Swift collections, Martell's latest offering also features remarkable attention to detail.
Each bottle of Martell Centenary 1921 will be presented in a Baccarat crystal carafe. Crafted entirely by hand, the decanter features hand-painted motifs of vine leaves and shoots, inspired by Martell's iconic terroir.
The set comes with a handcrafted marquetry wooden box. Limited to 70 bottles worldwide, only five will be dedicated to Singapore. 
The cognac brand recently announced the return of its invite-only Prestige Dinner Series for high-net-worth clients and potential buyers. Featuring a tie-up with establishments such as Taste Paradise and Chinoiserie, its meals will pair dishes like braised wagyu beef cheek and fish maw soup with premium bottles such as Cordon Bleu, XO and Chanteloup XXO.
Five bottles of the Martell Centenary 1921 will be allocated to Singapore. Retail prices are available upon request.