Ordinary lattes too boring? Where to get pink, blue and purple drinks in Singapore
Move over, boring brown coffee. Milky beverages in all colours are proliferating – from "goth" charcoal lattes to green avocado-teriyaki ones.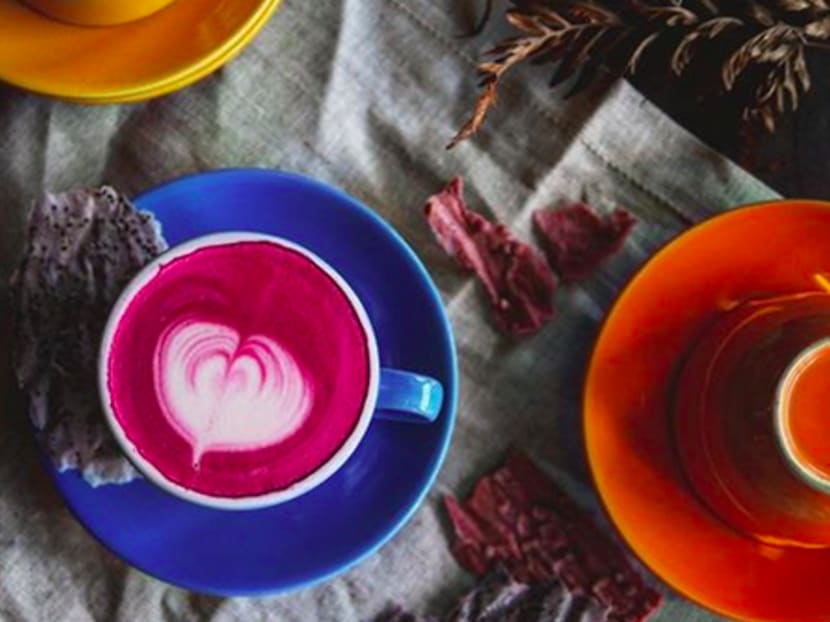 Even if you're a serious coffee addict sitting in a cafe nursing your flat white, you might find your eye unexpectedly drawn to a cuppa on someone else's table that's a vivid shade of blue.
It's perfectly understandable. Foods and beverages in unnatural colours – or colours we don't normally associate with being served in coffee cups with latte art – will always be fascinating.
Jade-green matcha lattes are commonplace, but an increasing number of establishments are offering a range of colourful lattes, prettily stained with beetroot, turmeric, charcoal powder and other ingredients that also claim to be really good for you.
We, for one, know that caffeine will always do us the most good – in mind and soul, at least. But when you're not really feeling a coffee, or if you don't mind mixing up your usual coffee with a little something extra, why not add a little visual excitement to your milky pick-me-up? Here are some non-coffee or blended lattes that come in all the happy colours of the rainbow.
TERIYAKI AVOCADO LATTE AT W39
Are you ready for a savoury-sweet, milky drink? This daring concoction is made with smashed avocado and a dash of teriyaki syrup. We can't help but wonder if it cures hangovers as well.
PANDAN LATTE AT DAL.KOMM JEWEL
A blend of pandan, espresso and milk, this concoction is available exclusively at the Korean cafe chain's Jewel Changi Airport outlet.
BLUE BELL LATTE AT TIONG BAHRU BAKERY
This hot beverage is coloured with blue butterfly pea flowers, which give it that azure hue. It's also made with coconut milk, so it's dairy-free.
PINK SOY LATTE AT AFTERGLOW
This cuppa is made from freshly cold-pressed beetroot and ginger, soy milk – or almond milk, if you'd prefer – and a little cinnamon.
ROSE GOLD LATTE AT GRUB
Blended with rose syrup, this latte is for those who love Bandung and can't get enough of its fragrant sweetness.
ROSE LATTE AT BOUFE BOUTIQUE CAFE
This one has coffee in it – two shots of espresso, to be exact, with rose syrup and milk. Drink with your pinky out.
RED VELVET LATTE AT KITCHEN BY FOOD REBEL
This milk-based beverage's ingredients include beetroot, turmeric, cinnamon, ginger and vanilla bean. Feisty.
GOTH LATTE AT W39
These striking black lattes – you can also choose Goth Cappuccinos – are made with coffee and charcoal powder, and should make your mood anything but black.
BLACK SESAME SOY LATTE AT CRAFTSMEN SPECIALTY COFFEE
Here's a latte with an Asian twist, where the strong, nutty fragrance of black sesame blends into creamy soy milk.
TURMERIC HONEY LATTE AT CEDELE
Turmeric, of course, is known to have a host of health-boosting benefits, such as anti-inflammatory and anti-oxidant properties.
SWEET POTATO LATTE AT COFFEESMITH
Purple sweet potatoes give this milky drink its pretty violet colour.
TARO LATTE AT BREW MAISON
Brew Maison also offers sweet potato, black sesame and pumpkin lattes, but the taro one, they say, is the most popular.
SWEET POTATO LATTE AT HALCYON & CRANE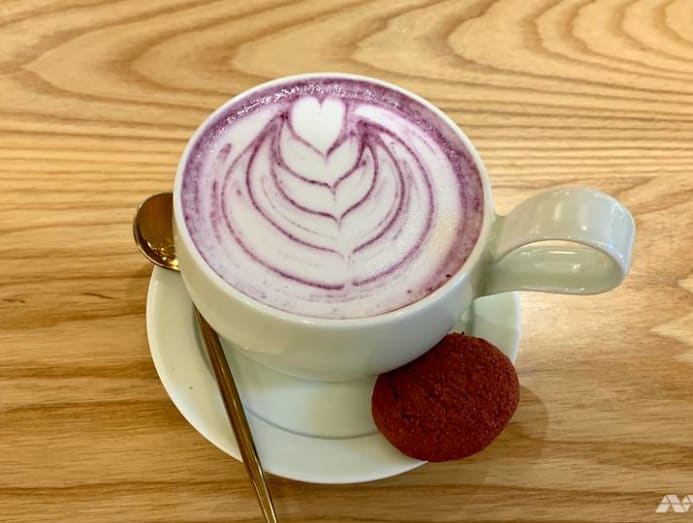 A magenta cookie accompanies this purple latte, because a regular-coloured cookie just wouldn't cut it.
TARO LATTE AT CRAFTSMEN SPECIALTY COFFEE
Yam and milk are always a match made in creamy heaven, aren't they?