Former Willow head pastry chef brings back forgotten flavours at her own dessert parlour, Catkin
Soh Hui Shan is reviving the concept of dessert omakase at her parlour, Catkin, which she opened after leaving her job as head pastry chef at Hong Kong Street restaurant Willow. 
Foodies were shocked when the news broke that Soh Hui Shan had left her job as head pastry chef at the Hong Kong Street restaurant Willow. Since the opening of the charming modern Singaporean restaurant at the start of the year, Soh had been wowing customers with her elegant, intelligent, technically refined and ridiculously delicious desserts.
Tasting her nostalgic creations, each based around either a childhood snack or long-lost local flavour, was a highlight for many regulars. 
But her fans needn't worry. 
Soh recently opened her own establishment, Catkin by Huishan, a dessert bar that resides within the Twenty Eight Cafe in Sophia Flats, at the corner of Wilkie Road and Niven Road. 
For Soh, the new cafe offering both dessert omakase and a la carte dessert options is her moment to shine.
HOW DID YOU GET YOUR START IN THE F&B SECTOR? YOU MUST HAVE BEEN REALLY YOUNG.
My first brush with the F&B industry was way back when I had just finished secondary school. Times were tough and I didn't come from a well-to-do background so I paid for my pastry education by working many different part-time jobs, which involved cooking and baking. I even experimented with working as a member of the service staff.
WERE YOU ALWAYS PASSIONATE ABOUT FOOD, EVEN THROUGH CHILDHOOD?
I was 13 when I first picked up baking. I learned by watching YouTube tutorials. 
I feel really lucky to have found my passion that early in life. So many people spend a long time pondering their future. 
Originally, I wanted to work in hotels, decorating cakes all day. But while in pastry school, I got assigned to The White Rabbit at Dempsey Hill and that was when I realised I really enjoyed the rush of service and found my calling as a restaurant chef.
I KNOW YOU'VE WORKED AT ANDRE, ZEN AND WILLOW. AM I MISSING ANY OTHER RESTAURANTS?
I've worked at several more places. Just before Willow and after Zen, I was at Le Matin Patisserie, where I developed my pastry-making skills. Before that, I worked for the now defunct Cheek by Jowl, which had been my favourite restaurant. There, I managed their pastry section and was given the amazing chance to create my first dessert. It was, of course, rough around the edges but such an incredible experience for a young chef.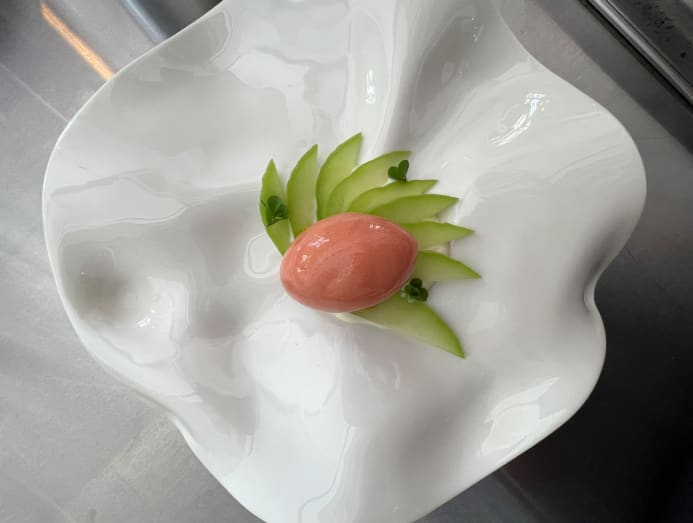 WHAT MEMORIES CAN YOU SHARE FROM YOUR TIME AT ANDRE? IT WAS SUCH AN ICONIC RESTAURANT THAT CLOSED DURING ITS PRIME.
I have so much respect and admiration for Chef Andre. It ran the same way as a traditional French kitchen. Think crazy hours and huge mental stress. Everyone was expected to achieve perfection. Chef Andre himself was a perfectionist so he held us all to the same standards. 
The learning curve was tough. There was a lot to absorb, especially since I was so inexperienced. I can't tell you the number of times I stayed back after service until 4am to practise my knife skills or the number of nights I slept at the restaurant. It was my second home.
But as the old saying goes, pressure makes diamonds! I really believe my experience there honed my ability to keep calm. 
One memory that really stood out was when I followed Chef Andre to Taipei for the Golden Horse Awards gala. It was my first professional foray overseas. It was also my first time working in an event setting and I was winging it the whole time. When the hotel told me I had to use an ice-cream machine that was completely foreign to me, I broke down, knowing how much trust Chef Andre had placed one me. I felt like a huge disappointment. But he took time off from his mountain of work to teach me patiently, step by step, how to operate it. I was so touched.  
I would bend myself backwards for a chance to learn from chefs like Andre and Matin again.
WHAT'S KEY TO CREATING A MEMORABLE DESSERT? 
I feel like desserts are very underrated – they're often thought to be not as important as mains. Traditionally, only well-established restaurants place a large emphasis on ending meals well with a great dessert. 
Think about it. If a great meal ended in an unimpressive way, that would take the wind out of the meal. The adrenaline dies too quickly. In sports, they call that a million-dollar move with a 50-cent finish. 
I work towards wowing my guests all the way to the last course on the menu. It's important to me to break out of the old rhetoric of dessert not being a dish worth having. 
YOUR DESSERTS AT WILLOW WON RAVE REVIEWS. WHY LEAVE SO SOON?
I'm humble and flattered by the reception my desserts received at Willow. But starting a place of my own had always been something I thought long and hard about. It had always felt like an impossible dream. I decided to make the move when I realised that indeed, one will never be ready – if I don't try, I'll never know. 
TELL US ABOUT CATKIN. WHAT'S THE CONCEPT?
I aspire for Catkin to be a place where dessert lovers can come to enjoy a full-on omakase-style menu or just to enjoy a great dessert. If you just want to try some out-of-the-ordinary ice-cream-based desserts, please come too.
A concept that really inspired me was Kyo-Bar in Bangkok. I want to break into the niche market of dessert omakases or dessert avenues, which is currently not a common sight in Singapore.
YOUR DESSERTS ARE STEEPED IN NOSTALGIA AND LOCAL FLAVOURS. TALK US THROUGH YOUR INSPIRATIONS.
I often get inspiration from flavours that I personally love. I aim to create something out of the ordinary with flavours I love that are often forgotten.  
WHAT'S THE BIGGEST MISCONCEPTION ABOUT THE LIFE OF A CHEF?
People around me tend to think that being a pastry chef is a glamorous job, but most do not understand the hardship and gruelling hours behind the work we do. Far too often, I hardly get to have two proper meals a day. And as someone who physically requires a lot of sleep, this life hasn't been the easiest. I deeply depend on flow.
WHAT ARE YOUR HOPES FOR CATKIN?
I hope it brings happiness to more people and perhaps makes a little impact on the local pastry scene.