Creative Capital: He serves delicious gifts from the sea at his one-man restaurant
Chef-restaurateur Jeffrey Yeo of Ovenbird doesn't need formal culinary training to impress his legion of devoted patrons.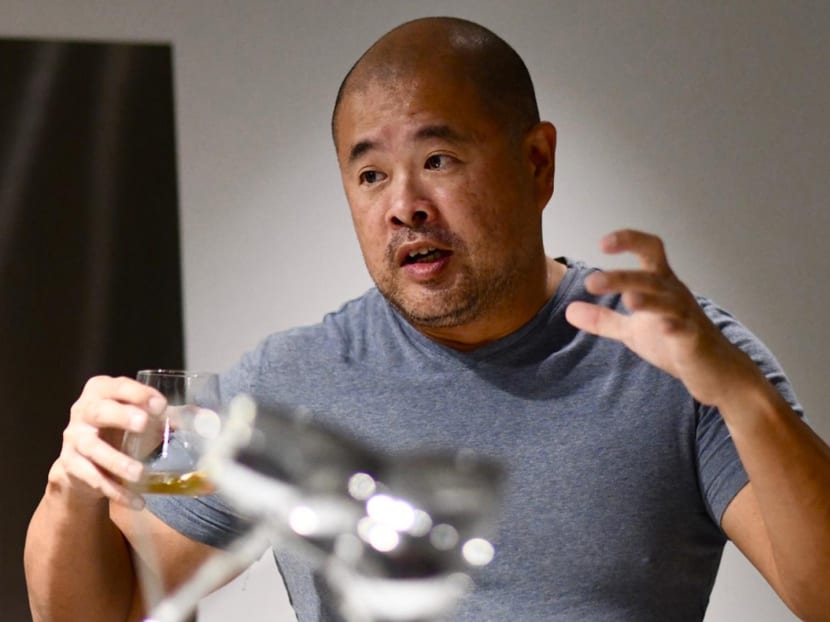 Singapore is home to all kinds of restaurants representing cultures and cuisines from around the world. We have restaurants, helmed by both local and foreign chefs, that are on par with the very best in the world. We have been for decades and continue to be one of the best places in the world to eat.
One kind of restaurant I have been tracking more recently is something you see a lot in countries like Japan, but on our shores, are rarities – restaurants owned and operated by a single chef who does everything, from the front of house to the cooking and cleaning, by him or herself. One such restaurant is Ovenbird, which opened less than half a year ago, after having existed as a private dining experience for several years.
Chef-owner Jeffrey Yeo is an untrained former Navy man who is humble, passionate and has been able to develop a devoted and loyal following of friends and patrons. Several of my friends are among his fans. Over the last few months, each of them has individually implored me to check out what he is doing, promising me I will love his food. And while I have a reservation (for September) I decided I would check with him now and get to know him and his story.
HI JEFFREY, HAVE YOU ALWAYS BEEN AN AVID COOK?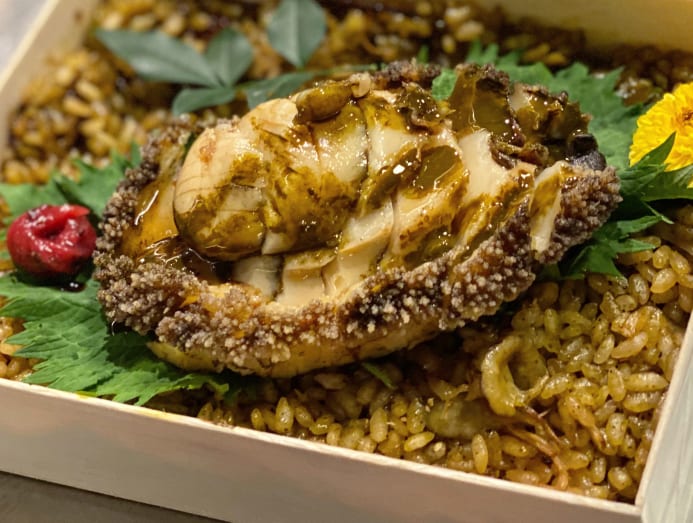 I started pottering around the kitchen 12 years ago when I was living in Tiong Bahru, right across the street from the market. It wasn't a particularly great time in my life. There were lots of changes – unhappy ones – but I found solace and a lot of fun in cooking my own meals, and putting food on the table for my friends as they gathered at my pad for a drink or two.
Things sort of took off from there, and as my life sorted itself out – met a girl, got married, had kids – cooking became a big part of my family life. The biggest step was perhaps when I started taking over CNY cooking duties from my mum five years ago. That was a big deal.
WHAT WAS THE GENESIS FOR OVENBIRD?
Ovenbird is my wife's nickname for me. When we were dating, I'd be slaving over meals by the oven, and then off in a flash, like a bird taking off, to do my Ironman training and then back again to serve the meal. That's the story behind the name. The Ovenbird Facebook page was borne out of necessity to catalogue my cooking adventures. I'm glad I did that because a lot of great memories were captured in the posts.
WHEN DID YOU START OFFERING PRIVATE DINING?
Around 2015, not long after I started Ovenbird's Home Cooking Adventures. I figured it was a nice idea to host strangers who were game enough to eat food prepared by a home cook. It was about meeting people, sharing food, practising my cooking, and having a great time making new friends. I broke out my bottles of wines – I've been a wine geek for a while – and from my earlier "private dining" sessions, I met many friends who are now scattered across the globe.
Because I never spent a single day in F&B, I didn't know there was a term to describe what I was doing. I called it my "Experimental Kitchen" back then.
AND WHAT MADE YOU WANT TO GO FROM COOKING FOR FRIENDS AND LOVED ONES TO START SERVING PAYING CUSTOMERS?
To be honest, the transition wasn't a conscious decision. I enjoyed cooking and meeting new people, and there were new people, total strangers, who loved this kind of experience, so it just occurred naturally.
HOW HAS YOUR FOOD EVOLVED OVER THE YEARS?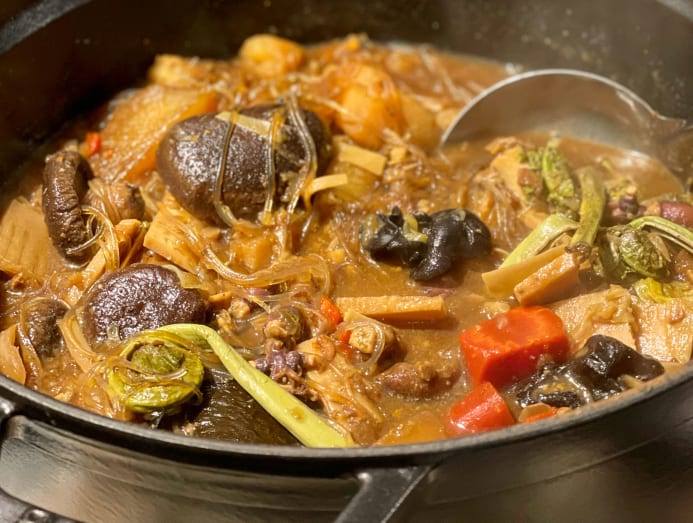 So here's the deal. I never had any formal culinary training. Never really considered myself a foodie by any measure. My interest in food started simply with me trying out heritage recipes passed down from my mum – dishes I remembered eating as a kid, like my grandma's food.
And because I love my wines, I travelled to Europe quite a bit back then and becoming interested in Italian and French food. So I started experimenting with recipes. But I guess the more I cooked, the more cross-cultural influences I've been able to introduce into my recipes.
The biggest evolution – the giant leap that led me to what I'm cooking now – was when I bought my first Japanese knife, a Sakai Kikumori Yanagiba, in 2017. The minute I picked up that knife, and the 90 or so after that, I delved into the art of Japanese cooking as best I could, without knowing the language, or having travelled to Japan at the time, or having eaten at a high-end sushiya or kappou restaurant in Singapore.
WHAT DO YOU CALL YOUR FOOD? IS IT MOD SIN, JAPANESE, OR SOMETHING ELSE?
I guess I start with the main produce, which 90 per cent of the time, involves a seasonal fish from Japan. And that means almost always working the fish as a sashimi, or involving some form of curing – Shoyuzuke, Misozuke, Sakekasu, etc. I will then work in seasonal vegetables and work out saucing around the fish. I think as a rank amateur and being utterly untrained, save for a six-week "tourism" sushi course at the Tokyo Sushi Academy, I have to work within my limitations.
WHAT CHEFS OR RESTAURATEURS INSPIRE YOU?
I run a one-man restaurant. Never did I imagine that I'd ever work in a restaurant let alone own one. But if there was anyone who has given me the confidence and the inspiration to do what I am doing now, it is Chef Javier Low of Iru Den, even though he doesn't know me. He probably doesn't even recall that I dined at his one-man project three or four years ago. But that dinner was life changing. To put one's entire heart, soul and craft into running a small restaurant is exactly what every home cook does for his or her family every day. It's a labour of love.
My first trip to Japan in 2018 gave me the opportunity to dine at one-chef and at family-run izakayas, sushiyas, and ramen joints. The pride and effort they put in, day in day out, and how that is all rooted in a tradition of hospitality and community, those establishments really inspired me.
IF YOU COULD COOK FOR ONE SMALL GROUP OF DREAM DINERS, WHO WOULD YOU INVITE?
I would love to cook for Chef Javier. That's one.
The next person would have to be my Sensei at the Tokyo Sushi Academy, Chef Hiro, who pretty much taught me what little I know about sushi making and Washoku.
Then there's Hashinokouchi-san and his wife. They're an inspirational couple who own an izakaya near Nihonbashi where I stayed at during my sushi course in Tokyo. They made me a Singapore-style herbal Bak Kut Teh using seasonal ingredients and a fusion of cooking styles when I was there – paired with seasonal sake, wines from Yamanashi.
The last two group of people I'd love to cook for would be my original group of Japanese guests who are expats working in Singapore. They've journeyed with me from my home cook days up until today.
WHEN AND WHY DID YOU DECIDE TO OPEN A PROPER RESTAURANT?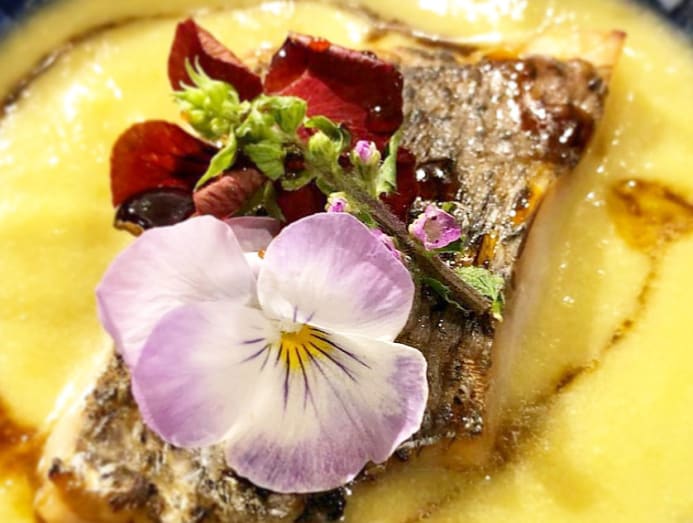 To be honest, I had no choice but to open a restaurant if I wanted to continue to serve what I loved most, raw fish. I had a visit from the SFA back in Sep 2020; they had received "feedback" about me preparing and serving sashimi at home. Partly because of this, a new regulation was implemented that essentially banned home cooks from preparing and serving raw, ready to eat seafood. It wasn't a food poisoning case, as no food samples were taken. And it all took place in a space of two or three weeks.
I wasn't the only one affected; there was another home chef who is a trained sushi chef and he had to cease his private dining practice as well. I could have reverted to cooked food and continued my private dining practice, but I didn't want up give up sashimi, which is a big part of what I do – especially aged sashimi. So I put all the savings I have, scrounged up whatever else was needed from my wife and family, and sunk it all into Ovenbird the restaurant.
WHAT WAS YOUR PREVIOUS CAREER?
I started my work life as an SAF Scholar. I was a Navy man. Then, I spent about a decade in healthcare operations. My last full time job was as a sports director at Singapore Sports School working with young student athletes.
WHAT DO YOU WISH YOU HAD KNOWN ABOUT THE F&B INDUSTRY BEFORE BECOMING A FULL-TIME RESTAURATEUR?
Where do I begin! If I'd been 15 years younger, I'd sink myself into the toughest apprenticeship in a Kaiseki restaurant, provided there was one willing to take me. I would have loved to have gotten that kind of formal training and the experience of working in a real Japanese kitchen.
I would also have liked to have trained in a traditional French brigade style kitchen. Because I don't have the experience of working with others in a kitchen, right now, it's easier, I guess, that I run my shop alone. If I had to work with a team, I'd be an unmitigated disaster.
WHAT'S THE BEST THING ABOUT WHAT YOU DO?
The conversations I have with my guests and friendships we develop over the course of time. It's very easy to get sucked into one's own existence in a vacuum, and it's worse during the pandemic. But right now, having that connection with my guests, it's the best thing.
AND WHAT IS THE TOUGHEST?
Being away from Edith, my eight-year-old daughter; Esme, my three-year-old girl, and my wife. We're a close family. I took year-long breaks in my career to be a stay-home dad when my girls were born. Being away from them, it's tough. Especially for Edith. I see her only two nights a week, Sunday and Monday. And she's really growing up too fast.
WHAT IS THE BIGGEST MISCONCEPTION PEOPLE HAVE ABOUT YOU?
I don't really know. Some people say I've got a lot of talent, but I don't think I have anything close to what can be described as talent. What I have is the courage to pursue what I love and do it all the way. I try to make every day in the kitchen a great one for myself and those who I cook for.
HOW HAS THE PANDEMIC AFFECTED YOUR BUSINESS?
It hasn't ruined me financially, but that's after four months of Ovenbird being run as a commercial concern. I guess, being so small, the dining-in restriction doesn't hit me as hard. The enforced no dining-in periods haven't killed me either, as I was able to pivot to a takeout model quite easily. But that's really because I work alone.
The wear and tear comes from the extra hours I have to put in to do takeaways, and that takes a toll on my physical health. Apart from that, the fear that Ovenbird would somehow become a cluster is always hanging over my head. That is my number one fear.
WHAT IS YOUR VISION FOR OVENBIRD?
As a newcomer to the scene, I think being able to survive in my current model – a one- man restaurant – is what I'm focused on. It's something not all too common in Singapore, unless you count hawkers. In fact, I always tell my friends that I'm a hawker in a mall. Basically, I hope that this new career I have chosen will be able to last at least two decades.
I UNDERSTAND YOU ARE A KNIFE GUY. ANY FAVOURITE CAN'T-LIVE-WITHOUT PIECES? ANY PIECES YOU ARE SAVING UP FOR?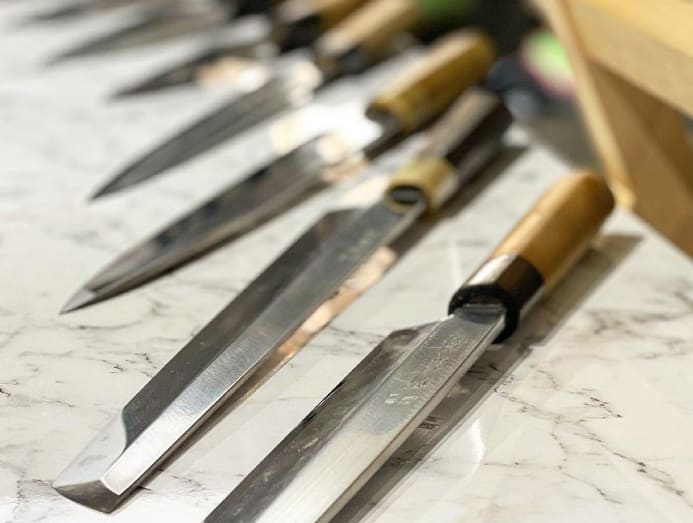 Knives…where do I start. The 150mm Mizuno Tanrenjo Ai-Debra is my most heavily used knife and therefore the favourite I can't live without. Made by my friend Mizuno-Jun san who is a remarkable knife maker from Sakai, this knife is used to fillet 70 per cent of all my fish.
I guess I'm not really saving up for a dream knife, not at the moment at least. But I do have in mind to get a heavier Hamokiri (400mm) as I improve my honekiri technique working on Hamo.