Damian D'Silva's new restaurant Rempapa will serve some forgotten Singapore heritage dishes
Tried kai fan and baca assam before? The chef and MasterChef Singapore judge's new restaurant opens on Dec 2, where he hopes a younger generation of diners can engage with their culinary legacy, with 50-odd dishes to choose from.
Is it Singapore or Malaysia that has the most authentic version of chicken rice? Well, the point is moot and we should stop arguing about it, reckons chef Damian D'Silva, during a nice long chat with CNA Lifestyle.
Why not just enjoy the food?
To the 65-year-old chef, best known as Singapore's most passionate and vocal advocate for local heritage cuisine, the idea of a dish's authenticity should be scrapped altogether. Instead, it's more important to focus on the opportunities it presents for learning, understanding and, of course, savouring.
At his previous restaurants Folklore and Kin, the MasterChef Singapore judge was best known for the Eurasian and Peranakan recipes passed down within his family.
In his newest restaurant, Rempapa, which will open on Dec 2 at Park Place Residences at PLQ, he turns his focus to presenting local dishes that draw from all our cultures and races, forgotten dishes from our history, and new spins on familiar dishes, with the aim of engaging modern palates.
A plate of nasi lemak, for example, cannot give words to its own story – but D'Silva, who remembers waiting for banana-leaf-wrapped coconut rice and fish sold from the back of a bicycle as a child, knows some of the dish's earliest iterations and details of how it has morphed over the years.
Born into a family of gourmets, some of his earliest memories involve enjoying his grandfather's masterful cooking and performing chores in the kitchen for his grandmother.
Today, there is no one in the industry quite like him – someone so knowledgeable, accomplished and eloquent in local food lore, yet, after all these years, still so genuinely interested in talking to you about where to find the best char kway teow, what your favourite foods are and his own most cherished gastronomic memories.
A story about how, as a child, his grandfather took him to Stanley Street to eat at one of the area's many pushcart stalls takes on an almost cinematic quality as he tells it: The pushcart unfolding like a Transformer into a dining counter; stools appearing and being set out; and a smorgasbord of dishes, all cooked at home by the hawker, tantalisingly arrayed for diners to choose from.
The scene, of course, is now a bygone slice of history, but remains stamped in D'Silva's elephant memory.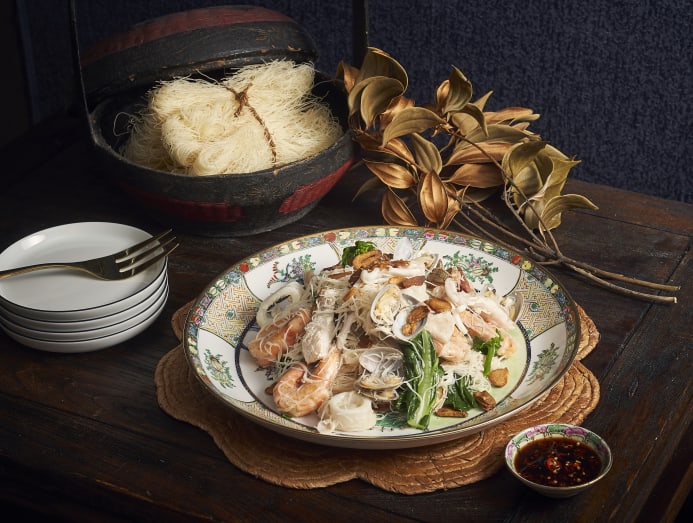 But being at the forefront of the fight to preserve heritage dishes from fading in the collective cultural memory has not been easy.
"I have come to realise over the years that one of the biggest challenges of passing down old heritage recipes is to 'force' someone from the younger generation to like a dish that's been passed down hundreds of years, which they are unfamiliar with and have not acquired the taste for," he said. "They may not like the dish as the flavours do not the hit all the right spots."
In his many years as a food enthusiast, "I have seen our palates change from what we have consumed over the generations," he said.
First, "from home-cooked, labour-intensive dishes to fast and simple hawker dishes that fed the working public"; "then there came fast food and instant noodles that fed children, students and the workaholics. At the same time, a host of different cultures were introduced into our traditional heritage. It was a melange of flavours and cuisines from every part of the world."
What's more, "in 50 years, we graduated from paupers to dukes, and feeding the average Singaporean is challenging. Not only does the food need to taste good, it needs to look 'sexy'."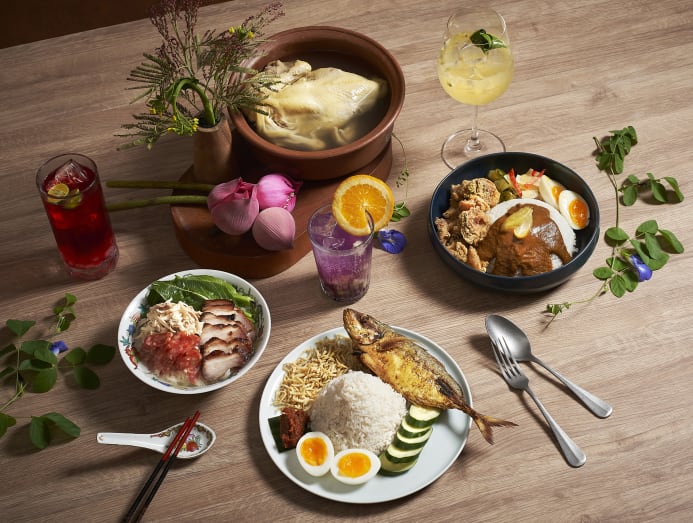 At Rempapa, opened in collaboration with OUE Restaurants, he's sallying forth with aplomb. Rempapa will be an all-day dining spot with indoor and outdoor seating, offering 50-odd dishes for breakfast, lunch, tea, dinner, and snacks and drinks in between. It will have a separate takeaway menu, as well as one-dish meals from noodles to rice. And there will be a retail space where visitors can purchase pickles, sambals and vacuum-packed items.
D'Silva will also maintain a private room with a "chef's menu" that changes according to what is available throughout the year, focusing on local migratory fish species and lost heritage dishes from all the different ethnicities within Singapore.
Respected Singaporean chef (and MasterChef Singapore judge) Damian D'Silva has a new restaurant called Rempapa, which celebrates Singapore heritage cuisine by serving both old and new versions. CNA Lifestyle's May Seah got a cooking-meets-history lesson when he showed how to make nasi lemak the traditional way – and did a taste test of other versions found in Singapore.
One of his firm beliefs is that we should work on studying and combining elements of Indian, Malay, Chinese and Eurasian cuisine to create new Singapore dishes that we can be proud of.
Several dishes on Rempapa's menu come under the category of what he calls "Singapore New Heritage cuisine", "born from the soul of tradition to seduce the palate of today".
For example, there's Damian's Curry Chicken, which combines the profiles of both Indian and Eurasian curry powder mixes to create Damian's curry powder with 10 spices. It uses a wide range of both wet and dry spices in its rempah base adopted from the Malay gulai. And it features the inclusion of coconut water instead of plain water as the Chinese would, and more coconut milk, as Sri Lankan curries do. There are also blue ginger and lemongrass, hallmarks of the Peranakan kitchen.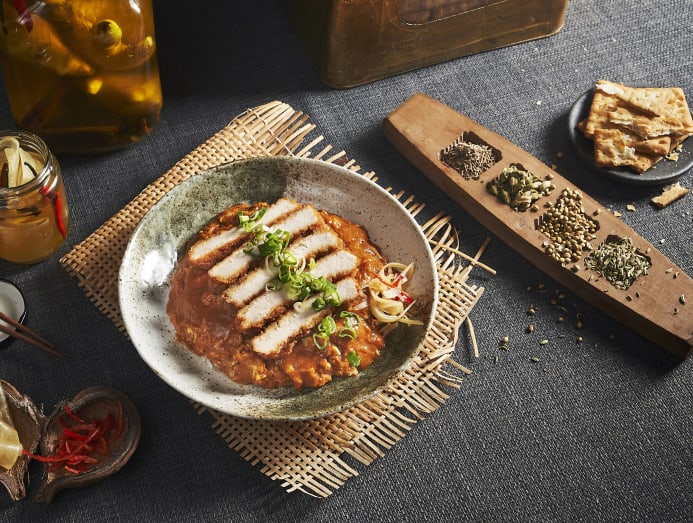 Then there's Damian's Pork Chop Curry Rice, which initially looks like a friendly katsu don. "In this dish, I am presenting a new heritage dish that is familiar by sight – with a different flavour – to encourage the younger guests to 'come and eat' and 'let's talk' after," he said.
The pork is crumbed with hand-pounded cream crackers, Hainanese style; but the curry gravy is "re-worked" to be less spice-heavy so as not to overwhelm. It also contains garam masala "which reflects the rich Indian, Eurasian and Malay influence".
"In order to take various elements of cross-racial recipes to recreate a seamless dish, one must be committed to deep research and trials, to gain deep knowledge of each cuisine – its cultural heritage, the history, the ingredients, specific cooking methods - and to extrapolate the relevant elements of each cuisine in a meaningful way," D'Silva said.
Also on the menu are heritage dishes that have been long forgotten, such as kai fan, a bowl of shredded chicken, char siew and lup cheong in chicken stock that was peddled by hawkers at Boat Quay and Clarke Quay; baca assam, a tangy Eurasian beef dish that's almost been lost through the ages, possibly due to how labour-intensive it is to prepare and the high cost of beef; and lamb leg rendang, based on the classic Minangkabau dish with Malay and Indonesian influences.
And some classic dishes, like nasi lemak, are made with traditional techniques – steaming the rice with pandan and lemongrass, for example, and straining the coconut by hand.
"With every dish comes a story of how the dish evolved," he said. "I believe when a discerning person eats a dish that summons his or her instincts, it tells them what they are eating is not just different in taste but has emotional qualities that invoke a need to know more. Whether it's wanting to know the recipe or the need to discover more about the dish – it will change the view of the person on what is right or wrong.
"In my mind, though, right, or wrong does not exist, like the word 'authentic'. What's more important is that the person executing the dish does it with emotion and authority."
That is what D'Silva has devoted his life to.
"In the last six years, I have found a sense of purpose," he said. "This purpose is to preserve and educate our young chefs and to teach, as much as possible, anyone who is interested in safeguarding our heritage food."  
Rempapa will open Dec 10 at 2 Paya Lebar Road #01-01/02/03, Park Place Residences at PLQ.