4 fancy Christmas dishes you can make at home to impress your guests
Time to level up and make your visitors wonder if you ordered these from a restaurant.
Nothing quite warms the heart like sitting down to a wonderful spread of Christmas dishes with loved ones. It is even more satisfying when the food is home cooked, with the seasoning and flavouring adjusted to suit the family's tastes. 
Before you exclaim, "ain't nobody got time to defrost and cook a turkey", it's about how you plan your time (making some of the dishes' components ahead helps). With that in mind, there's no reason why you can't attempt levelled-up recipes. Yes, it will take more effort but these dishes may become family staples once you get the hang of them.
For a festive spread that will make guests ask, "where did you order this from?", how does baked salmon with dill sauce and tapenade sound? Or a bacon-wrapped meatloaf oozing with cheese? You can accompany those mains with a surprising Middle Eastern take on broccolini. Then, top off dinner with a bubbly, elegant dessert of champagne Jello shots (non-alcoholic version available, too).
You can choose to make all the dishes below, or whip up one (or more) and order the rest from your family's favourite restaurant. Either way, enjoy your Christmas dinner!
BACON-WRAPPED, CHEESE-STUFFED MEATLOAF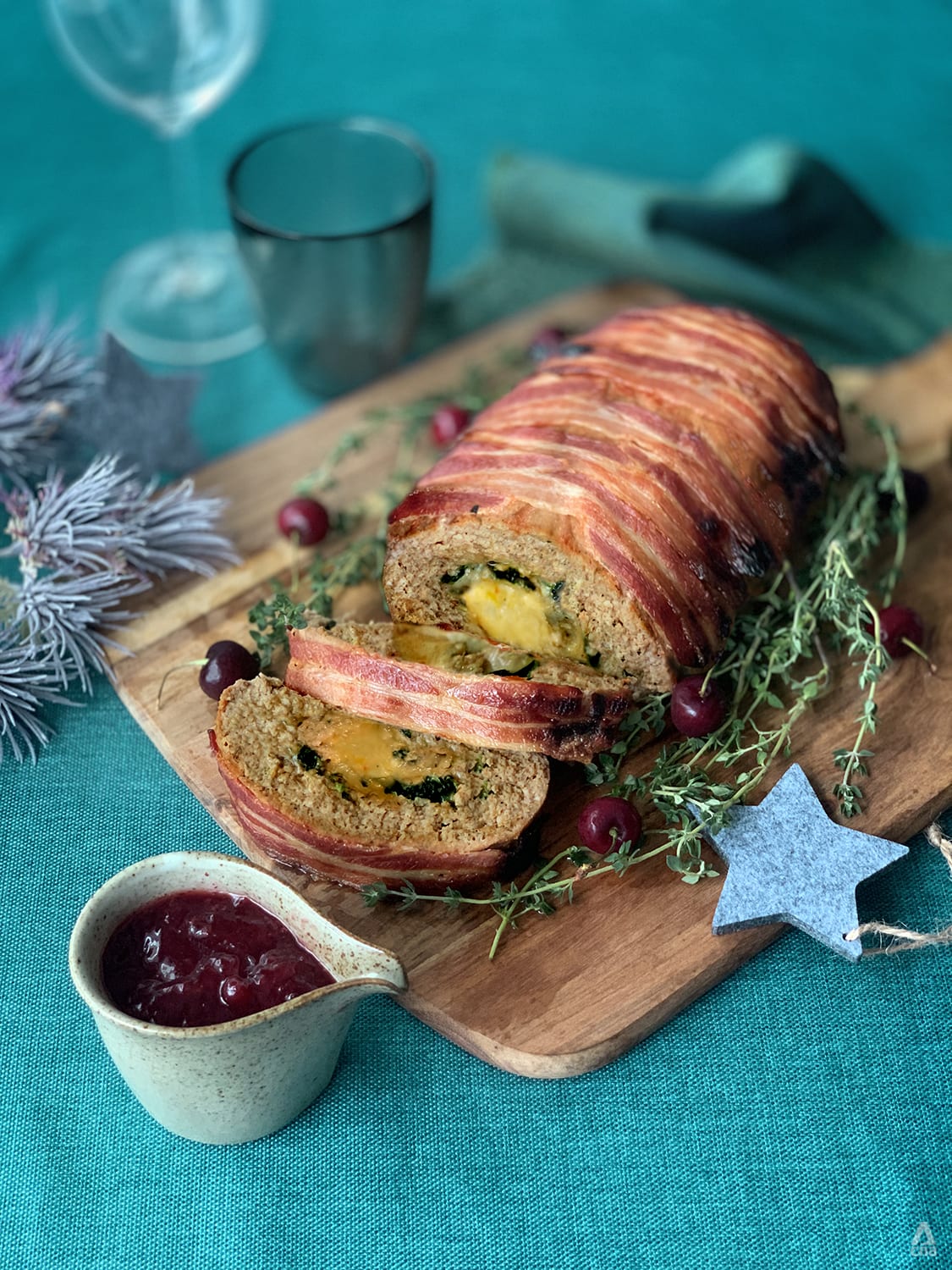 Serves: 8 to 10

Preparation time:

30 minutes

Cooking time: 

1 hour and 30 minutes
You don't have to worry about dry meatloaf disasters with this modified recipe by Olivia Mesquita of oliviacuisine.com. The use of milk-soaked bread may seem odd but it's a great way to bind the meat and add moisture to the meatloaf.
The use of chuck for tenderness and moisture, and sirloin for flavour is another win-win. If that's too beefy, you can replace the sirloin with pork belly, which further adds moisture to the meatloaf.
To take the stress off the actual day of the dinner, put together the meatloaf the day before; then give yourself about two hours before the guests arrive.
INGREDIENTS
Brown sugar ketchup glaze:
Mix ingredients in a small bowl. Reserve.
1/4 cup ketchup

1 tablespoon sugar

1 tablespoon cider or white vinegar
Stuffing:
Microwave frozen spinach on high for 1 minute. Then, season with salt and pepper. Reserve. Leave the cheddar cheese for assembling.
1 cup frozen spinach

Pinch of salt and pepper

1 1/2 cups shredded cheddar cheese
Meatloaf:
Prep a day ahead and refrigerate. Bring meatloaf to room temperature before baking.
3 slices crust-less bread

1 cup milk

2 large eggs

1 teaspoon onion powder or 1 small diced onion, sauteed

1 teaspoon garlic powder or 3 to 4 minced garlic cloves, sauteed

1 teaspoon dried Italian herbs

1 teaspoon salt

1/2 teaspoon ground black paper

1 tablespoon Dijon mustard

1 tablespoon Worchestershire sauce

2 teaspoons paprika or chilli powder

2 pounds meat-loaf mix (1 part ground chuck with 1 part ground sirloin or ground pork belly)

14 slices bacon
INSTRUCTIONS
Pre-heat oven to 180°C.

Tear bread into small pieces. In a large bowl, soak bread pieces in milk until mushy. 

Add eggs, onion, garlic, Italian herbs, Dijon mustard, Worcestershire sauce and paprika to bread and milk mixture. Using a fork, mix until well combined.

Add meat and season with salt and pepper. Using your hands, mix everything until combined. Do not overwork the meat or your meatloaf will be dry.

With wet hands, pack 2/3 of meat mixture into a 9-by-5-inch loaf pan. Press the centre in and fill it with a layer of spinach and top with cheddar cheese.

Cover meatloaf with remaining meat mixture and press down hard to pack meatloaf in. This helps ensure meatloaf doesn't fall apart when you tip it out of pan.

Tip formed loaf onto a rack. Brush loaf with glaze. Then, arrange bacon slices cross-wise, overlapping them slightly and tucking them under loaf to prevent curling.

Bake meatloaf for 1 hour and 30 minutes or until bacon turns crispy and the inside temperature is 70°C.

Loosely cover with foil, and let it rest for 10 minutes before serving.
HONEY-GLAZED SALMON WITH DILL SAUCE AND TOPPING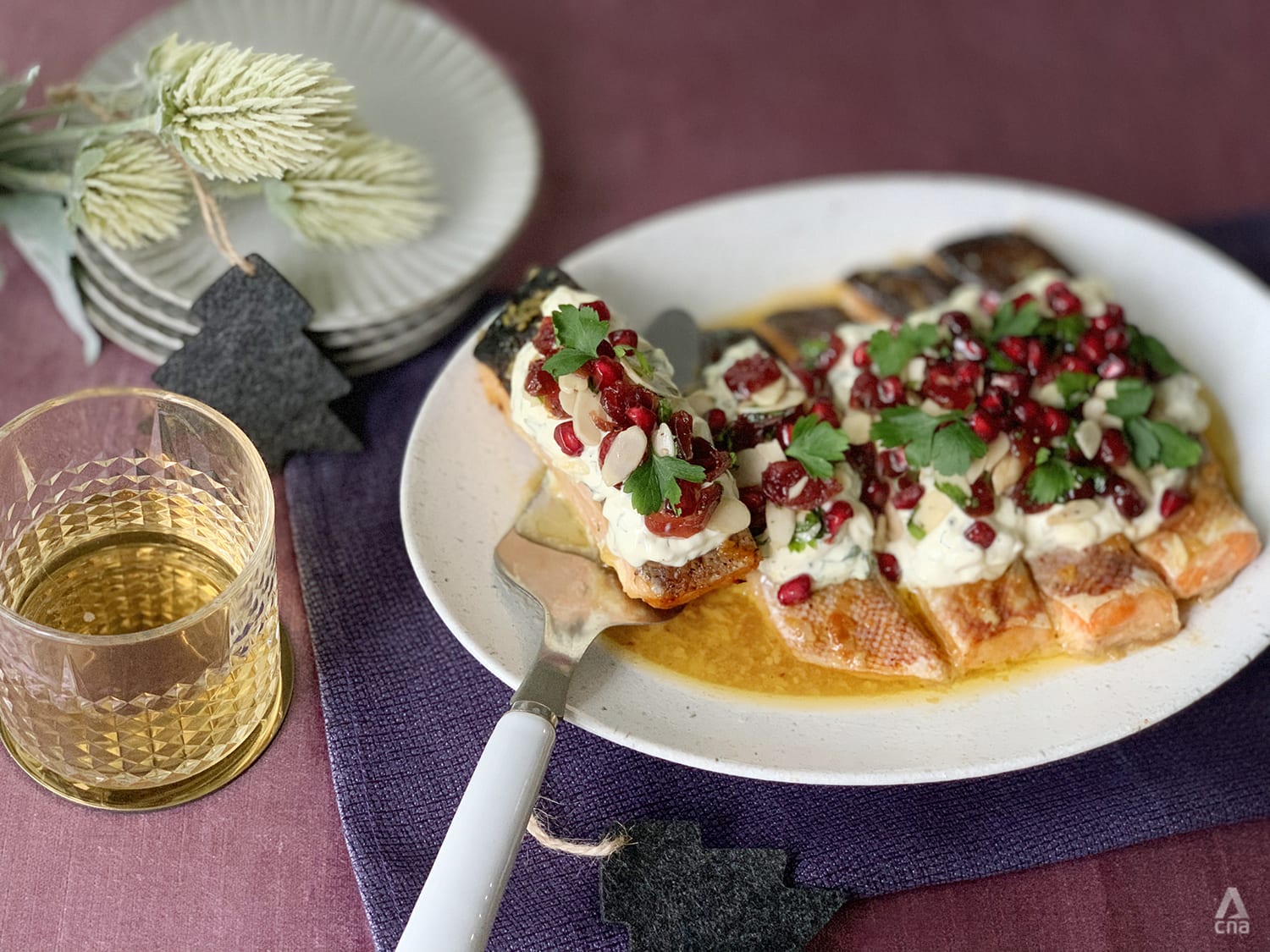 Serves: 8 to 10

Preparation time:

30 minutes

Cooking time:

30 minutes
Forget the turkey. This tweaked baked salmon dish by Nagi of recipetineats.com may just be your Christmas dinner centrepiece from now on.
It may look like a lot to do but the recipe can be broken down into: Make glaze, pour over salmon, bake in oven, then top salmon with sauce and topping.
Plus, it's easy to clean up (just scrunch up the foil and baking paper) and the cooking's all done in the oven (read: No oil splatters to wipe down).
INGREDIENTS
Salmon:
Season salmon with salt and pepper, and set aside.
0.8kg to 1kg salmon fillets, skin on and deboned

1 1/2 teaspoon salt

2/3 teaspoon black pepper
Dill sauce:
Mix ingredients in a small bowl until smooth. Prep a day ahead and refrigerate until needed.
1 cup full fat sour cream

1/3 cup chopped fresh dill

1/3 cup diced onion

1/3 teaspoon salt
Honey butter glaze:
Prep a day ahead and refrigerate. Reheat glaze before pouring over salmon.
100g unsalted butter

1/3 cup honey

2 minced garlic cloves
Place ingredients in a saucepan over medium-high heat. Once mixture starts foaming, turn down to medium heat and let it foam for 2 minutes. Remove and set aside.
Topping:
To plump up dried cranberries, add them to hot orange juice. Cover and steep for 15 minutes. Drain and let cranberries cool. Mix cranberries, toasted almonds, parsley, salt and olive oil in bowl. Use at room temperature.
If prepping a day ahead, toss in almonds just before assembling dish.
2/3 cup dried cranberries

2/3 cup orange juice

2/3 cup slivered almonds, toasted

1/3 cup parsley, roughly chopped

1/4 teaspoon each salt and pepper

2/3 tablespoon extra virgin olive oil
Garnish:
1/2 cup pomegranate seeds

1/4 cup parsley

2 tablespoons lemon juice

1 lemon, sliced
INSTRUCTIONS
Pre-heat oven to 180°C.

Line baking tray with double-layered foil and top with a layer of baking paper.

Place seasoned salmon on tray.

Fold up sides of foil and paper layers a bit, so that the glaze doesn't run onto tray.

Pour glaze over salmon.

Cover salmon with a smaller piece of paper, then foil. Seal edges to form a parcel. No need to make a tight seal; mostly sealed is fine.

Bake for 15 minutes. Remove salmon from oven, uncover, and tuck paper and foil sides down to expose salmon surface.

Place salmon on middle shelf in oven. Switch oven to grill for 10 minutes until you get caramelisation on the edges and on top. Don't put it too close to the oven's heating element or the paper might catch fire.

Transfer salmon onto serving platter straight away (otherwise it keeps cooking). Slide foil and paper out from under salmon, allowing juices to pool on platter.

Loosely cover with foil, and leave to cool for at least 15 minutes; up to 1 hour or longer for room-temperature serving.

To assemble, spread a thick layer of dill sauce over salmon, followed by topping. Scatter with pomegranate seeds and remaining parsley. Squeeze over lemon juice and serve with lemon slices.
LONG-STEMMED BROCCOLI, GRAIN TABBOULEH AND ROMESCO SAUCE
Serves: 8 to 10 as a side dish
Preparation time: 15 minutes
Cooking time: 20 minutes
Broccoli haters, this salad from olivemagazine.com may just change your mind about the cruciferous vegetable. And it is definitely not your usual Brussel sprout or potato salad – perfect if you're looking for something different this Christmas.
INGREDIENTS
500g broccolini, trimmed

3 tablespoons vegetable oil

1 tablespoon cumin seeds

2 teaspoons black mustard seeds

1 teaspoon dried chilli flakes

Pinch of salt and pepper

1 bottle Romesco sauce (about 300g)
Tabbouleh:
Mix all ingredients in a small bowl. Reserve. If prepping a day ahead, toss in parsley and mint just before assembling dish.
1 cup cooked mixed grains 

75g pistachios, shelled and roughly chopped

75g hazelnuts, toasted and roughly chopped

75g dried cherries or cranberries, chopped

3 tablespoons extra-virgin olive oil

1 lemon, juiced

1 bunch flat-leaf parsley, roughly chopped (about 25g)

1 bunch mint, roughly chopped (about 25g)

Pinch of salt and pepper
INSTRUCTIONS
Pre-heat oven to 180°C.

Tip broccolini onto a large roasting tray with oil, cumin seeds, mustard seeds and chilli flakes, season and toss well.

Place in oven for 20 minutes, tossing every now and again, until charred and cooked through.

To assemble, spread romesco sauce onto a large serving platter, then pile on tabbouleh. Top with roasted

broccolini

to serve.
RASPBERRY CHAMPAGNE JELLO SHOTS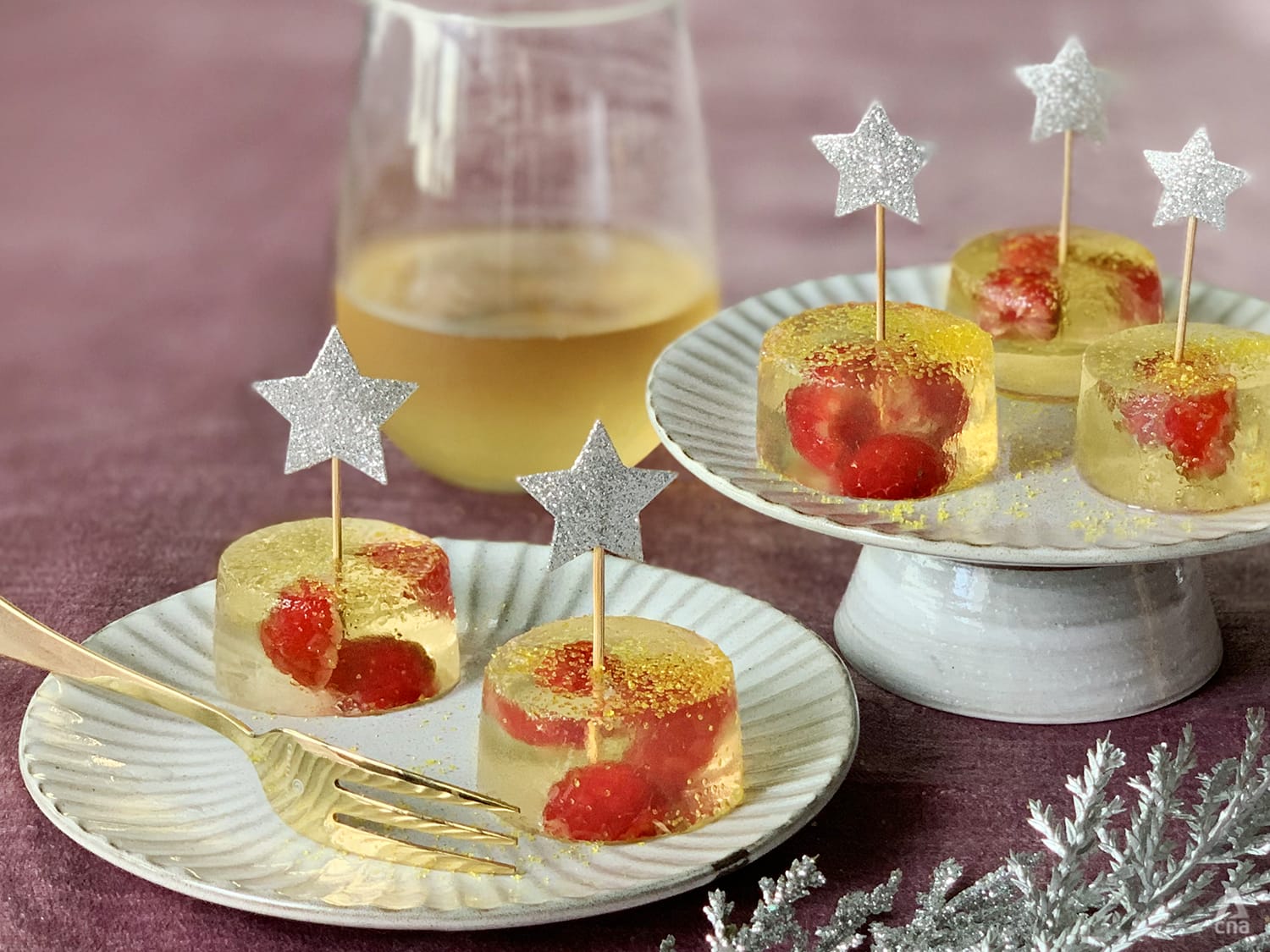 Makes: 12

Preparation time:

10 minutes

Chilling time:

4 hours
These elegant treats by Cheryl of 40aprons.com are easy to make and enjoy, too. Silicone mini muffin moulds are the best but you can also make the Jello in a 8-by-8-inch pan lined with baking paper. You just have to cut it into squares with a wet knife to create neat edges.
INGREDIENTS
1 cup non-alcoholic sparkling cider, apple or white grape

2 tablespoons gelatin powder

3/4 cup sweet sparkling wine or champagne (for non-alcoholic Jello, replace with sparkling cider)

1/4 cup vodka, plain or flavoured (for non-alcoholic Jello, replace with sparkling cider)

100g raspberries

Gold sanding sugar for garnish
INSTRUCTIONS
Boil sparkling cider in saucepan.

Place gelatin powder in medium, heatproof bowl. Pour boiling sparkling cider over gelatin and stir until completely dissolved, about 2 minutes. Let cool to room temperature.

Stir in vodka and champagne.

Pour mixture into mould. Allow to cool thoroughly, then refrigerate for about one hour.

As soon as Jello starts to thicken, place 3 raspberries into each mould and cover with cling film to prevent rubbery layer from forming. If you're making in a tray, pour in raspberries and distribute them evenly. Refrigerate for 3 to 4 hours. 

Run a toothpick around edge of each Jello mould or tray to loosen. Pop Jello out onto wax paper-lined surface or serving plate.

Sprinkle with sanding sugar just before serving as it melts very fast. Serve chilled.