Easy home recipe: Bar Cicheti's tagliatelle arrabiata with prawns
Ready to try your hand at an easy restaurant-inspired dish? Bar Cicheti's chef Lim Yew Aun shows you how to create pasta magic with simple ingredients.
If the days have grown long and dull, then what you need is a plate of piping hot pasta with a flavourful kick. 
And we're willing to bet that Bar Cicheti's chef Lim Yew Aun's tagliatelle arrabiata will do the trick – and then some.
Even if you're a kitchen noob, you can easily attempt this simple but effective recipe using one of Bar Cicheti's convenient DIY fresh pasta kits, in which you'll find handmade tagliatelle, pappardelle or casarecce, and your choice of sauces.
Of course, you can always use store-bought ingredients instead – or, if you're willing to spend the time and effort, cook up a pot of your own arrabiata, an invigoratingly spicy sauce made with tomatoes, dried chillies, olive oil and garlic.
This recipe is inspiring in its simplicity – if you'd prefer not to have prawns, you could also use clams or squid – and its hearty flavours are sure to warm and satisfy.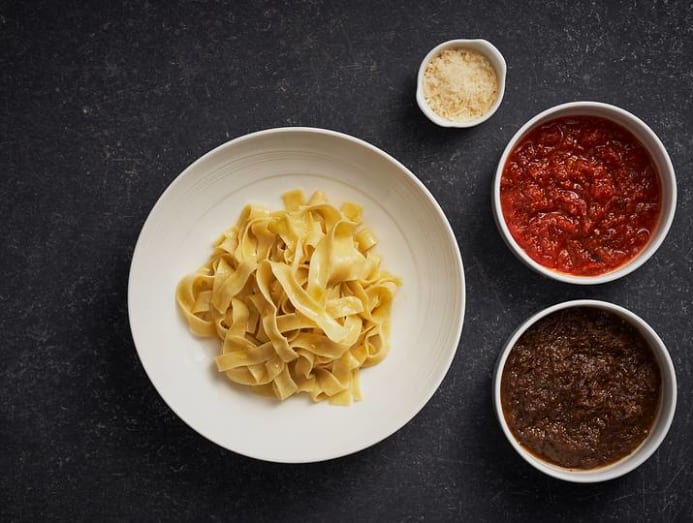 TAGLIATELLE ARRABIATA WITH PRAWNS
Prep time: 5 minutes
Cooking time: 10 minutes
Serves: 2
Ingredients
8 to 10 prawns
Tagliatelle
Arrabiata sauce
Basil (about 6 leaves)
White wine
Parmigiano Reggiano
Instructions
1.    Clean and shell the prawns.
2.    Bring a pot of generously-salted water to boil.
3.    In a greased pan, sear the prawns. Sprinkle some salt to taste.
4.    Deglaze the pan with the wine.
5.    On medium heat, add the arrabiata sauce and bring it to a low simmer.
6.    Meanwhile, cook the tagliatelle for 2 minutes (or to your desired texture).
7.    Put aside 1 cup of pasta water.
8.    Drain the pasta and add it to the pan to mix with the sauce. Turn the heat off.
9.    Plate and finish off with Parmigiano Reggiano.
Not in the mood to cook? View Bar Cicheti's takeaway and delivery menu here. (Psst, you can order drinks and their Sommelier Selection wine bundles, too.)