Easy home recipe: Blue Jasmine's Thai shrimp paste fried rice
Ready to try your hand at an easy restaurant-inspired dish? Here's a quick Thai recipe from Chef Nipaporn Doungiaisantisuk of Blue Jasmine.
Fried rice is probably one of the ultimate comfort foods, so it's no surprise if you find yourself craving a plate of fragrant, wok-tossed grains in flavourful sauces during this unusual "circuit breaker" period.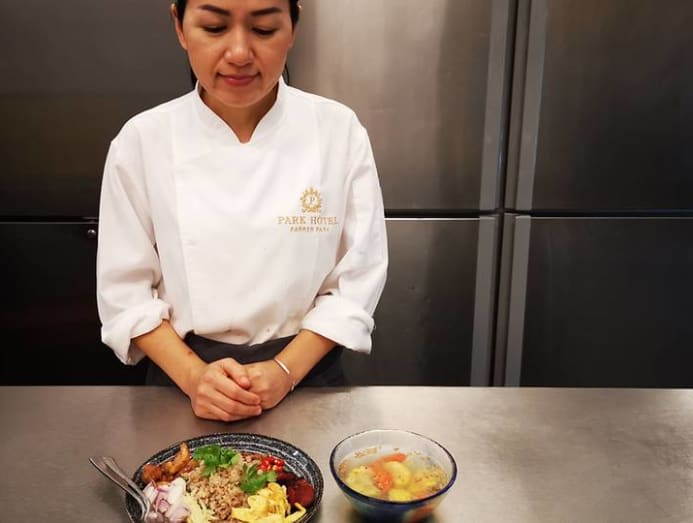 For Chef Nipaporn Doungiaisantisuk of Blue Jasmine, this dish of Khao Kluk Kapi, or fried rice with shrimp paste, is particularly close to her heart, and takes her right back to her childhood.
Growing up in Chiang Rai, Thailand, she was sent to be educated at an orphanage at the age of five. She vividly remembers being offered a bowl of fried rice, along with the comment that if she did not accept it, she might never have another opportunity to experience its flavour. It was a moment of revelation, and a taste she never forgot.
This recipe is her re-creation of that first bowl of fried rice that started it all.
The same dish is served at Blue Jasmine, but if you're making it at home, feel free to customise it to your liking – if you're not a fan of green mango, for instance, you can leave it out or even substitute it with green apple. Just get creative and make it wok.
KHAO KLUK KAPI
Prep time: 10 minutes
Cooking time: 10 minutes
Serves: 1
Ingredients
Fried Rice
1 bowl cooked rice
2 tablespoons cooking oil
1 teaspoon shrimp paste
2 red shallots, sliced
2 long beans, sliced
Honey Chicken
120g boneless chicken thigh
2 tablespoons cooking oil
2 cloves garlic
1 red shallot, sliced
1/2 piece ginger, sliced
1 tablespoon oyster sauce
1 tablespoon palm sugar (or white sugar)
2 teaspoons honey
1 tablespoon sweet sauce
1 tablespoon fish sauce
3 tablespoons water
Condiments
1 egg
1 red shallot, sliced
1 red chilli padi, sliced
1/2 green mango, shredded
1 Chinese sausage (chicken or pork)
1 teaspoon fried shallots (optional)
1 teaspoon dried shrimp (optional)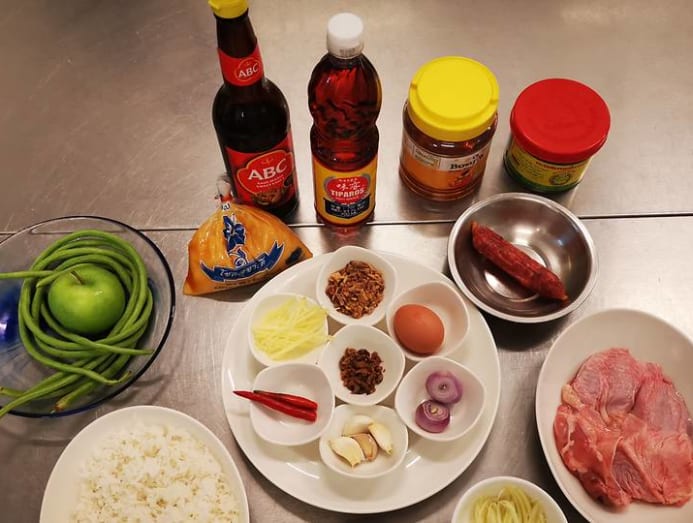 Instructions
1. Begin with the condiments. Whisk the egg (with 2 drops of fish sauce if preferred) and fry into an omelette, then slice. (You may opt for a sunny-side-up egg if preferred).
2. Slice the Chinese sausage, then pan-sear (or heat up in the microwave) and set aside.
3. To cook the honey chicken, cut the boneless chicken thigh into chunks.
4. Stir-fry the sliced garlic, shallots and ginger in cooking oil until fragrant, then add the chicken in and stir-fry.
5. Add the oyster sauce, honey, palm sugar, fish sauce and sweet sauce, then mix well.
6. Add water in and let it simmer on low heat until the sauce thickens.
7. To cook the fried rice, stir-fry sliced red shallots, sliced long beans and shrimp paste in cooking oil on low heat until fragrant.
8. Add the cooked rice and mix well on low heat.
9. To assemble, place the fried rice in the middle of a plate.
10. Place the sliced omelette, sliced red shallots, sliced red chilli padi, shredded green mango, honey chicken, dried shrimp (optional) and fried shallots (optional) around the rice. Serve immediately.
11. For extra umami, you may also pour the honey chicken sauce over the rice (optional).
Not in the mood to cook? View Blue Jasmine's takeaway and delivery menu here.