Easy home recipe: LeVel33's sea bass and beer malt 'risotto'
Fresh fish on a bed of chewy, nutty beer malt 'risotto' is one of LeVeL33's signature dishes, and it's not difficult to make a version of it at home.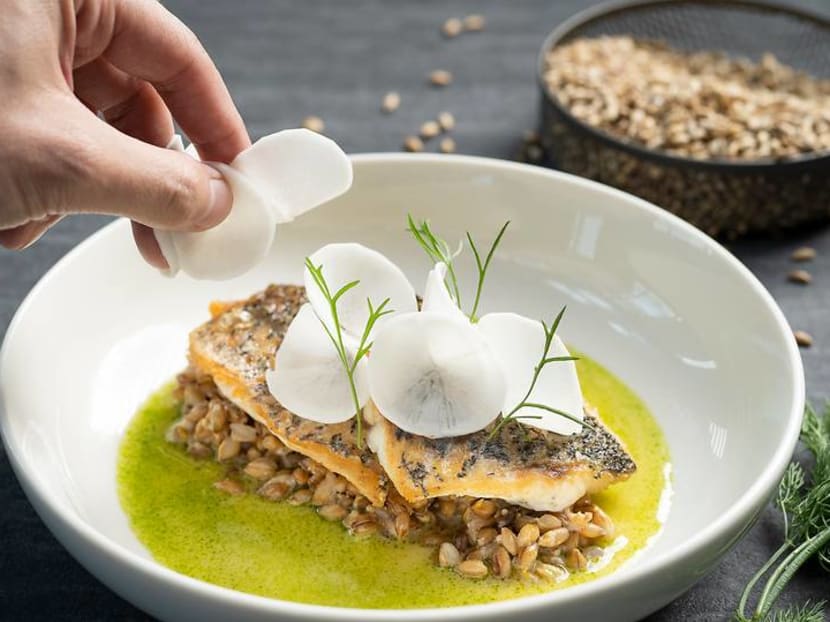 For a light but satisfying meal, fish is a superb option – and it certainly doesn't have to be boring.
At craft brewery and restaurant LeVeL33, helmed by chef Archan Chan, one of the signature dishes is sea bass served atop beer malt "risotto", incorporating components of the beer brewing process for a nutty flavour.
Fresh fish on a bed of chewy, nutty beer malt 'risotto' is one of LeVeL33's signature dishes, and it's not difficult to make a version of it at home.
Malt is simply germinated cereal grain, so when cooked risotto-style, it's chewy and savoury. Paired with the meaty fish, it's a match made in textural heaven.
Here, Chef Archan shows us how to whip up a simpler, fuss-free version of this dish at home for some hearty comfort laced with finesse.
If you can't get your hands on beer malt, you can always use pearl barley, which has a similar bite. And if you don't have sea bass, any white fish you like will do just as well. No fennel bulb? No problem – a good substitute is celery or the stems of bok choy.
Alternatively, order a meal prep box directly from LeVeL33, which includes all the ingredients you need for the dish.
See? No excuses not to make and enjoy this quick, nutritious and delicious meal.
SEA BASS AND BEER MALT
Serves: 2
Prep Time: 5 minutes
Cook Time: 10 minutes (more if you are using barley)
Ingredients
3 sea bass fillets (each 150 grams)
100 grams beer malt (or barley)
120 grams cabbage, julienned/thinly sliced
1⁄2 a fennel bulb, julienned
1 tablespoon dill, finely chopped
1 tablespoon white wine
70 grams cream
1 shallot, finely chopped
1 garlic clove, finely chopped
50 grams parmesan
20 grams olive oil
1⁄2 a lemon, juiced
Vegetable oil
Salt to taste
Pepper to taste
Instructions
1. If using pearl barley, set a pot of water to a rolling boil and lightly salt it. Add barley and leave to boil for roughly 20 to 25 minutes, until tender and chewy.
2. About 15 minutes into boiling the barley, rinse the fish fillets and pat dry with a paper towel. Use a knife to score the skin – this makes it extra crispy.
3. Heat a pan and add about 1 tablespoon of vegetable oil, then turn the heat low.
4. Lay the fish fillets, skin-side down, in the pan and cook for 3 to 4 minutes until the skin crisps up.
5. If using pearl barley, this is the time to check the texture. Once tender and chewy, drain.
6. Flip the fish when the skin turns crispy and cook for 1 minute. Remove from pan and set aside on a kitchen towel to rest.
7. In a mixing bowl, season the julienned cabbage and fennel with a pinch of salt and toss with dill, olive oil and lemon juice (or dill and a balsamic vinegar dressing, if you prefer). Arrange on a serving plate.
8. In a separate pan on medium heat, add a little oil and saute finely
chopped garlic and shallots until fragrant, then add the pearl barley or beer malt until thoroughly combined. Season with salt and pepper.
9. Add the white wine, then add cream. When the cream begins to boil,
immediately switch the fire off.
10. Stir in all the grated Parmesan and scoop the beer malt or barley onto the serving plate.
11. Arrange the fish fillet on top of the malt or barley. Serve immediately.
Not in the mood to cook? View LeVeL33's takeaway and delivery menu here.