Easy home recipe: Lumo's Japanese Asari clams with fettuccine
Ready to try your hand at an easy restaurant-inspired dish? Here's a simple pasta dish from Chef Martin Wong of Lumo that's guaranteed to impress.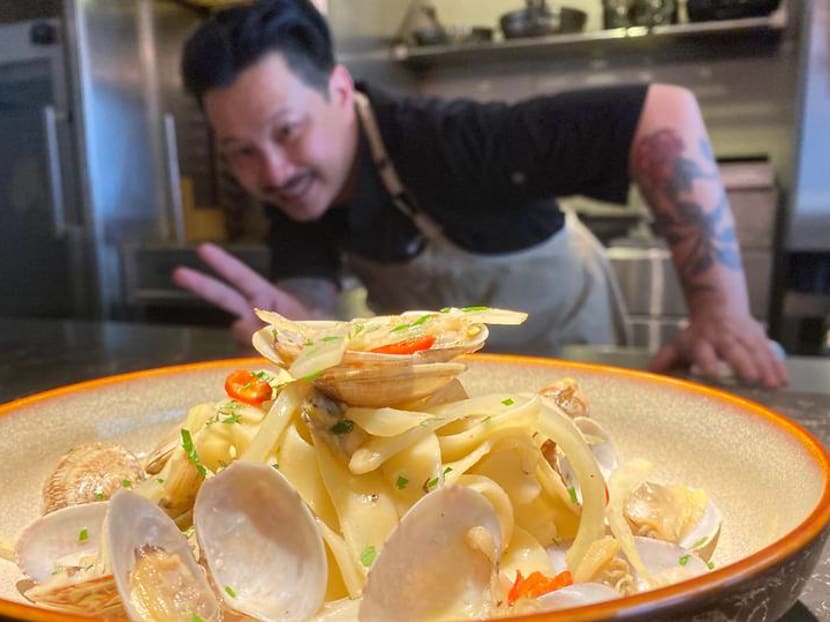 On days when all you're up for is a meal that's light, comforting and easy to put together, a pasta dish is a foolproof option.
Of course, simple doesn't have to mean inelegant. In fact, in just 15 or 20 minutes, it's possible to whip up the same dish of plump clams in buttery fettucine that Chef Martin Wong serves up at restaurant and cocktail bar Lumo.
In his restaurant kitchen, he'd use homemade fettuccine, but if you don't have the time or energy for that – and let's face it, not many of us do – packaged dry fettuccine is a perfectly acceptable option.
And don't worry if you're not a fan of clams – this recipe is so versatile that you can use scallops or even prawns instead, Wong said. And if you can't get hold of Japanese clams, local ones will do just as well.
Fresh seafood, al dente pasta and a light sauce that's savoury and umami with a hint of spice – this dish is comforting yet can't be ignored.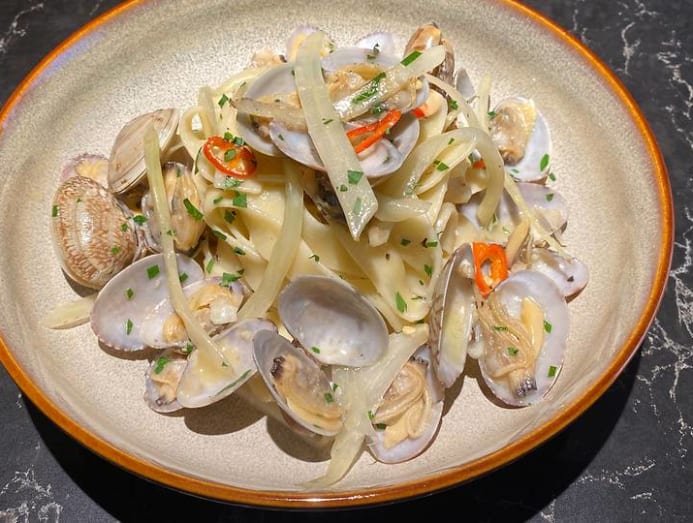 JAPANESE ASARI CLAMS WITH FENNEL AND FETTUCCINE
Prep time: 10 minutes
Cooking time: 5-10 minutes
Serves: 1
Ingredients
115 grams fettuccine
1 clove garlic, minced
1 chilli, thinly sliced
30 grams fennel (about a quarter), thinly sliced
30 grams unsalted butter
40 grams white wine
2 grams Italian parsley (about 15 leaves), chopped
160 grams frozen Japanese Asari clams
2 litres water
Salt and black pepper to taste
Instructions
1.    Wash the clams in a mixing bowl to remove any sand.
2.    Blanch the pasta in a 2-litre pot of boiling water for 5 minutes.
3.    Meanwhile, heat a pan, add olive oil and saute the fennel and garlic.
4.    Add the clams and season with salt and pepper.
5.    Add the chilli.
6.    Deglaze the pan with white wine.
7.    Reduce the heat and add 50 millilitres of water from the pasta pot.
8.    Add the unsalted butter and increase the heat to emulsify the butter.
9.    Add some of the chopped parsley, and salt and pepper to taste (if required). Let the mixture simmer for about 1 minute.
10.    Remove the pasta from the pot, add it into the pan and toss well with the ingredients and sauce.
11.    Plate the pasta and garnish with the rest of the parsley.
Not in the mood to cook? You can also order this dish from the restaurant. View Lumo's takeaway and delivery menu here.