Easy home recipe: Prawn carbonara with bacon and egg yolk from Preludio's chef
Preludio's Chef Fernando Arevalo shares his recipe for a traditional Italian pasta dish that's one of his favourites.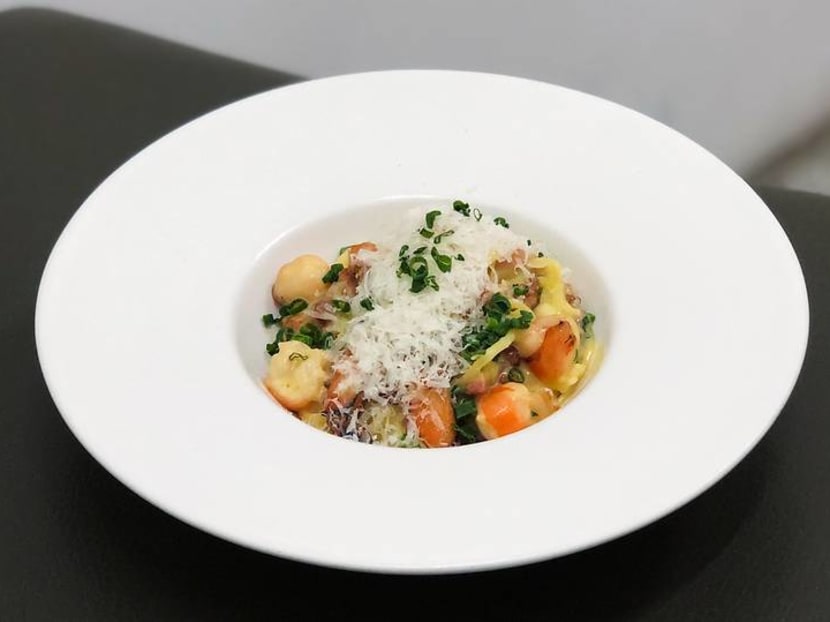 One of the things that Preludio is known for is its exquisite pasta dishes: The aged duck confit pasta with Jerusalem artichoke puree, duck jus and crackling, for instance; or the butternut squash and amaretto agnolotti with parmesan, almond and balsamic vinegar.
At the same time, chef Fernando Arevalo revealed, he's often asked for simple pasta recipes that can be easily made at home.
Craving for pasta? Preludio's Chef Fernando Arevalo shares his recipe for a traditional Italian pasta dish that's one of his favourites.
Here, he shares a quick and fuss-free dish of prawn carbonara with us. It's a traditional pasta dish he really likes, he said, and it calls for ingredients that are readily accessible. 
While he would normally make it with guanciale (Italian cured meat made from pork jowl or cheeks), it's perfectly acceptable to use bacon instead; and if you'd prefer not to use prawns, you can always use lobster or scampi. 
If you don't feel like lifting a finger at all, you can always visit the Preludio Shop, where you can purchase a few of Arevalo's pasta dishes to prep at home, including the beautiful butternut squash agnolotti; pastry chef Elena Perez de Carrasco's sleek desserts; or a rotating menu of weekend brunch specials that may take you around the world depending on Chef's whims.
PRAWN CARBONARA
Prep time: 15 minutes
Cook time: 10 minutes
Serves: 2
Ingredients
90 grams spaghetti or linguine
6 prawns, cleaned and de-shelled
40 grams of bacon, diced
1 banana shallot, finely diced
2 cloves garlic, sliced, in extra virgin olive oil
50 millilitres white wine
100 millilitres chicken stock
50 grams unsalted butter
1 tablespoon finely diced scallions (the green part)
40 grams Parmesan cheese, grated
1 large egg yolk (or 2 medium-sized egg yolks)
Salt and pepper to taste
Instructions
1. Bring a pot of salted water to boil.
2. Meanwhile, in a separate pan, render the bacon fat. Set the cooked bacon aside.
3. In the same pan, sweat the shallots and garlic until translucent. Deglaze with white wine and reduce until dry.
4. Add chicken stock, bacon bits and prawns to the pan.
5. In the pot of boiling water, cook the pasta for 2 minutes, then transfer the pasta to the sauce in the pan.
6. Add butter, cheese and scallions to the pan, to emulsify.
7. Remove the pan from heat, then add the egg yolk and continue tossing.
8. Serve while hot and finish with scallions and freshly grated parmesan cheese.
Not in the mood to cook? View Preludio's home dining options here.