Easy home recipe: SPRMRKT's Cauliflower and broccoli 'couscous'
Now that staying home has led so many of us to discover our cooking talents, here are some easy restaurant-inspired dishes you can try your hand at, with the help of Singapore chefs.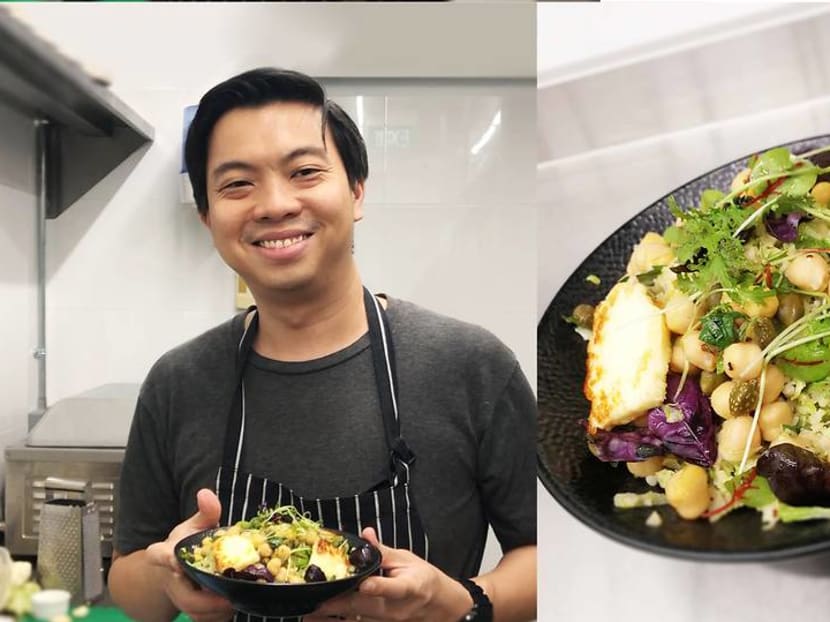 If you've found yourself spending a bit too much time as a couch potato, it may be time to look to some other vegetables to help yourself feel better.
This week, SPRMRKT's head chef Marc Wee shares a recipe for Cauliflower and Broccoli 'Couscous', which fans of low-carb dishes can embrace with enthusiasm.
Here, instead of real couscous, broccoli and cauliflower are grated to resemble it.
"It's a great way to use hardy vegetables," said Wee. Even better, you can prep a few batches ahead. "Once grated, they can be stored in the freezer and kept for a month," he shared.
The dish is based on Sprmrkt's Purple Cauliflower Rice, which is part of the meal subscription programme currently offered – but this version uses ingredients that are more affordable and readily available at the grocery store.
The recipe also calls for micro greens, which are "not just for aesthetics, but are also great for nutrition, as these herbs and leaves are smaller and store a lot of vitamins and minerals. What's more, they are grown locally. Support local!"

CAULIFLOWER AND BROCCOLI 'COUSCOUS'
 
Prep Time: 5 minutes
Cooking time: 10 minutes
Serves: 2
 
Ingredients
200g cauliflower
200g broccoli
2 sprigs thyme
1 clove garlic, minced
50g Halloumi cheese
1 tablespoon capers
1 lemon wedge
Handful of chickpeas, boiled
Local micro greens (oregano, mizuna, purple basil)
3 tablespoons extra virgin olive oil
1 tablespoon softened butter
Salt as preferred
Pepper as preferred
Canola oil as preferred
Instructions
1. Wash and grate the cauliflower and broccoli into bits to make a vegetable 'couscous' with a box grater or a food processor.
2. Chop thyme into small pieces.
3. Add a little canola oil to the pan and once heated, add in the minced
garlic and saute for a minute.
4. Then add in the cauliflower, broccoli and softened butter. Fry for about 4 minutes on medium heat.
5. Add in the chopped thyme and season with a pinch of salt and
pepper. Cook for another minute and set aside.
6. Clean the pan, then pan-fry the halloumi cheese until golden brown.
7. Toss the boiled chickpeas and capers with extra virgin olive oil and a
squeeze of lemon.
8. Assemble by topping the vegetable 'couscous' with the halloumi
cheese, then the mixed chickpeas and capers.
9. Serve with local micro greens or any preferred salad leaves.
Not in the mood to cook? View Sprmrkt's takeaway and delivery menu here.