Curry Favours: Every Eurasian family has their own take on devil's curry
Think you know all your curries? CNA Lifestyle's new series looks at some ethnic curries that are well-loved in Singapore homes. This week, we sample a Eurasian dish that's hard to find in any restaurant.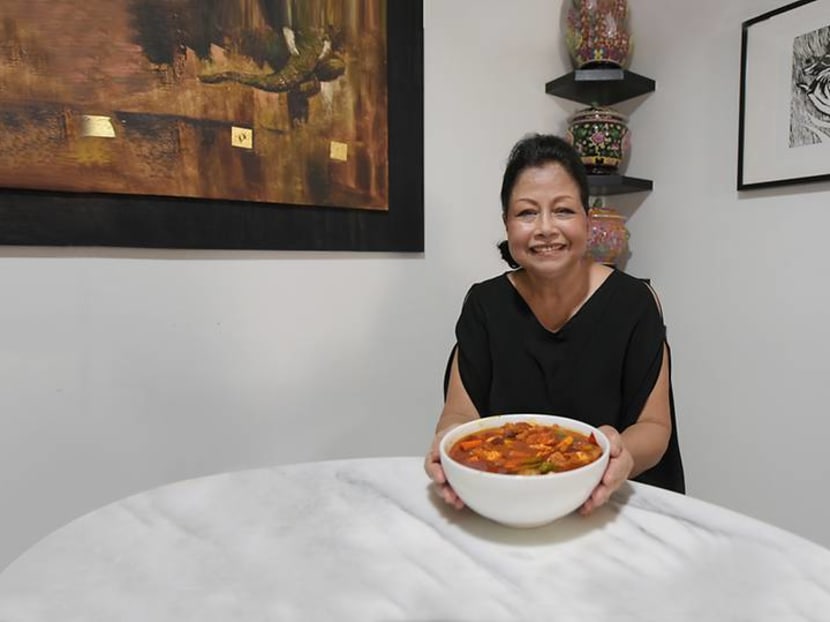 Pamela Hoeden took up cooking late in life, but tasting her Eurasian devil's curry, you'd think she'd been making it for a lifetime.
Every Eurasian family has their own way of cooking this well-known dish, which is chock-full of meats, vegetables, chillies and a good splash of vinegar and mustard, she explained. The devil's curry – or kari debal – she makes is thick, spicy and replete with roasted pork belly, chicken wings, sausage, carrots, potato, pickled vegetables and bacon bones.
The dish is one of many in the 73-year-old's treasured notebook of handwritten recipes. She broke the notebook in years ago by writing on the first page, "Mama, please teach me".
At 56, she'd asked her ageing mother to show her how to make her home cooked dishes, carefully cataloguing every "a pinch of this" and "a bit of that".
Pam's husband Neil is an accomplished cook so she had never felt the need to step into the kitchen – besides, she had a successful career as a beauty training manager with cosmetics company Estee Lauder – but she knew that her mother's recipes would be lost to time if she didn't learn them.
Devil's curry was one of the first dishes she resolved to perfect.
She starts by frying up chillies, onions, ginger and garlic.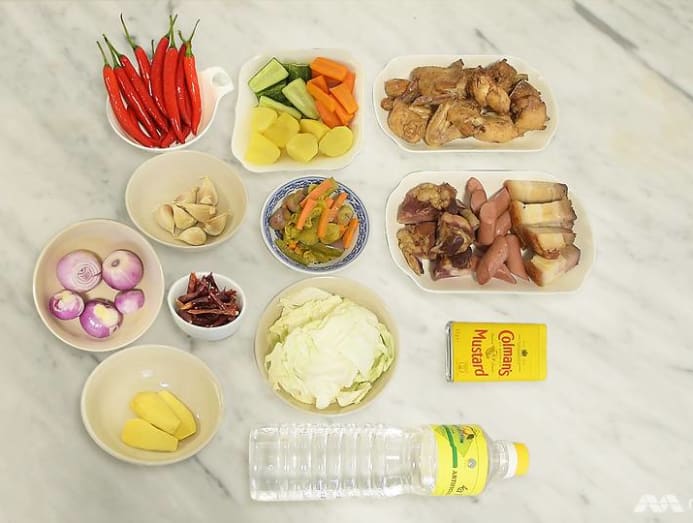 Then she adds the meat and vegetables – "You cannot be stingy with the ingredients, you have to put lots and lots" – and boils them with water.
The last step is to lace the curry with mustard and vinegar for an appetite-whetting sharpness that cuts through the oil and spice.
"It was very, very hard, at 56, learning this difficult dish," said the mother of two sons. "There are a lot of ingredients. And you've got to stand there and fry, fry, fry."
That's just what makes the curry so special.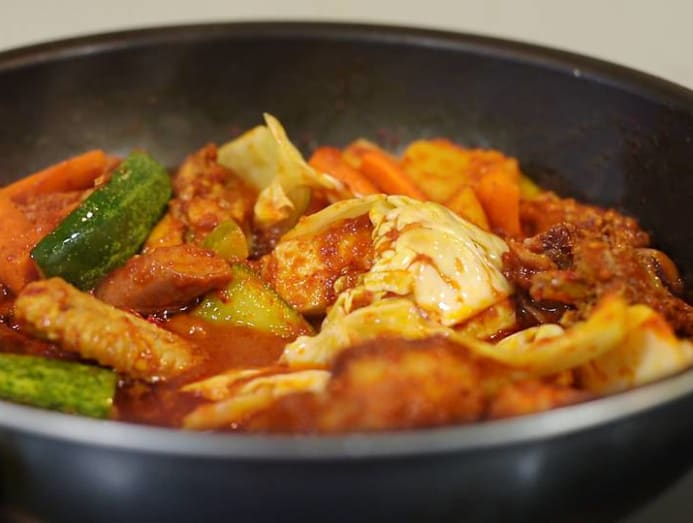 "You won't see ready-made curry devil on the shelf in the supermarket," Pam said. "It takes a lot of time and patience (to make)."
What's more, it won't taste good if you cook it in an expensive, non-stick pot, she averred. You need an old-school aluminum pot, the kind you get in a Chinatown shop.
Devil's curry is a dish that was always associated with festive occasions and family gatherings when she was growing up, such as Christmas and Easter, she recounted.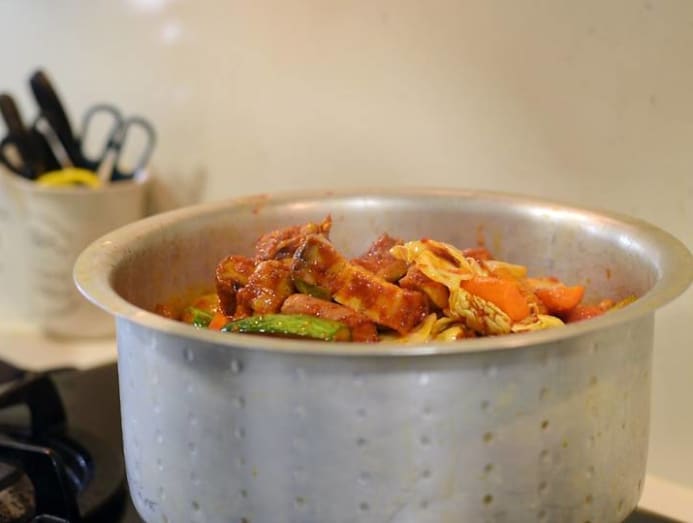 And it contains such disparate ingredients because it was traditionally made as a way of using up leftovers on Boxing Day. The dish's other name, "kari debal", means "leftovers curry" in the Creole-Portugese language, Quentin Perera writes in his book Eurasian Heritage Cooking.
But Pam, who traces her ancestry to the Eurasians of Malaya and still has relatives in Malacca, refers to it as "devil's curry" because of its spiciness.
She's very proud of her granddaughter, who is "only 11 years old" but "loves curry devil" and its fiery kick.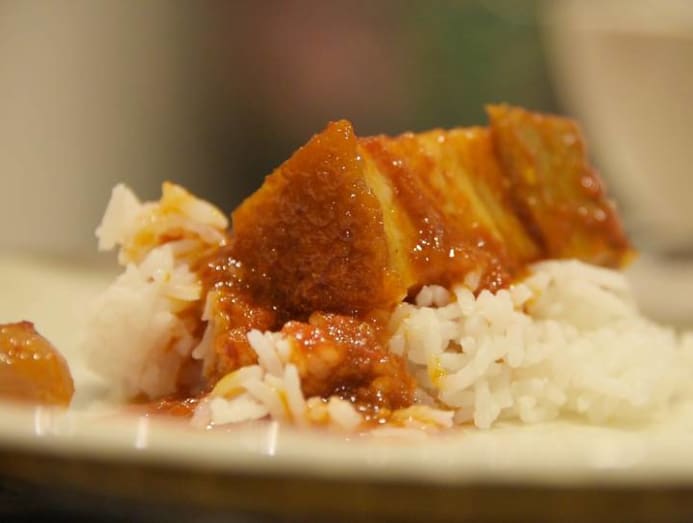 She hopes that family recipes such as hers will be passed on, but she's not sure if the kids of today will use them.
"It's very sad – the young kids today don't want to learn," she said. "They just want to go out and eat in a restaurant. It's not the same.
"Hopefully, they learn from their parents, because I'm sure every Eurasian family can cook a curry devil, even though it may be a little bit different."