Curry Favours: Ikan bilis is the star in this homemade South Indian dish
Think you know all your curries? CNA Lifestyle's brand new series introduces you to different kinds of ethnic curries that are well-loved in Singapore homes. Our first meal – an unusual take on fish curry that's been passed down from grandma and the stories behind it.
Homemaker Rukmani G, 65, remembers lingering in the kitchen as a child, watching her mother cook up delicious dishes.
But she was never allowed to try her hand at any of the kitchen tasks, or do any of the cooking herself.
"My mother was afraid that hot oil would splash on me and leave scars, which would affect my chances of getting married," she recalled with a chuckle.
An extended stay at her aunt's house, however, changed everything. There, she was encouraged to develop her interest in cooking under her aunt's guidance.
Rukmani recreated the dishes she had watched her mother cook, including a dish of meatballs. Her aunt sent the meatball recipe in to a local radio station on her behalf, and it won her S$50, a set of melamine cookware and a little recipe book, which she treasures to this day.
One of the dishes she observed her mother making was an ikan bilis curry, which she believes was passed down from her grandmother.
Over the years, she has made it her own, perfecting the recipe so that it's now a firm favourite in her own family. Her two grown sons have fond memories of enjoying it as children; back then, it was a frequent dish on the table. "Ikan bilis is really good for bone development," she said.
Now that her sons have moved out and have their own families, "I cook this for my husband and myself to eat with chapati".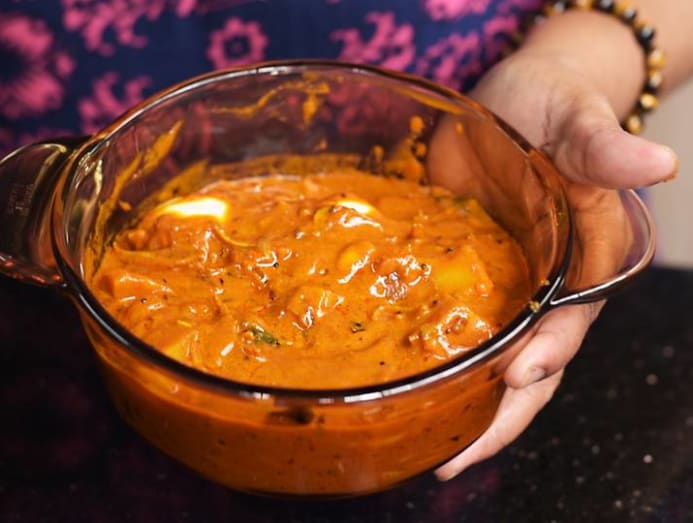 Her husband, 69-year-old KT Velu, quipped, "She has this obsession with cooking. She loves to cook. I didn't know about it (when I first met her) but it was a bonus after marriage!"
Ikan bilis or dried anchovies are usually supporting ingredients, never the star of a dish.
But with this curry, prepared in the South Indian tradition, the tiny, humble fish, affordable and abundant here in Singapore, are transformed into a flavourful delicacy that's uniquely local.
First, mustard seeds, cumin seeds, fennel seeds and fenugreek seeds are fried in oil; then, onion, garlic and curry leaves go into the pot.
Tomatoes and potatoes are added, along with tamarind water, curry powder and a dash of turmeric powder; and finally the ikan bilis.
After giving the curry a good boil, Rukmani adds boiled eggs, which are her favourite.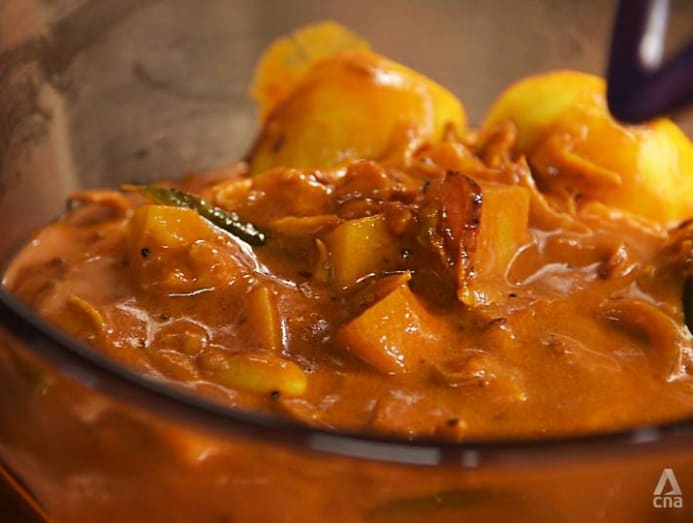 The dish has its origins in the fish curries of southern India, but Rukmani's rendition is thicker and less watery. It has bright, tangy notes thanks to the tomatoes and tamarind water, an acidity that pairs perfectly with the ikan bilis and its fishy, umami flavour.
While Malays and Chinese add coconut milk to their curries, an Indian curry doesn't contain any coconut, Velu explained. Coconut milk tends to lend a sweeter taste, Rukmani said.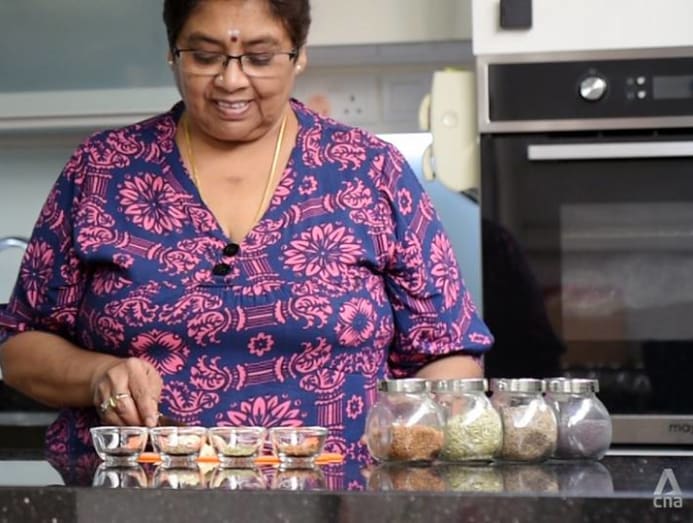 This delicious ikan bilis curry, with its vivid tang, certainly doesn't need that – or anything else, for that matter.
Rukmani's son would agree. She divulged, "My son likes Indian curry and he told me not to do any other curries!"