Ex-hotel pastry chef sets up hawker stall: 'Why spend S$7 at an atas bakery?'
Fancy mini lemon meringue tarts, scones and financiers are among the sought-after bakes at this Golden Mile Food Centre stall.
When 8days.sg showed up at Cat In The Hat shortly after its opening at 10.30am, a line had already formed at the new stall on the first floor of Golden Mile Food Centre. Customers were eagerly eyeing the glossy meringue-piped lemon tarts, mini cakes topped with edible flowers and stacks of dainty financiers – desserts you'd expect from a fancy cafe rather than a hawker bakery – as they waited in line.
Opened in March by former hotel pastry chef Ellis Ng, 35, the stall offers five types of pastries, from tarts, cakes and scones to financiers. Its name was coined by her boyfriend as a reference to the owner's love of cats and alliteration, rather than the children's book by Dr Seuss. Despite its modest menu and decor, the new stall has been creating quite a buzz. "I did not expect the stall to be so popular. We've been selling out all our items regularly," says the first-time hawker.
TRAINED IN FIVE-STAR HOTEL PASTRY KITCHENS
Cat In The Hat's rapid success is quite a feat, considering that its owner had previously never dreamed of starting her own shop at all. After graduating from SHATEC in 2014 (she was a nurse previously but pivoted to F&B to pursue her passion in baking), Ng worked exclusively in the central kitchens of five-star hotels like Mandarin Orchard Singapore (now Hilton Singapore Orchard) and Shangri-La Singapore as a chef de partie (station chef). There, she honed techniques for classic French pastries like lemon meringue tarts and financiers – items that are currently offered at her hawker stall.
LEFT STRESSFUL JOB TO BECOME A HAWKER
"It was stressful. Everything is fast-paced and the work is never-ending. Even if you stay there for 24 hours, you feel like the work is never done," said the pastry chef, who used to work "from 10am to 11pm on most days''. The idea of starting a hawker stall appealed to her, so she applied for NEA's Incubation Stall Programme, which helps aspiring hawkers to start a business. "Opening a hawker stall made sense because of the lower overheads. Rent is cheaper too," she affirms.
AFFORDABLE FRENCH PASTRIES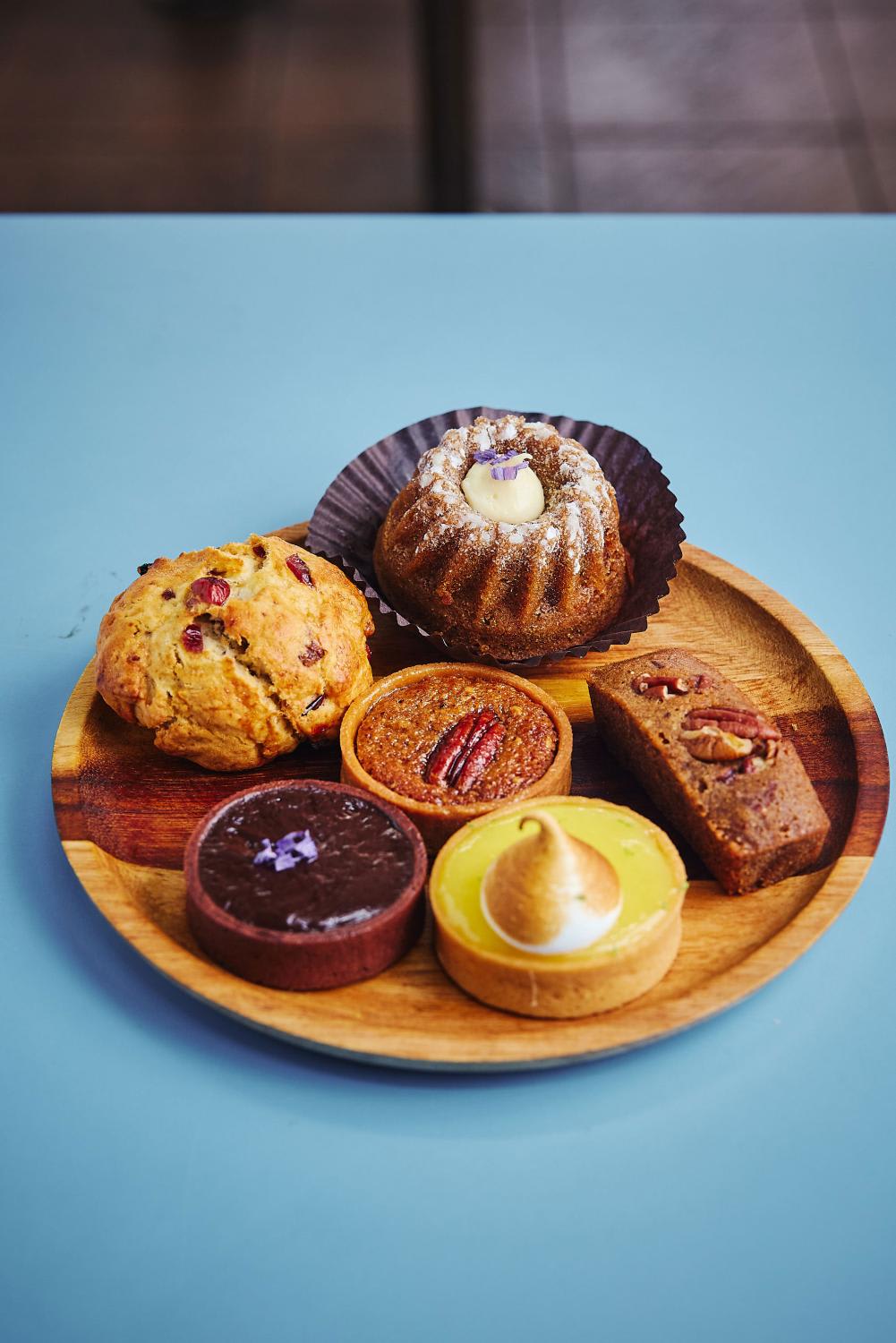 The lower start-up costs enable Ng to sell her mostly French pastries at wallet-friendly prices. These range from S$1.50 for a madeleine (a shell-shaped French sponge cake) to S$4 for a mini carrot cake. What's her motivation for creating an affordable menu?
"Because I don't like spending a lot of money on something that you can easily make for less. Why spend S$7 at an atas bakery?" was the reply from the pragmatic hawker. To keep prices low, Ng offers pastries that are smaller than what's found at your usual bakeries. "There's a big office crowd here and I saw potential in selling affordable pastries that they can enjoy for tea time or meetings," she continues.
THE PASTRIES ARE SOLD OUT DAILY
Her prediction was right. Cat In The Hat's bite-sized baked goods have been selling out daily, though the humble hawker, who's the sole baker, explains it's because she "can't bake a lot" at her tiny stall.
She makes about 80 tarts of each flavour daily, and around 40 portions each for the other pastries like cakes and scones. During our visit, the trays were all emptied by 1.30pm – two hours ahead of its official closing time. Most of the customers are workers from nearby offices.
SUPPORTIVE MUM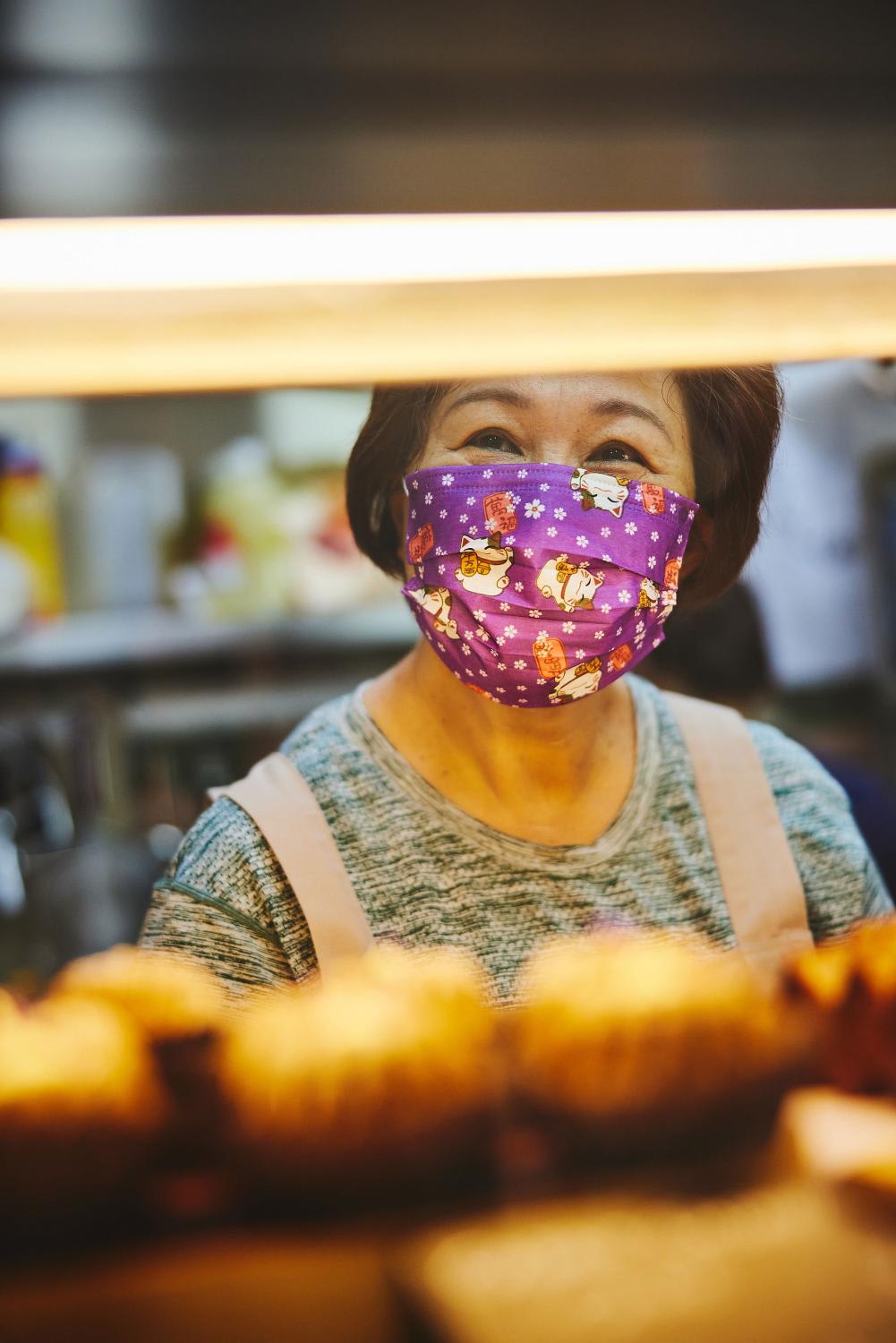 Her supportive retiree mum, Selley Tan, 67, helps out daily by taking orders. Even with a mask on, we can feel the former bookkeeper's hospitality as she greets every customer warmly – despite the relentless queues. "This is very new for her too, but she's a natural," says her daughter.
ENJOYING THE HAWKER LIFE
"Working in a hotel was more tiring than being a hawker. Here, I start work at around 8am and leave the stall at 4pm. I actually have more free time now," she shares. Thanks to the rental subsidies and stall equipment provided by the NEA programme, the hawker is also able to draw a salary of "about S$3K" monthly. Though it's less than what she used to make as a hotel pastry chef, Ng says she's "very happy" with her new venture.
NO PLANS TO OPEN A FULL-FLEDGED BAKERY
Unlike most pastry chefs, Ng has no plans to open a bigger bakery or cafe someday. "If we were to expand to a bigger shop, the prices would have to increase. I don't want that. My goal is to keep selling affordable French pastries," she shares.
For now, she's focused on expanding the menu. On the horizon: A pistachio tart, as well as gluten-free and vegan options that some customers have asked for.
LEMON MERINGUE TART, S$3 (8 DAYS PICK!)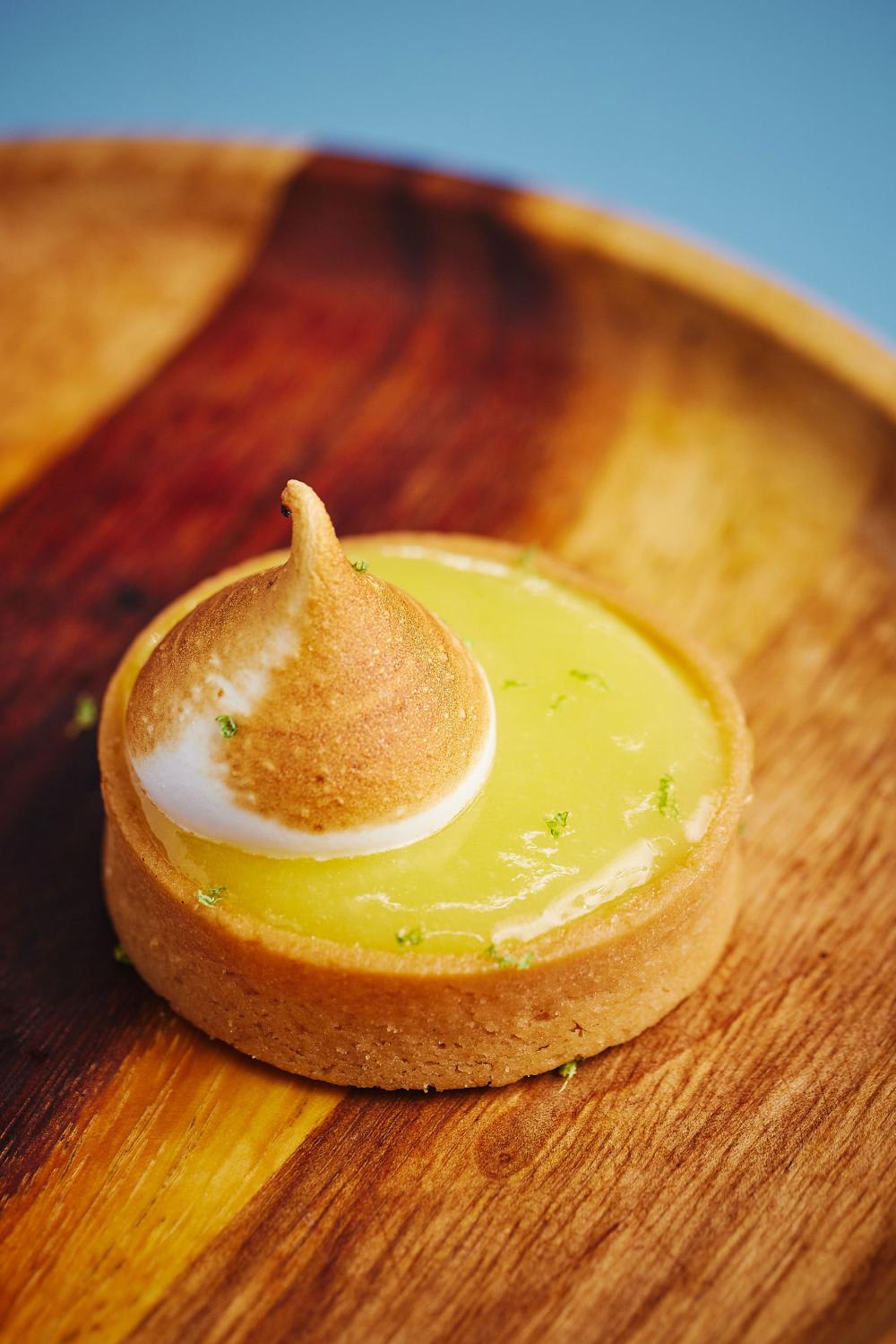 The silky and sharp lemon curd sits on a sturdy shortcrust base and is topped with a sweet, though slightly grainy, meringue swirl. At onlyS $3, the petite pastry holds its own, flavour-wise, when compared to what's sold at upmarket cafes or bakeries. The petite size is perfect as a post-lunch dessert. We recommend chilling the tart for a few minutes before serving.
CHOCOLATE GANACHE TART, S$2.50 
Featuring 60 per cent dark chocolate ("not Valrhona, or I'd have to charge S$5," quips the baker), the tart doesn't boast the decadent richness and bitterness of fancier versions made with more expensive chocolate. That said, the faintly bitter ganache is smooth and thick, and chocolatey enough to hit the spot as a wallet-friendly treat.
ROASTED PECAN TART, S$2.80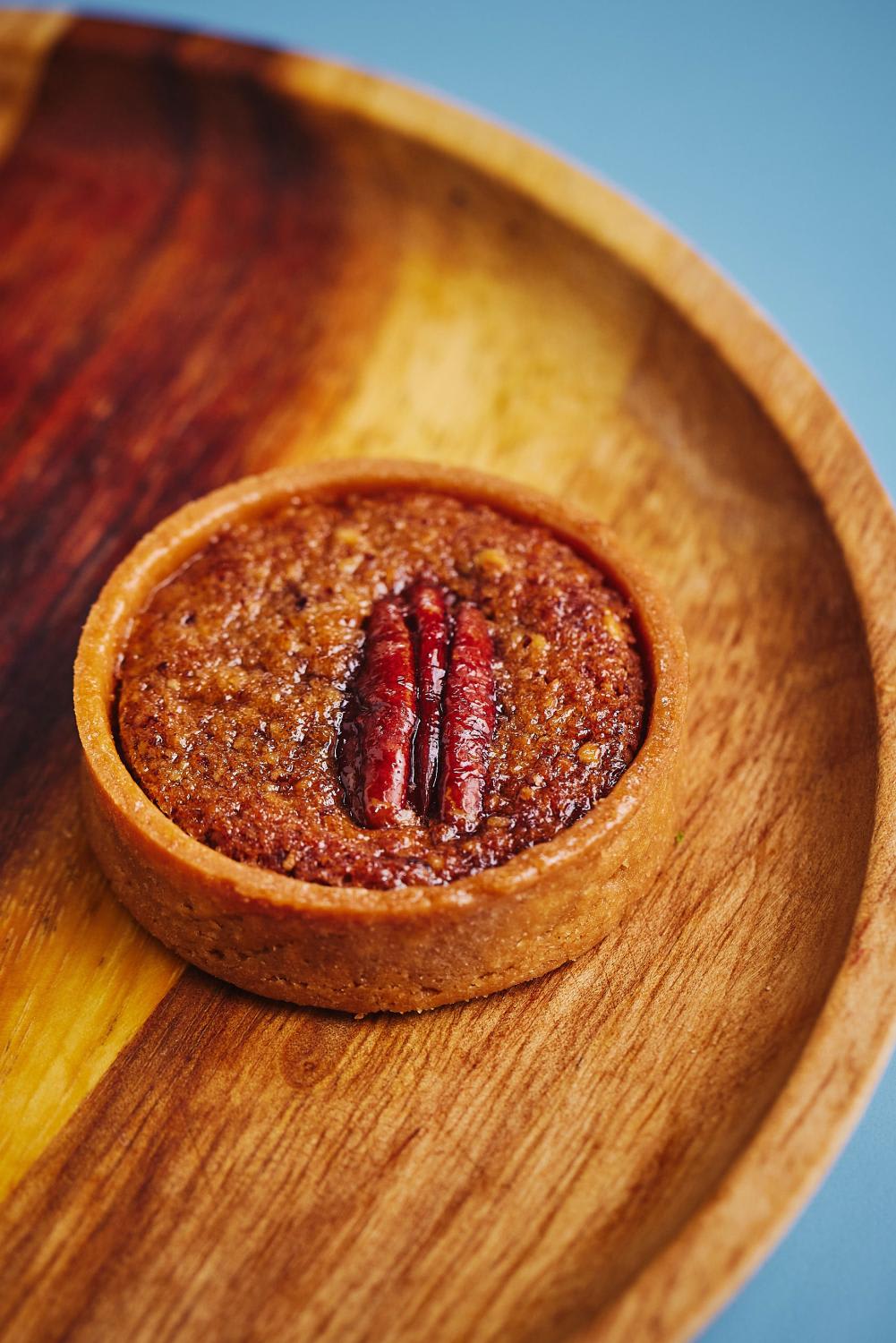 The crunchy texture and warm flavour of toasted pecans crossed with the slight gooeyness of a candy bar. A lovely, nutty dessert.
CARROT WALNUT CAKE (APRIL SPECIAL), S$4 (8 DAYS PICK!)
Shaped like a mini bundt, this moist and not-too-dense carrot cake is generously studded with chopped walnuts and finished with smooth cream cheese frosting. Drop by before the month ends to try this seasonal item.
COFFEE PECAN FINANCIER (APRIL SPECIAL), S$3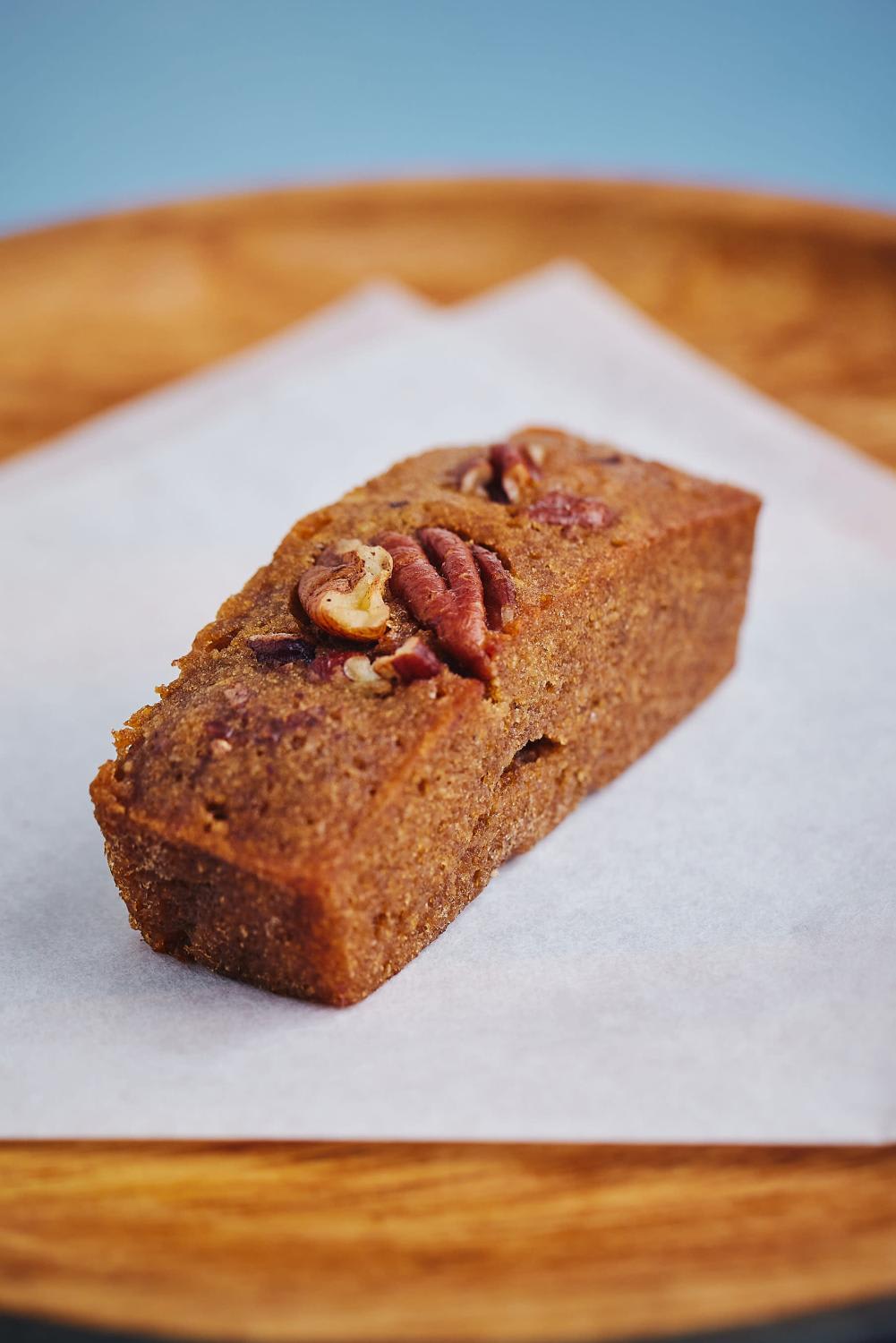 The roasted pecan brings an earthy, nutty flair to the buttery French cake. Pretty good, but we wish the coffee flavour was a little more concentrated. This would pair well with a caffe latte or cup of tea.
CRANBERRY SCONE, S$2.50 (8 DAYS PICK!)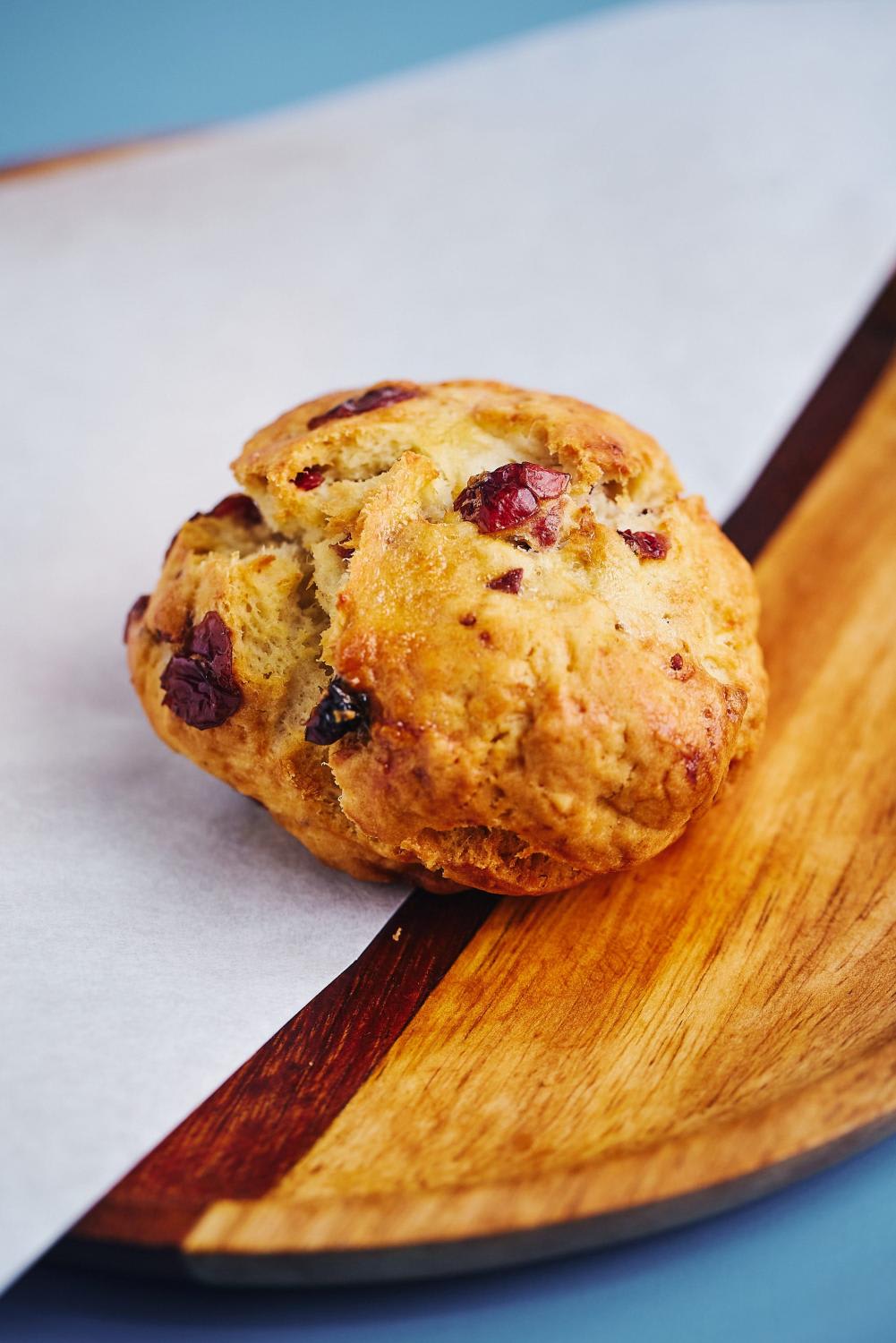 This classic teatime treat checks all the boxes – it has a slightly firm and crusty exterior and a delicate, buttery-soft interior that crumbles as you bite into it. The scone is flavourful on its own, with a delightful tartness from the cranberry bits, and we enjoyed ours with just butter, sans the store-bought apricot jam provided.
Because of the more affordable ingredients used, the patisserie-style confections here may not be as polished as what you'll find at higher-end joints – but they still mostly hit the spot when you're on a budget and craving European pastries. The lemon meringue tart and carrot cake, in particular, are tasty treats we'd be back for. Visit in the morning to beat the lunchtime throng.
Cat In The Hat is at #01-106 Golden Mile Food Centre, 505 Beach Rd, S199583. Open daily except Mon, 10.30am–3.30pm (or till sold out).
This story was originally published in 8Days.
For more 8Days stories, visit https://www.8days.sg/