51 floors up in Singapore, the world's highest urban farm produces surprises for its restaurants
Panoramic views, urban farming and an experiment in sustainability – what chef wouldn't want to go to work every day with an edible garden at their fingertips? At CapitaSpring, 1-Arden's restaurants Kaarla and Oumi form an ecosystem with a 10,000 sq ft Food Forest.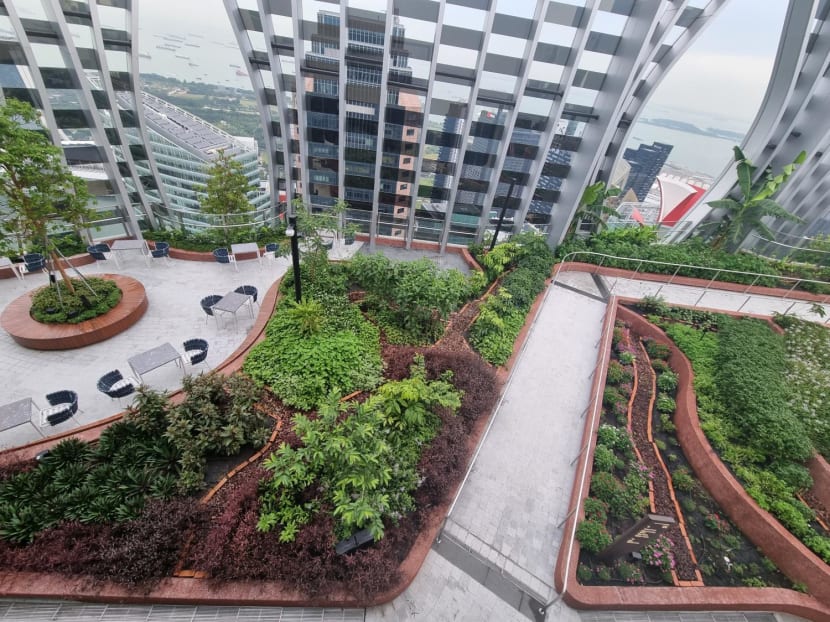 Fresh-out-of-the-ground produce is every chef's dream, and here in urban Singapore, that's usually a bit of a challenge.
But now, in the middle of the Central Business District, there's an urban farm in the sky working with two connected restaurant concepts to bring herbs and vegetables directly through the kitchen and onto the plate.
1-Arden is a multi-concept development by 1-Group comprising Kaarla Restaurant and Bar, serving coastal Australian cuisine and helmed by chef John-Paul Fiechtner; Oumi, a modern Japanese kappo restaurant headed by chef Lamley Chua; and a 10,000 sq ft Food Forest where a multitude of edible plants are cultivated, all on CapitaSpring's 51st floor.
In the same building, other 1-Arden concepts include Spanish-Italian-French-Portuguese bistro Sol & Luna and the cafe Bee's Knees Urban.
The Food Forest is overseen by 1-Arden's head farmer, Christopher Leow of Edible Garden City. Leow works closely with Fiechtner, who is also 1-Arden's executive chef, to grow crops that the restaurants and bar can use across the Food Forest's five themed gardens: The Singapore Food Heritage Garden, the Wellness Garden, the Mediterranean Potager Garden, the Japanese Potager Garden and the Australian Native Garden.
Whatever's in season or ready to be harvested on any particular day will go to the chefs for their creations. And, in return, food waste from the restaurants, such as fish trimmings and vegetable scraps, get turned into different targeted fertilisers to keep the garden lush, healthy and biodiverse.
While the fresh herbs and vegetables are used in most of the dishes, the Kaarla Closed Loop Salad showcases the best of the garden, featuring the day's harvest of more than 20 edible leaves and flowers. You might find, for instance, red shiso, warrigal greens, hyacinth bean leaves, wild watercress or French marigold on your plate.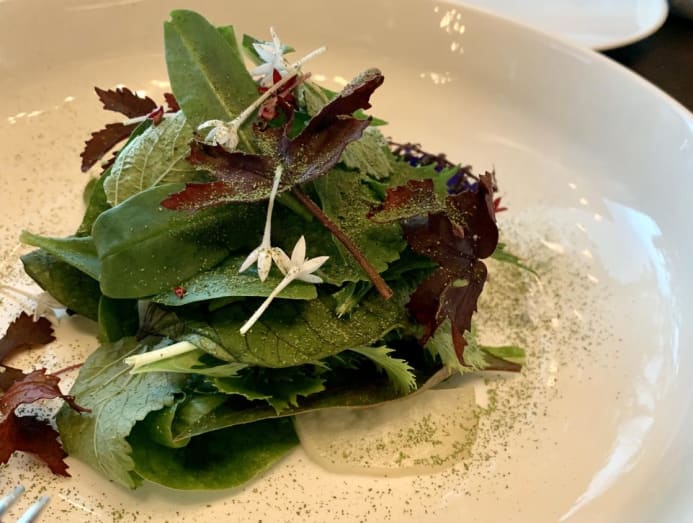 "Having a garden at our fingertips is inspiring every day," said Fiechtner, who has worked all over the world and was previously V-Dining's executive chef. "To go out at any time of day and pick something fresh from the garden – it's really exciting for the guys in the kitchen to see something grow from scratch, and then to the final product that we get to serve."
One of the things he wanted to grow was the tiger nut, a superfood from Africa dating back thousands of years, he shared. "It's amazing for the soil, the reward in terms of yield is amazing, and the flavour suits the menu very well."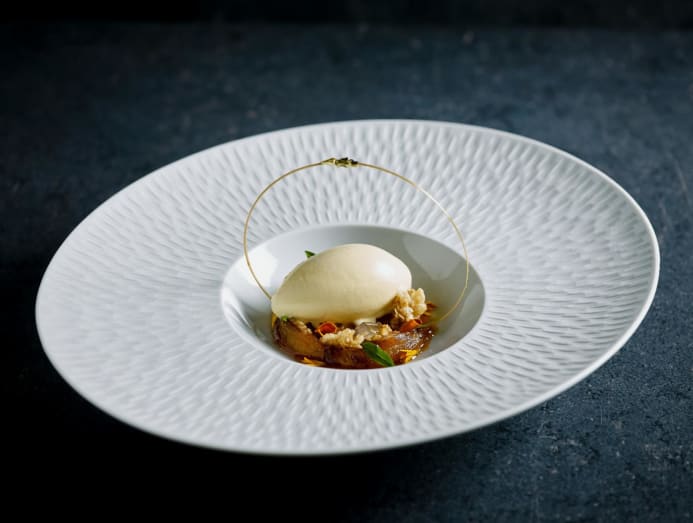 At Kaarla, he uses tiger nuts in various ways, from a curd for the salad to an ice cream to top a dessert of tiger nut nougatine, white Chitose corn, calamansi jelly and poached oranges.
As for the produce he imports from Australia, such as beef and seafood, sustainability is at the forefront as well. "We know all the producers' names, how they harvest and how they grow," Fiechtner said.
"If not for the 1-Arden Food Forest being just steps away from Oumi, we wouldn't have been exposed to the micro-seasons and micro-climates, and discovered the use of plants in the different stages of their life cycle," said Lamley Chua, head of Japanese Culinary Development. 
"For example, when available, we use bua long long buds in our Gyutan Yaki dish; otherwise, to lend the same citrusy flavour, we add thinly sliced bua long long leaves. Without the Food Forest, only the fruits are usually used. The Food Forest continues to inspire us every day as it's up to our imagination what we can grow and what would thrive in the farm."
"Potentially, what we can achieve here has no limits," Fiechtner said.
1-Arden is at 88 Market Street, CapitaSpring #51-01. For more information, visit https://www.1-arden.sg.
What's an urban farm doing 51 storeys up in the middle of Singapore's financial district? The 1-Arden Food Forest at CapitaSpring has over 130 varieties of crops, and it's where restaurant chefs come if they're looking for something special for their menu.