Celebrity chef Gaggan Anand to open his first official restaurant in Singapore on Oct 24
Ms Maria & Mr Singh will be serving Mexican-Indian cuisine and offering the chance for diners to experience some of Gaggan Anand's Michelin-starred dishes at an accessible price.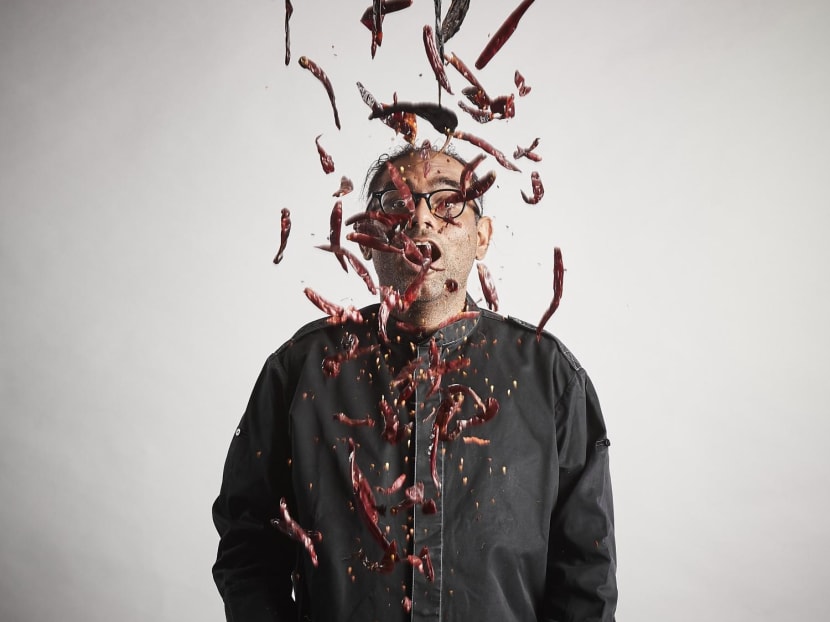 Looks like feted Indian chef Gaggan Anand just can't stop feeding Singapore. Hot on the heels of his sold-out (and extended) eponymous residency at Mandala Club, which ended Jun 30, the rock music-loving, vinyl-obsessed award-winning chef is ready to put a more permanent stamp on Singapore's food scene with a new restaurant.
Ms Maria & Mr Singh which will open its doors on Oct 24, will be located at 43 Craig Road. It'll take over the spot of Japanese-Mexican taco bar Mezcla.
The restaurant is the first overseas outpost of Chef Anand's cheeky culinary venture in Bangkok that opened back in Mar 6, 2020, two weeks before COVID-19 hit Thailand. 
Ms Maria & Mr Singh's concept is befitting multi-cultural Singapore – the casual dining Mexican-Indian restaurant is based around a fictitious origin story that reflects the love affair between a Mexican girl and an Indian boy.
The story and concept, Anand told CNA Lifestyle, was written when he found himself having to quarantine for 14 days after being exposed to COVID-19. 
"I locked myself in the room and that was when I wrote the story of Ms Maria and Mr Singh," he shared. "The story was completely a fictional idea but it was a  really fun coming up with it. It took a lot of R&D, but it was really fun."
The food, of course, is typically "Gaggan". It is bold, adventurous and marries home-style Mexican and Indian cooking, a blend of flavours and traditions that culminates in a menu that is influenced by two cultures that are very similar in terms of gastronomy and design.
Best of all, Ms Maria & Mr Singh is a chance to taste some of Anand's signature and most celebrated Michelin -starred dishes, at affordable and accessible prices. Prices of the dishes will start from S$12. The most expensive dish on the menu is S$32, which is Gaggan's Crab Curry.
"I wanted one restaurant that doesn't impose my 'A-plus' prices," the 44-year-old shared with CNA Lifestyle candidly.
"I wanted to make a restaurant where people can enjoy my dishes at 'C' price," he explained, adding that the price point difference from his other restaurants is that they don't charge on the décor and look.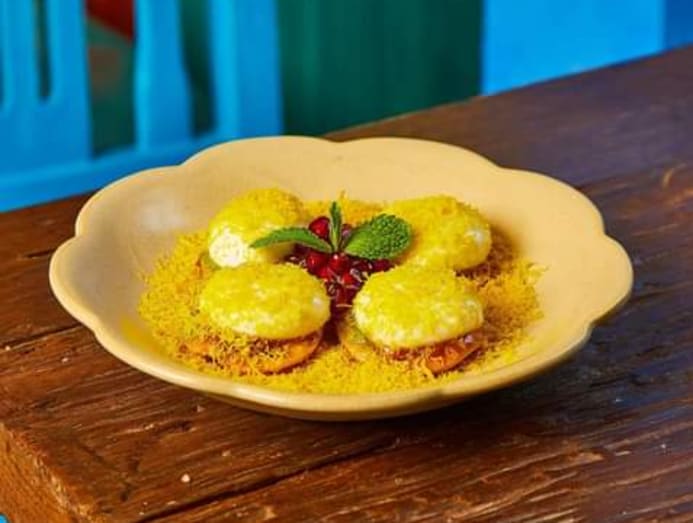 Which is why in a very casual but fun setting like Ms Maria & Mr Singh, diners can expect a rendition of some of the greatest hits served at Bangkok's Gaggan Anand restaurant such as Papdi Chaat (S$28), a yogurt explosion of flavours featuring the popular Indian street food made with crisp fried puri, sweet and sour chutneys, yogurt and sev.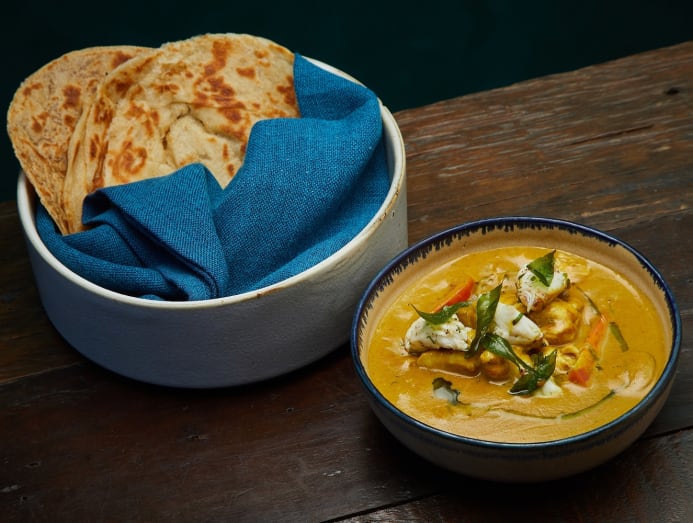 Diners can also indulge in Anand's signature Gaggan's Crab Curry (S$32) – a coconut and coriander-based Thai swimmer crab curry dish, with shallots, tomatoes, tamarind and juicy chunky crab meat.
There is also Gaggan's classic dessert Mango Yuzu Snowball (S$24) with Alphonso mango puree, white chocolate and yuzu.
Fun fact for the fans: this was also the dessert competitors had to make in MasterChef Singapore season three.
And because this is Singapore, there will also be a specially curated menu tailored specially for the local palate.
The menu is a smorgasboard of delights such as Cold Curry Cerviche, comprising Hokkaido scallops crispy corn (S$20), The Guacamole Of My Chips, with freshly made guacamole, local Singapore herbs and whole chips (S$16); Truffle Chili Cheese Quesdailla, which is paneer masala with mixed cheese, flour tortilla and truffle paste (S$28); Keema Quesadilla, with minced lamb meat, flour tortilla and melting cheese (S$24); and Hate Squid Love Peanut Mole, which is chargrilled squid with peanut mole and guacachutney (S$18).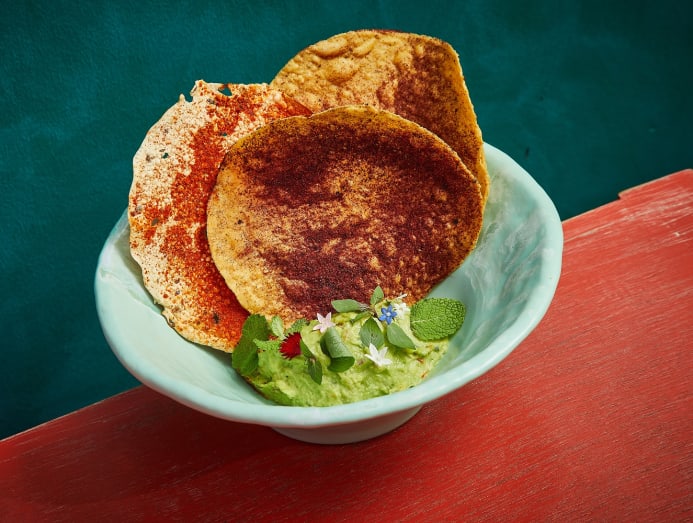 Other must-tries include the Pork Vindaloo Tacos which boasts pork jowl cooked for 18 hours Goan-style in vindaloo curry and chargrilled pineapples (S$14) and the Patrani Whole Fish Tamal, a beautiful roasted seabass slathered with coconut spice-based masala and wrapped in banana leaf (S$28).
 
So why choose Singapore for Ms Maria & Mr Singh?
Anand revealed that he sees Singapore as pretty much a second home now.
"Singapore revived me! Singapore has always been lucky for me… my World's Top 50 Best restaurants results and all," he shared with a smile. "I daresay I spilt my time 50-50 between Singapore and Bangkok now, that's if I'm not flying around elsewhere in the world."
The chef first described the original restaurant in Bangkok as his "curry house dream" finally coming true through a "Mexican Indian fiction" cuisine restaurant.  But now, he said, it's coming true specifically in Singapore, where diners are open and adventurous.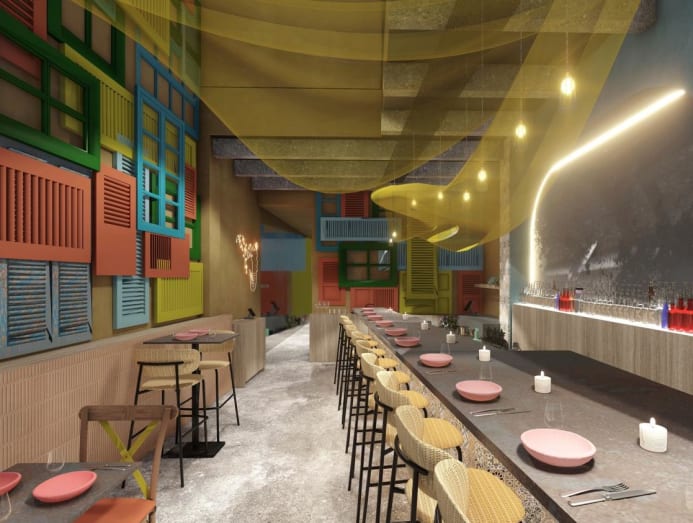 Anand revealed he was always on a lookout to open something more permanent in Singapore, but was very determined to find the right partner.
"You don't have to be with the big shots, sometimes it's about the passion. And I saw that in these young Singaporeans who reminded me of me when I was younger..." he revealed with a laugh. 
"Sheen (the managing director in Singapore hospitality group The Proper Concepts Collective) and I first met, by chance," Anand said.
"I was open to collaborating because I saw how they ran their restaurant Rappu and how smart they are. They are making restaurant-level food with just four rice cookers!" he said. "And I like how they treated their entire team like family. Because that's exactly how we do it at Gaggan restaurants."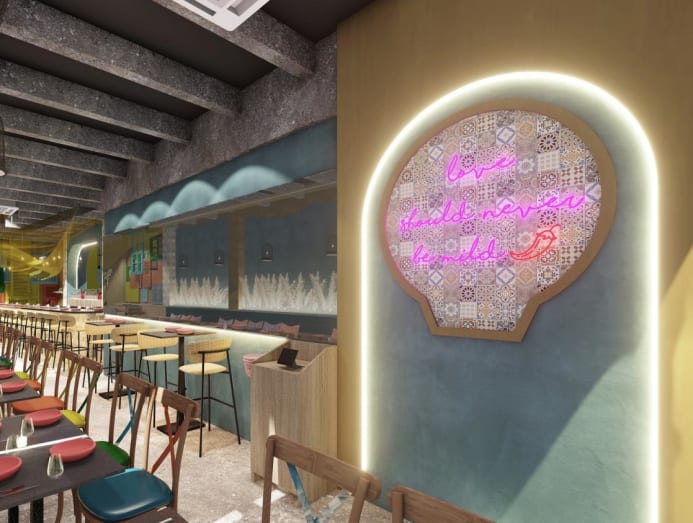 The Proper Concepts Collective is the local hospitality group behind brands like Rappu handroll bar, The Feather Blade steakhouse and cocktail bar, and Goho Kaiseki and Bar. Leong Sheen Jet is the 30-year-old managing director of the collective.
Leong told CNA Lifestyle that he serendipitously bumped into the famous chef at Maxi Coffee Bar at Duxton Road late last year, one day before dining at Gaggan's Mandala pop-up and decided he needed to introduce himself.
"It was so random. I was having lunch with my business partner Joel, and I was telling him how excited I was to be dining at Gaggan's pop-up the next day, and in walks Gaggan himself!" he shared.
And the rest, they say, is history.
Anand did not have time to take up Leong's invitation to visit Rappu till only June this year. But after that night out, all it took was two days after, before an official proposal was made to Proper Concepts Collective to open Ms Maria & Mr Singh in Singapore together.
"I have always been a fan of what Gaggan has done even before I started my restaurants," shared Leong.  "I feel like we share the same DNA, except he is more refined and experimental while we focus more on the middle market. Gaggan is a rebel, and  we also like to go against the grain in our concepts."
Ms Maria & Mr Singh Singapore is located at 43 Craig Road, Singapore 089691. Reservations are now open and only available through https://www.mariaandsingh.sg/