Food, funky tunes, festival fun: Here's what you can expect at GastroBeats 2022
The month-long festival, which kicks off Jun 3, brings a level of maximalism Singapore hasn't seen since before the pandemic. From local food to musical sets to a giant inflatable playground, you've got plenty of options.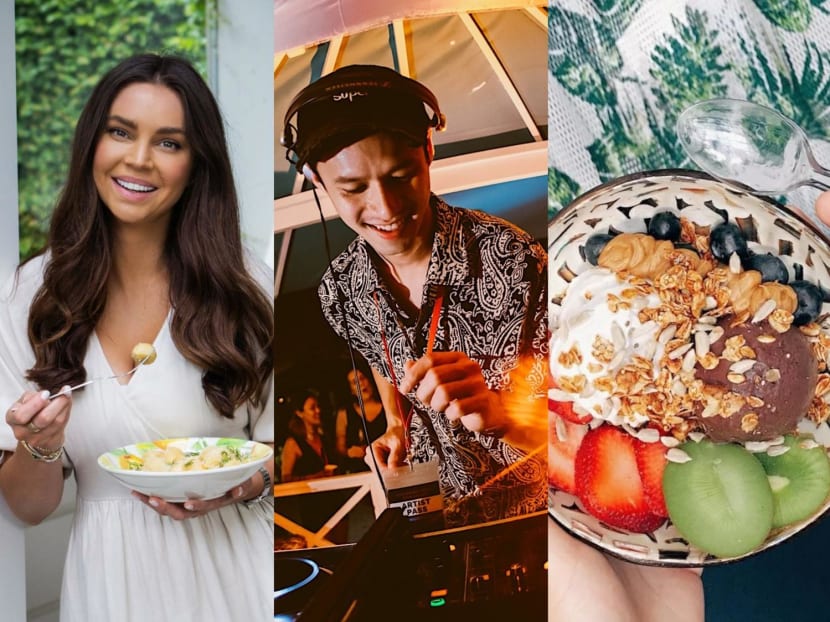 This month, the Bayfront Event Space next to Marina Bay Sands turns into an urban lifestyle playground with culinary, musical and entertainment options, as it plays host to GastroBeats 2022 from Jun 3 to 26.
Organised by The O4 Company and HydeNSeek Entertainment and supported by the Singapore Tourism Board (STB), the festival will feature local and international dishes from renowned brands and chefs, local musicians and an inflatable playground inspired by food.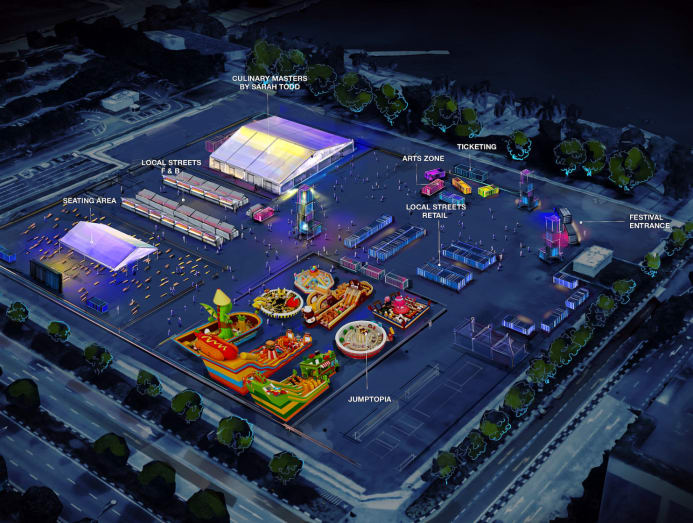 "GastroBeats has been in the works for the past two years and is the first of many (events) we plan on bringing to life, both in-person and on TV screens around the world. We are excited to share the first with our home country, Singapore," said O4 Company's chief executive officer Guna Kaliannan in a press release.
STB's director of attractions, entertainment and tourism concept Ashlynn Loo added: "As more visitors return to Singapore, events such as GastroBeats are a timely addition to our events calendar."
Visualise yourself moving with a humming crowd with a praffle or even a tray of putu piring in hand as lush music builds into a crescendo. Excited? So are we. There will certainly be a lot to take in at the festival. But for now, take a bite of what you can expect at the festival, for which you can purchase entry tickets (from S$9, excluding food prices) here.
EAT AND LEARN, STRAIGHT FROM THE MASTERS
If you've ever wanted to know what a culinary master's handiwork would taste like, look no further. Former MasterChef Australia contestant and celebrity chef Sarah Todd has curated a menu exclusively for the festival, taking on and fusing street food from around the world.
From fish and chips with a spicy twist to a refreshing take on kueh pie tee, Todd's creations, which are heavily inspired by the spices found in Indian cuisine, are set to tickle foodies' fancies.
If that's not enough, Todd will also be collaborating with former MasterChef Australia judge George Calombaris, MasterChef Singapore Season 2 winner Derek Cheong and MasterChef Season 1 runner-up Genevieve Lee to create a special dish for each week of the festival.
Get more details on Todd's menu and the collaborations here.
SAVOUR LOCAL (NOT-SO-)GUILTY PLEASURES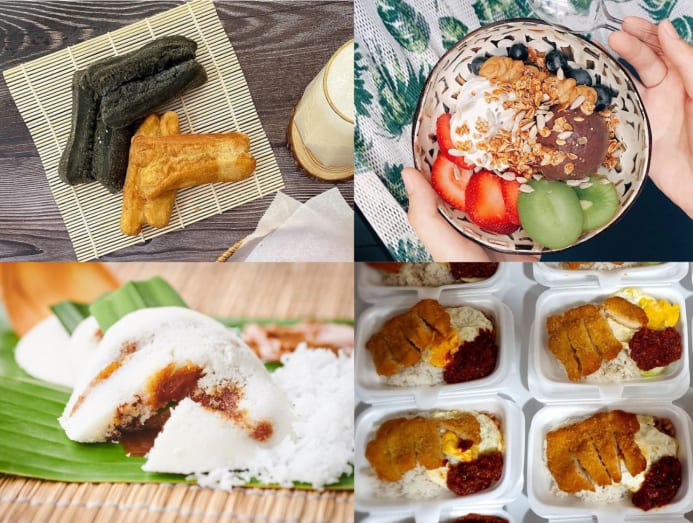 Seeing that the event's held in Singapore, a self-professed nation of food lovers, a good part of it will be dedicated to local cuisine. The Local Streets component of the festival will feature kiosks from 24 well-known hawkers and home-based food businesses, alongside 14 retailers and carnival games.
Visitors can look forward to the likes of household names such as Haig Road Putu Piring and Ah Lim Nasi Lemak, along with An Açai Affair and You Tiao Man, which will be creating event-exclusive special dishes.
For those who want to keep it light, look out for sustainable fruit vendor Ugly Food and Antidote's cold-pressed juices. No matter what kind of food you prefer, expect to be spoilt for choice.
More info on your food options here.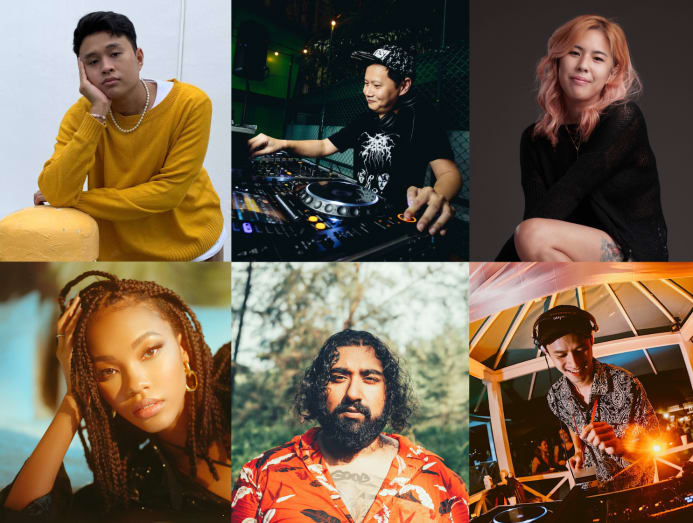 GastroBeats couldn't possibly be complete without the, you guessed it, beats. If you've wanted to go for the latest concerts but found yourself not having enough time to, fret not. An eclectic range of Singaporean musicians have been lined up throughout the festival's three-week run for you to listen to and enjoy. 
The likes of Daniel Sid and the Lil Stream Brass Band will be roaming the festival grounds to bring the music to you. Meanwhile, the live stage will see fiery performances from acts such as Dru Chen, Haneri (aka Daphne Khoo), Krysta Joy and Rangga Jones. 
And if live vocals aren't your thing, music producers such as Evanturetime and DJs KiDG and Bongomann are set to spin some records and bring the beats in. 
Learn more about the performance line-up and schedule here. 
UNLEASH YOUR (INNER) CHILD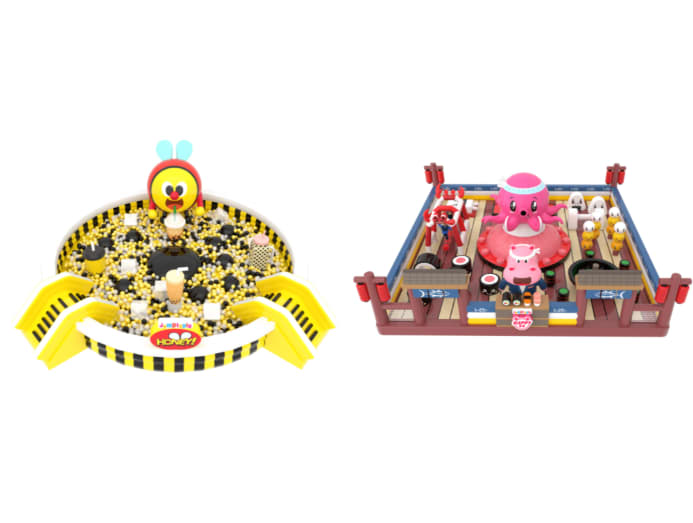 The festival won't just be about food and music, of course. There will be thrilling activities to take part in as well, with something for foodies young and young at heart alike.
A giant inflatable playground at the event will reimagine food culture into eight food-themed environments, including a burger truck, sushi bar and even a bubble tea place.
If thrill is the name of your game, check out the individual and team Beat Saber tournaments that promise up to S$2,000 worth of prizes, such as gaming equipment, for lucky winners.
There will also be a graffiti battle every Saturday night for exponents and newbies alike to pit their skills against one another while creating awe-inspiring works of art.
Go here for more details on the fun-filled activities.