Golden Mile Complex: Where to find all your favourite Thai eateries after they move out
With the iconic building set to close in May, here are the places that have given our longstanding Thai haunts a new lease of life.
If your idea of Thai food is limited to tom yum goong, pad thai and pad kra pao, a trip to Golden Mile Complex has always been revelatory. From fried duck lips to crab laksa, you would get schooled on Thai cuisine across four regions in the Land of Smiles.
Except the landmark's days are of course numbered, having been sold for S$700 million last year and set to close this May. Some tenants have relocated to nearby buildings, like in a game of "blow wind blow"; others have made their way to the wild west (of Singapore).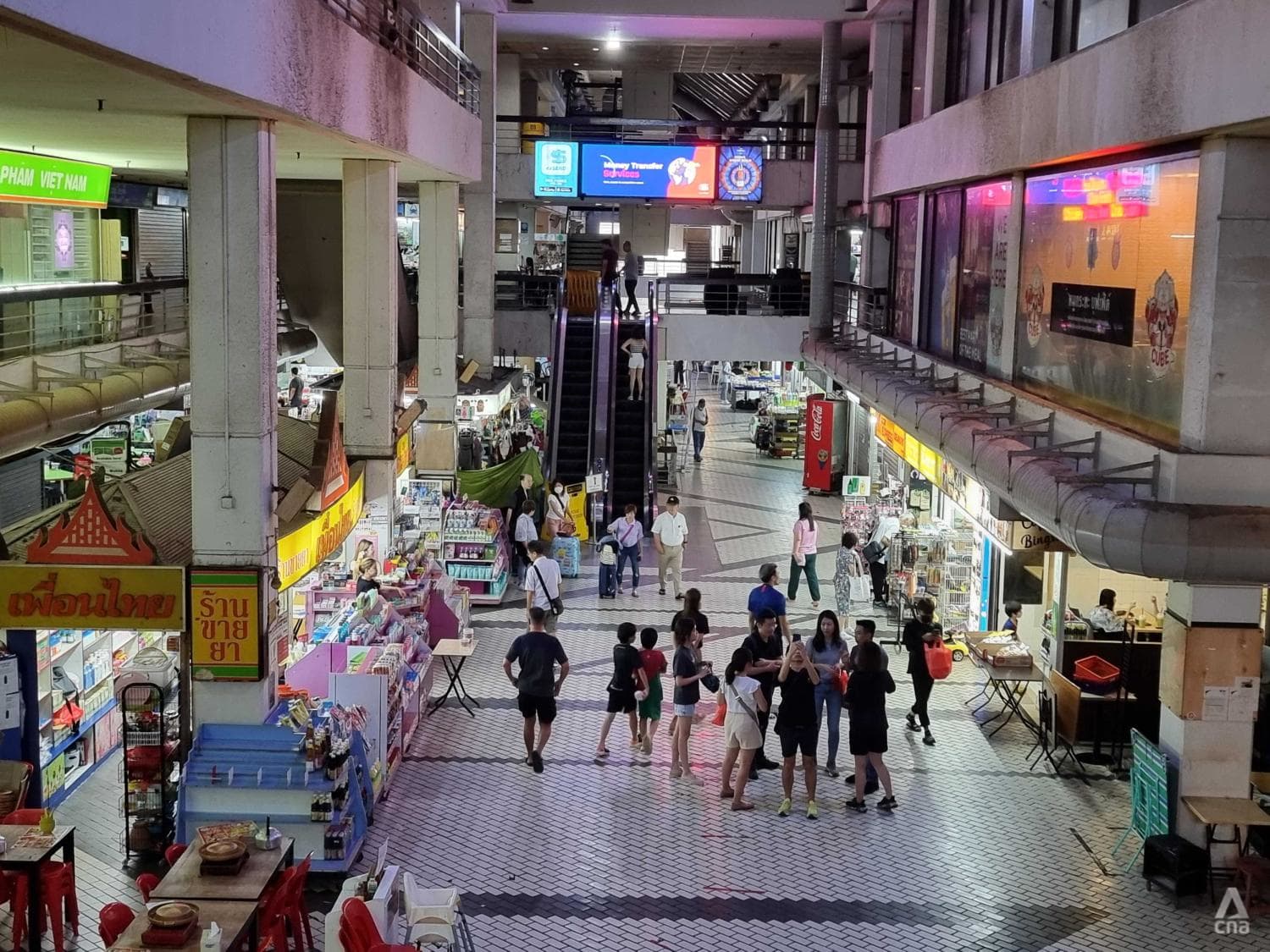 CNA Lifestyle recently scoured the ghost town for moving notices, so you can keep tabs on your favourite eateries and shops after they move.
APERIA MALL
1. Thai Supermarket
For 30 years, it has been an institution within the building. It mainly served Thai construction workers in the early days but eventually became everyone's go-to for Thai condiments and snacks over the years, doubling in size and taking food kiosks under its wing.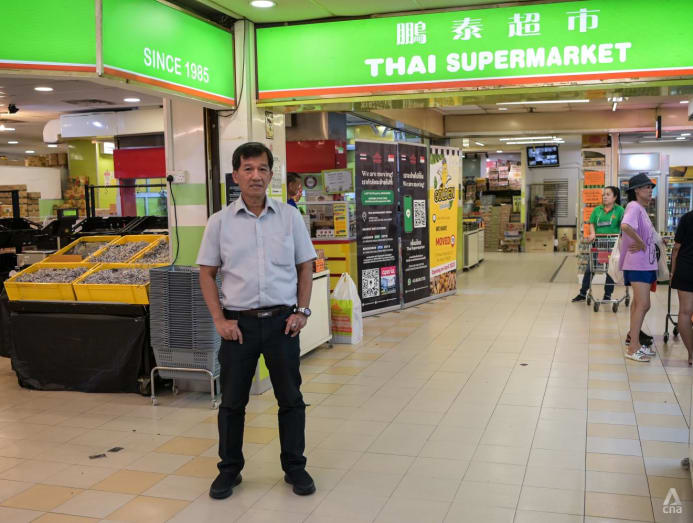 Planning to raid its shelves? You'd better act fast as the supermarket is packing for its big move to Aperia Mall. Or don't – and see Thai Supermarket 2.0 for yourself in May.
We have it on good authority that a "mini-Thailand", complete with takeaway F&B outlets and retail kiosks, is brewing.
New address: 12 Kallang Ave, Aperia Mall, #01-20A, Singapore 339511. If you plan to visit their Golden Mile Complex outlet, call 8138 3715 to check first.
2. Nana Original Thai Food
It's open round the clock so your cravings can be satisfied at any hour of the day. The pineapple fried rice, stir-fried basil rice with egg and tom yum soups have been bestsellers in the last decade, but if you're feeling adventurous, try the kao pad rot fai, a fried rice dish traditionally sold along the railways in Thailand.
Its last day at Golden Mile Complex is Apr 24 but it is also set to open at Aperia Mall this month, where it will remain a 24-hour eatery. Additionally, they have two outlets in Clementi and Far East Plaza.
New address: 12 Kallang Ave, Aperia Mall, #01-53A, Singapore 339511. If you plan to visit their Golden Mile Complex outlet, call 6297 8498 to check first.    
3. Im Em Thai (formerly Dee Tongue Thai by Rung Mama)
Dee Tongue Thai Rung Mama (which was previously known as Udonthani And Sakhon), is an OG in the building. Rung Mama's legacy started in the 1980s and has been passed on to her children today. Thanks to a medley of homemade sauces, marinades and chillies, their food comes with a home-cooked quality.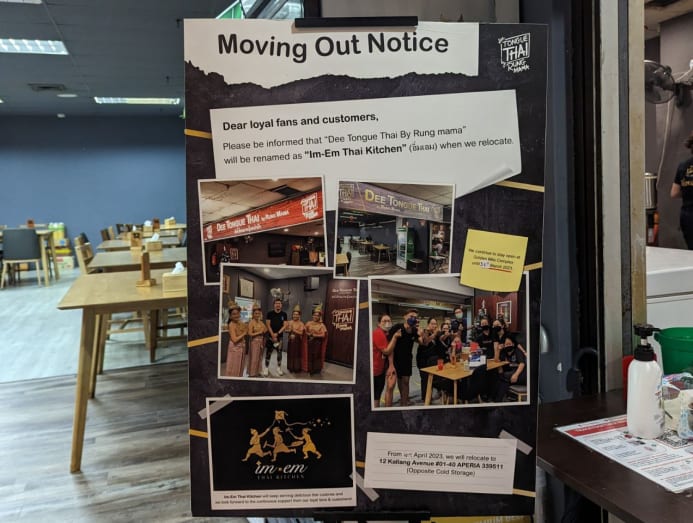 Apart from the usual suspects, the eatery serves fried mackerel with fresh vegetables and spicy sauce – eaten in the style of Korean barbecued meats. But customers can expect new menu items after it relocates to Aperia Mall as Im Em Thai. It will be at Golden Mile Complex until Apr 2, before reopening on Apr 16.
New address: 12 Kallang Ave, Aperia Mall, #01-40, Singapore 339511. If you plan to visit their Golden Mile Complex outlet, call 9112 0662 to check first.
GOLDEN MILE TOWER
1. Siriwan Thai Food
Here's yet another 24-hour eatery in the building, serving classic night market delicacies like deep fried chicken chopsticks and salt-crusted grilled tilapia fish (pra pow), which has won the approval of even Thai nationals. According to Google reviews, their prices are a tad higher, but their friendly staff and authentic fare make up for it.
They will be in Golden Mile Complex for two more weeks before moving to Golden Mile Tower in April. Asked if they plan on changing their menu, the staff said "no one knows except the boss". 
New address: 6001 Beach Road, Golden Mile Tower, #01-50/51, Singapore 199589. If you plan to visit their Golden Mile Complex outlet, call 6913 5981 to check first.
2. Pha Muk
Pha Muk moved to its new location last February, but it's been impressing customers with its handmade ingredients for a long time now. These include meatballs in its pork noodle soup and freshly cut fruits in its salads, to name a few.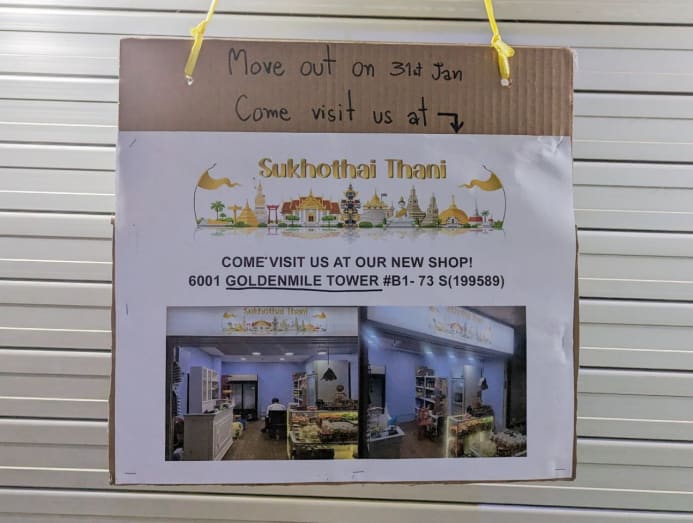 The braised pork noodle is a top seller, but we wouldn't sleep on the fermented pork salad – a rare find in most Thai eateries – and crab laksa, which is only available on the weekend. If you're visiting, consider popping by Sukhothai Thani, a provision store around the corner previously known as May & Den in Golden Mile Complex.
New address: 6001 Beach Road, B1-55 Golden Mile Tower, Singapore 199589.
3. Somtam Saklai SG (formerly Nang Sabai P&J)
Somtam Saklai SG is the new name for Nang Sabai P&J, now located at Golden Mile Tower. If you're in the area with kids in tow, this family-run eatery checks a few boxes. According to Google reviews, it's family-friendly in terms of both location and service. The owners had even accommodated children's palates by adjusting the spice levels.
Despite the changes, one thing remains constant – the pork collar salad is still an all-time favourite among customers. Plus, the menu is still pretty affordable, with mains ranging from S$5 to S$10 each.
New address: 6001 Beach Road, #01-37 Golden Mile Tower, Singapore 199589.
CITY GATE
1. Diandin Leluk Thai Restaurant
This is a household name that started as a food delivery service in the '80s. Then, the owners once operated out of a rented lorry, giving Thai construction workers a taste of home on the go. To this day, they import fresh herbs from Thailand throughout the week and keep ingredients handmade.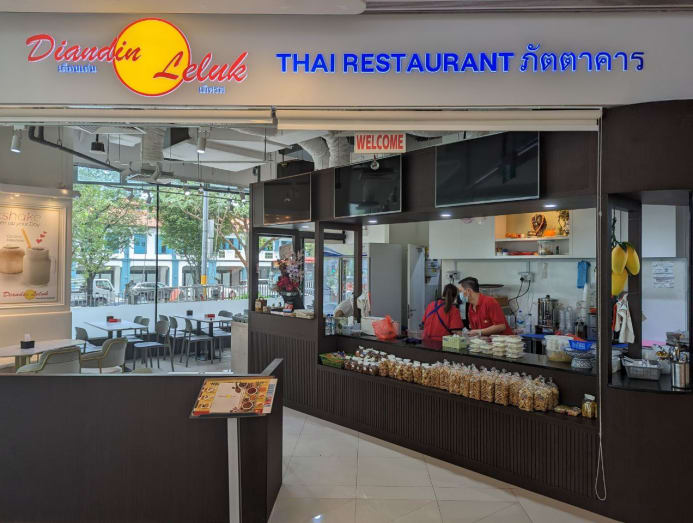 The outlet in Golden Mile Complex closed on Mar 19, but two sparkling new outlets had sprouted across the street last November. There are plans to update their menus but, until then, the S$8.90 lunch set is a hit among office workers.
New address: 371 Beach Road, City Gate, #01-05, Singapore 199597.
2. Beer Thai House
Before going solo, Chef Somsak Chomprach perfected his craft at Seafood International Market & Restaurant at Big Splash, a former waterpark in East Coast Park. Like a couple of his neighbours in the complex, he catered to Thai foreign workers when he first struck out on his own but amassed a loyal following of locals and tourists across the decades.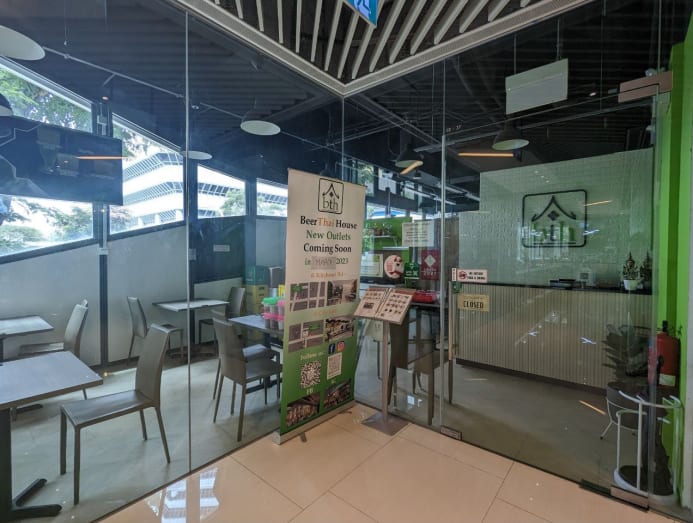 Beer Thai House relocated to City Gate and Kitchener Road on Dec 22, the latter being the larger of the two. And though Chef Somsak's daughters have taken over, glowing reviews of the new outlets can attest to their consistency in quality.
New addresses: 371 Beach Road, City Gate, #02-37, Singapore 199597 and 155 Kitchener Road, #01-01, Singapore 208528.
3. Golden Banana
This list will not be complete without Golden Banana – a headliner at Thai Supermarket. It's similar to our local you tiao stalls, drawing long queues with their banana fritters and sweet potato balls. Fried to a golden brown, these go for S$4 a pop.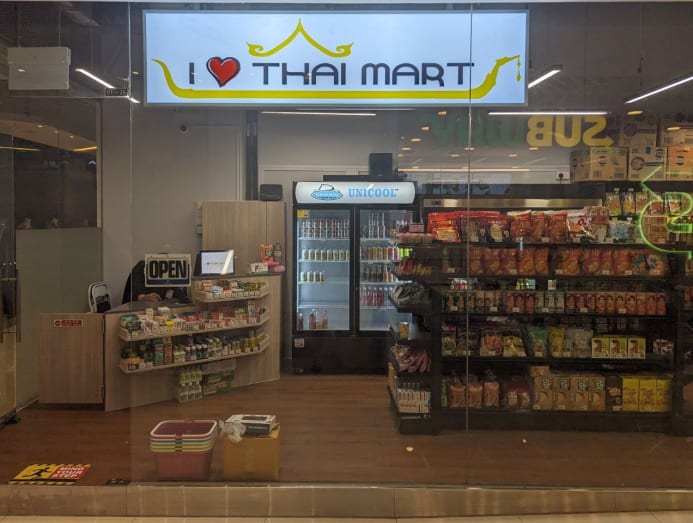 While it will not be following the supermarket to Aperia Mall, Golden Banana will reopen on the second storey of City Gate. If you're looking for a snack fix in the meantime, head over to I Love Thai Mart on the ground floor. Previously known as I Love Thai Snacks, the provision store has expanded its selection to include groceries and essentials.
New address: 371 Beach Road, City Gate, #02-27, Singapore 199597.
OTHERS
1. New Udon Mookata
New Udon is a pioneer in the local mookata scene, having been a mainstay in Golden Mile Complex since 2007. For decades, they've kept hungry stomachs happy round the clock, offering a quick bite before or after a wild night out. Sadly, the party here will come to an end by the middle of next month.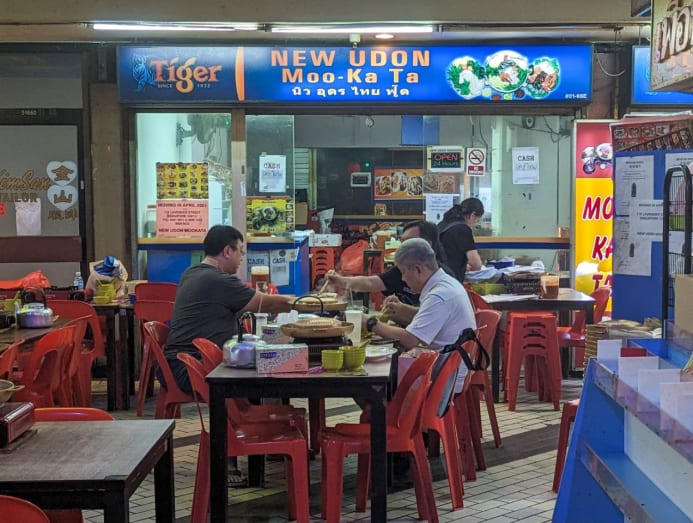 But starting Apr 17, they will operate in a shophouse in Jalan Besar. The new eatery will only be half as spacious and open between 6pm to midnight – but we'll take whatever sizzling good time we can get. 
New address: 119 Lavender Street, Singapore 338731. If you plan to visit their Golden Mile Complex outlet, call 8451 9973 to check first.
2. Nong Khai Beer House
Going from "Little Thailand" to "Little Myanmar", Nong Khai Beer House's move to Peninsula Plaza this March seems only apt since they have no lack of fans among the Myanmar folks in Singapore. The 18-year-old establishment is all about Isaan Thai food, which hails from Northeastern Thailand and is influenced by Laotian cuisine.
In true Isaan fashion, you can expect grilled meats and spicy salads in place of soups and curries. Nong Khai Beer House has made a name for its grilled chicken and mango salad, among other dishes that will bring the smoke and heat. Wash them down with a glass of Chang beer and brace yourself for a food coma.
New address: 111 North Bridge Road, B1-07 D/E Peninsula Plaza, Singapore 179098.
3. Heng Dee Thai Minimart
Heng Dee Thai Minimart, like Thai Supermarket, is the destination for ingredients you'd be hard-pressed to find in most grocers. Think fresh produce, pastes, sauces, condiments, stock – the list goes on. If you've always wanted to master your favourite Thai dish, what better place to shop?
Here's the catch: You'll have to make the journey to the west. The minimart will be moving to Boon Lay Shopping Centre, catering to Thai migrant workers in the dormitories nearby. If anything, it seems like an homage to the vanishing Golden Mile Complex. After all, it's how most stories here began.
New address: 221 Boon Lay Place, Boon Lay Shopping Centre, #02-162, Singapore 640221.