Girls on the grill: Meet the female chefs manning the hottest, heaviest part of the kitchen for love of fire
The intense physicality of the job doesn't daunt women like Nadine Tay, Amarit Kaur and Ashley So – just three of the rising number of young female chefs in Singapore who choose to hone their skills in cooking food over fire, and, along the way, are burning up preconceived notions of what women can do.
Comments like "'You're a woman. You can't take the heat'" are what Nadine Tay, Amarit Kaur and Ashley So have resigned themselves to facing.
The "heat" here is literal – and fiery. They are part of a small but growing number of female chefs in Singapore who are taking the path of woodfire cooking and flame grilling.
Tay, 31, is the head chef at izakaya-meets-Middle Eastern restaurant Habibi-san; Kaur, 30, is a senior sous chef at modern Indian grill restaurant Revolver; and So, 27, is the sous chef at Italian steakhouse Gemma.
Currently, all three women say they're happily working at establishments that support gender equality. But, as petite females in an industry that is still largely male-dominated, that hasn't always been the case.
In the course of their careers, all three say they've had to work twice as hard as their male counterparts to prove themselves. Chef So, for instance, was even told she should "just be a waitress, with a pretty face like that". And, "If you go for a job interview, the first question you get asked is, 'Are you here to be a pastry chef?'" Kaur divulged.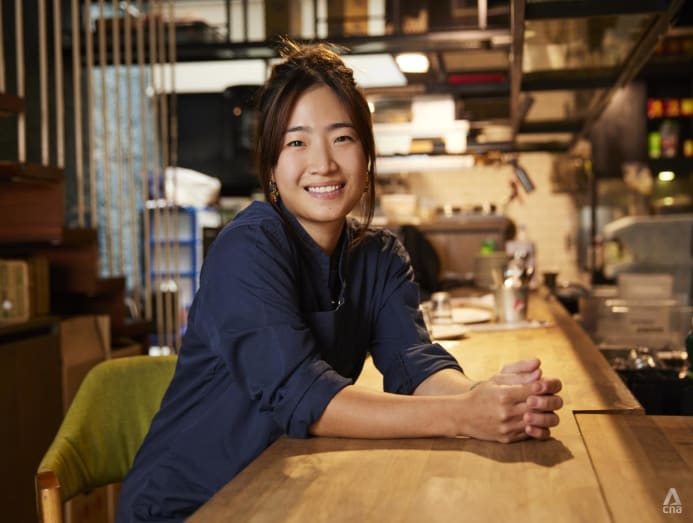 Instead, Tay, Kaur and So have chosen what is probably the most physically demanding job in a restaurant kitchen. The grill station involves open fire, extreme temperatures, hefty equipment, constant smoke and accompanying health and safety risks, if you're not careful.
Their friends and family have suggested they do something less difficult and dangerous, but they're drawn to the grill like, well, moths to a flame. What is it about this fiery art that intrigues them?
For Tay, "It's really my favourite thing to do. The most fun part is controlling the fire because every meat, every protein you cook, has a different cooking time, and how you cook it also matters."
And the sizzle in the air, while strength-sapping, also furnishes a unique high. "I enjoy the heat, and also the adrenaline rush. And to see customers being satisfied eating a hot, charred steak – that makes me happy," said So, whose dream is to open an intimate grill restaurant of her own one day.
And then, there's the lure of the fire itself. "I think it's something that goes back older than all of us," said Kaur. "Standing in front of the fire, there's just something very primordial inside of you that wants to come out. It's weird, but it feels a bit like being back in the womb, for some strange reason."
On top of that, "The feeling of achieving – cooking everything to the correct doneness, making sure nothing is burnt, controlling the fire – it's a bit of a dance. It's like dancing with the devil – make sure you wear comfortable shoes!"
Needless to say, there's also an element of mastery. "If you can tame a beast, of course you're going to feel powerful," she said. "It's like the feeling of dominance. I love it."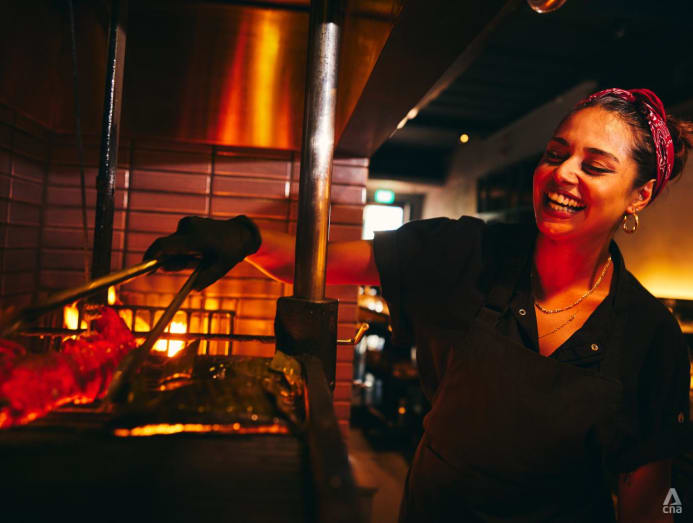 TRIAL BY FIRE
"It used to be harder to find females in the kitchen, but at least now, there's a small percentage," said Tay, who grills up dishes like ribeye steak with garlic ponzu jus; brussels sprouts with roasted sesame dressing and pickled red cabbage; and lamb served with ponzu and wasabi butter bean hummus at Habibi-san.
Tay, named Rising Female Chef of the Year at this year's World Gourmet Awards, has been in the industry for 12 years. Her first job was as a server at a bar. "I wasn't a very good one. I spilled drinks on people," she laughed. "I always looked into the kitchen and one day, I asked if I could try being in it for one day. It was the best day of my life."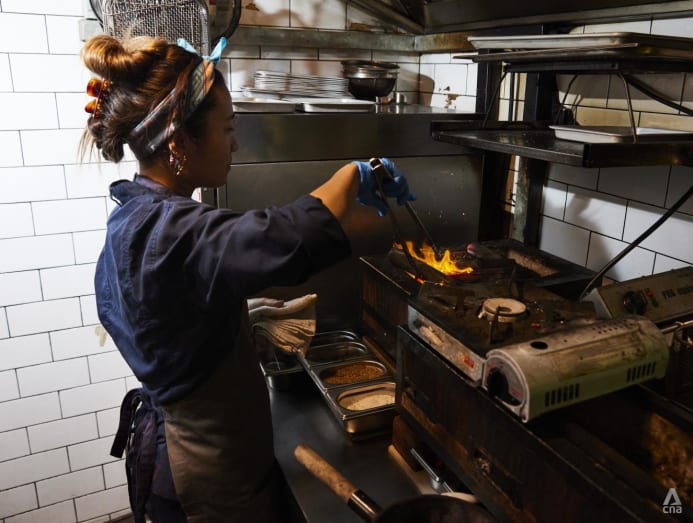 She's worked at a long list of establishments including Artichoke, Wild Honey and the now-closed restaurants Cocotte and Wolf. But her years of experience as a chef haven't stopped her from being judged based on how she looks.
Once, when she joined a kitchen for the first time, "The chefs there took a look at me, and then I heard them say they would give me a few dollars less because I looked like I couldn't even portion out a steak or do basic things." By midday, she had them eating their words. But the same thing happened at her next job, and the next. "I told myself it's something I'm going to have to face down the road forever."
Kaur, who puts out dishes like rock lobster with pepper garlic butter, charred broccoli with cardamom yogurt, and flank steak with nihari and chimichurri at Revolver, has had the same experiences.
"I've been undermined many times," she said. "'Do you know how to cut fish?' 'Can you carry this?' 'Is that too heavy for you?' You really have to go the extra mile to prove yourself. Whereas if a guy comes in, he immediately gets (respect). And sometimes, with higher pay, if I might add."
Like Tay, Kaur has 12 years of experience as a chef – she earned a degree at the Culinary Institute of America in Singapore, and went on to work in the US and Chile. Under her belt are establishments like Michelin-starred Gotham Bar and Grill in New York City, and World's 50 Best restaurant Borago in Santiago. In Singapore, some of the restaurants she's worked at include Esquina, The English House by Marco Pierre White, Club Street Social, Da Paolo Gastronomia and even a Chili's.
With all this experience, she has still felt the need to work doubly hard to prove she's as good as a male chef with far less training.
At one company where she'd worked as a sous chef for a year and a half, she recounted, "They hired a guy who was a chef de partie. At this point, I had about eight or nine years of experience in the kitchen. I was a sous chef, which is about three levels higher. But he was hired with a higher pay than me, and this was his first restaurant job. His payslip slipped onto the floor and everybody had a look, and we were like, 'Oh, wow.' He didn't know how to do the most basic preparation and cooking."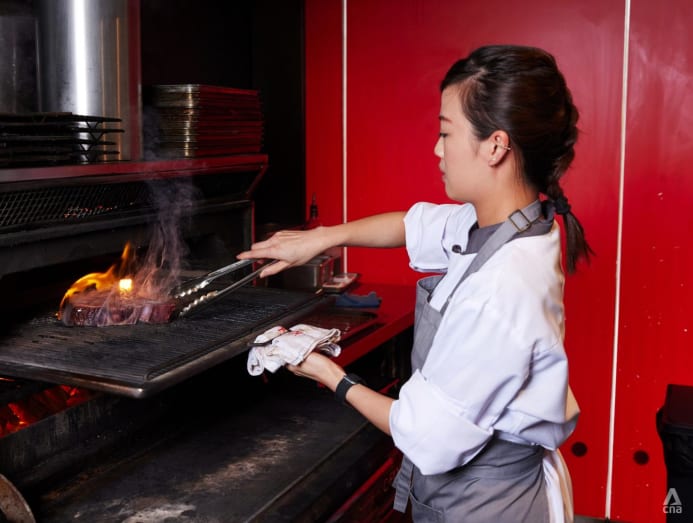 So recalls making a minor mistake once at one of her previous restaurants, and her male colleagues giving her a hard time about it. "They started to put me down and say, 'You're still young. Why don't you just go be a hostess? You shouldn't become a head chef or climb up the kitchen ranks. It's better if you just choose an easy job, with a pretty face like that.'
"I told them, 'No. Just watch me.'"
So, who cut her teeth in pastry and worked her way through all the stations from the cold kitchen to the hot kitchen, can now be found on the pass at Gemma, running a team of five (incidentally, only one is male). When she's on the grill, she cooks up dishes like dry-aged T-bone Fiorentina steak and Spanish octopus served with spiced Salmoriglio, romesco emulsion and feta.
The Malaysia-born chef started out at Tippling Club, then worked in New Zealand at three-hatted Auckland restaurant Clooney before the pandemic brought her back to Singapore. She then worked at Meta before settling at Gemma. At this year's World Gourmet Awards, she picked up the Junior Female Chef of the Year award.
"I think throughout my career I've been looked down upon by a lot of male chefs. So I think the only way down the road was to go through it," she said.
Standing at 159cm, "My physique is small, so there are definitely more challenges," she pointed out, like carrying large, heavy things. What's more, as women, "We also have a different kind of hormonal system" from men.
But mentally, she's trained herself to be strong. She said, "I enjoy being in the kitchen and I enjoy pushing myself."
SMOKY EYE LOOK
As a grill chef, not only must you command the fire expertly, your sense of timing has to be impeccable. Add to that the pressure of sending out perfectly cooked orders when the restaurant is slammed with guests, and you have a job that really takes a certain mettle to do. When you go home at night, you're sweaty, smelly and exhausted from all the smoke inhalation.
"First and foremost, it's hot as hell," Kaur said. "It goes up to about 450 degrees celcius. The moment you touch or kiss any part of the grill, that's it – it's going to scar for life." The other challenge, of course, is staying in control of the fire at all times. "Just imagine something that's very untamed and wild," she said.
And then there's the heat in the air. It "really takes up a lot of energy," So said. To keep the temperatures from getting to her, Tay keeps a very cold bottle of water at her side. She also wears a bandana to keep sweat from getting into her eyes. At the end of the work day, "I'll be perspiring a lot and my hair will be quite a mess."
Once, she recounted, "My dad picked me up from work. He rolled down the windows and said, 'You stink!' When we got home, he told me, 'Get out of the car. I can't stand the smell!'"
Tay, who's 153cm tall, has also had nosebleeds from breathing in smoke and soot. "It doesn't help that I'm short, so my face is right at the grill level," she said wryly.
So says she has a perpetual sore throat and slight rasp in her voice for the same reason.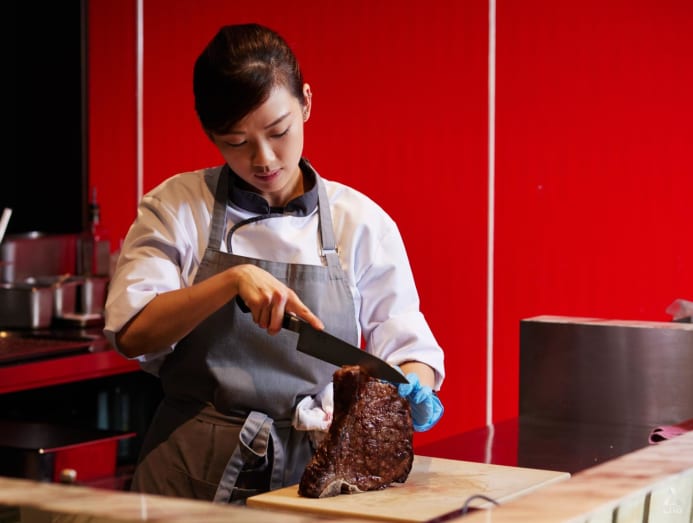 For her, though, "The most challenging part is being small and petite. I need to carry heavy stuff and reach for equipment and things that are stacked above me." Muscle aches and back pain are all part of the job.
Kaur calls the burn marks on her arms "battle scars". "Look at any cook's hands and you'll know if that person is serious," she quipped. "If you're conducting an interview, you don't even have to ask questions – just look at the hands."
At Revolver, guests dine around an open kitchen, so one of Kaur's job requirements is to remain unflappable no matter what might go wrong. One of the things people regularly comment on is how her winged eyeliner still looks perfect even after an evening of being face-to-face with the fire.
"It's great for your skin, I think," she laughed. "I do a 12-step Korean skincare programme every day. I have to! (The fire) does tire you a lot faster. It's very important to be extremely hydrated, and take breaks.
"The nice thing is that my hair always smells of smoke. We use a wood called ironbark. It's very sweet smelling, so I always smell nice," she quipped.
What keeps these chefs motivated to face the heat every day?
"I reckon it's just the feeling of making somebody happy," Kaur mused. "You see, feeding somebody is very intimate. It's like making love. I'm giving you something to put in your mouth – the level of trust you have to have in me, to eat it – I think that's very intimate. After the eating, you see the satisfaction, the joy. For me, that's gratitude in itself. It's very cheesy, very trite, but that's the thing… You see somebody enjoying the meal and think, 'Oh, I made that.'"
For Tay, it's not just about enjoying herself, but also proving a point. "There aren't many women at the grill station, and I want to be one of those still on the grill," she said. "It's really cool, toughing it out, to show it's not difficult; it can be fun."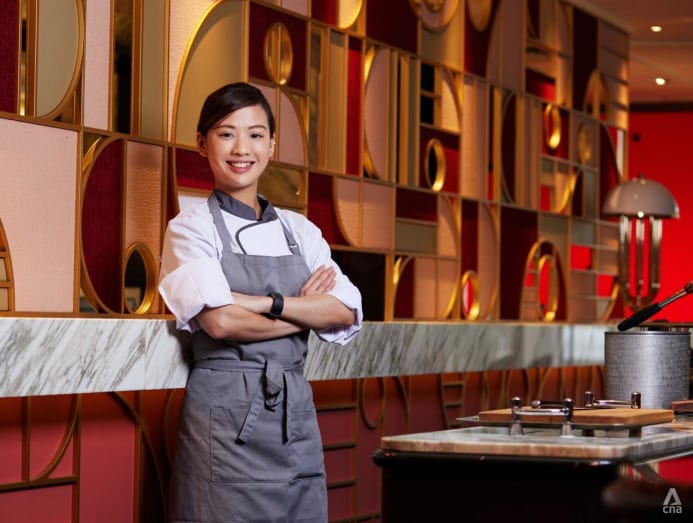 So thinks there's great satisfaction in taking the difficult path. "My mum and my dad say, 'Why do you have to work so hard? Why don't you just come home and relax a little bit? Even if you open a small bak chor mee or fried rice shop, we would be happy.' But, that's not my goal," she asserted. "I enjoy the hard work. I enjoy the long path that I have to take. Some would say it's a stupid choice. But through this journey, I've learned a lot, and I've proven a lot to myself."
Ultimately, it's an exciting time to be a female chef, as more women are being recognised and promoted in the industry worldwide, she opined.
"It's a movement," she said. "We're only halfway there, a footstep into this world, so it's a great opportunity. We should use it wisely."
"I just smell like beef when I go home!" Revolver's Amarit Kaur, Gemma's Ashley So and Habibi-san's Nadine Tay take us to the hottest part of the kitchen and tell us why they thrive there.