Sushi temple: Hashida's new restaurant at Amoy Street transcends tradition
Incorporating much more of the chef's personality, with designs he dreamed up himself, Kenjiro Hashida's new restaurant is a philosophically delicious experience.
It's been a little difficult to keep track of chef Kenjiro "Hatch" Hashida lately, what with his bouncing from one location to another after sallying forth from his Mandarin Gallery restaurant – which is why the opening of the brand new Hashida Singapore at Amoy Street is such welcome news for his numerous fans.
The discerning diner will know that one of the best experiences that money can buy – especially now that travel isn't on the cards – is a meal full of unexpected surprises taking shape in front of you by a master of his craft, and if symphonic perfection is the aim, then you could do much worse than to sit down at Hatch's Hiba wood table (more on that later).
The new Hashida, which opened its bright red doors a week ago, is a restaurant designed to take you through a journey that's not only culinary but also cultural, dimensional and even spiritual.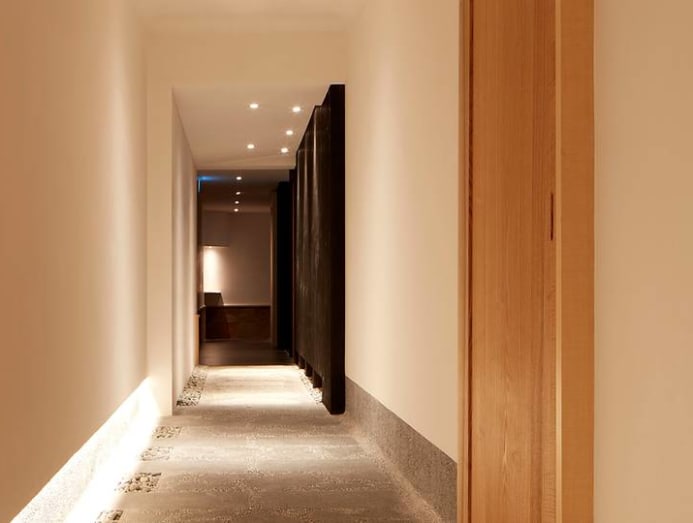 Entering the establishment, you walk a pathway evocative of those leading from an outermost torii gate to the innermost sanctum of a Shinto shrine.
The restaurant has been opened in partnership with OUE Restaurants, the food and lifestyle division of global property developer OUE Limited; but the chef's own personal touch permeates the space.  
There are three dining rooms, all proudly designed by Hashida himself. The largest seats 12 and features gradated grey walls together with a cloud-like ceiling installation, which he says is meant to evoke the foamy tops of waves, bringing to mind the fishermen, farmers and logistics suppliers who labour for the freshest produce.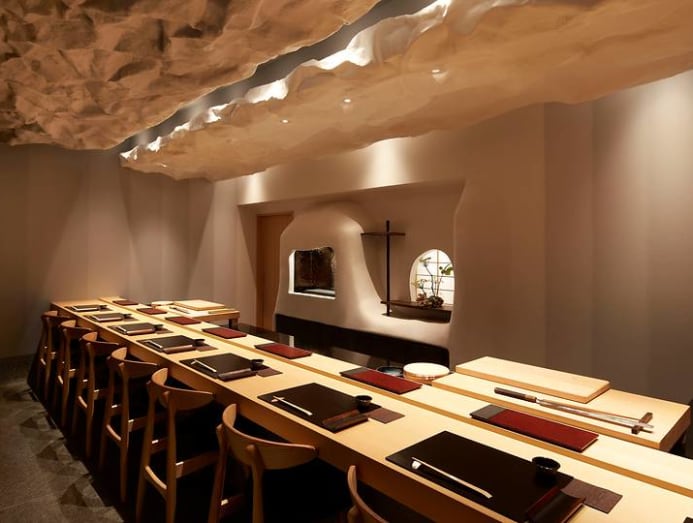 The second seats eight diners and pays homage to his heritage through the use of thatched awnings and Hiba wood – the same type of wood that was used to build his family home in Aomori and also features in his father's sushi restaurant in Tokyo.
Several of the restaurant's counters are Hiba wood, an expense he said could not be spared because the material connects him with his ancestors, whom he can trace back through 12 generations.
Why is it so integral to what he does? "Because anyone can train to be a sushi chef, but not everyone has this connection," he told us.
The third room seats just seven and is designed to evoke the traditional way of cooking and dining in rural Japan: Outdoors, by the side of a wooden hut. The walls here feature 200-year-old wooden beams that used to be part of an ancestral house in Kyoto. In this room, meant to showcase creative culinary experiments, the chef's table is made from Sakura wood.
Fans of Hashida know they will not be disappointed when it comes to the quality of the cuisine, but here, they can also expect the chef to push the subtle sense of playfulness he's known for slightly further.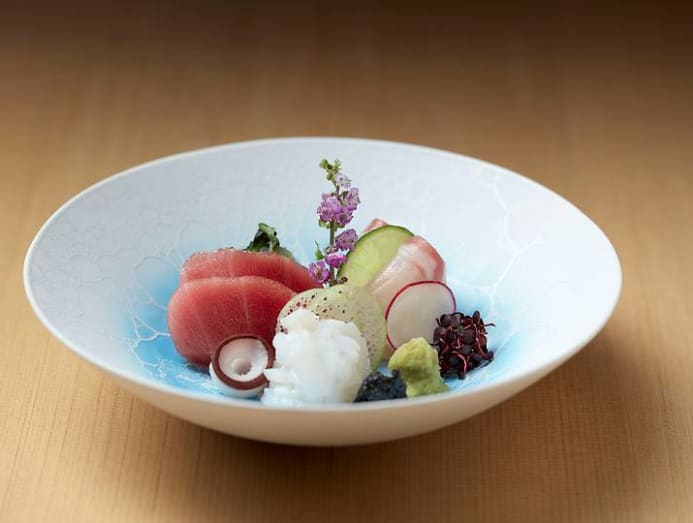 In this new restaurant, the prevailing principle is "Shu Ha Ri", the Japanese concept derived from martial arts signifying the ideas of "tradition, innovation and transcendence": First, in Shu, one must be schooled in the ways of tradition by a master; then, in Ha, one understands enough to incorporate novel ideas; and finally, in Ri, one develops his own unique style and technique.
"When the restaurant first opened in Singapore in 2013, we originally focused on presenting authentic, high-end Edomae sushi in line with the centuries-old traditions stemming from ancient Tokyo," Hashida said. "Since then, we have gone on to introduce several creative dishes to our culinary repertoire, as our menu began to evolve with the experiences we gained from our interactions and collaborations with other masters of their trade.
"At Hashida Singapore, we are ready to take on the final stage in our journey to mastery through 'Ri' – where guests may look forward to dishes that transcend tradition in an innovative way."
For instance, at dinner on the second day of the restaurant's opening, a harmonious appetiser plate featured mackerel sushi, the fish marinated in soy sauce instead of the traditional vinegar; abalone and uni topped with caviar; sweet snow crab and sea cucumber; roasted sweet potato puree; and a sip of turnip soup.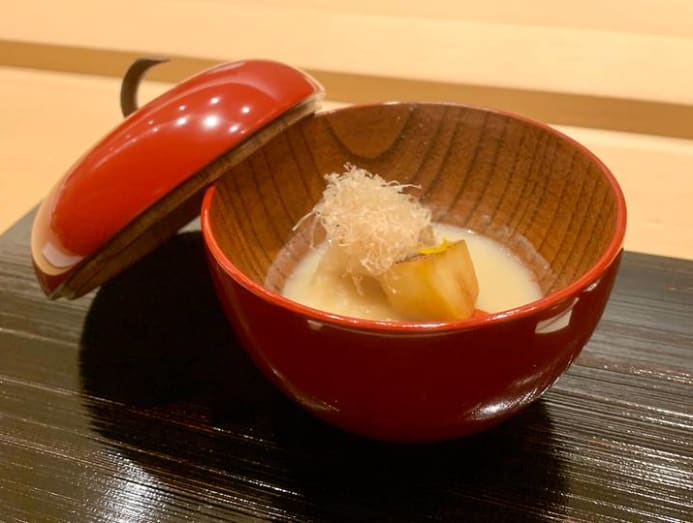 Uncovering an apple-shaped bowl, we discovered a dish of Kyoto-style ozoni or Japanese mochi rice cake, with a broth of burdock confit, simmered and mixed with white miso;  red Kyoto radish, yam, and a wedge of sweet, roasted apple.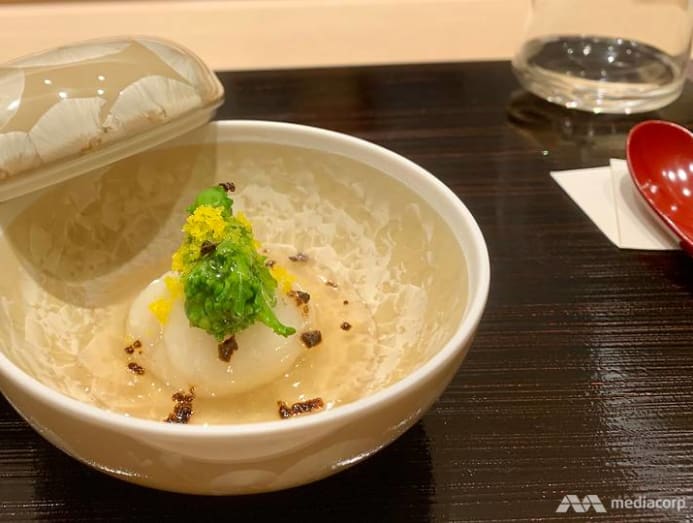 A tender lily bulb dumpling, stuffed with shiitake mushrooms, was served with gingko and bamboo shoot and topped with nanohana (Japanese kailan) in a gelatinous sauce of dashi, kombu and bonito flakes.
Then there was a simple yet stunning Hokkaido crab leg, requiring nothing more than its own freshness to command attention. Hashida jocularly referred to the crab leg as a "watergun", miming that all you had to do was pull on the end for the meat to slide smoothly out of its shell.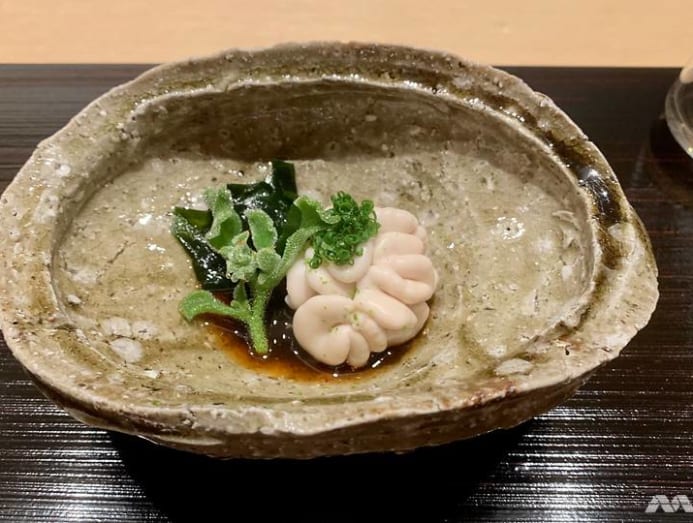 Another stunner was a dish of cod milt with tangy ponzu and crunchy barafu or crystalline ice plant, remarkable in its mellow yet flavourful simplicity.
Hashida isn't a fan of amped-up acidity, he told us, so all his flavours are kept measured and balanced – even his sushi rice is less vinegary than others'.
To finish on a light yet satisfying note, there was matcha pudding with brown sugar syrup; Beni Madonna orange; Amaou strawberry; and Hanabira mochi with burdock, sour plum sauce and white bean paste.
But not, of course, before a barrage of perfectly-fashioned sushi that Hashida urges you to eat immediately from his hand – don't bother waiting for the others in your dining party – while the temperatures and textures remain optimum for a sublime flavour.
Who can wait, anyway?
Hashida Singapore is at 77 Amoy Street.