McDonald's BTS meal, bak chang, Eggslut: Top food and dining stories of 2021
To wrap up the year, CNA Lifestyle looks back at the dining-related stories you've eagerly read and shared, from fave Makan Kakis hawker haunts to chefs doing something different.
Truth be told, it's been one heck of a rollercoaster year, with pandemic rules constantly shifting for the local F&B scene and the entire world adjusting to the new normal. What hasn't changed though, is our readers' voracious appetite for all things food-related.
Throughout the year, you lapped up stories ranging from the McDonald's mega blockbuster collaboration with Korean superstars BTS and Los Angeles import Eggslut arriving on our shores to the planting of 1,000 cacao trees in Singapore. You also wanted to learn how to tell the different types of bak chang (rice dumplings) apart. 
Readers were also curious to find out the best places to eat locally –  running the gamut from the most delicious hawker fare like lontong and prawn noodles to hamburgers in Singapore.
Craving a little food for thought? Here's a look at some of CNA Lifestyle's popular dining pieces that resonated with people this year.
MCDONALD'S BTS MEAL LANDS IN SINGAPORE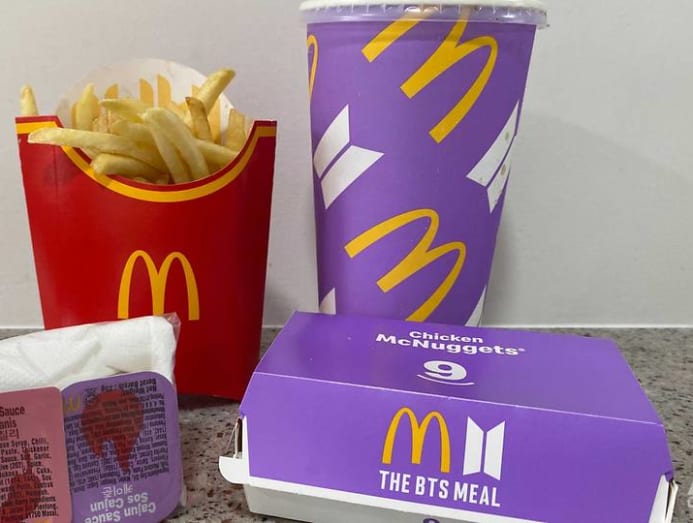 The highly-anticipated BTS Meal – a collaboration between the hugely popular South Korean boy and fast-food chain McDonald's – hit Singapore's shores on Jun 21 to expected furore, website glitches and online ordering hiccups. 
The nine-piece Chicken McNuggets set with sweet chilli and Cajun dipping sauces, large fries and a large Coke – came with the purple BTS-branded Chicken McNuggets box and drink cup, but not the BTS-branded brown paper bag, which was not available here in Singapore. But that didn't stop people from selling the packaging on Carousell that very same day. 
As evidenced on social media, BTS fans have gone the distance trying to preserve the BTS-branded packaging the meals come with, including washing and drying and then framing them. Alternatively, someone in Singapore got really, really inventive and made shoes.
Read the story here.
BAK CHANG 101: HOW TO TELL RICE DUMPLINGS APART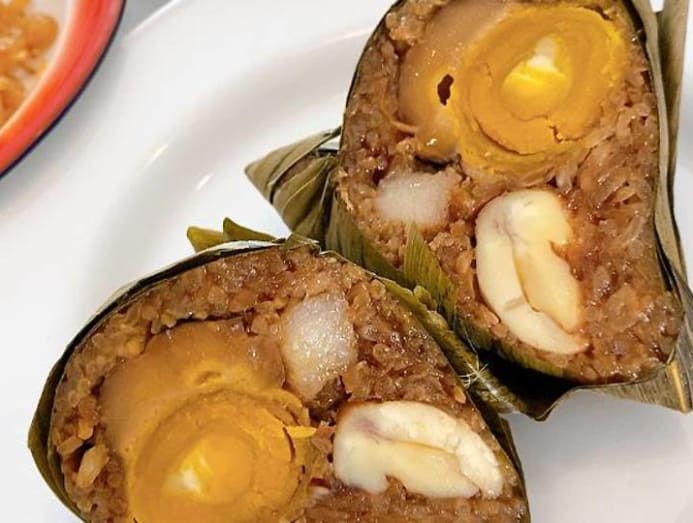 Whether you call them bak chang, zongzi or glutinous rice dumpling, there is always a plethora of different types available in Singapore.
Teochew, Hokkien, Nyonya or Hakka – every dialect group boast their own distinct ingredients and colour in the traditional offerings and restaurant chefs annually try to come up with modern takes and new combinations.
But how does one tell the difference? CNA Lifestyle came up with a nifty list of the variations – and where you can order them.
Read the story here.
THIS YOUNG SINGAPORE CHEF SERVES FOUR-COURSE MEALS IN TINGKATS
After stints at Odette, Whitegrass and Magic Square, Desmond Shen's private dining plans were waylaid by the pandemic.
That's when the 28-year-old came up with Tiffin Bicycle Club, putting his elevated take on local and regional cuisine into round, metal tiffins and sending them out to diners. The bicycle part is up to the customer – you can self-collect or arrange your own delivery, and someone will come to collect the tiffin the next day. 
Read the story here.
DELICIOUS LONTONG FROM A FAMILY-RUN STORE WORTH CHEERING ABOUT
In this instalment of Makan Kakis, GOLD 905 DJ Denise Tan visits Ole Ole Bumbu, a family-run nasi padang stall in Marine Terrace – where their popular lontong is proof that friendliness and full-on flavour are a winning combination.
CNA Lifestyle's Makan Kakis series with GOLD 905 DJ Denise Tan is always a hit with our readers. First up on the list is Ole Ole Bumbu, a family-run nasi padang stall in Marine Terrace, which is helmed by by affable matriarch and chef Eliza Abdul Mutalib, who grinds all her spices from scratch.
"The gravy is so important. My ingredients are all laid out according to their colours. Yellow ginger. Orange turmeric – fresh, not powdered. Dried red chillies, which I fry, then boil, then grind to a paste. All very vibrant," she said. "Nothing is instant, otherwise your food will be dull in colour," she said..
Read the story here.
ULTIMATE "INDIAN FISHBALL MEE EXPERIENCE" IN TOA PAYOH
In this week's Makan Kakis, GOLD 905 DJ Denise Tan visits Lina Fishball Noodle. It's become known for handmade her giao (fish dumplings) and the couple behind it: Jeevan and May Ananthan, whose marketing hashtag #TheIndianFishballMeeExperience got people curious.
In another Makan Kakis instalment, we visited Lina Fishball Noodle, which created an online stir not just because of the food but the hawkers behind it.
Newlyweds May and Jeevan Ananthan are a couple who wear their mixed heritage with pride. She's in charge of business development and makes a mean fishball, while he's in charge of operations and does the main bulk of cooking. Read on to find out if this cross-cultural hawker stall is worth the hype.
Read more here.
PRAWN NOODLES AT A LOYANG INDUSTRIAL ESTATE THAT'S BIG IN FLAVOUR
In this episode of Makan Kakis, GOLD 905 DJ Denise Tan found herself in an industrial estate all the way in the east of Singapore and discovers Loyang Way Big Prawn Noodles' rich, robust dish with a prawny punch is worth the trip.
This Makan Kakis hawker haunt was recommended by MasterChef Singapore season two winner Derek Cheong. Loyang Way Big Prawn Noodles might be a long drive for Westies, but this rich, robust of prawn noodles, served either soup or dry, was well worth the trip.
Read more here.
A SPECIAL MALAYSIAN-STYLE ROJAK FOUND IN JOO CHIAT
In this episode of Makan Kakis, Gold 905 DJ Denise Tan tried out Lim Bo Fresh Fruits Rojak, which has an interesting cross-border story involving a famous rojak stall in Kuala Lumpur and the Singaporean owner's desire to bring that yummy dish across the Causeway.
This time around on Makan Kakis, we tried Lim Bo Fresh Fruits Rojak, which offers an interesting cross-border story from Singapore to Kuala Lumpur, by way of Perak and Penang.
The owner of the Joo Chiat stall turned out not to be Lim Bo (Uncle Lim in Chinese), but Leong Gwo Wei – the Singaporean disciple of Malaysian Uncle Lim.  
Read more here.
WHY SINGAPORE'S RESTAURANTS ARE TURNING TO THE HAMBURGER FOR HELP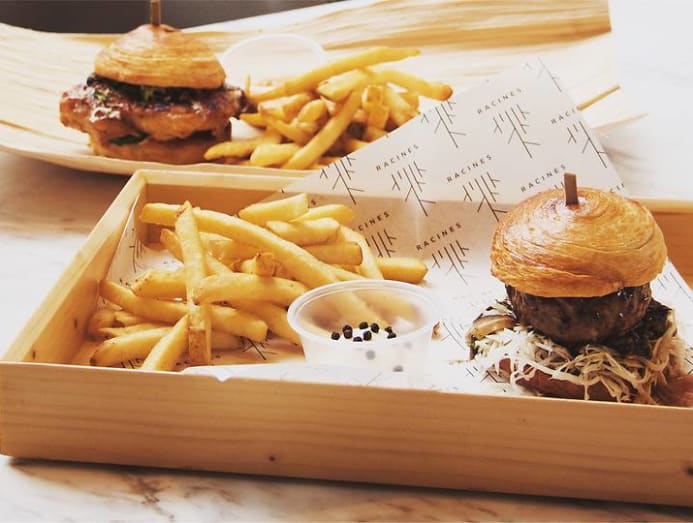 Almost as soon as Phase 2 (Heightened Alert) came into effect (remember those good ol' days?), burgers began popping up on menus across the island as stuck-at-home diners started to find comfort in the ubiquitous sandwich. Read on to find out where to find some of the best burgers in Singapore. 
Read more here.
CHOCOLATE GROWN IN SINGAPORE: DESSERT CHEF JANICE WONG'S 1,000 CACAO TREES
CNA Lifestyle visited Pure Imagination, the latest concept from Singapore's dessert queen Janice Wong, who tells us how chocolate is made from start to finish – and we tried it out for ourselves at Great World.
In partnership with Gardens by The Bay, Great World and Spectra Secondary School, award-winning dessert chef Janice Wong aims to plant 1000 cacao trees locally, all in the hope that by 2023, Singapore will be churning out our very own homegrown chocolate.
In the meantime, Singaporeans can get to know what chocolate-making is all about at Wong's new Pure Imagination outlet at Great World City. 
Read more here. 
EGGS FOR DAYS: LA RESTAURANT EGGSLUT LANDS IN SINGAPORE
The famous LA chain known for its egg sandwiches opens its first branch in Singapore (and Southeast Asia) at Scotts Square. We try out their delicious offerings – and ask co-founder Jeff Vales about the origins of its curious name.
From its early beginnings as a Los Angeles food truck founded by chef Alvin Cailan and his cousin Jeff Vales, the popular brand has grown to 15 restaurants around the world, including two in Tokyo, three in Korea and, in September, one in Singapore.
CEO Vale's personal favourite, he told CNA Lifestyle, is the Fairfax Sandwich (S$12): An airy bun that holds fluffy scrambled eggs, caramelised onions, cheddar cheese, chives and sriracha mayo. Read on to find out what other popular items on the menu you should choose from.
Read more here.