Celebrity chef Heston Blumenthal to cook in Singapore for the first time
CNA Lifestyle spoke to the three-Michelin-starred chef who will be making his culinary debut at Singapore Formula 1 Paddock Club in September.
Never been able to score a coveted seat at the in-demand three Michelin-starred The Fat Duck in Bray, England, or two Michelin-starred Dinner by Heston Blumenthal in London? No worries, Heston Blumenthal is bringing his multi-sensory cooking and wildly imaginative creations directly to Singapore very soon.

The British chef, widely recognised as one of the world's best and most influential chefs of his generation, will be headlining this year's Formula 1 Paddock Club gastronomic experience and cooking up all the signature dishes from his one Michelin-starred gastropub The Hind's Head.
Paddock Club patrons can expect to indulge in traditional English fare with a twist such as Lapsang Souchong tea-smoked salmon with sour cream butter, caviar and soda bread; veal chop with celeriac puree, glazed carrots and sauce reform; and roasted scallops with scallop tartare, white chocolate foam and caviar. 

The man himself will be on-hand cooking and mingling with the guests on Saturday Sep 21 and race night Sunday Sep 22.

Indeed, the creator of gems such as bacon-and-egg ice cream, triple-cooked chips, snail porridge and Meat Fruit told CNA Lifestyle he was "very excited" to make his culinary showcase debut in Singapore.
"This will be the first time I'm cooking in Singapore, and cooking for the Grand Prix is very, very exciting" he said. 
"I am amazed at how rich and varied Singapore's cuisine is – from hawker street food and the stories behind it, to the many fine dining restaurants," he said. "I cannot wait to bring the food of Bray here to share with everyone."

The three-Michelin starred chef says his menu for the Formula 1 Paddock Club will "celebrate historical British recipes". 

"There'll be dishes recognisable in Singapore – harking back to the Victorian period like Coronation Chicken and Scotch egg," he added. "And even some dishes that go back even older than that, like the 1700s."
Known for his exceptionally creative take to food pairings as reflected in the cuisine at any one of his globally-acclaimed restaurants  – including The Fat Duck which was voted No 1 on the World's Best Restaurants list in 2005  – Blumenthal has come up with some of the world's most headline-grabbing flavour profiles. 

From white chocolate and caviar to salmon and liquorice, the chef creates his matches by identifying molecular similarities between different ingredients and combining these two or three ingredients in a single dish.
After having had a taste of the local hawker fare CNA Lifestyle presented him with, Blumenthal and his discerning palate just might bring some of our flavours back to England. 
"Now I've tasted these, that's given me an idea," he said with a laugh. "The menu will change and it'll be called the Hawker's Head menu, not The Hind's Head menu."

Completing this year's culinary lineup at Formula 1 Paddock Club will be Nobu at The Boardwalk, Rockpool by Neil Perry, Como Cuisine in partnership with Culina, Tarte by Cheryl Koh and Stockton Bar by Maximal Concepts.
Nobu at The Boardwalk, led by award-winning Chef Nobu Matsuhisa, will be returning to the event for yet another year and will feature signature dishes synonymous with masterful techniques and Japanese flavours with a hint of Peruvian influence. Also back by popular demand will be Rockpool by Neil Perry, bringing farm-to-table perfectly wood-fired grilled meats and sustainably sourced seafood.

On the menu is Como Cuisine in partnership with Culina which will showcase exclusive ingredients such as Manjimup Truffle, Kaviari Kristal Caviar and Wylarah Wagyu Beef. The star-studded culinary line-up will also feature signature restaurants from the Como Dempsey family in their culinary showcase at the night race: Candlenut, Singapore's first Michelin-starred Peranakan restaurant; Ippoh Tempura Bar by Ginza Ippoh; as well as nahm, Como's Michelin-starred restaurant in Bangkok.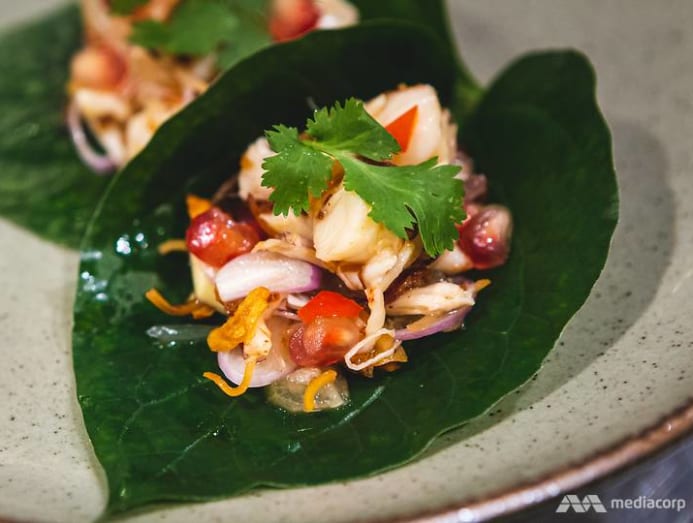 Guests can also indulge in a range of signature sweets made with the finest ingredients at Tarte, led by pastry chef Cheryl Koh of two Michelin-starred Les Amis Restaurant.
The Singapore Formula 1 Paddock Club three day-package ticket is available for purchase at www.singaporegp.sg, via the hotline +65 6731 5900 or by email at hospitality [at] singaporegp.sg.