Your Holland Village food guide: 14 best cafes, restaurants and bars
From shiny new openings to institutions that have stood the test of time, here are 14 must-try eateries while in Holland Village.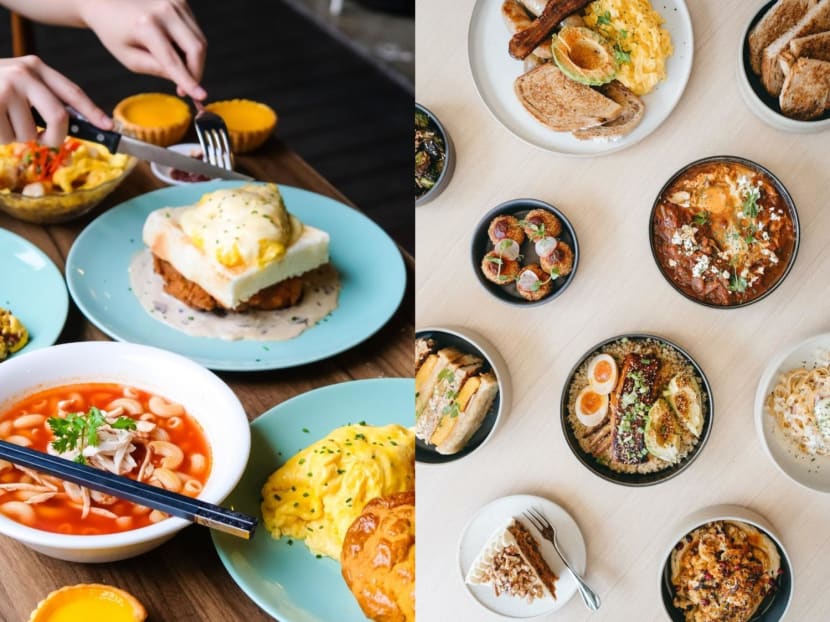 If you often have a hard time choosing what to eat, you're going to be in a pickle at Holland Village.
Singapore is a melting pot of culture as it stands, but this neighbourhood takes that to the next level. Newfangled cafes offer diners the experience of a "cha chaan teng" (Cantonese for a Hong Kong-style diner) or New York City deli, but long-lived institutions remain relatively unscathed by gentrification. 
Whether you're on a budget or ready to splurge; eating clean or making the most of a cheat day, international dining options abound from day to night. To make things simpler, we've rounded up 14 best cafes, restaurants, and bars for you. 
1. LOLA'S CAFE
Ask any northeastsider about Lola's Cafe in Kovan and the only complaint you'll hear is how crowded it is. A second outlet was inevitable and, after ten years, it sprouted along Lorong Mambong in July last year.
As a regular, reading the Holland Village menu was like watching my favourite series announce a second season. The crowd favourites – Honey Paprika Crispy Wings (S$13), Pulled Pork and Avocado Eggs Benedict (S$18), and Duck Confit with Truffle Mash (S$20) – had proven themselves and earned their place among debuts like Spicy Crab Rigatoni (S$20), Mushroom and Ricotta Ravioli (S$20), and Duck Ragu Fettuccine (S$20) for pasta lovers.
48 Lorong Mambong, Singapore 277699. Details here.
2. TWO MEN BAGEL HOUSE
Rarely do luxury brands vibe with sandwich joints, but Two Men Bagel House starred alongside not only Coach handbags but also New Balance apparel. In the last decade, it has launched in Tanjong Pagar, Novena and, most recently, Holland Village. 
Because it's concealed behind PVC curtains, presumably to keep the place cool, the diner feels cosier than others in the busy enclave. Every so often, you'll hear a spirited chorus of orders on their speakers, which is a good way to tell what's popular.
You can defer to the usual suspects with the TMBH Classicz, or give the Holland Village exclusives like The Veteran (S$17.30) or Mr Miyagi a chance (S$17.30). 
17D Lorong Liput, Singapore 277731. Details here.
3. CHIR CAFE + BAR 
You may have seen the Korean fried chicken chain Chir Chir in Somerset and Bugis, but did you know they also have a cafe-by-day, bar-by-night concept?
Opened in late 2020, Chir Cafe + Bar in Holland Village is quite a departure from its shopping mall counterparts. They've fused Korean cuisine into brunch staples with dishes like Carbonara So-Tteok So-Tteok (S$15.90), Bulgogi Cream Pasta (S$18.90), and Chir Chicken Croffle (S$18.90). Of course, Korean fried chicken and booze remain the most iconic duo, and their selection of beers and soju will hit the spot.
26A Lorong Mambong, Singapore 277685. Details here.
4. TAI CHEONG BAKERY 
Tai Cheong Bakery's counter stores are everywhere in Singapore, but their one and only dine-in concept is located here.
In a bona fide cha chaan teng, diners sit elbow-to-elbow and meal service moves unnervingly quickly. Tai Cheong Bakery along Lorong Liput does no such thing. The space is kept spiffy but retro, and is a far more pleasant dining environment for tucking into their signature egg tarts, traditional buns, and mains like noodle, macaroni and baked rice dishes.
31 Lorong Liput, Singapore 277742. Details here.
5. KEONG SAIK BAKERY
Keong Saik Bakery in Holland Village is another cafe where old school meets new school. 
Whether it's brunch, teatime, or dessert, their unique spin on croissants keep the surprises coming. The crolls – a crossover between croissants and bread rolls – come in flavours like milo, kaya lychee and cacio e pepe; while their cruffins cater to the Mao Shan Wang, matcha and earl grey lavender diehards. These are great for takeaways or gifting, but we would grab a seat for the mushroom soup croissant cube, which is exclusive to this outlet.
44 Jalan Merah Saga, #01-42, Chip Bee Gardens, Singapore 278116. Details here.
6. BLACK MARBLE 
Opened in 2020, Black Marble in Raffles Holland V Mall is helmed by industry veteran Chef Otto Weibel, who started helping out at his parent's farm-to-table restaurant in Switzerland as a child. Naturally, produce sits at the heart of everything at Black Marble, which sources its beef cuts from Australia and the Americas. 
While its grilled specialities take centre stage on the menu, the chef signatures, like Black Cod (S$42 for 200g) and Lobster & Hokkaido Scallop Risotto (S$42), shine the spotlight on fresh seafood sourced in Japan. Those who work nearby can also take advantage of their three-course set lunches, priced at S$29.90 with a choice of steak, seabass, or pasta.
118 Holland Ave, #02-01 Raffles Holland V Mall, Singapore 278997. Details here.
7. LA NONNA
La Nonna means "the grandmother" in Italian, and if we learned anything from Emily In Paris at all, it would be that Italian grandmothers are goddesses in the kitchen. 
Opened in 2006, the restaurant's signatures include Linguine Al Granchio (S$26), Agnello (S$37) and La Nonna Pizza (S$24.50) – a combination of black truffle and egg that earned glowing reviews on Google.
But if you're feeling adventurous, opt for a calzone or start the meal with risotto balls fried to a crisp. They do a three-course set lunch on weekdays but those who have company will get more bang for their buck with the one-for-one special. 
26/26B Lorong Mambong, Singapore 277685. Details here.
8. SENS DINING
Sens Dining looks like any other Japanese restaurant from the outside, but the two-storey establishment is anything but ordinary. Their sushi tacos, for starters, have swapped the usual rice and seaweed out for prawn cracker shells. Each one sandwiches your choice of sashimi and is prepared before your eyes when you get a counter seat.
For those who'd rather DIY, the Yagura Ketsuga Sushi Box comprises three tiers of fresh seafood – delivered from produce markets across Japan to Holland Avenue four times a week – to craft your own hand rolls with. Each tower is good for up to three diners, but they're available in limited quantities every day. We'd call dibs on one in advance if we were you. 
243 Holland Ave, Singapore 278977. Details here.
9. CHA CHA CHA MEXICAN RESTAURANT
Opened in 1990, Cha Cha Cha Mexican Restaurant is a true institution in Holland Village and supposedly the country's oldest Mexican restaurant. Neon signages had gone out of style and back in fashion since, but theirs had been lit from day one.
While Chimichanga down the street has a leaner, more classic menu, you can find the whole nine yards – enchiladas, fajitas, flautas included – here. They even serve soup as an appetiser, which isn't typical of most Mexican restaurants. Happy hour starts at 11.30am, with a selection of margaritas, tequilas and ice-cold beers to start the weekend early 
32 Lorong Mambong, Singapore 277690. Details here.
10. ORIGINAL SIN
Original Sin, which started in 1997, claims to be Singapore's first Mediterranean vegetarian restaurant. Lasting 25 years in the cutthroat F&B scene is a feat for any restaurant, let alone a vegetarian one, and Original Sin's answer seems to be variety.
The restaurant touts not only Mediterranean dishes, but also Middle Eastern and Indian flavours with dishes like noussaka (S$32) and tandoori skewers (S$32). If your new year's resolution for 2023 is to eat less meat, you know where to go for a wholesome meal that also hits the spot. 
43 Jalan Merah Saga, 01-62, Chip Bee Gardens, Singapore 278115. Details here.
11. WALA WALA CAFE BAR
Of course, no one talks about longtime residents in Holland Village without mentioning Wala Wala Cafe Bar, which has been around since 1993. While COVID-19 forced the establishment to shut its live music venue on the second floor, the night is still young in its watering hole downstairs.
Whether you're in the mood for soju, sake or five types of draught beer because it's been "one of those days" all week long, the extensive beverage menu will come through. Apart from the usual bar grub, they also serve local favourites like chicken satay (S$16) and shrimp paste chicken nuggets (S$13). According to their website, you shouldn't miss their cream cheese-stuffed jalapenos and beef meatballs either. 
31 Lorong Mambong, Singapore 277689. Details here.
12. TANGO'S RESTAURANT AND WINE BAR
Tango's is yet another Nineties kid on the block, just beside Wala Wala. With large tables indoors and outdoors, communal space is perfect for soaking in the atmosphere after sundown and that upcoming gathering you've been "arrowed" to plan. 
The menu has no lack of sharing options – from platters to pizzas – and fusion creations like chili crab pasta (S$22) and Beijing duck pizza (S$25) for that good old umami kick.
As part of their "two to tango" promotion, the bar offers one-for-one cocktails, martinis, and shooters from 12pm to 5pm daily. Now you know where to go if the weekend can't come soon enough. 
35 Lorong Mambong, Singapore 277692. Details here.
13. SUNDAY FOLKS
If alcohol on a weeknight doesn't sound like your best idea, try Sunday Folks. Started by the same team behind Creamier in 2015, the dessert parlour prides itself on its artistry, churning and handcrafting ice cream, sweets, and cakes in an on-site kitchen. 
They've swapped the usual ice-cream scoops out for soft serve in four flavours – roasted pistachio, earl grey lavender, dark chocolate Ferrero, and crème caramel. These are served in waffle cones or atop Belgian waffles – freshly baked only when you order – from S$8.50 and S$11.90, respectively. For something lighter, their selection of sliced cakes, ice-quenchers, and concoctions will satisfy your sweet tooth all the same. 
44 Jalan Merah Saga, #01-52, Chip Bee Gardens, Singapore 278116. Details here.
14. 2AM:DESSERTBAR
We should clarify that 2am:dessert bar isn't open at 2am. It does, however, close at the stroke of midnight, which is as good as it gets for a late-night ice cream and cake fix. Still, that doesn't begin to describe Janice Wong's creations. 
The plush, 60-seater space is something of a fine dining establishment for dessert. You can still find classics like tiramisu and chocolate cake here, only thoughtfully plated and paired with complementary tipples, but their novelties take the cake. Up In The Clouds (S$22), for instance, serves bergamot yoghurt mousse alongside aerated hojicha and sakekasu nitro for theatrics – a feast for both the eyes and belly to end the day with.
21A Lorong Liput, Singapore 277733. Details here.