S$50 tips and caring messages: How diners support their favourite restaurants
Chefs and restaurateurs are having a tough time, so diners are rallying to provide encouragement and comfort.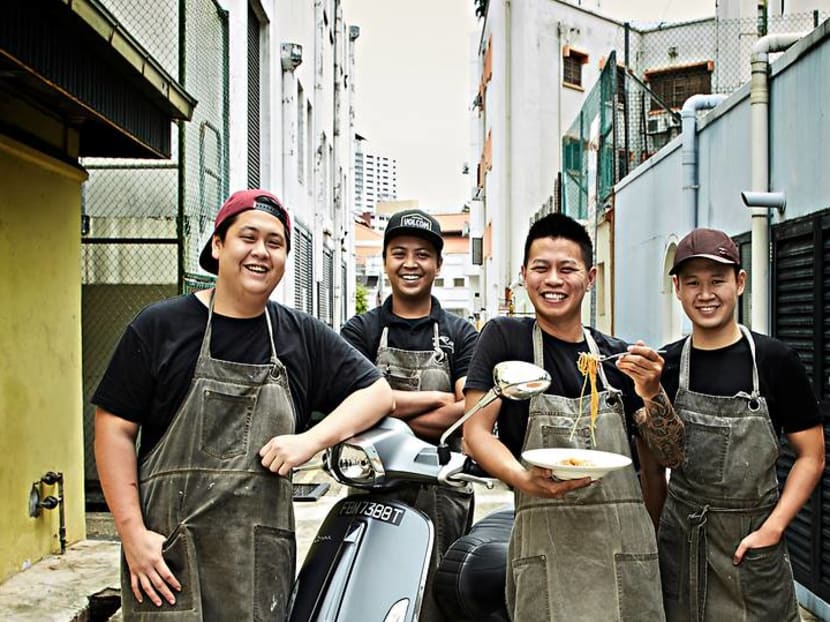 With everyone staying home and no dine-in guests allowed at eateries, the risk of losing our favourite restaurants is now very real; a few, in fact, have already succumbed.
For many restaurateurs, these are intensely stressful times. But there is one thing that gives them small moments of emotional respite: Encouraging messages and supportive gestures from their customers.
Many diners, for instance, are choosing to spend more than they normally would so that their contributions can help keep restaurants going.
Gestures like these made an impact on Slake's Jeremy Cheok, who shared that a customer ordered eight lunch sets to be delivered to their friends at different addresses and picked up the whole tab of S$850, saying, "I want to support Slake", and even including a S$50 tip.
"These are acts of kindness that I'll relate to my grandkids," Cheok said.
Over at Bar Cicheti, sommelier-partner Ronald Kamiyama recounted how a regular, "knowing that the industry took a big hit with the recent circuit breaker measures," purchased two bottles of wine for delivery but asked to be charged the four-bottle bundle price of S$225 "so that we could make more profit".
Although "we didn't take up the very generous offer and sold her the wine at retail price," Kamiyama said, "every dollar earned in this delivery exercise goes directly towards ensuring all our employees come out of COVID-19 with their jobs intact, so it was an extremely generous and greatly appreciated gesture."
Diners are also helping restaurants engage more potential customers by making social media posts about their own takeaways. At Firebake, people have been stopping by to buy breads or hot cross buns expressly to show support, and also actively calling on friends to support the restaurant through social media, said founder Konstantino Blokbergen. 
They also send direct messages of care and support over social media. "One of the guests said, 'As long as you are open, we will be here.'"
These words of solidarity don't go unappreciated.
Anthony Yeoh of Summer Hill was "taken off guard" when regular customers started coming out of the woodwork with food orders, but more than that, to leave messages of encouragement.
"They wanted to ask how I was; they wanted to ask how the business was going; and they said, 'Look, we're here because we want you to stick around; we don't want you to shut down.' That is an amazing thing to hear at a time like this," said Yeoh, who was prompted to share his thoughts in a video to his Facebook friends. 
"As a business owner, I don't have the funds to ride this out, but to hear your customers come and say that your business is important to them – words can't describe it. I choked up… I didn't know how much looking after I needed until I had people tell me, 'We're here to look after you' – and how good that felt. I felt a lot of the stress melt away for a little while."
More than just appreciating the well-wishes and concern, he later told us, he realised how much insight he was gaining into the role played by restaurants, and how that role might be shifting.
Communicating and listening to customers is "crucial when everyone is pivoting their businesses and new customer behaviours are still being established," he said.
The experience has "evolved my idea of what a restaurant is… People were saying that they really, really needed this meal to be able to take a break from the bad news every day. I think that's an important role that restaurants and chefs can play at a time like this."