Hungry girl seeks perfect burger in Singapore – will a famous expat win her heart?
With all the hype around international burger chains lately, CNA Lifestyle goes on blind dates with American, British and Korean burgers – including Five Guys.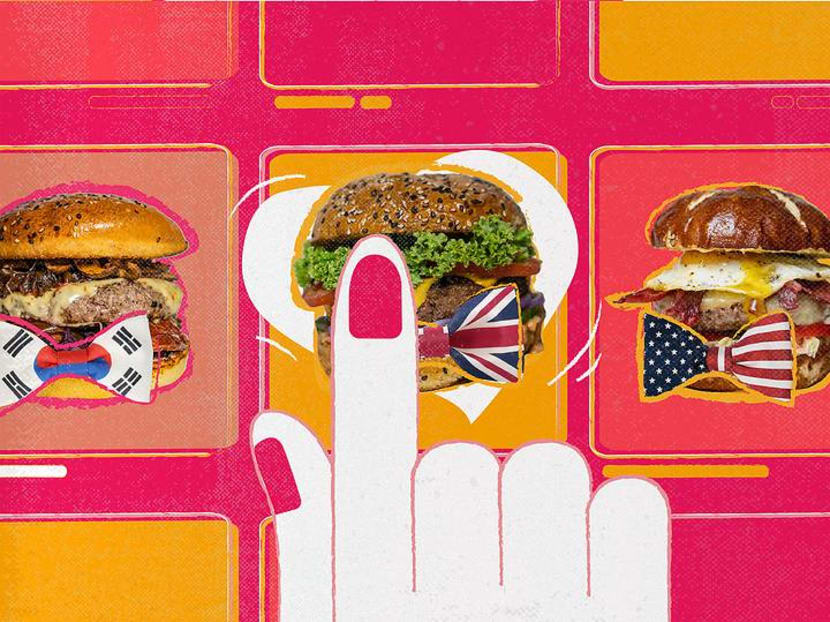 As you know by now, my search for the perfect burger has been full of ups and downs; highs and lows; ketchup and mustard. It is a long and lonely road that I walk, this quest for buns-and-meat perfection. My journey thus far has ultimately been filling, but not all that fulfilling.
After stepping uncertainly into countless restaurants on countless blind dates with new burgers, I am, I must confess, a little jaded. It feels like burgers these days just want to talk a lot about themselves on social media, brag about how many other girls are lining up for them, toy with your feelings a little, and then leave you to pick up the cheque.  
The game is getting me down. I'm not looking for a flashy one-night fling. I'm looking for a burger I can settle down with. The burger that will complete me. The committed father of my future food babies.
Why is it so difficult? I'm tempted to resign myself to being forever alone. But even though my heart says to give up, my stomach says, "Feed me". Now that there are so many new imports from famous Western brands, I suppose I owe it to myself to risk kissing a few frogs in hopes of finding a prime patty. Are any of them The One for which I would be happy to stand in line until the end of my days, or at least until the grain-fed cows come home, whichever comes first?
SHAKE SHACK'S SHACKBURGER, S$9.20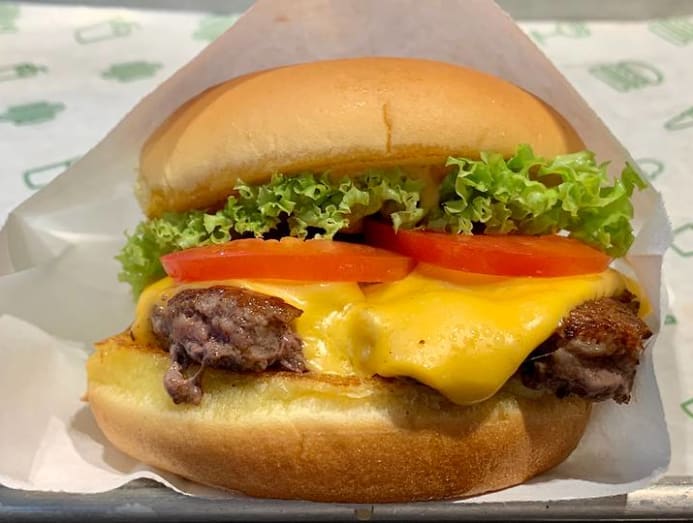 I've had rendezvous with Shake Shack burgers in several other countries before, so I'm curious to see what the settled-in-Singapore one is like, especially seeing as although I approve of Shake Shack in principle, I've never been impressed by the lack of consistency – patties in cities such as New York, London and Dubai tend to be dry and overdone more often than not. But surely, the Eduardo Saverin of expat burger joints should know that Singaporean women have notoriously high standards, right?
The first thing I note about my single (and available) cheeseburger, with lettuce, tomato and ShackSauce, is its stunning good looks. This burger evidently knows the importance of spending lots of time getting dressed to go out. It is put-together and picture-perfect. The lettuce is crisp and fresh. The tomato slices are neatly arranged. The bright yellow cheese is melting invitingly over the patty. The whole thing is a masterpiece of layered primary colours.
But most impressive of all are its eye-catching, attention-grabbing, double-take-inducing buns. They are towering. They are fluffy. They are thicc. These are buns of steel.
Now, I love me some strong, confident buns. But, after I've taken a couple of bites, the slight problem for me soon becomes apparent. The rest of the burger isn't correspondingly bold and doesn't bring balance to the force of the amazing buns.
Is it because I should have ordered the double instead? I don't know. What I do know is that although this is a very tasty burger that should be rightly proud of itself, it doesn't make my breath catch in my throat and my heart skip a beat. The patty is cooked well, which makes me breathe a sigh of relief, but that isn't quite enough for Cupid's arrow to pierce my heart. I want our relationship to be hotter and steamier – like, literally. I want to be licking beefy juices off my wrists. I want a burger that will give me gout and call me a dirty girl. And this burger is, well, just not that kind of burger. Alas, it's back to swiping and hoping for me.
BURGER & LOBSTER'S MAYFAIR BURGER, S$25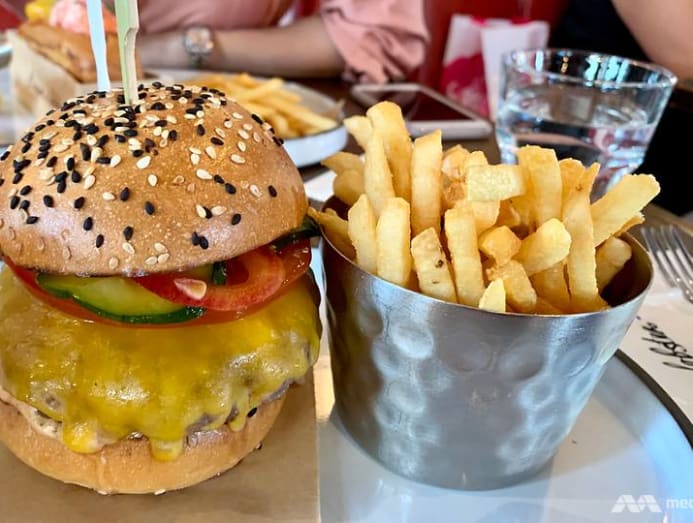 This London-born burger from a much-hyped establishment is such a thirst trap in all its profile pictures, and when you add that to the fact that its latest restaurant is at the Raffles Hotel, it's a burger I make sure I get dressed up to go out with.
When it arrives at my table, I'm sufficiently charmed. Although it's compact in circumference, it's tall in height. The bun is an exotic golden-brown hue, with black and white sesame seeds sprinkled attractively over the top. In between is a Nebraskan beef patty with lettuce, tomato, house-made pickles, onions and Burger & Lobster's "secret burger sauce".
Taste-wise, it scores better than average. But then, probing deeper, the red flag pops up, proving that you should never judge someone by their looks. Perhaps in relation to the patty's thickness, the inside is far too raw to be medium, as I've requested. I don't mind my meat on the raw side, but really, a well-brought-up burger shouldn't make a lady sit and saw through anything pink and stringy.
I'm pleasantly surprised by the accompanying fries, however. They're toothsome, flavourful and addictive, and I find myself spending way more time and energy on them, as well as on the salad – which is not a bad deal for me, all things considered, but a considerably bad sign for the date. Unfortunately, it's a main man I'm looking for, not a wingman, and there probably won't be a second date.
BURGER+'S KOREAN BULGOGI BURGER, S$13.80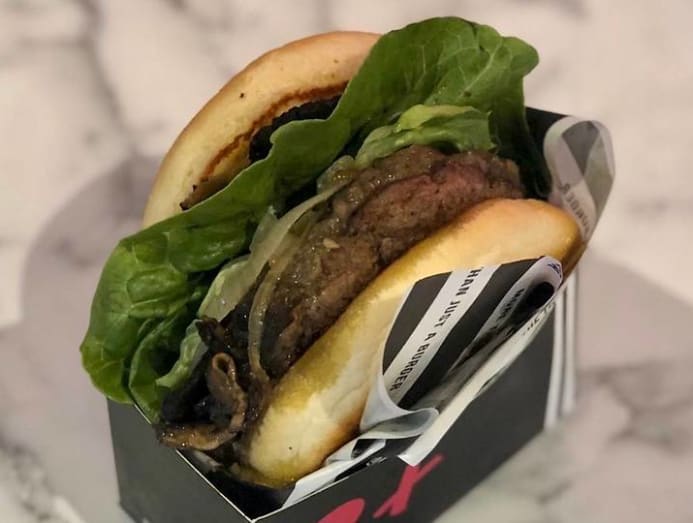 So far I've swiped right on an American burger and a British burger, so now, I reason, it's time to give a Korean burger a whirl.
The menu at Burger+, which has a new restaurant at The Central, is Korean-inspired, from the yangnyeom chicken wings to the signature "B+" sauce in the cheeseburgers, and developed by a Korean chef.
In hopes of finding my perfect K-pop match, I lock eyes with the Bulgogi burger, hoping it will blow me away like BTS have blown American soccer mums away. Sure, burgers have a decidedly Western pedigree, but who doesn't love those bright, intense Korean flavours?
I'm sort of expecting sliced, marinated beef like you'd find in a bulgogi dish. But the burger turns out to be a regular beef patty between potato buns, with bulgogi mayonnaise, bulgogi glaze, romaine lettuce and seared onion. I feel my defenses go up a little. Is this going to be a regular, standard-issue burger-next-door who's decided to put on a Korean accent just because it's supposed to be cool?
I take a bite, my fears are confirmed, and the date goes downhill from there. This burger, I feel, needs altogether more char, more sweetness and more umami. I also wish it were spicy, or had the option to be spicy, with a badass gochujang kick.
Bored, I turn my attention to the other burgers and find myself having a much better time. The Cheeseburger (S$13.80) bears a striking similarity to a Shake Shack burger, and its B+ sauce is punchy and fun. And the Truffleburger (S$21), with truffle slices, truffle mayonnaise, onion and sauteed mushrooms, is quite compelling, even though towards the end, its no-holds-barred flavours get a little too pushy, and I have to make an excuse to leave.
FIVE GUYS' CHEESEBURGER, S$15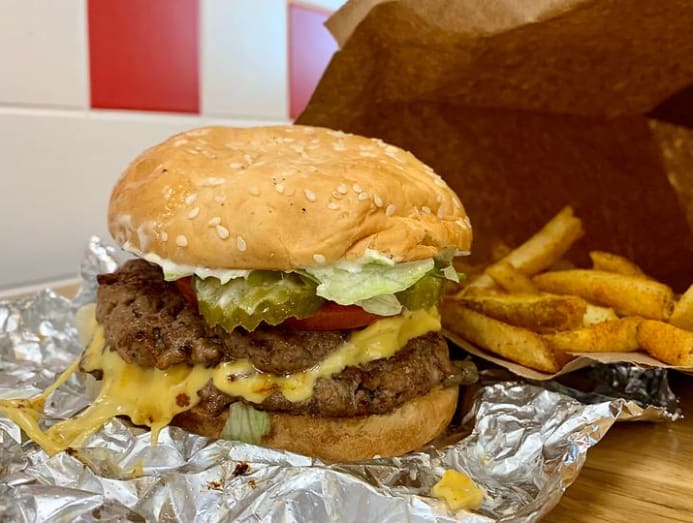 It's generally not advised to go all the way on the first date, but this time, I throw caution to the wind. Because the menu board clearly states the option of a cheeseburger "all the way": With mayonnaise, pickles, tomatoes, grilled onions, mushrooms, ketchup and mustard. It's very forward – my mother would be appalled – but what girl wouldn't go weak in the knees?
At this famous American joint that just opened its doors a couple of months ago, you can watch your burger being assembled in front of you, then collect it, along with Cajun fries (S$7) if you wish, in a brown paper bag.
When I unwrap my burger, my first thought is that it's too big, and I mentally subtract some compatibility points. (That's why Five Guys also offers the "little" option for their burgers, which has a single patty instead of double and is closer to the size of the fast food burgers we're used to.)
But then something weird happens. I take my first bite, and then before I know it, the burger is all gone.
The onions are cooked through and sweet. The buns are soft but have bite. There are – praise be! – two slices of cheese, which is definitely better than one slice of cheese. And, the ultimate deal-sweetener: The patties, handmade with an 80-20 lean-to-fat ratio, are juicy and meaty, in spite of the fact that Five Guys cooks their patties to well-done.
It is a quintessential all-American burger. I've inhaled it in record time. Do I regret leaving nothing to the imagination on our first date? Not a chance. But the more pertinent question, I know, is: Is it so good that I'm willing to stand in the snaking queue for it whenever I feel like a little afternoon delight?
My heart is conflicted, because maybe, no matter how much we're attracted to each other, it's just not meant to be between me and this burger. And maybe that's okay. Because, when all's said and done, how many times in your life can you say you went "all the way" with not one but Five Guys?