What does Japanese-Indian food look like? Two chefs embark on an experiment to create new flavour combinations
Chef Akane Eno of kappo restaurant Ichigo Ichie and Vasunthara Ramasamy from MasterChef Singapore and Cutlery Optional embarked on a bold experiment – and the fun they had together translates into a one-night-only menu of never-before-paired flavours and thought-provoking cultural exchange.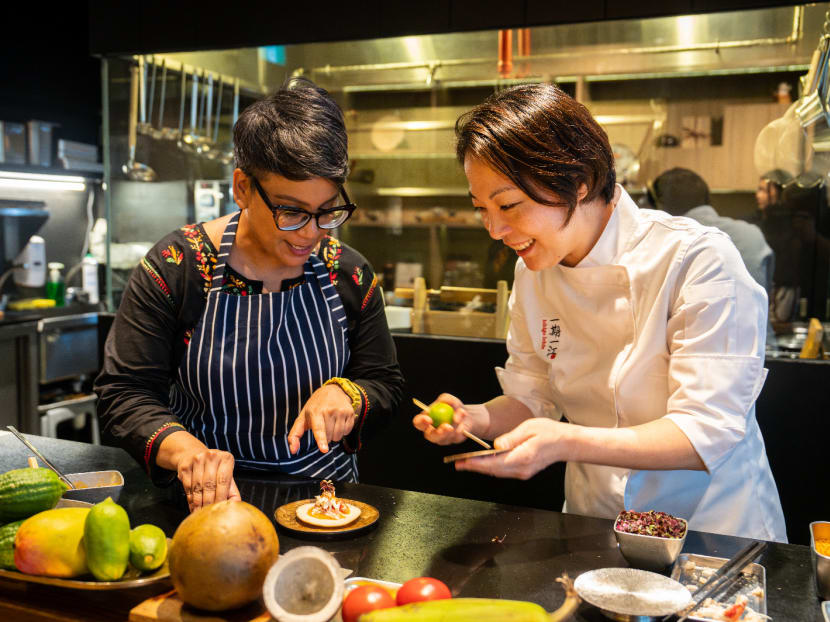 Unless you count instant curry, Japanese and Indian cuisines seem about as far away from each other as kimonos and saris.
But the magic of living in a multicultural city like Singapore means unlikely marriages can yield something fresh, novel and eye-openingly delicious.
That's what happened when Chef Akane Eno of fine dining kappo restaurant Ichigo Ichie met with Vasunthara Ramasamy of Masterchef Singapore Season 2 fame for a day out exploring Little India.
Vasunthara, who also runs south Indian private dining concept Cutlery Optional, took Eno on a tour of the market and shops, investigating the produce that was in season; and introduced her to her favourite restaurants.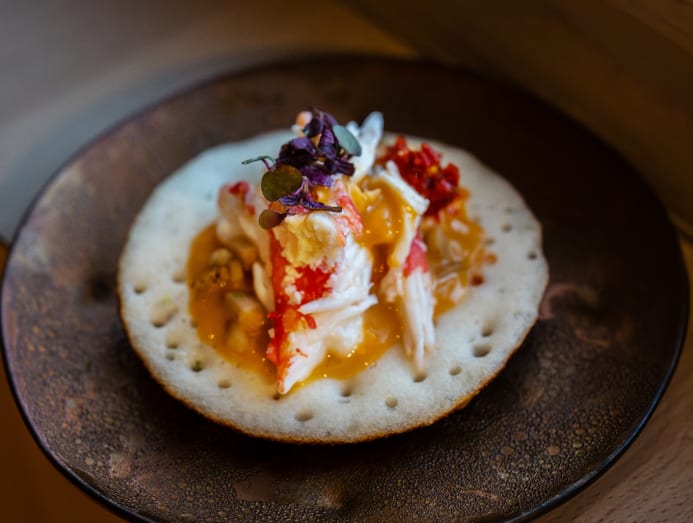 They then headed to Ichigo Ichie with their full shopping bags and fell into a creative storm of ideas about how they could use the fruits, vegetables and spices they had purchased. Each brought her own cultural and culinary perspectives to the table, and within an hour, they already had three "Japindian" dishes. That's when they knew they were on to something good.
On Jun 10, the two chefs will hold a collaborative dinner at Ichigo Ichie, serving their six-course Japanese-meets-Indian menu. Dishes include Vasunthara's famous thosai topped with Japanese king crab, fermented red chilli paste and sudachi; Iga beef sirloin with kasundi (an Indian mustard sauce), green mango, green banana and bael-black garlic miso; and an ochazuke-style dish of cashew basmati rice with grilled ayu fish, and Japanese Amera tomato rasam to pour over the rice.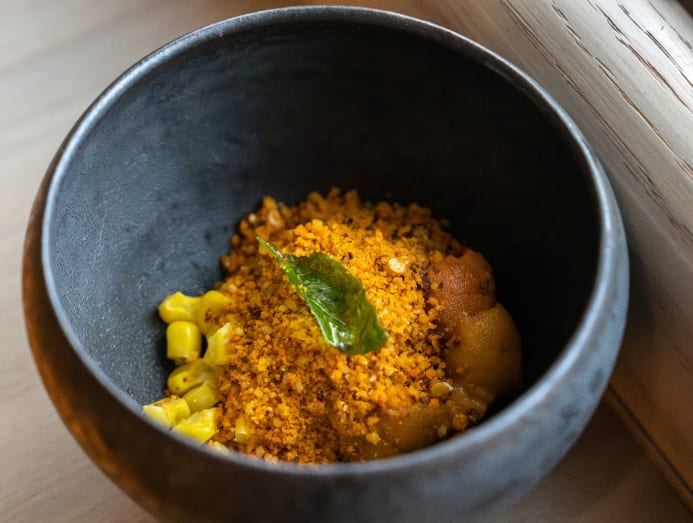 The event is part of Ichigo Ichie's ongoing series of collaborations featuring female chefs.
"Most people think there's nothing in common between Japanese and Indian cuisines. And, actually, it is very hard to find things in common," Vasunthara said. But, in their case, everything "came together" easily in the most fun way – "I have no idea how! It was very exciting."
Importantly, there is nothing forced or gimmicky about the dishes, which could quite easily have been "fusion" in the most in-your-face sense of the word. Instead, the key was using a produce-centred approach rather than attempting to Frankenstein-fuse dishes from each culture, and representing both cuisines respectfully, the chefs shared.
"It was more about ingredients, which is much easier to work with than saying, 'I'm making a fish curry, let's add something Japanese to it'," said Vasunthara.
When they tasted the flavours of the Indian bael fruit, for instance, Eno immediately thought of things that would go with it. When she was a child, her father would bring foodstuffs and spices back from his business trips to India, resulting in a fondness of Indian flavours.
And for Vasunthara, "the beef course is special too, because it's interesting that plant-based ingredients accentuate the beefiness of the beef."
Eno and Vasunthara happen to have similar cooking philosophies: Never to overpower the ingredients, and to let milder flavours shine.
For example, in the rice dish, they came up with a "toned-down rasam, without the garlic – just the sweetness and sourness from the tomato," which pairs well with the earthiness of the fish, Vasunthara said.
In fact, many of the principles and philosophies of traditional Japanese food are similar to some types of Indian cuisine because they are linked by Buddhism and meditation, she went on to share.
For instance, Sattvic food, which has its roots in the Indian medicinal system of Ayurveda, "is very much about the ingredients and not the spicing; it should never overwhelm, and very little onion or garlic is used. It's close to the lifestyle that monks lead. Following the principles of Ayurveda, it should have six flavours, which is about balance. It's the same thing with Japanese Buddhist cooking, I would say."
What's more, she added, "When I went to India to learn Sattvic cooking, there were many Japanese people learning under my instructor as well. In fact, she was so busy, she almost couldn't take me, because she had so many Japanese students. I hadn't realised that there were many Japanese who came to India to learn Bharatanatyam, as well."
Eno said she, too, very much wants to visit India. But for now, Little India will have to do – along with the scents and smells that fill her own restaurant.
Akane Eno x Vasunthara Ramasamy's "Japindian" menu is available on Jun 10 with two seatings: 6pm to 8pm and 8.30pm to 10.30pm. Dinner is available as a six-course collaborative menu at S$328++ per person. A drinks pairing menu of five drinks is available at an additional fee of S$88++ per person, featuring a curation of sakes and wines crafted by female sake brewers and winemakers.
Reservations for the collaborative menu open on May 23; to book, call or WhatsApp 90182897 or visit https://ichigoichie.com.sg/reservations/. Ichigo Ichie is at 1 Nanson Rd, #02-07A, Intercontinental Robertson Quay.