He's legen-dairy: The Frenchman who makes the world's best butter by hand
Jean-Yves Bordier, who was in town for Voilah! France Singapore Festival, doesn't want you to call him an artist or even butter maker. He just wants to make people happy.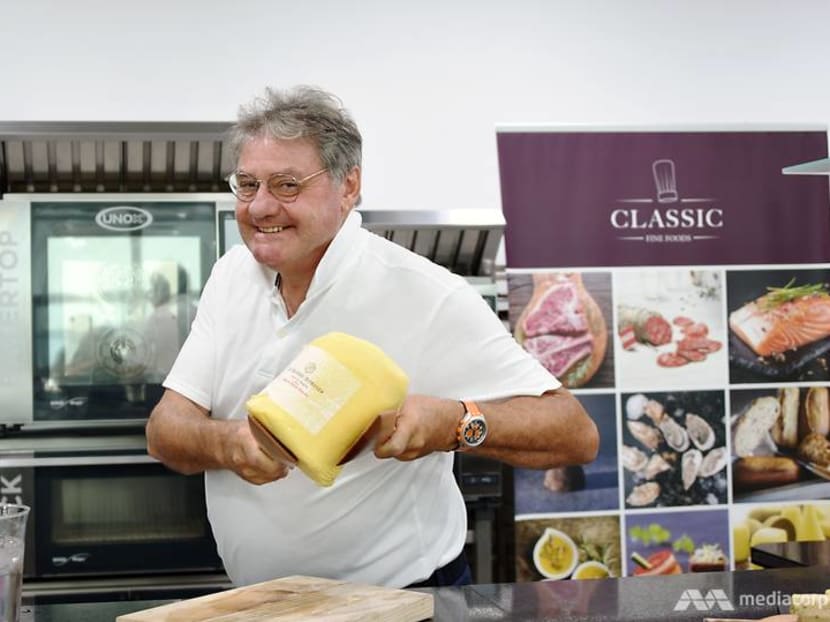 Whisper the word "Bordier" to a foodie and you'll immediately hear a strange sound. It's either the sound of their stomachs growling or their hearts singing – either way, it's the same thing.
This was what happened to me when I learned that Monsieur Jean-Yves Bordier himself, known as the last of the artisan butter makers, would be coming to Singapore to share his stories as part of the annual Voilah! France Singapore Festival.
CNA Lifestyle gets a crash course on making butter from the legendary artisan Jean-Yves Bordier, whose butter is synonymous with top quality French butter. In return, we introduce him to the delights of kaya.
Bordier butter, synonymous with top quality French butter, is the kind of substance that makes you involuntarily fill up on the bread before the first course has even arrived. It's the kind of cherished souvenir you'd happily cart home in a suitcase lined with ice packs (although happily, it's now available at specialty stores here). To call it a condiment would be like calling the ocean "a bit wet".
So, naturally, I was expecting Mr Bordier to be one of those rock stars of the culinary world whom one approaches with fear and trembling.
Instead, I had the honour of meeting an affably charming man in a white polo shirt who goofed around by pretending to giggle like a ticklish schoolgirl when we clipped a microphone to his shirt.
"I'm still surprised to see where I am right now, in front of a camera," the 64-year-old said. "Looking back, 40 years ago, I would never have expected all this attention."
FAT OF THE LAND
It was in 1985 that Bordier, the son of cheesemongers, acquired the La Maison du Beurre creamery established in St Malo, Brittany in 1927. Here, using fresh milk from small local farms, he still employs traditional 19th century methods, kneading the butter on a special wooden machine before pounding and shaping it by hand using wooden paddles, a process called "tapage".
"Last year, we made three million pieces of butter. We have 25 employees," Bordier said. "It's fantastic because each piece is unique. It's not from a machine. That shows great respect for the food and great respect for the people."
Because the product tastes so different from butter made by machines, renowned chefs and restaurants all over the world use Bordier butter; here, it's been served in feted establishments including Odette and Les Amis.
"This is the slow way. It's very delicate. The cow is delicate. Nature is delicate. If we are very hard with nature, nature is not happy," Bordier asserted. "The butter will say, 'I don't want that. Be gentle. Be delicate.' I think life is easier when you have a smile and gentle hands. If you pound it, it's not very interesting."
He may be one of the last few people making butter by hand, but he's optimistic for the future of his craft. "I think people want a different future. And I hope that not just my job, but all jobs, will respect nature," he said. "This way of working is not dead. I am an old man but I am completely sure that it will continue to exist. Nature always regenerates itself."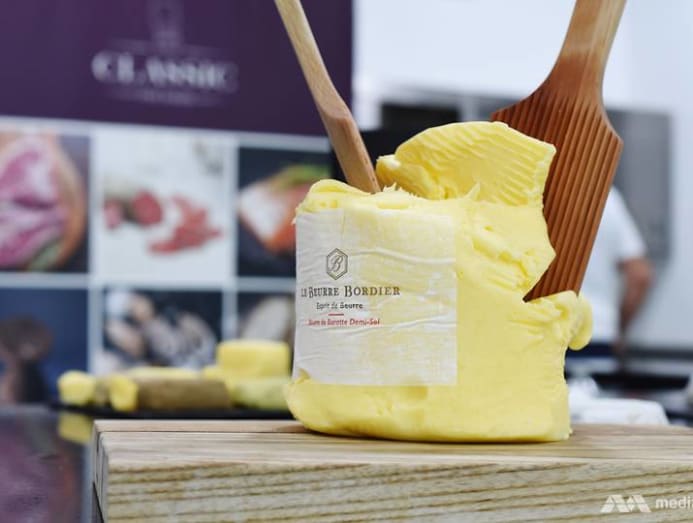 For Bordier, good butter is all about nature, its seasons and the terroir. "The butter changes from month to month because of the seasons and what the cows eat, which affects the milk," he said. "To become a good butter maker, you need at least five years in order to experience the seasons, which are not always the same from year to year. One year, there might be an autumn without rain. The next year might have an autumn with a lot of rain. I have to go with what nature offers. And the devil is in the details."
CREAM OF THE CROP
But make no mistake – Bordier considers himself neither an artist nor a businessman. He's simply "an artisan following traditional processes, making things with passion, making something that other people gave up years ago," he said.
Once, he recounted, "I was invited to be a guest on a big network's television programme. A journalist invited me to talk about managing a single-product enterprise. My fellow guest was the head of Cristaline, the biggest producer of bottled water in Europe. The journalist asked me what my business plan and business model was.
"I unbuttoned my shirt, exposed my breast and said, 'The heart of my job is milk.' It's motherhood. It's life. To create a beautiful product from milk, you need time, and passion that comes from the heart," he said. "Not only in the media but also in life in general, we invent a nice story with adventure. Actually, it's all very simple… In the end, it comes from within."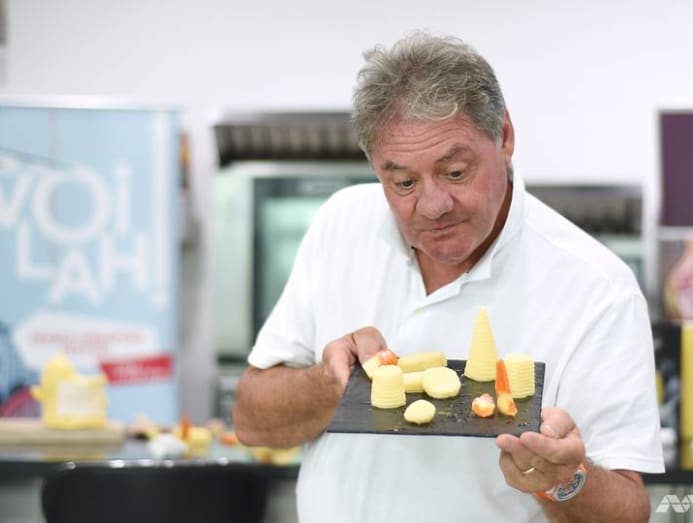 Taste the butter, and you'll wonder how something so simple can carry so much complexity within it. Bordier carved a small chunk of butter from the large block on the table and offered it to me to melt in my mouth. "It's not just fat. It's like wine. The feeling in your mouth changes from second to second," he said.
At the same time, for all its gourmandise appeal, butter is also one of the most foundational elements of Western cooking, as well as Bordier's ultimate comfort food. "When you get home after a hard day of work, you take a piece of meat, and just at the end of the cooking process, you melt a small piece of butter in. It's simply a good idea."
After all, he added, "My job isn't to make butter or to make cheese. My job is to make people happy."
Voilah! France Singapore Festival runs until Nov 17 in various locations.Visit www.voilah.sg for more information.