At Les Amis Group's new omakase restaurant, the Japanese chef wears a crab shell mask
Jinhonten opens at Shaw Centre with chef Issey Araki at its helm – a man who knows that a little drama never hurt a donabe.
Omakase meals are usually a bit of a muted, if not sombre, affair. You sit around a hushed counter in respectful reverence while the chef practises his subtle art, breaking his silent inscrutability only to utter the names of the courses. Even the servers glide invisibly, darting in to pour your tea like kimono-clad poltergeists. Between culinary master and paying diner, there is always an unbreachable distance.
But chef Issey Araki, the man at the helm of the Les Amis Group's latest restaurant, Jinhonten, knows that the times, they are a-changing, and that in the era of social media, performance is key. And with fine Japanese establishments a dime a dozen, perhaps it's Araki's signature penchant for the theatrical that will set Jinhonten apart in food fanatics' minds.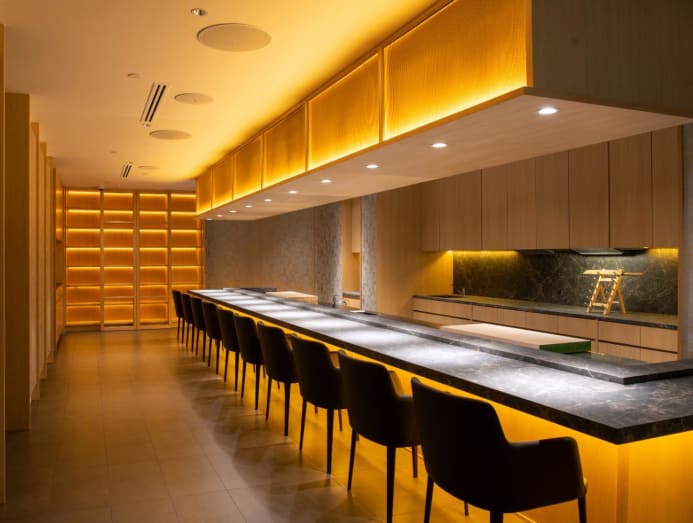 When we visited for lunch, for instance, he donned a face mask fashioned out of a crab shell on top of his regular mask, like a sort of crustacean Bane. As a reference to the pandemic, he said, he'd been inspired to drill holes in the washed, dried shell and thread rubber bands through it to turn it into a prop he can use when he serves his crab donabe – with a big wink and flourish, of course.
Araki already has his loyal fans – you may know him from KYUU by Shunsui, Shun x Sakemaru and later, his eponymous restaurant Araki. His style is clean and delicate, supporting the freshness of the produce, sourced from Toyosu, Hokkaido, Kyushu and even Fukuoka, with gently innovative touches – he claims to draw inspiration from YouTube, so he's not afraid to be less by-the-book when it comes to tradition. At Jinhonten, he presides alongside Executive Chef Makoto Saito.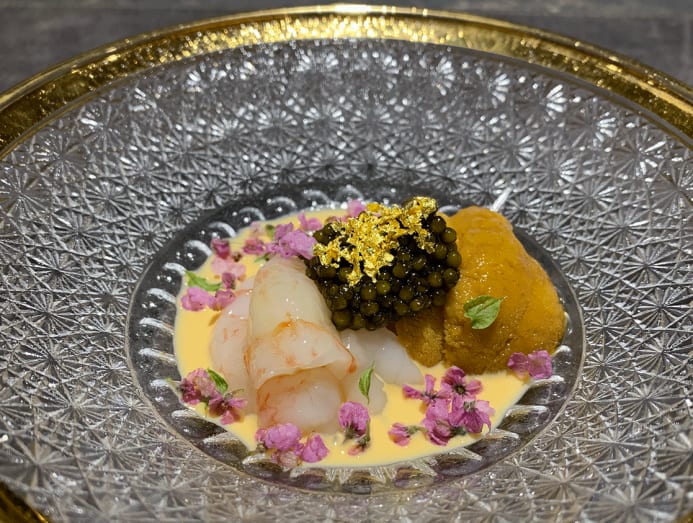 The first dish in our Special Menu, murasaki uni and botan ebi, featured an egg yolk sauce – the light creaminess wasn't at all over-rich and brought out the sweetness of the seafood.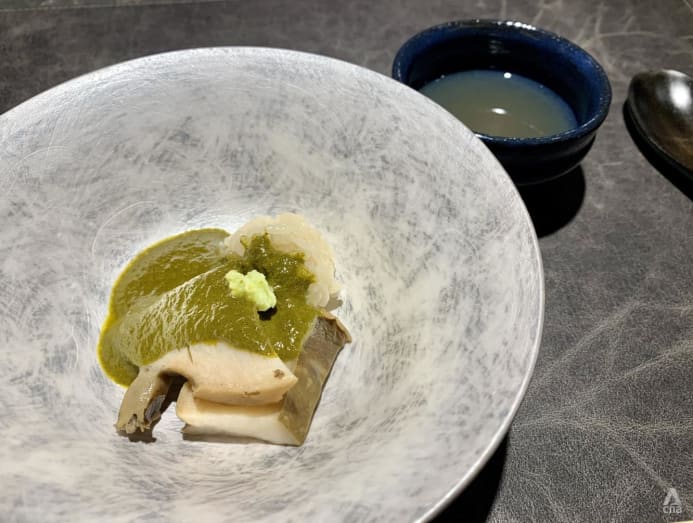 The next course of kuro awabi or black abalone from Yamaguchi allowed Araki to lift the palm-sized black beauties, steamed for four hours, out of the pot with pomp and ceremony, displaying them in the air before slicing them with his long knife in wavy motions for enhanced texture and flavour.
The abalone slices were served with abalone liver sauce fortified with uni, which can be enjoyed mixed up with a bit of rice; and a savoury abalone dashi made with konbu and sake. This dish, in the face of its showy presentation, was quietly sublime.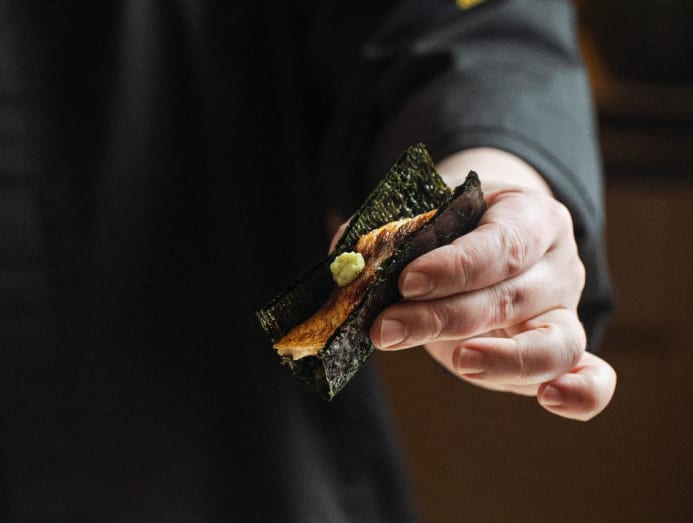 Then came a beautifully presented handroll of nodoguro grilled over binchotan, with sushi rice as well as tiny diced winter melon pickled in sake and mirin, complementing the fish's smoky, fatty flavours.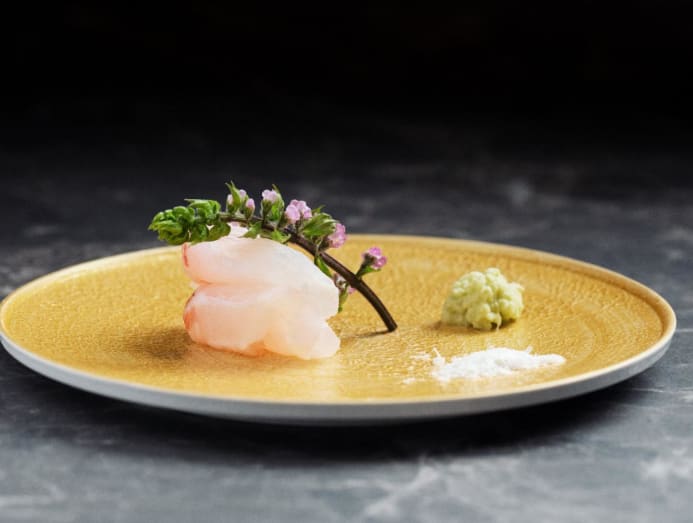 The sashimi course was menuke or Pacific sea perch, the fish itself being a large, rare 18kg catch.
Then came a shabu shabu course of kinki fish from Hokkaido, poached in a broth of its own bones and scented with yuzu.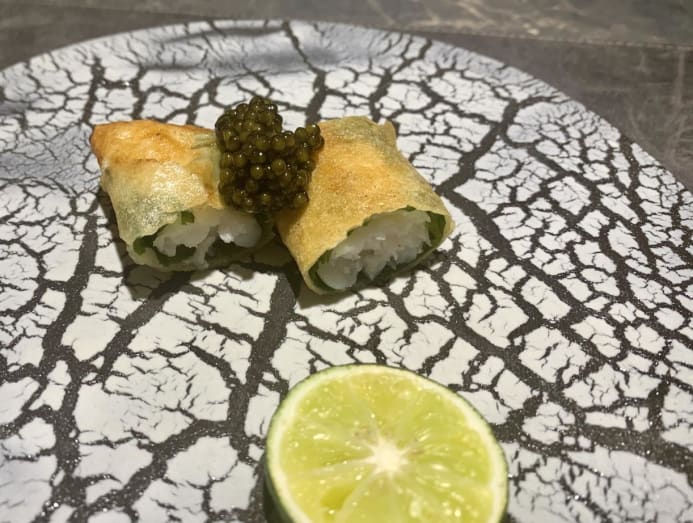 Now for a bit of crunch: Shiro ebi or baby white shrimp from Toyama, deep fried into a spring roll and brightened by the flavours of shiso and sudachi.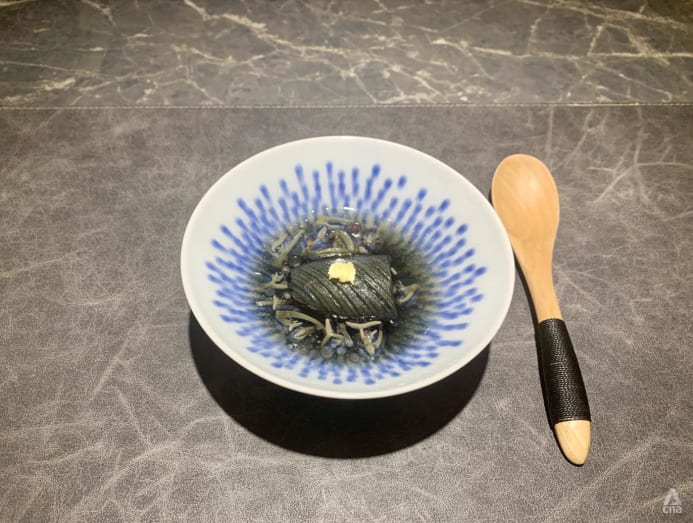 A dish of eggplant with junsai or watershield, an aquatic herb with a clear, gelatinous coating, served to refresh the palate before the grill course.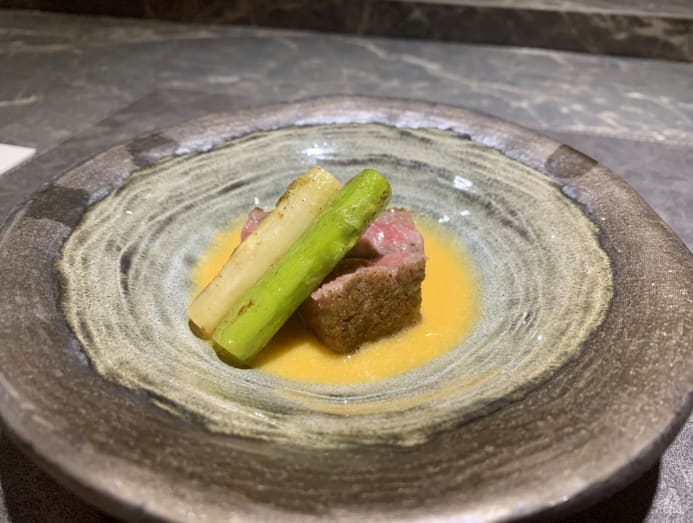 The Hida beef grilled over binchotan with Japanese asparagus would have been a treat in itself, but a sauce of fruit tomato mixed with yuba or beancurd skin took it to the next level, cutting the fat while simultaneously bringing out the sweetness of the beef.
As the piece de resistance, Araki paraded one of the donabes he's become known for: This season, it's kegani or Hokkaido hairy crab. He hefted the heavy, steaming bowl onto his arm, lifted the lid with a flourish and held it out with pride, flashing his signature grin behind his crab shell mask.
The rice, cooked with the crab, is served with a hairy crab "mayonnaise" that you mix in for ultimate umami; and spicy pickled mustard leaves, another element that takes the dish from ordinary to something to write home about. And then there's the miso soup, made with two types of miso and flavoured with the nodoguro, kinki and kegani – a masterful end to the meal.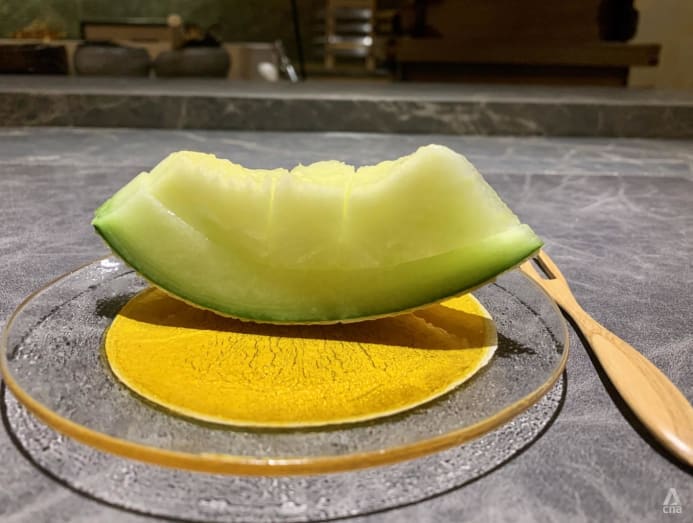 Musk melon from Shizuoka brought lunch to a close – all in all, a well-woven menu balancing judicious restraint with clever little touches that made all the difference. As for Chef Araki himself – well, one suspects he has many more tricks up his sleeve.
Jinhonten opens Jun 22 at Shaw Centre, 1 Scotts Road #01-11. Prices are S$180++ for an eight-course lunch and S$450++ for a ten-course dinner.