The hottest new restaurant in Singapore? You might need to give birth first to get a table
At the postpartum hotel Kai Suites, you get 24-hour nursing care and state-of-the-art facilities. But it's the food that's been gaining attention.
Singapore's first luxury pre- and postpartum care hotel, Kai Suites, has begun accepting guests. And even if you're not (a) pregnant, (b) planning to have a baby or (c) a fan of K-drama Birthcare Center, there's still a reason you might take interest.
Here at this impeccably well-appointed, 18-suite hotel housed in a heritage building on Dunearn Road, every step of a new mother's journey is taken care of – including her meal plan. And what a meal plan it is.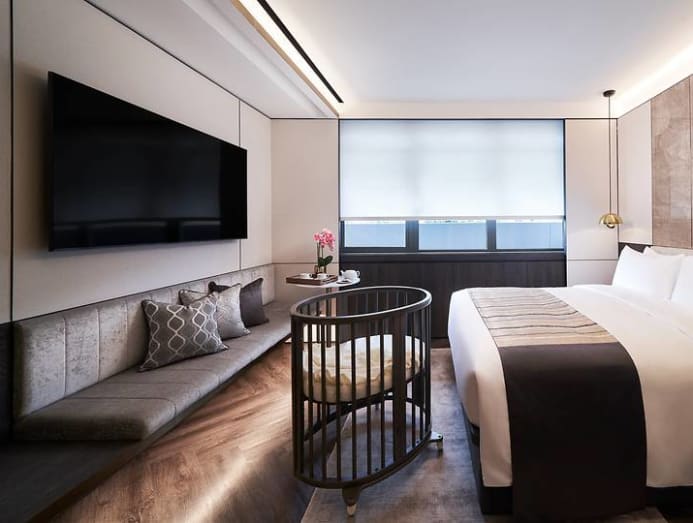 Not only is it designed according to food science and Traditional Chinese Medicine principles for optimum nutrition while drawing inspiration from cultures around the world, it also works with selected recipes contributed by chef-owners of Michelin-starred restaurants, including Restaurant Labyrinth's Han Li Guang, Sushi Kimura's Tomoo Kimura and Le Du in Bangkok's Thitid Tassanakajohn.
Word has gotten out about how good the food at the Kai Lounge is (Zoe Tay has dined here, too). And because of the overwhelming number of enquiries, they've decided to open 10 seats per meal period to the public – two tables of five and by 48-hour advanced reservation only, of course – at lunch and dinner service. The three-course menu is priced at $68++.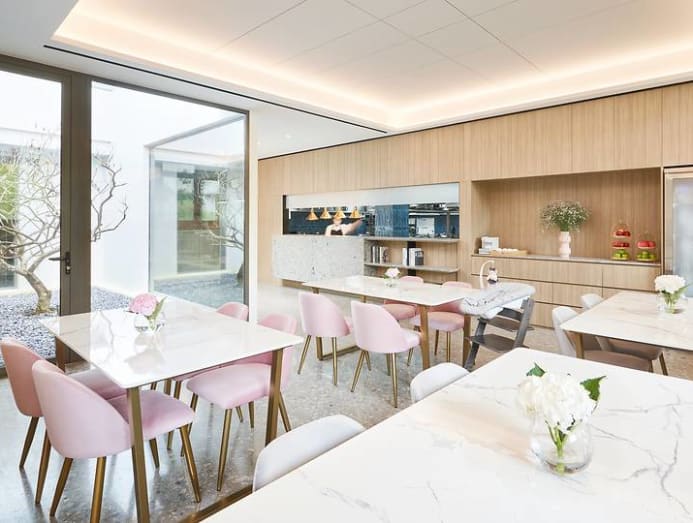 Suffice it to say that after my photographer and I tasted the tender free-range Anxin chicken thigh marinated in yellow wine, then steamed and lightly grilled, and served with a bright tomato consomme glaze as well as a sprinkle of savoury tomato oil, there followed a discussion that went on for a little too long about whether it would be worth immediately engendering children (separately, not together) for 28-day access to this chicken.
In their state-of-the-art kitchen, Kai Suites' chefs, directed by culinary advisor David Yip, apply fine dining techniques to the freshest ingredients so that all the food is maximally flavourful and nutritious at the same time.
There's a zero-waste philosophy and no artificial additives or added MSG are used – instead, the kitchen makes a range of natural infusions and syrups from scratch, such as jasmine basil oil, chrysanthemum passionfruit syrup and Hakka yellow wine.
In fact, they make as many things as they can from scratch, including wheat noodles, tomato sauce, red lees paste, chicken essence, kaya and fruit jams.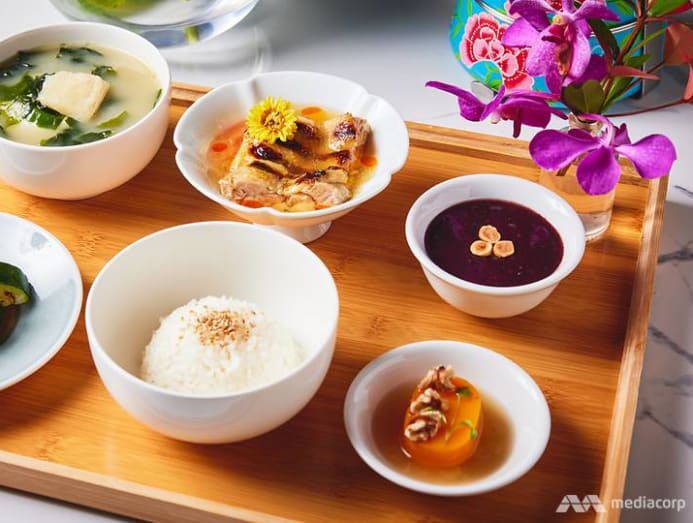 Oyster sauce that comes out of a bottle? Not in this kitchen. Here, fresh oysters get turned into sauce, slow-cooked in the oven for two days. 1kg of oysters yields only 300g of sauce, so you could definitely say this pursuit of perfection borders on obsession – especially when you learn that the kitchen also makes its own luncheon meat from scratch. Luncheon meat, it would appear, does not actually grow in cans.
Even the dang gui or angelica root, Kai Suites' founder Kevin Kwee tells me, is specially sourced: They set out to find untreated, sulphur-free dang gui and finally procured it, even though suppliers "thought we were crazy" because of the cost.
The menu is designed so that dishes are never repeated throughout the mother's stay, Yip told us. It is also personalised – each mother gets a weekly TCM consultation, and her meals are adjusted according to her body's condition. Mums who have had a Caesarean section get a different menu as well.
Generally, in the first week, meals are kept clean and light – lots of braising and steaming, with soups and soup-based dishes to promote digestion and reduce water retention.
But they're not light on the flavour at all. The Week 1 meal we sampled began with a very savoury Cantonese fish soup with Korean seaweed and fish maw, served with a drizzle of yellow wine and ginger-garlic oil.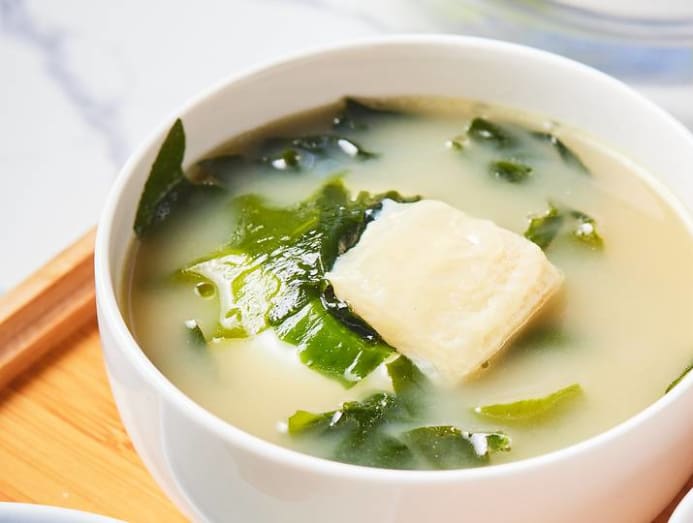 To make the soup, giant garoupa bones are first fried, then boiled with water for up to an hour, ensuring the collagen is thoroughly extracted from the bones. It's then double-boiled in the oven for another 10 minutes with the seaweed and fish maw added in.
Contrary to the belief that soups should be boiled for hours and hours, Yip said, their nutrients are optimal with minimal boiling.
Then there was a dish of seasonal vegetables, lightly sautéed.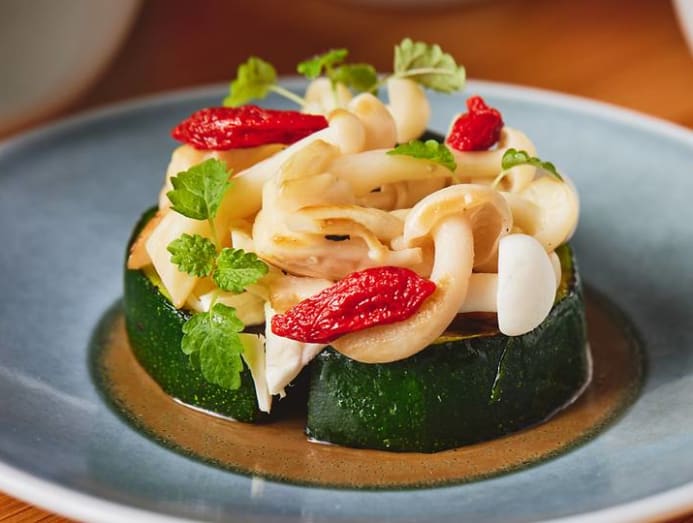 And steamed butternut squash with dried scallop brown butter, toasted walnuts and a chicken glaze made with hua diao or shaoxing wine.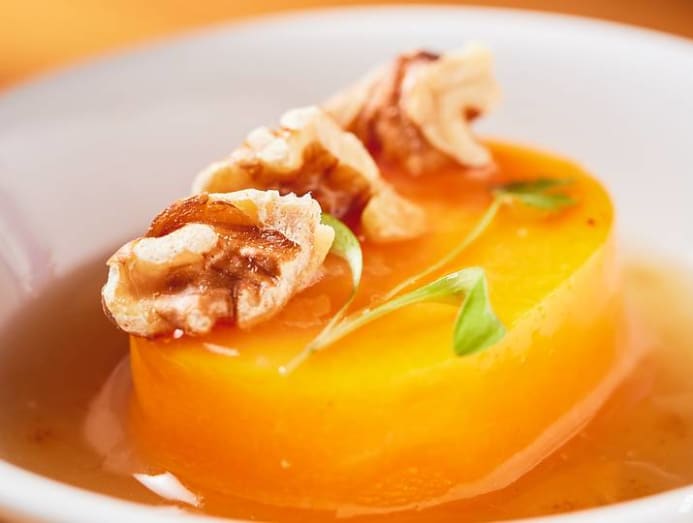 Then, of course, there was the aforementioned chicken. The tomato consommé glaze is made from Roma tomatoes, frozen then left to thaw over cheesecloth to collect tomato water, which is then cooked with potato starch to thicken it. And the tomato oil uses San Marzano tomatoes cooked with olive oil, garlic, onion, balsamic vinegar, Worcestershire sauce, Tabasco sauce and gula melaka.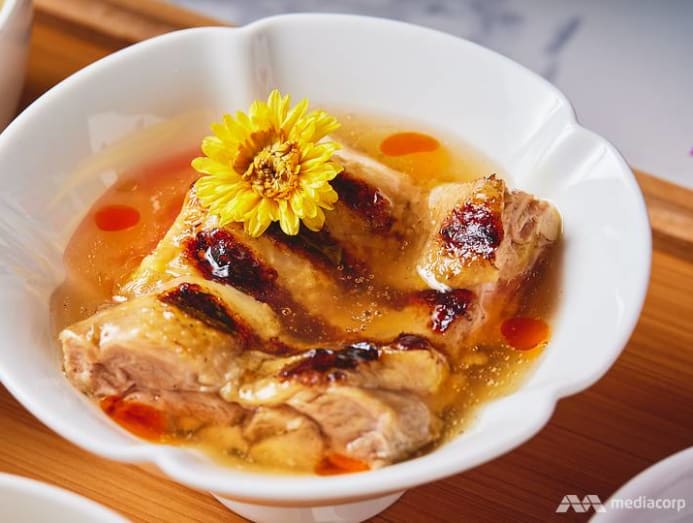 For dessert, there was purple glutinous rice sweetened with dried blueberries and topped with toasted hazelnuts. It's served without coconut milk, as that's something that's added only in Weeks 3 and 4.
Dishes from the Week 4 menu feature grilled and fried food, as well as flavours that are a little more intense. Dairy is added, as well as lactation brownies and cookies made in-house using oats, raw yeast, flaxseed, fenugreek and more.
The Tossed House-Made Wheat Noodle with Stir Fried Pork Loin from the Week 4 menu stands out as a really unique dish – perfectly chewy noodles in a sauce of candlenut, dried squid brown butter and a little calamansi. Candlenuts, which are rich in carbohydrates, unsaturated fat and protein, are said to promote healing and body rebuilding.
The Three-cup Chicken, made with house-made yellow wine and garnished with fried basil leaves, is another of my favourites – really punchy and delicious.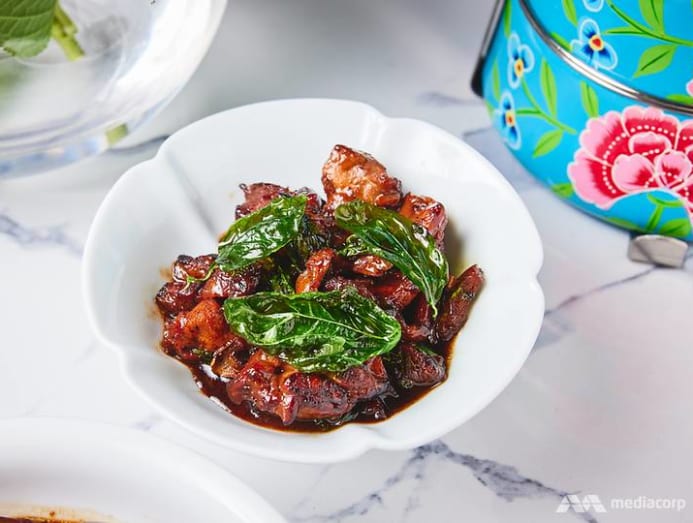 Then there's baby kailan, simply stir-fried, but completely transformed by the house-made oyster sauce, which, I promise you, tastes like no oyster sauce you've ever had before.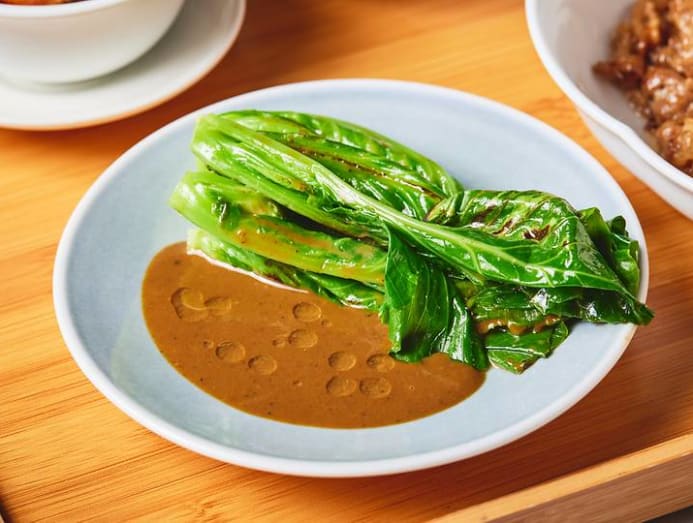 Another interesting dish is this fried huai shan or Chinese yam, crisp outside and fluffy inside, served with apple-wolfberry puree.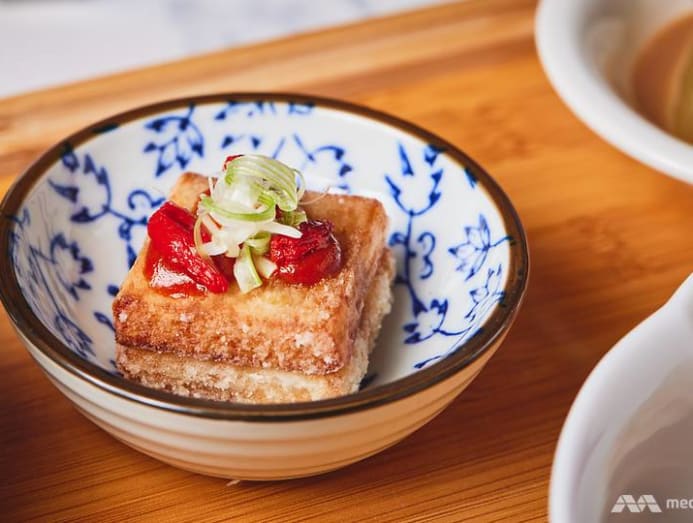 Equally interesting is the dessert of macerated green papaya, a fruit that's supposed to be good for lactation. Green papaya is partially cooked with water and cane sugar, then macerated in a vacuum pack for a day, making it sweet and translucent. It's then dried, grilled and tossed with lemon juice and lemon zest for freshness, and served with sweet pickled myoga or Japanese ginger. 
The dish also features aged, fermented rice caramel: A classic caramel is made with brown sugar, butter and cream, and then fermented rice wine is added to it and it's aged for one week.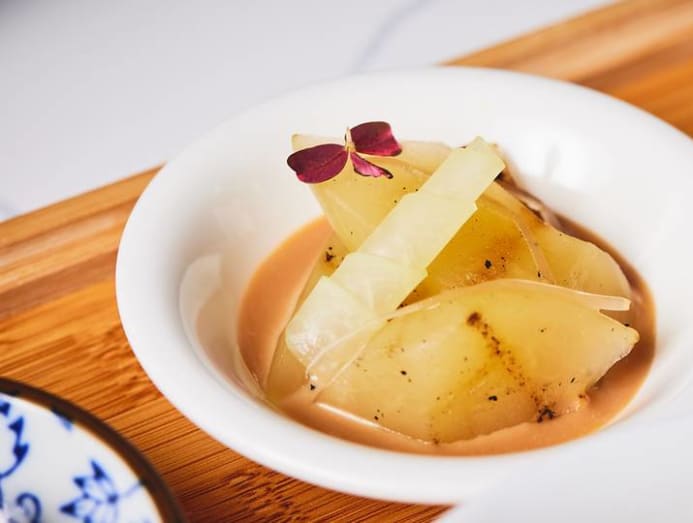 Okay, I hear you asking: Where is the zhu jiao cu or black vinegar pigs' trotters, that classic confinement dish?
Yes, of course it's offered here, from Week 3 onwards, and of course, it's a levelled-up version of your regular confinement nanny's. It takes four weeks to make, and uses three varieties of ginger.
Once a week, young, old and Bentong ginger are boiled together with black vinegar, mirin and salt. The ginger is taken out to dry, and then added back into the vinegar for the flavours to be infused. 
This process is repeated over a month, during which the vinegar and salt aid in tenderising and fermenting the ginger. Pork trotter, black vinegar, bay leaves and brown sugar are then added to the pot and braised, with chicken stock added in stages.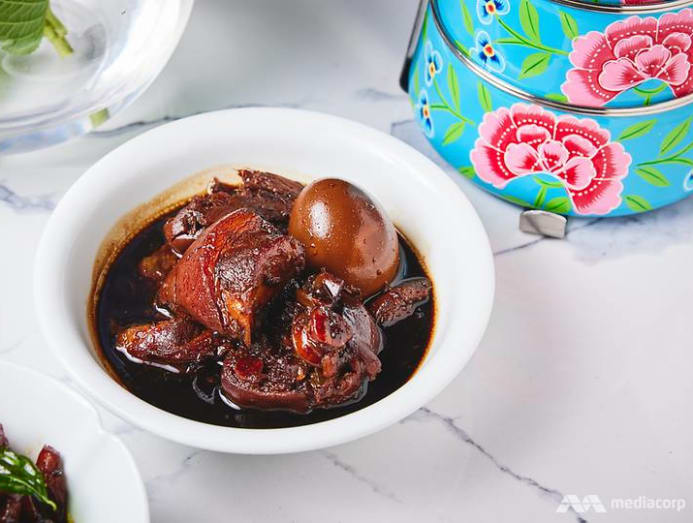 Instead of the usual sharpness that you get from the dish, this version is much more mellow – it uses black vinegar made by premium local brewers Kwong Woh Hin, as well as cane sugar instead of rock sugar, Yip told me.
Surely you'd expect nothing less. And Kai Suites' first residents, I'm told, have grown accustomed to the sweet life. One couple extended their stay, while another couple checked out only to hastily check back in just one day later.
It's not that hard to see why.
For more information, visit https://kaisuites.com.sg.
Editor's note: The price of the three-course menu mentioned in this article has been amended after the figure that was initially provided was corrected.