Heard of pulut tekan? Chef Damian D'Silva makes the kaya according to his granddad's recipe
If you've never had kaya made the old-fashioned way – stirred for hours over a charcoal fire – you're missing out on a slice of history. Eaten with compressed glutinous rice, it comprises a nearly-forgotten treat known as pulut tekan or pulut tai tai.
Earlier this year, the Financial Times ran a story saying kaya was set to be the flavour sensation of 2022, based on how kaya toast is becoming a popular snack in the UK.
Chef Damian D'Silva's late grandfather might have had something to say about that.
"Granddad thought it sacrilegious to eat kaya with bread," recalled the MasterChef Singapore judge, chef-owner of Rempapa restaurant, and advocate and custodian of Singapore's heritage cuisine.
Instead, Granddad, who was prolific in the kitchen, enjoyed his own homemade kaya with warm rectangles of glutinous rice streaked with blue pea flower – a dish known to the Malays as pulut tekan, and to the Peranakans as pulut tai tai.  
"Pulut" refers, of course, to glutinous rice; but why "tekan", which has its place in popular lingo as a slang word for bullying or punishment? The Malay word means to press or apply pressure, which is what you do to the glutinous rice to shape it in the preparation process, D'Silva, 66, explained. The Peranakans, on the other hand, named it for the people privileged enough to be served it: Tai tais or ladies of leisure.
"I prefer 'tekan'," D'Silva said. "It's more me – a chef, working hard to get it to the right compressed texture."
Unlike kueh salat, in which a custardy sort of kaya sits on top of glutinous rice, pulut tekan's silky kaya is served in a bowl. The rice is dipped into the kaya and enjoyed freshly made, while it's still warm.
D'Silva insists on making his kaya from scratch and cooking it over charcoal, the old-fashioned way. Store-bought and Thermomix versions just don't cut it for him, said the chef, who still recalls how his grandfather used to cook up a huge batch of kaya to give away to friends, and he would help by stirring it for hours on end.
A small batch requires three hours of manual stirring, he said, and a large batch could take up to six.
The secret to good kaya is fresh eggs – he goes to the market for eggs on Tuesday mornings because they come in on Monday afternoons – fresh coconut, coarse sugar and a stirring rhythm that's neither too fast nor too slow – aggressive stirring will cause the sugar to caramelise.
To stir the pot, he uses a wand fashioned out of a stick or a pair of long chopsticks, wrapped with pandan leaves covered in a muslin cloth. You want a subtle pandan flavour to come through, but not overwhelm the eggy aroma, he explained.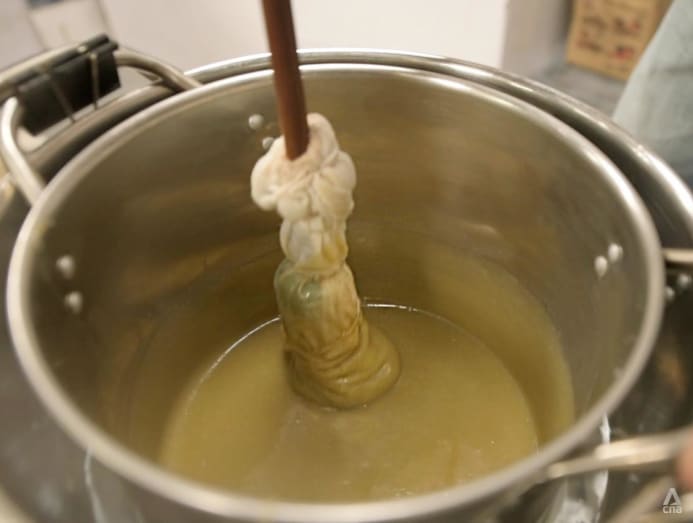 And, although you could use a gas fire, a charcoal fire yields a silkier texture that "wraps around your mouth".
Most importantly, infinite patience is required for this laborious task. "It's not for every person. If you don't have patience, you shouldn't be doing kaya," he said.
A bit of history for you: There are differing schools of thought about the origins of kaya.
"Most people think kaya is Hainanese, but I think it's very much Malay," D'Silva said, "because of the coconut." He quipped, "I'm sure a Hainanese grandma would disagree!" He also cited the provenance of the word "kaya": A colloquial form of the original serikaya. "'Kaya' means 'rich' in Malay." Just think about the fact that "there isn't a Hainanese name for kaya."
Interestingly, there is a Portuguese egg pudding with a long history called sericaia, which sounds very similar to serikaya.
History researcher Khir Johari, in his book The Food Of Singapore Malays, writes that serikaya used to refer to a range of egg-based coconut cream confections in traditional Malay culture, making the case that it was eaten in Malay royal households when the Portuguese first came to the region in the 16th century – the 1620 manuscript Cerita Kutai makes mention of serikaya.
The Hainanese started making their version of kaya in the early 1900s, D'silva said, and he believes they adapted it from the Peranakans, who adapted it from the Malays.
What are the differences among the versions? "Peranakans cook it until it becomes almost custardy, then steam it for a very long time at a low heat. The Hainanese said, 'Why don't we put it over a bain-marie?' And they add sugar only at the end – they caramelise it and then pour it in. So, the Hainanese kaya is brown; the Peranakan kaya is almost more green than brown. Malay kaya is brownish yellow."
So, eating kaya on toast with butter may have originated with the Hainanese, who worked in European households and adopted many elements of their cuisine – but traditionally, as D'Silva's grandfather would assert, rice would have been the pairing of choice, a savoury-sweet and textural contrast to the richness of the kaya.
Sadly, D'Silva says the last time he ate pulut tekan that wasn't made by himself was when his grandfather used to make it. He hasn't encountered any at shops or restaurants in Singapore. "It's only available, I think, in someone's home."
Why's that? Well, it's just too time-consuming and labour-intensive to make. "I think people don't have the time any more. Even if they do, there are better things they feel they want to do than spend four or five hours making kaya. It doesn't make sense," he said. "I can go to the supermarket and I've got an array of different types, different styles, different brands of kaya I can buy."
Even at Rempapa, where you'll find other almost-forgotten kuih such as kuih sarang semut or Ant's Nest Cake, pulut tekan isn't on the menu. D'Silva simply doesn't feel he has the capacity to be faithful to the traditional recipe on a large scale. But there's good news for us kaya lovers. Starting end October, Rempapa plans to jar and sell kaya made the good, old-fashioned way.
After all, kaya is the taste sensation of 2022 – and, well, since the 1600s, for that matter.
Chef Damian D'Silva tells CNA Lifestyle how to make kaya the traditional way (with the help of a "kaya wand") to go with pulut tekan or pulut tai tai.
Rempapa is at 2 Paya Lebar Road #01-01, Park Place Residences at PLQ. New here is Rempapa's Chef's Menu served in the restaurant's private dining room, a nine-course feast of heritage dishes for a minimum of five and a maximum of 10 people (S$250++ per person). The omakase menu will feature seasonal locally-caught seafood, forgotten nose-to-tail dishes and the best of what chef Damian D'Silva finds at the market. Advance notice of at least 10 days is required. Call 94591603 or email

papa

[at]

rempapa.sg

.