KFC marks 45 years in Singapore with immersive installation and fried chicken party
The fried chicken joint will be using the installation and celebrations to also mark International Fried Chicken Day, and promises something for fans of all ages.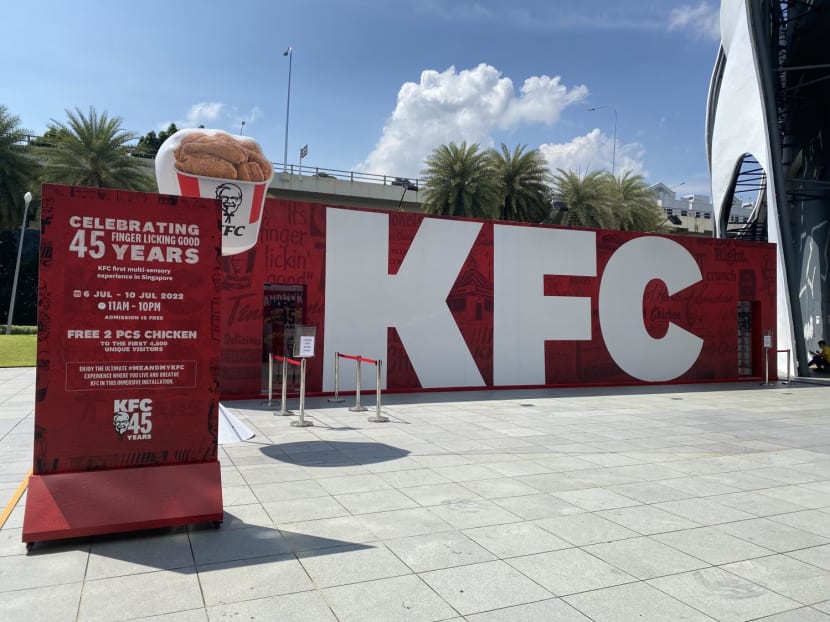 There may be a shortage of fresh chicken coming into the country, but that's not stopping KFC Singapore from having a clucking good time this year. 
To mark 45 years since its first outlet was opened at Somerset Road in 1977, the fried chicken joint has put together a range of deals for fans, along with a multi-sensory installation near VivoCity's outdoor water fountains that will run from Wednesday (Jul 6). 
Officially called the #MEANDMYKFC Installation, it's made for the social media-savvy with a range of zones and props. 
Ever gotten merchandise with your meal as a kid and never saw it again? You can get a blast from the past with a range of KFC collectables from the 1970s to today.
And at the installation's wardrobe section, visitors who fancy themselves part of the hip crowd can try on KFC-themed streetwear from homegrown label Amos Ananda. The label previously collaborated with KFC to release a capsule collection for last year's National Day.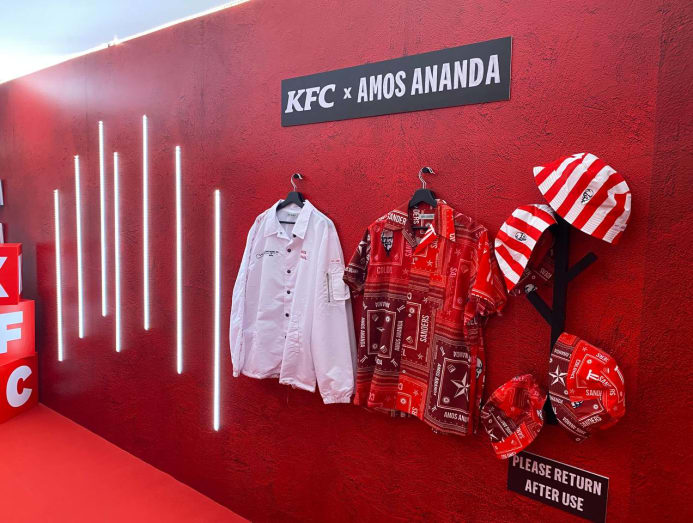 There will also be a lounge area with decor and furniture reminiscent of KFC's offerings, like fried chicken-shaped cushions, as well as a play area with a foosball table and claw machine, where you can win limited-edition plush toys. 
Or try your hand at gachapon machines for a chance to win enamel pins, stickers or special vouchers for food that's currently unavailable on the menu. Does a Zinger Double Down sound good to anyone right now?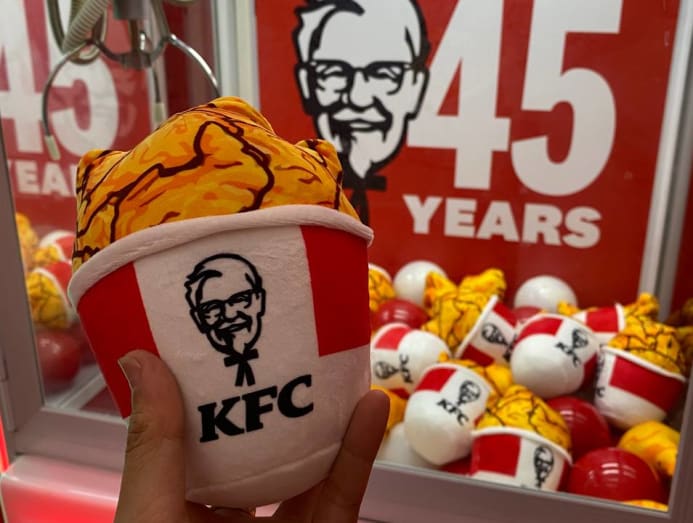 In addition to the installation, KFC Singapore will also be holding an International Fried Chicken Day Party on Jul 6, with Class 95 DJ Justin Ang and Yes 933 DJ Hazelle Teo. And yes, that's a thing.
To join the party, you'll need to purchase a specific deal which comes with a "bucket hat" at their VivoCity outlet during dinnertime on the day. 
Attendees stand to win prizes, which include tickets to Thailand and an air fryer. But if you want to join the party from the comfort of your home, you can watch it on their Facebook page instead. 
Said KFC Singapore's general manager Lynette Lee: "This anniversary with an ensemble of fun activities and deals are put together to thank everyone who has been supporting us since our first outlet."
The #MEANDMYKFC Installation at VivoCity will be open to everyone for free from Jul 6 to 10.