The Brazilian chef who embraced Singapore food thanks to a trip to Tekka market
The Butcher's Wife's new head chef, Brazil-born Mariana Campos D'Almeida, on tasting laksa for the first time, introducing her mum to rice cookers and actually liking the smell of durian.
The Butcher's Wife never really had the reputation of being a restaurant to write home about, but that's changed now that Mariana Campos D'Almeida has injected some vivacious energy into the place.
The 28-year-old Brazil-born chef moved to Singapore to head the kitchen late last year and now, her own debut menu signals a fresh new page for the gluten-free restaurant.
Instead of a stolidly European parade of the usual suspects, there are now tangy ceviches dressed with laksa leaf oil, local goat's milk cheese made in-house and a display of fermentation prowess ranging from white kimchi and manioc juice to kombuchas made with butterfly pea flower and roselle.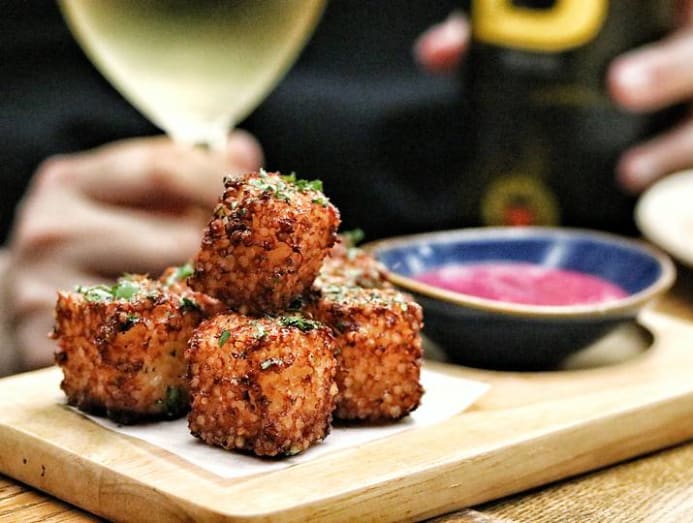 One of the dishes that best symbolises her melding of local and Asian ingredients and techniques with Brazilian flair is the starter of Dadinhos de Sago: Addictive little cubes of tapioca sago and cheese, fried to a crisp golden brown and served with dragonfruit chutney that's lightly spiced with garam masala and cardamom.
"In the beginning, it was really hard to get the servers to sell this," D'Almeida divulged. It was equally difficult to get her kitchen staff to wrap their heads around the dish. While cheesy dadinhos are a popular street snack in Brazil, here, the same sago that goes into them is much more commonly used in desserts.
"I presented it to the guys: 'Okay, we take sago, we add milk and cheese, let it solidify, put it in a tray, cut it into cubes and fry it.' They said, 'Are you sure?'" She chuckled. "And then they tried it."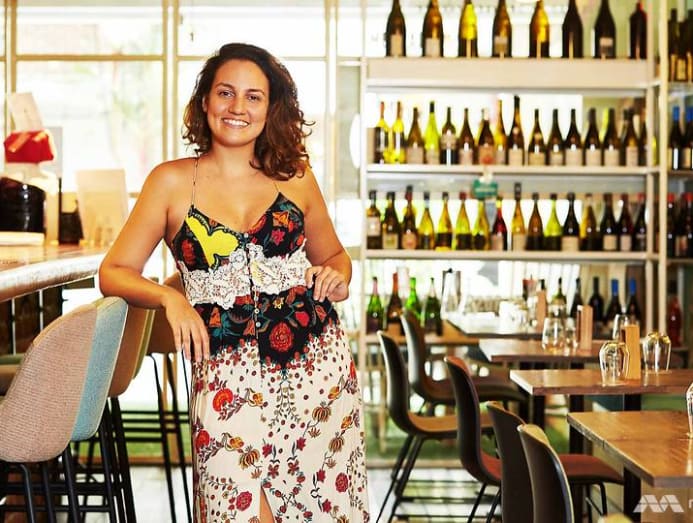 If you're a chef, making delicious food is the most basic requirement, she asserted. "More than giving food to people, it's about giving experiences and combinations that we are not used to. I was like, 'Okay, what can I do that is related to my country, using the ingredients we have here? And how do I present it as a new experience? This is what I want to show customers: That Brazil is really far away but we have these common ingredients and different ways of using them… Brazilian food is a lot more than just steakhouses."
ELECTRIC RICE COOKERS, SOURSOP AND LAKSA
Upon arriving here from Paris, where she was head chef of a bistro, D'Almeida, who trained at Institut Paul Bocuse in Lyon, looked up one of her Singaporean friends from her culinary school days.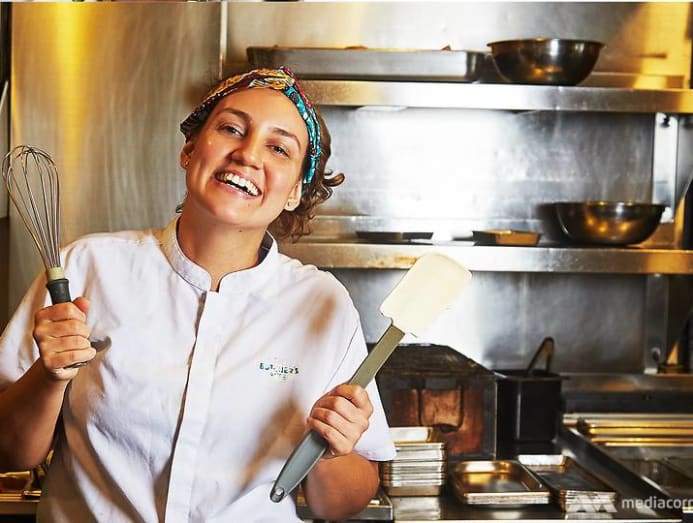 The friend, currently cooking in a French restaurant, introduced her to Singapore by taking her on an eye-opening tour of Tekka market.
"It was really surprising. I didn't know that Singapore – not only Singapore but also the countries around it – would have a lot of fruits and vegetables in common with Brazil," she said, recounting how she and her friend spent the day comparing the ways in which fruits and vegetables were used differently in Brazilian and Singaporean cultures, such as how sago is only employed in sweets and kueh here.
Some of the things she was surprised to encounter were "the tapioca root, for example," she said. And "soursop – it's a flavour from my childhood. When I was a kid, we would go to the beaches of northeastern Brazil and we'd get soursop popsicles. Jackfruit trees we have in Rio de Janeiro, all over, and it's really dangerous because sometimes they fall from the trees."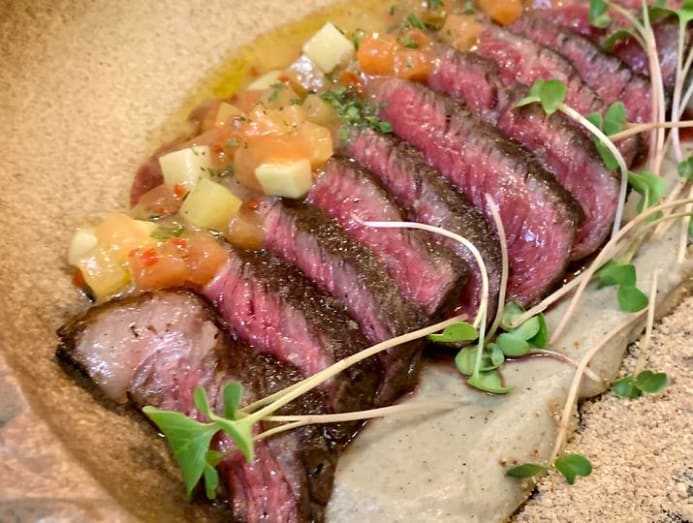 She added: "It's super interesting – more than knowing the ingredients, which are familiar to me – learning about how they are used here."
Even rice, which is a staple in both cultures, had a bit of a surprise in store for her. "In Brazil, we don't have rice cookers," she laughed. "I showed my mum one for the first time when she came to visit. I said, 'Take one.' She said, 'No, I don't know how to use it. No, my rice will not be good.'"
There were all-new sensory experiences, too, such as the first time she tasted laksa, her favourite local dish. "It was really familiar when I put in my mouth, because it was fishy… and then the coconut milk. But then I figured out the herb called laksa leaf. I didn't know it before. It's really different (from anything I've tasted)."
That fresh flavour led her to the idea of enlivening her ceviche dish with laksa leaf oil. "And I love lemongrass, ginger – all of these, to me, takes food to another level."
In fact, it was flavours like these that enticed her to further her career in Singapore. "Asia is really a goal, I think, for cooks," she said. "I think Asians know how to balance flavours. In one Asian dish, you have sour, salty, sweet – everything. And I think more than ingredients, it's the techniques of seasoning, preserving, fermenting – like soy and tofu culture. So, for us, it was a big deal to come to Asia."
SINGAPORE GOATS MEET A STARTER FROM BRAZIL
With a solid background in wild fermentation – cultivated during a stint at The Slow Bakery in Rio – one of the things that got her immediately excited was learning that there was a goat farm here.
"I knew Singapore was a small country and a lot of the things came from Malaysia. But when I learnt about Hay Dairies, I said, 'Wow, in Singapore you have a goat farm. That's so nice. I need to put this in my menu somehow."
And so her star dish of Our Own Goat Cheese was born – raw goat's milk transformed by kefir grains into a tangy, creamy cheese that's drizzled with honey from a local honey company and served with gluten-free walnut and buckwheat bread from local e-bakery Oh My Goodness!.  
"Bringing the goat cheese to the menu was really a challenge," she said, detailing how she obtained the kefir grains from the bakery in Rio, carried them to Singapore in her suitcase via Paris and scrambled to find fresh milk to feed them.
And because the cheese is made in-house in small batches, and the fermentation process depends largely on factors such as temperature and humidity levels, there isn't always enough of the dish to meet the demand for it. "It takes time and you cannot accelerate the process. So, it's a lot of work to have it in the menu," she said.
But the effort is certainly worth the trouble as the product is 100 per cent local.
"Before I joined the restaurant, ingredients like lemongrass, chili and ginger were only ordered for staff meals," D'Almeida recalled. "I remember the first time I came here and was talking to the chef. They were cutting lady's fingers. I said, 'Wow, my favourite.' We use a lot of lady's fingers in Brazil.
They said, 'No, no, this is not for the menu.' Because it was really European here – French asparagus, burrata, French tomatoes. All the local food was only for the staff meal. I thought, 'It's so good. Why use ingredients from so far away? Let's use the things we have here, maybe using different techniques and ideas.'"
Some of her wilder experiments have included a Brazilian pork dish with the dulce de leche sauce replaced by gula melaka and sprinkled with coffee salt; and banana gnocchi with kaffir lime butter and bacon.
At home, her fermentation experiments continue, with the bomb shelter of the flat she shares with husband Paul Albert, chef de cuisine of Tiong Bahru Bakery Diner, dedicated to kombucha, ginger ale, pickles and cow's milk cheese. (The husband-and-wife duo were jointly talent scouted by the Spa Esprit Group, which owns both restaurants.)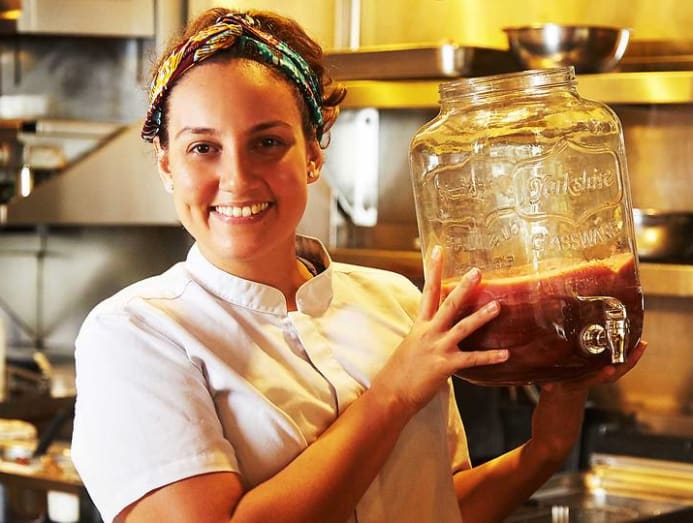 "Right now I am fighting with Paul because we use the same kefir grains for cream cheese, which I eat with bread every morning, and yogurt, which he likes," she said. "The runny yogurt takes only two days and I don't have time to strain the kefir every two days, so I say, 'If you want yogurt, you do it. Or buy yogurt at the supermarket.' He says, 'But I don't have time either!' Yesterday I woke up and there was a strong smell – the kefir was almost like Gorgonzola!"
As much as D'Almeida loves local living, though, there's one regional specialty she has yet to make up her mind about: Durian.
"I've never tried it!" she said. "I always pass by the stalls selling it. I like the smell. It smells like a really, really ripe jackfruit – in Brazil, sometimes they fall from the tree and get a little bit spoiled. It's a familiar smell! But I've never tried it because people told me, 'You need to go with a local to the right place, choose the right ones, choose different kinds and then do the degustation. It's not only about the fruit – it's the culture behind it."
The Butcher's Wife is located at 19 Yong Siak Street.