Kitchen Stories: The young Singapore chef exploring the full potential of Southeast Asian produce
Buah keluak that brings out the flavour of sweet potatoes, sticky date pudding recreated using longans and ravioli with tang-o sauce are just some of the interesting ideas and flavour hits at new restaurant Province by emerging young chef Law Jia-Jun.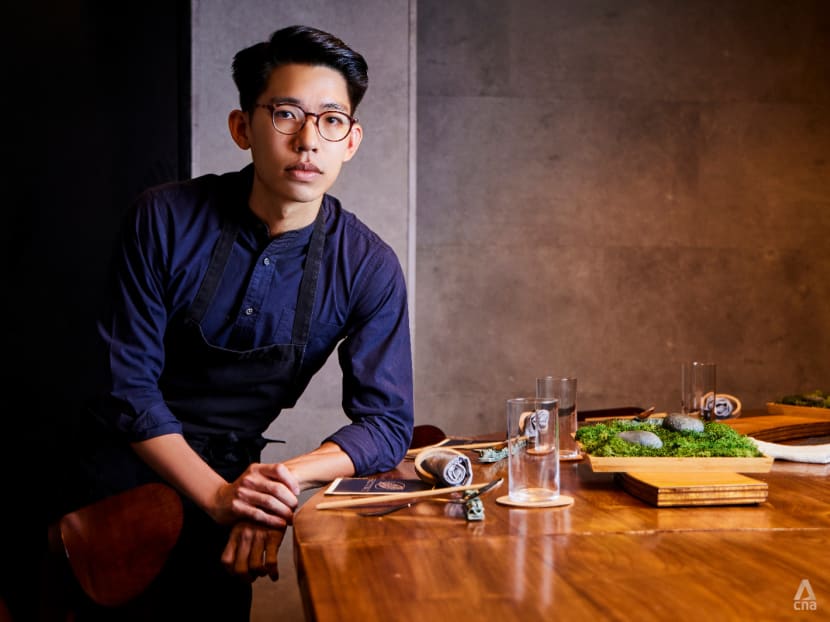 Meeting with Law Jia-Jun for a chat at his month-old restaurant Province, it was impossible not to notice the small burn wounds dotting his arms, face and ear. There had been an accident during R&D time involving a glutinous rice ball and a fryer full of hot oil, he said, sheepishly. The explosion had even propelled the ball out of the oil and onto his arm.
Naturally, when his mum found out, she had fussed. "She said, 'What if it had gotten you in the eye!'" Law recounted. After all, she and his father, like typical Asian parents, had told him it would be a better idea to study business, instead of the culinary arts.
But, also in typical Asian-parent fashion, once she saw how dedicated he was to pursuing his own path, she got behind his dreams. A large potted plant adorned with a red bow sits on the restaurant's counter and is the first thing you see when you walk in – an opening-day gift from mum. It amuses Law that it looks so out of place there. "She told me to remove the bow, but I said no."
His parents can be justifiably proud of Law. At 29, he's one of Singapore's rising young chefs with solid credentials and a clear vision for his cuisine. Following training stints at Michelin-starred Manresa and Atelier Crenn in California, he was part of local talent incubator restaurant Magic Square. When the opportunity came to open his own restaurant, he knew he wanted to work with produce sourced as locally as possible, from within Singapore as well as all around Southeast Asia – hence the name, Province.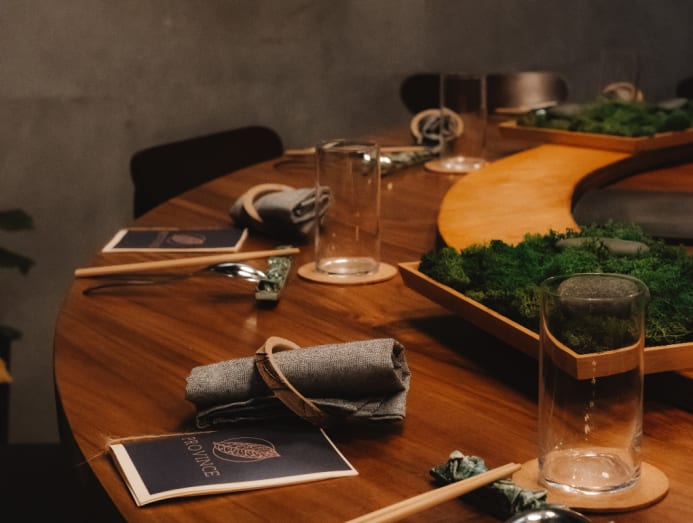 The intimate eight-seat space at the back of sister restaurant 808 Eating House on Joo Chiat Road offers a seven-course tasting menu for S$138++. Diners sit at a curved counter with a view of the small kitchen and Law meticulously plating dishes up before serving them. Everything on the plate, like ravioli with grilled tang-o sauce; abalone with rice; coral trout and mussel jus with smoked coconut cream; and aged duck with aubergine puree, comes from within the region.
"I realised many chefs work behind closed doors or are not used to interacting with people. I built counter seating because I want that interaction," he said, adding that those who work with him benefit, too. "If you're a chef who wants to build something of your own eventually, you ned to start with being able to interact with people."
The best way to break the ice is to open with a joke – at least, that's what Law's father told him. "My dad is a salesman, and he used to have conversations with me about how to interact with people," he chuckled. At age nine, his father gave him his first glass of wine, and "that's when the conversations started! Looking back, he was trying to teach me something, but I didn't know."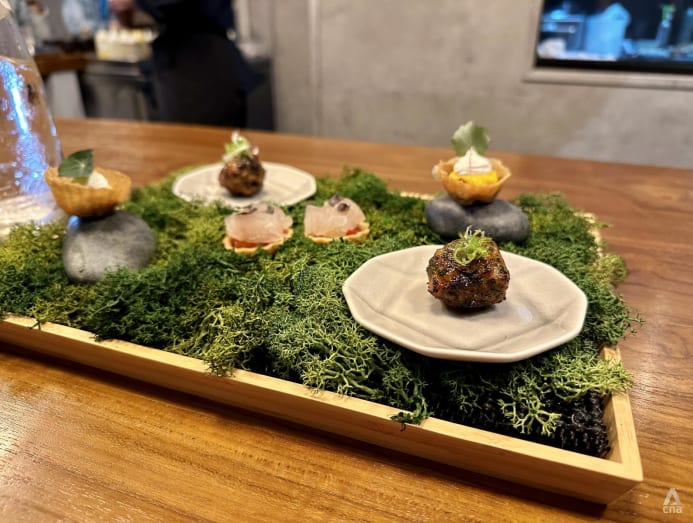 IT STARTED WITH PUMPKIN SOUP
As a child, Law wasn't inclined to study, but one day, after turning on the television and discovering a Jamie Oliver cooking show, he decided to use his pocket money to recreate Oliver's dish: Pumpkin soup. "It was bad. I couldn't blend the pumpkin smoothly enough. The bacon didn't render enough. There was not enough cream or stock. It was too salty. But, I found joy in the process," he said.
"I think it was the whole process of learning on my own, because it's very different when you gain knowledge on your own compared with having it fed to you. Even when I cut or burned myself, I enjoyed the process. Subsequently, I learned a lot of skills on my own – how to cut an onion, fabricate a fish, break down chicken."
He also cooked meals for family and friends. "Some of the dishes were good but most were bad. I would tell them dinner would be served at 7pm but it was usually 8.30pm because I didn't know how to plan."
Even so, for his 14th birthday, his friends bought him a gift of a kitchen set that included a cutting board and a knife, with a note that said, "We hope you open your restaurant".
"Eventually, I decided to study baking and culinary sciences at Temasek Polytechnic. My mum said, 'Why don't you just study business or do something generic?' And my dad was pushing me into sales." But they relented, and Law got his first work experience at casual dining restaurants like the now-closed Charly T's, Balzac Brasserie and Firebake, as well as Michelin-starred Nouri. "I got into a lot of trouble because I couldn't finish the tasks I was assigned," he chuckled.
While he was in National Service, his mother decided he had to get tertiary education whether he wanted to or not. "She made my sister apply for me… I got a call to go to the office, and my officer was like, 'Your mum called to say you have to take a day off tomorrow because you have to go for a university interview.'"
He enrolled into Temasek Polytechnic's Culinary Institute of America programme, but not before saving up to go to the US to stage at Manresa for a month. There, he learned "to source ingredients properly, to know the people you're sourcing from and to taste the raw ingredients first. The way chef David Kinch processes all this is that there's very little done because the ingredient is already so good. The product will help you in half the work, rather than you applying 50 techniques to it and at the end of the day, you don't recognise what you're eating."
FLAVOURS THAT HIT HOME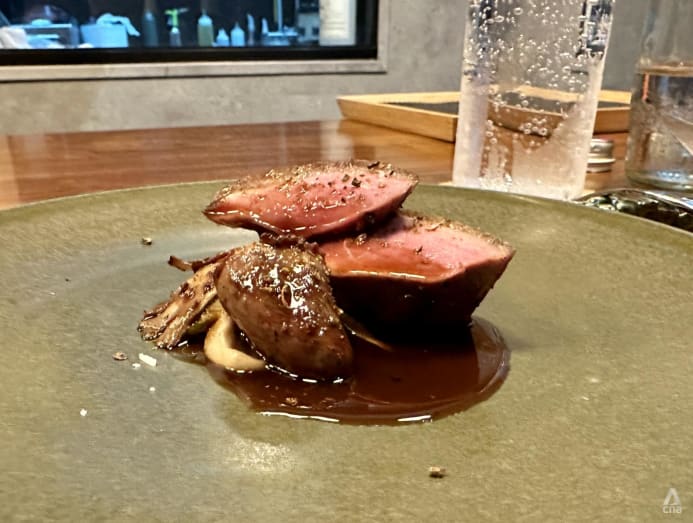 Province's current menu, you'll find, has heavy Thai influences, because Law travelled to the northern Thai province of Mae Hong Son just before he opened the restaurant, staying with villagers and learning how they harvested food from forests and rivers.
He believes he's possibly the first to bring malehsa, a wild spice found in northwestern Thailand, to a Singapore restaurant. "It has a nice citrus note to it, and as you're eating it, it comes with this slight numbness and bitterness. When I tasted it, I was like, 'I can definitely pair this with duck, one of my favourite proteins." The duck dish is served with a jus made with "lemongrass, kaffir lime leaf, ginger and galangal, and we refresh it before we serve it with kaffir lime and lemongrass" – a technique from his Teochew heritage, he said.
Singapore produce he uses includes vegetables from Natsuki's Garden and seafood from Ah Hua Kelong.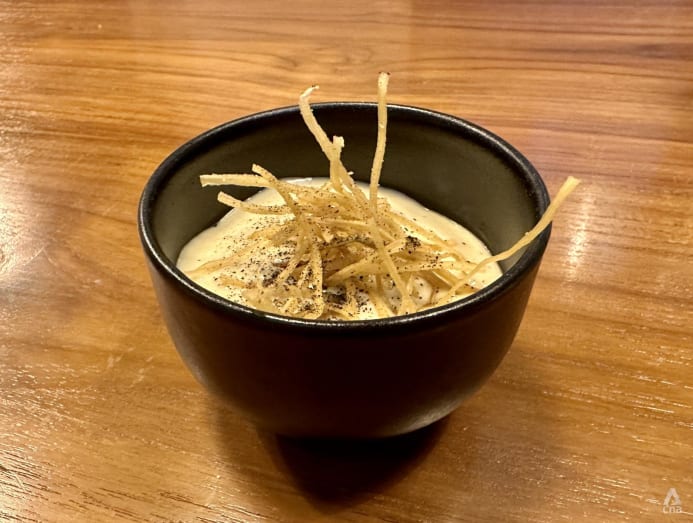 One standout dish that reveals this young chef's potential is called Tubers, an ode to the sweet potato: Japanese sweet potatoes grown in Chiang Rai are slow roasted and deep fried in duck fat; native orange sweet potatoes are made into gnocchi and glazed with chicken stock; and at the bottom of the bowl, under smoked sweet potato espuma and fried sweet potato chips, is a rich and earthy buah keluak puree.
Sweet potato "was one of the first ingredients I encountered in Thailand. I thought, 'Let's create a dish that represents the whole experience of picking the sweet potato out of the soil to cooking it and eating it, and even thinking about it after. The gnocchi replicates that nice chewy texture of the outer part of the sweet potato when you grill it. The espuma represents the smoke from grilling the sweet potato." When you eat it, "you literally have to dig into layers of everything, like you're harvesting something".
Although he's only two months in, he's already planning a new menu to be launched in June, because "new ingredients bring new perspectives", and also, "I get bored". Pointing to a box in a corner, he said it was full of pumpkins that had been grown in the mountains of Thailand, so "I have no doubt that they will be some of the tastiest pumpkins".
Also in development is a dish of pork from Sarawak, aged and grilled over fire, paired with mango curry and Sarawak pepper jus; a jambu dessert; mud spiny lobster with rice noodles and egg white, hor fun style; and, of course, the glutinous rice ball that burned him.
"The main focus is to show that the ingredients in the Southeast Asia region are just as good as any European or Japanese ingredient," he said, citing the added concerns of global warming and carbon footprints.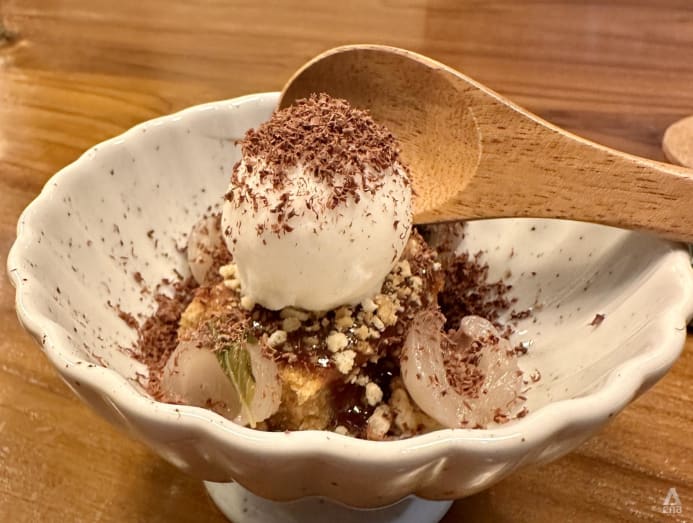 On the current menu, for example, a dessert of longan sherbet, dried longan pudding, spiced wine-poached longan, salted butterscotch and pickled Thai basil is an homage to a sticky date pudding that his older sister baked for their father's birthday when they were teenagers. "That was the first dessert I enjoyed the most… I had seconds and thirds. We can't get dates in the region, so I was thinking, 'What's the next tastiest ingredient that's high in sugar?' And the first thing that came to mind was longan." The result is deeply palate-pleasing.
While Law isn't sure if he wants to pin down a definition of his cooking yet, and he still has some ways to go to refine it, "I like to call it contemporary Southeast Asian cuisine – even though the techniques are all very French-driven because that's what I learned, the ingredients I use are all from Southeast Asia. It's not something that I know exactly, but it's something I'm figuring out. It's almost like asking someone, 'Who are you, really?' That's quite a deep question. I'm figuring it out. I'm not there yet."
But, he's well on his way.
Province is at 153 Joo Chiat Road (enter through 808 Eating House). https://www.province.com.sg