The Singaporean with the global restaurant empire – just not for nudists
Restaurateur and hotelier Loh Lik Peng is open to good ideas that aren't "lazy". Just keep your clothes on and don't mention burgers.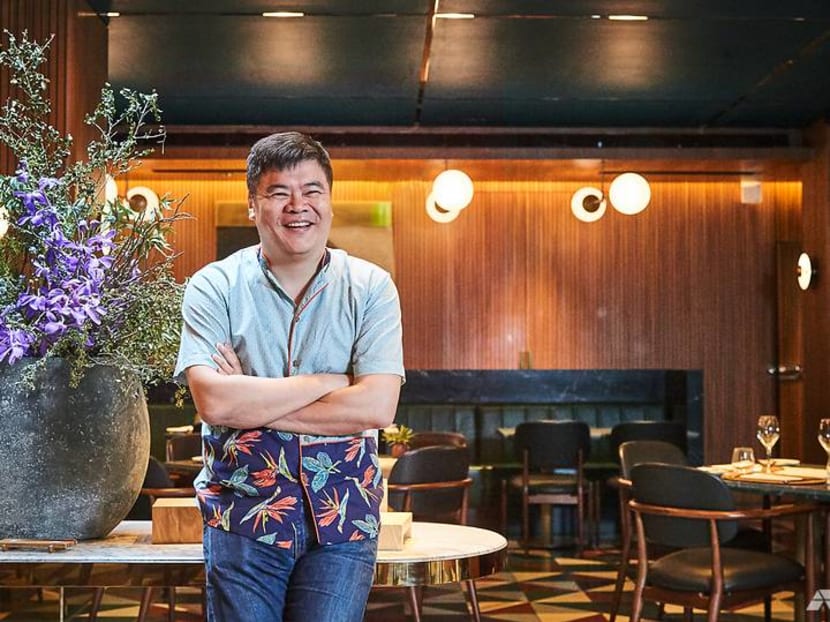 In the Singapore dining scene, where consumer options abound and restaurants open and shut like automatic doors, Loh Lik Peng has remained cavalierly buoyant for the last 15 years, with restaurants like Burnt Ends, Pollen, Majestic, Salted & Hung, Meatsmith and Zen all under his Unlisted Collection umbrella.
And it's not just here that the multi-hyphenate has opened much-hyped, award-winning restaurants and hotels – he's also flying the Singapore flag high in London, Sydney and Dublin, with acclaimed properties in heritage buildings.
His approach to coming up with winning concepts is at once easy and difficult: He believes you're limited only by your imagination.
"There's no such thing as a saturated market. People who say that are just lazy. Because they are thinking of the same concept that everyone else is doing," the 47-year-old declared.
So, if you're thinking of opening a burger restaurant, for instance, don't go to Loh with your idea – even if you've managed to create the best burger in the world.
"I get proposals for hamburgers all the time. Even if it's the best hamburger, I'm just not interested," he said. "Because everyone has their own version of what their favourite hamburger is… Nobody can ever agree. It's just not a field I feel I can make a difference in at all, in a place like Singapore."
And don't even get him started on cupcakes, his other pet peeve. "At one stage, everyone was opening a cupcake restaurant. And I was like, 'Why do we need more cupcakes? I could train a 15-year-old to do great cupcakes.' It's just not very original."
That's why each of the chefs he works with, whether it's Rishi Naleendra serving up modern European dishes with Sri Lankan touches at Cloudstreet or Ivan Brehm using regional ingredients to craft Brazilian plates at Nouri, has a singular perspective on food, occupying a unique niche in the restaurant scene.
With that in mind, it's logical that each restaurant enjoys its own unique branding and positioning, even if all are quietly sheltered under Unlisted Collection's umbrella.
But just when Loh has made you feel like the sky's the limit and all you need is a great new idea in order to succeed, you're reminded that everything he does is always underpinned by solid business sense.
"I was approached to do a nudist kind of hotel thing in Brazil," he shared, with a chuckle. "Which I was quite interested in – I thought it was quite funny – but I just don't think I'm the right person to run it. First of all, Brazil's very far away. For another thing, I'm in no shape to run a nudist resort. Maybe when I was 25, I might have considered it. But it was an interesting idea. I actually think it will work. And nobody's done it yet. It was supposed to be a back-to-nature sort of thing where they did a lot of veganism and spirituality." Still, "You could probably find yourself in a lot of trouble doing stuff like that. How would you market a nudist resort? Those sorts of concepts are a really good idea, but to pull them off would be very, very difficult."
In many ways, the married father of two young children is a by-the-book kind of guy. When it comes to expanding his business into other parts of the world, for instance, "I am selective. I tend to be in key gateway cities where rule of law, regulations and business-friendliness are ranked pretty high. I'm not in many emerging markets for that reason… I'm always confronted with this strange feeling that there's something under the table that you have to do, or some manoeuvre that might not be completely above-board, and I'd rather not get involved. My gut tells me it's not the right project."
EGO TRIPPING CHEFS NEED NOT APPLY
Loh seems to be lucky in that his gut isn't that far off from his head. It's also the case when it comes to which chefs he chooses to open restaurants with.
"The first criteria I put great store by is great chemistry with the chefs," he said. "Because this is such a tough business, it's such a volatile sort of thing, that if you don't get on well with your chefs, then forget about it. Don't start anything with them."
The ability to cook great food is almost secondary, it would seem. Rather, "it's always about making sure that you understand the personality of the chefs and that they're not in it just to have an ego trip about their kind of food, but are able to think through the steps needed to make the business successful, and also to be able to manage a large complex team," he said. "Sometimes people with very good CVs will mention Michelin stars or 50 Best as the first thing, and I generally will switch off, because then I know they don't have the right motivation. You can sniff out an ego trip when they drop something about 50 Best somewhere in the conversation."
There are also chefs who have anger issues and aren't able to handle pressure well. "Usually, those are not the ones who are going to succeed, particularly in today's environment."
And at other times, "You meet these young chefs who talk about artistic vision and that's all they know, and usually that's a disaster," he continued. "The artistic side is important because it's what makes you special and different – but at the end of the day, people have got to enjoy your food and come and pay for it. And if they don't, then you're going to be out of business very soon."
Does he think so many restaurants meet early ends because most people don't really know what they're doing? "Yes. Most of them have no clue what it takes to run a restaurant. And the barriers to entry aren't very high, so most people sort of just rush in. You don't need any special qualifications to call yourself a restaurateur. So, lots of people try. The vast majority of them fail – and fail at the first hurdle. I see a lot of it."
FOLLOW YOUR GUT, NOT JUST YOUR STOMACH
So, does his success boil down to the strength of his gut – in other words, good judgment, especially when it comes to sizing people up?
"I think in general, I have a pretty good gut feel for people, yeah. I feel that my people radar is generally pretty switched on in terms of whether someone's trustworthy," he assented. "Being able to get people to trust you, being able to know who to trust, being able to build relationships – I think that's probably the most important part of building, maintaining and running a business."
It helps to have empathy, added Loh, who's also chairman of School of the Arts Singapore (SOTA), the Asian Civilisations Museum and Shatec. "I do try and look at people's best qualities. So for me it's really about making sure you're able to polish the gem a little bit more if you feel someone has the potential, rather than pointing out their shortcomings."
That's not to say he hasn't had failures. Take Sorrel, for instance, which opened in 2015 and closed within a year.
"I was very sold on the romantic idea of a young, 100 per cent Singapore team. It didn't work because I think the team was too young – they were not mature enough to realise what it takes to run a restaurant (and) what it takes to really make sure you're doing something your customers want and are supportive of," he shared. "Sometimes these young chefs have a very romantic notion of what they want to do… Customers care first and foremost about whether the food is tasty, the concept works for them and the service is really good."
Loh's firm grasp on the business of running restaurants allows the chefs he works with the freedom to be creative, and in that sense, you could think of him as a major enabler in the dining scene.
Of course, "We have an agreed set of goals at the start. You say, 'You're setting up this business, try and make sure it makes money. Don't make it into a deep hole that becomes unfillable'," he said. But "apart from that, really, they run the show. We just make sure that we support them as best as we can with accounting, human resources, financing – the nuts and bolts of building the business.
"What I do is make sure the chefs have the tools to make the business work for them. I am not a day-to-day manager. I would say I am a relationship builder. For me, it's really about the trust and the chemistry. Because of the nature of how we work, we imbue a lot of trust in that relationship and we give a lot of autonomy to our chefs. And that really means letting go."