The Singaporean chef-turned-hawker creating a food empire built on lor bak
William Liou is the man behind Mr Lorbak and House Of Happiness. Not only does he have a winning braised pork recipe, he's also able to view the F&B business from all perspectives.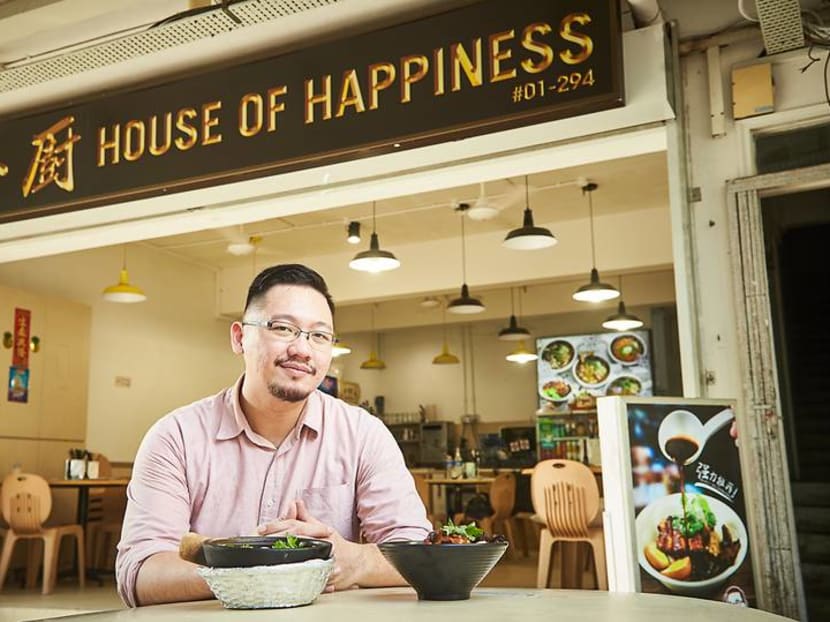 William Liou is the man who's better known as "Mr Lorbak" (no first name, in case you were wondering). Mr Lorbak is a jolly, bespectacled hawker who sells tender braised pork served over rice. William Liou, on the other hand, is a trained chef, restaurant manager, astute businessman and industrious dishwasher, all rolled into one.
It was only two years ago that Liou left the restaurant life behind – he was the group general manager of Sprmrkt at the time, and had previously been a chef – to follow his dream of having his own little place. But in that short time, he says, his hawker business, which he started with S$5,000, now operates at a six-figure value, making as much, if not more, than a restaurant.
After the first Mr Lorbak stall opened in 2017 to rave reviews, there's now a brand new Mr Lorbak outlet at Neil Road, as well as an eatery in Bedok called House Of Happiness that serves up claypot rice dishes in addition to lor bak and traditional Chinese comfort food. And on top of that, Liou has five more concepts up his sleeve that he's already developing.
The secret to his success is simple. "Fear," he quipped. "I doubt myself every single day. But I use it in a good way."
LEAVING THE HIGH LIFE
In Liou's storied career, he's been involved in opening and running restaurants such as Kite and Wine Connection. And what those experiences have taught him is that overconfidence and complacency are the biggest hindrances to success.
"I've seen a lot of restaurant owners who are so egoistic, so proud, so confident in what they have. They think, 'I'll hire the best chef, restaurant manager, general manager and bartender. We have the whole package. There's no reason to fail.' These are always the first restaurants to fail," he said.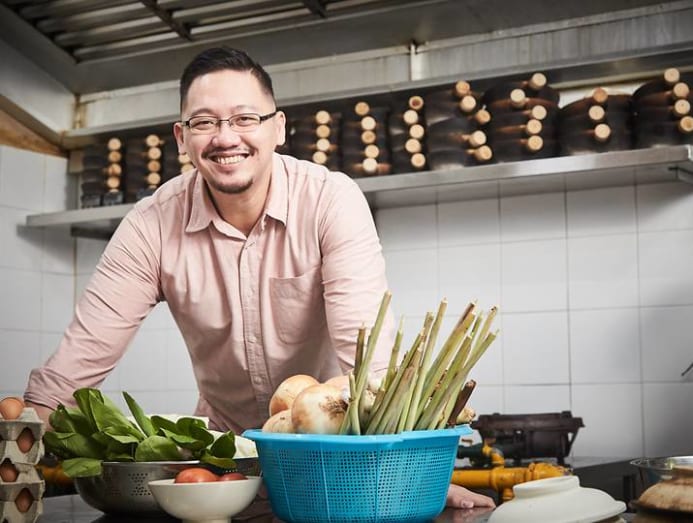 In fact, the 33-year-old has had experience in all aspects of F&B. He started out as a humble dishwasher who dreamt of owning a restaurant when he saw the owners drinking and enjoying themselves. Then, "One day, I watched my chef walk out of the restaurant. And the business closed for the day. So, I decided that if I wanted to open my own restaurant, I needed to know how to cook."
After training at Shatec, he worked his way up to sous chef at Copthorne King's Hotel before taking on management roles and assuming front-of-house roles, such as running the now-closed The Study with Jason Atherton.
Opening his own stall was a gamble, he admits. So, why did he leave a job that flew him around the world to eat at restaurants like Eleven Madison Park for research purposes, in favour of becoming a hawker?
"I'm a fourth-generation hawker boy," said Liou, whose mother used to run a rojak stall. In his previous job, "On my days off, I just wanted to have my char kway teow, carrot cake and chicken rice. And I get very annoyed – more than I should, it's literally none of my business – when I see people from other countries cooking our food. I say this with the deepest respect for other countries. If you have a man from China cooking in a ban mian stall, I can promise you that will be a very good ban mian. But if a man from China is cooking chicken rice, then the whole dish will be different – not because of skill or technique, but just because the palate is very different. I feel like Singaporeans are not setting out to do our own hawker food and we're losing our identity," he said.
For Liou, lor bak is an important part of his identity. "When I visited my grandmother's house as a kid, she always cooked lor bak for me. And every time my friends came over to my house, my mum would cook it," he said. The recipe he's developed is his mother's, passed down from his maternal grandmother. It uses 18 spices and herbs, and requires 22 hours of braising. It's so authentic that customers in their 40s and 50s often tell him the dish reminds them of their grandmothers. One customer, who bought a takeaway, later reported that her mother was moved to tears by the old-school taste.
THE HARD KNOCK LIFE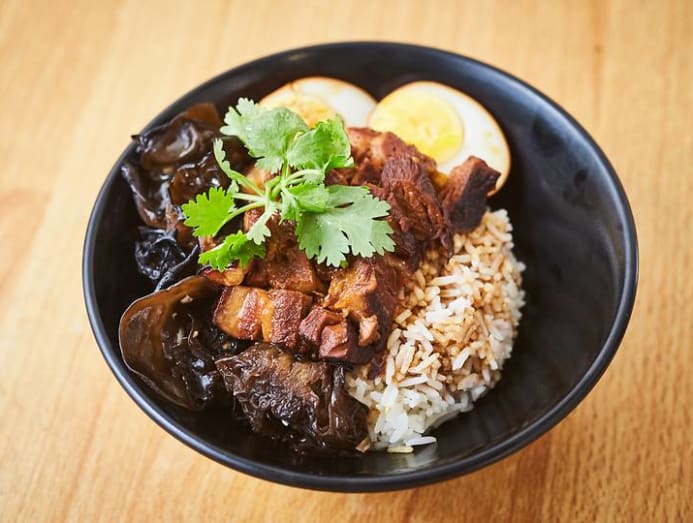 With this rockstar dish, Liou thought that setting up and running a one-man operation would be a walk in the park – but lessons needed to be learnt along the way.
"I wanted to prove that with sufficient planning, it could be done easily," he said. "Oh, I couldn't have been more wrong. I was so, so wrong. Yeah, it's easy to cook – you just dump everything into a pot. It's very easy to wash up. But when you have to sell, cook and wash at the same time, and you're alone, and you're working 15 to 16 hours a day, that is when all the pressure starts kicking in."
For nine months, he ran himself into the ground. "My stall opened at 11am. By 12.30pm, I was sold out. That wasn't good for business. So I had no choice but to work overnight. There was one day I worked for 22 hours and I didn't even realise it," he said.
The truth was that "I was being stubborn. I had this philosophy that it's a one-man job – just plan your work and it can be done."
In the 10th month, he caved in and hired an employee. And in that same month, he was able to open a second outlet. "I just needed one person in order to expand," he said.
There have been other setbacks along the way, such as an outlet in Kovan that had to close, but those are valuable learning lessons, too.
And these days, Liou accepts help – most of all from his mum, whom he describes as his "consultant". When he comes up with a new dish, he takes it to her for her opinion, and they tweak the recipe together. "In a way, being in this business allowed me to spend a lot more time with my mum. Once a week, we spend about two or three hours in the kitchen just cooking together," he said.
This is in spite of his mum initially disapproving of his decision to become a hawker – she knew, from experience, that it was a difficult life.
"To me, cooking is a very intimate thing. When I cook, there is a lot of love. I always imagine what my mum would want me to cook. Would she approve of me putting MSG in the soup? No. Okay. Another five hours it is," he said. "There is a big difference in simple things like adding MSG and not – you could have the same kind of food and pay the same rental rate, but if you use MSG, you could go home five hours earlier."
THE IDEAL LIFE
Liou works hard to reconcile the contradiction he sees between being a cook and running a business.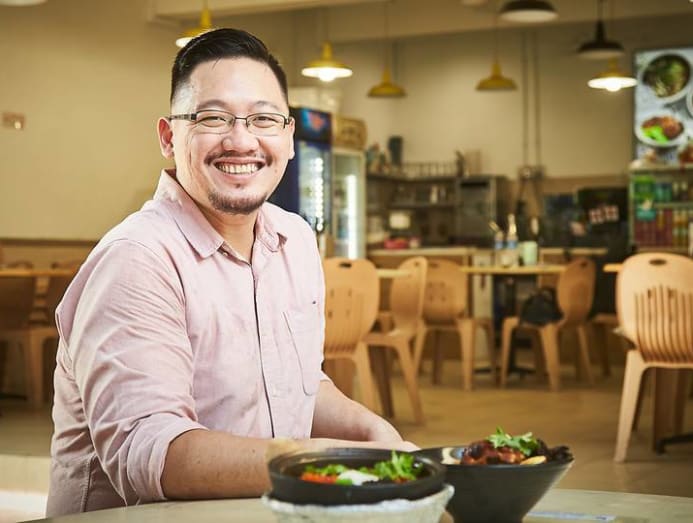 "When I cook for you, I allow you to see things from my point of view. I welcome you into my world. Especially with something like lor bak, I'm sharing my childhood and memories with you. Doing business, in a nutshell, is to make money. One is a very warm thing; one is a very cold thing. So, as a food business owner, you have to find out what the balance is," he said. For example, one must know that "although you get better gross profit with a cheaper ingredient, it will not be able to showcase the history of the food."
As a next-generation hawkerpreneur, what does he think is most necessary for growing the hawker scene today?
"A lot of hawkers have been voicing out about rental and manpower – the two things that have been holding us back. But very little has been pointed out about how the general public are not willing to spend money on hawker food," he said.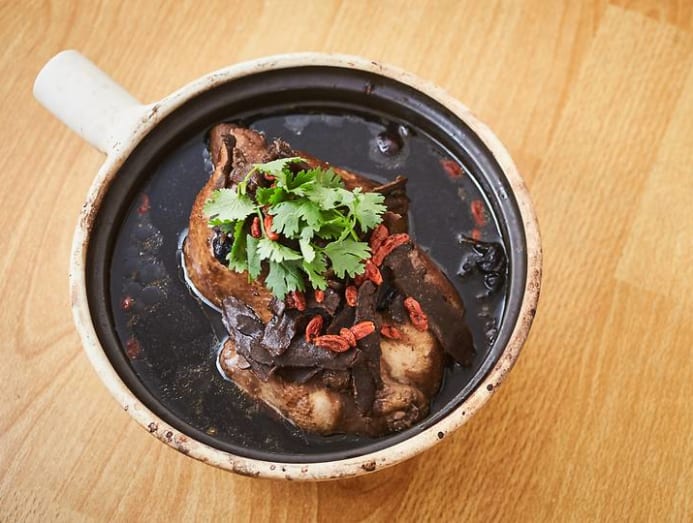 "Sometimes they say (online), 'You're selling one lor bak rice for S$3.50. I've tasted it. It's so-so.' Or, 'Very expensive. Taiwan cheaper.' I make about 80 to 90 cents per bowl of rice, and I work 15 hours a day. When you say things like these, it's very hurtful." He mimed being stabbed in the heart.  
There is a lot of online bullying of hawkers, he said, and when he sees slurs directed at other hawkers, he makes it a point to write back, suggesting that they take their feedback directly to the hawker in person. "I stand up for my fellow hawkers… even if I've never tried that guy's food," he said. "Many people don't have respect for hawkers."
If people were more supportive, he thinks, it would be easier for the "many talented young chefs I know who are waiting for the chance to come out and play" to do their own thing – and that would be good for the dining scene, too. "Nine restaurants out of 10 are not making healthy profit. They're all very stressed out. So, running a hawker stall makes a lot more sense," he said.
Mr Lorbak is at 350 Ubi Ave 1 and 120 Neil Road. House Of Happiness is at 294 Bedok Road.