Koh Brother Pig's Organ Soup's 3rd-Gen successor shuts mod Maxwell outlet: 'Lesson learnt'
In a bid to modernise his family's traditional business, Thomas Koh chose not to brand his stall as a Koh Brother outlet.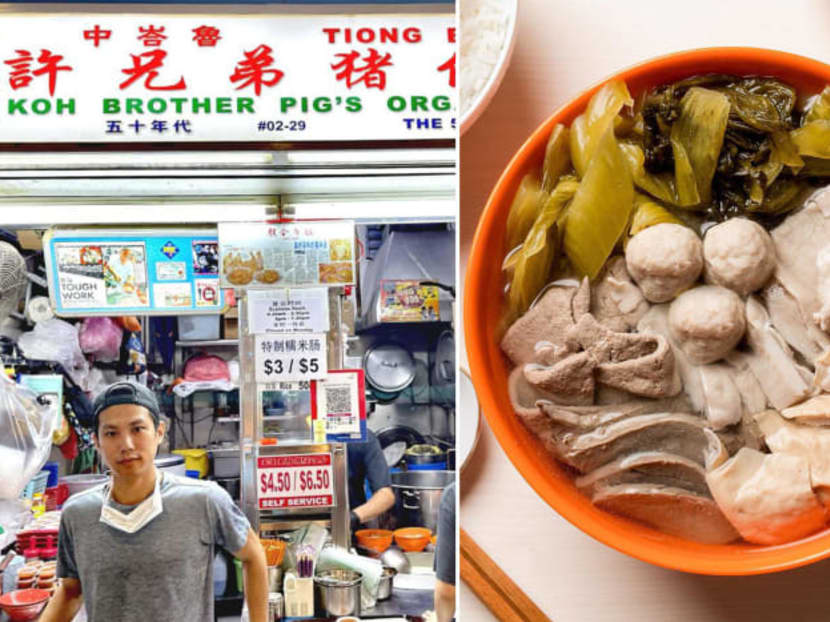 The best businesses move with the times, and even traditional F&B stalwarts sometimes attempt to modernise themselves. Like Tiong Bahru Market's hawker institution Koh Brother Pig's Organ Soup, which is now run by third-gen successor Thomas Koh, 35. His late grandfather Koh Kee Teo founded the stall in 1955.

Koh, a graphic designer by training, has been helping his parents at their stall for almost 10 years. Last June, he teamed up with three friends to set up an outlet at Maxwell Food Centre serving his family's famous pig innards soup.

But instead of branding it under the established Koh Brother name, Koh made the unconventional move of naming his stall The Pig Organ Soup, with a minimalist look and a hip logo featuring a graphic cross-eyed pig in a bowl.

Back then, the millennial told 8days.sg: "I wanted to keep the two brands separate so that we can try modern techniques at Maxwell and break away from the traditional ways of cooking to take our pig organ soup to the next level."
YOUNG HAWKERS CLOSED THEIR STALLS IN LESS THAN A YEAR
Unfortunately, Koh's business plan did not translate to sales, which he admitted "weren't very good". As they were not earning enough to support themselves, the four friends recently decided to close their stall, less than a year after opening.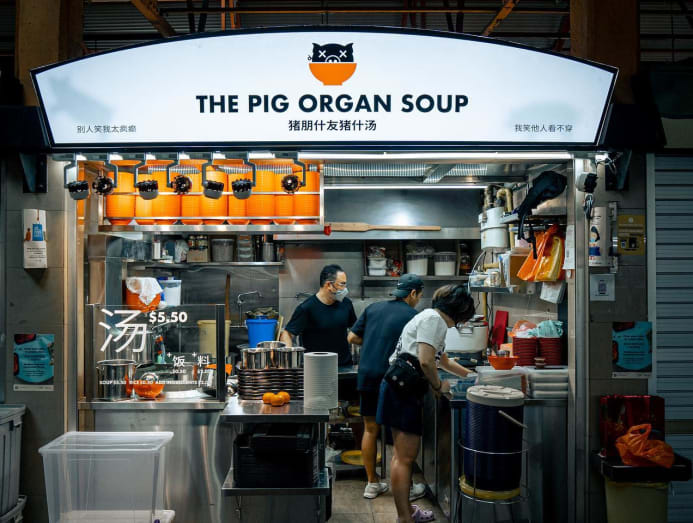 "We were in the red every month. Not very very red, but there wasn't enough 'bread' to share," said Koh, who invested about S$40,000 of his own savings to set up shop. The group of friends "lost around S$80,000" in total from the closure.

Since closing, Koh has returned to his parents' Tiong Bahru stall to work, along with one of his business partners. His two other pals went back to salaried jobs. "It's the first time they were in F&B, so they were also shocked by the working hours. After calculating, they can earn way more outside [working in other jobs]," Koh noted.
But he is humble enough to acknowledge that it was "a mistake" not to use his family stall's famous name to operate in Maxwell Food Centre. "I tried something funky and new because I wanted to appeal to the younger crowd. It didn't work, lesson learnt," he reflected.
According to Koh, pig's organ soup is an "acquired taste" compared to crowd-pleasing hawker dishes like chicken rice and fishball noodles. "Those are things that people can eat every day and be less picky about," he pointed out.
Despite importing "premium ingredients" like pig's hearts, livers, intestines and stomachs from Europe, Koh faced the challenge of convincing potential customers that his offal was clean enough. As his stall was independently branded, people had no idea that the organs were painstakingly washed by Koh's father at Tiong Bahru.

"I should have used the Koh Brother branding. The moment I changed branding, they didn't dare to eat. They weren't sure whether the food was clean or not. So reputation is very important in selling pig's organ soup," said Koh. "It was only later that a lot of customers at Tiong Bahru saw me wearing [my stall's uniform] and said 'Oh, you are related to Koh Brother. They said they didn't dare to try my stall at Maxwell."
FAN APPEAL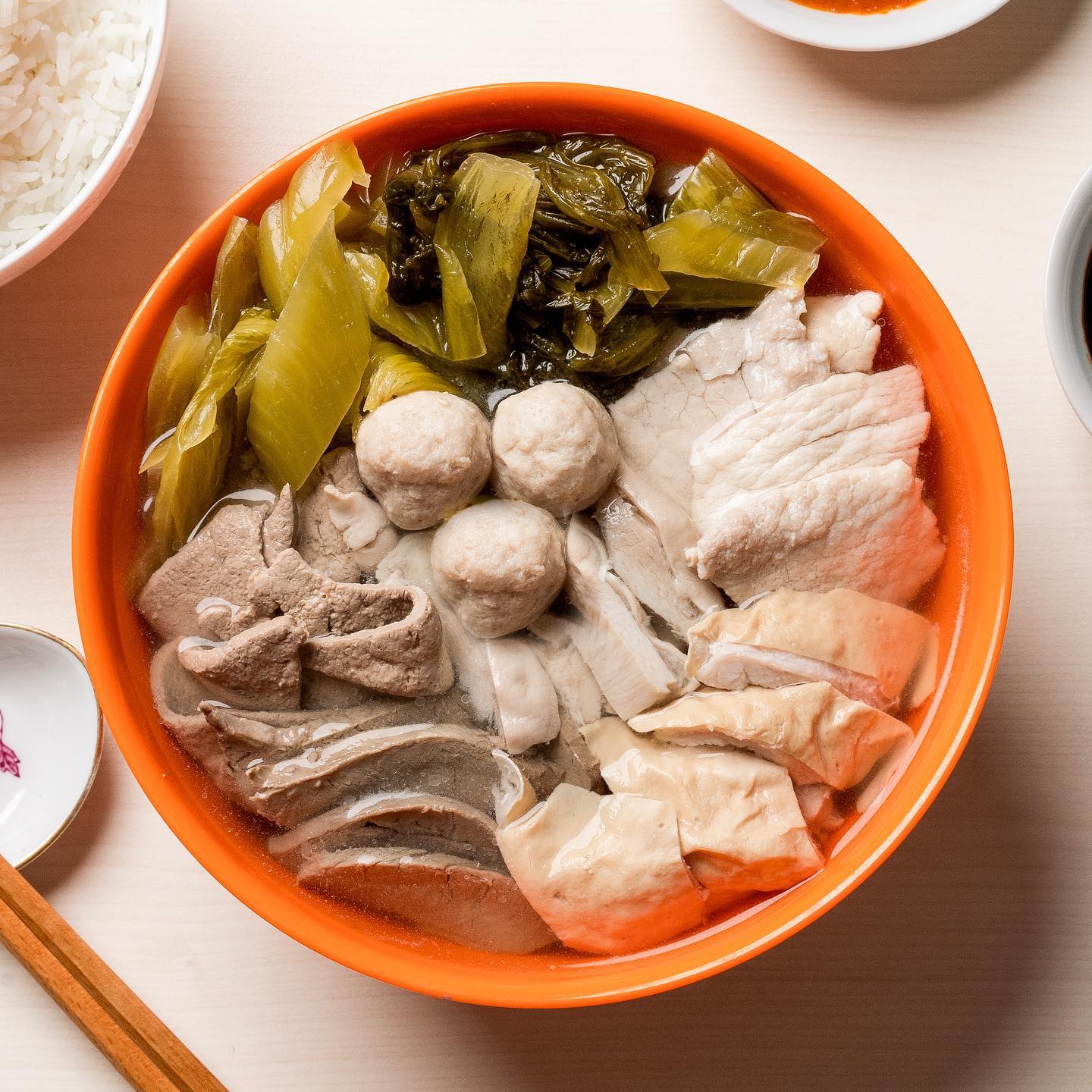 At his own stall, Koh experimented cooking with Western techniques, such as introducing a very clear, consomme-like broth. "There were [Caucasian] chefs who came by and they were amazed by the clear soup," he said. "Our 4.9 stars Google rating was actually higher than [Koh Brother at] Tiong Bahru [with 4.2 stars]."
While his mod branding attracted his own share of younger customers, Koh observed that these youngsters tend not to revisit a stall as much compared to older folks. "The rotation is longer because they have more choices. My own parents don't eat Japanese food because they don't enjoy it, and they are not used to Italian food either. The older generation tend to eat at the same stall three to four times a week," he said.
Although things did not work out for Koh's stall, he is adopting a can-do attitude about trying again. He is currently looking for a heartland location to reopen, and plans to introduce new side dishes. "This time I will use the Koh Brother branding," he quipped.

His rationale for opening an outlet is also to make his family's pig's organ soup more accessible. "There is a maximum number of customers we can serve at Tiong Bahru every day. We have people coming from [places like] Tampines. I personally wouldn't travel for food, so I thought of bringing it to them. Don't try, you won't know. Just like our branding (laughs)," he said.

He added: "It's okay to make mistakes, but we need to learn from failure. But I won't call this a failure because I learnt a lot too. I reinforced my SOP and did R&D on how to run a business. Life is always about learning. We move on and try to do things in a better way."
Koh Brother Pig's Organ Soup, #02-29 Tiong Bahru Market & Food Centre, 30 Seng Poh Rd, S168898. Open daily except Mon, 9.30am-2.30pm; 5pm-7.30pm. www.facebook.com/KohBrotherPigOrganSoup.
This story was originally published in 8Days.
For more 8Days stories, visit https://www.8days.sg/