A taste of Sri Lanka in Singapore: Kotuwa finally opens after COVID-19 hiccup
Chef Rishi Naleendra's Kotuwa officially opens its doors – with Malaysian chef Alan Chan stepping in when borders closed to the pair of Sri Lankan chefs who were meant to helm it.
If you're craving for or curious about Sri Lankan food, there aren't that many options in Singapore. 
So it's no surprise that Kotuwa's official opening on Thursday (Dec 10) is a highly anticipated one, even if in an unusual but wonderful coronavirus-times plot twist, many in the foodie community have already sampled its spice-layered wares.
From as early as April this year, Kotuwa's menu has been a takeaway option at fine dining restaurant Cloudstreet during the "circuit breaker" and at pop-up dinners held in conjunction with other restaurants like Kin in recent months.
Originally planned for its launch in July this year, Kotuwa is finally making its debut at the revamped boutique hotel Wanderlust and foodies are clamouring for a seat at Singapore's first full-service Sri Lankan restaurant.
It's not surprising considering Chef Rishi Naleendra's reputation as one of the finest chefs in town as well as the popularity of his other eateries, Cloudstreet and modern bistro Cheek.
And while a Sri Lankan restaurant seems like a natural progression in the making of his restaurant empire, it was never something he actually contemplated.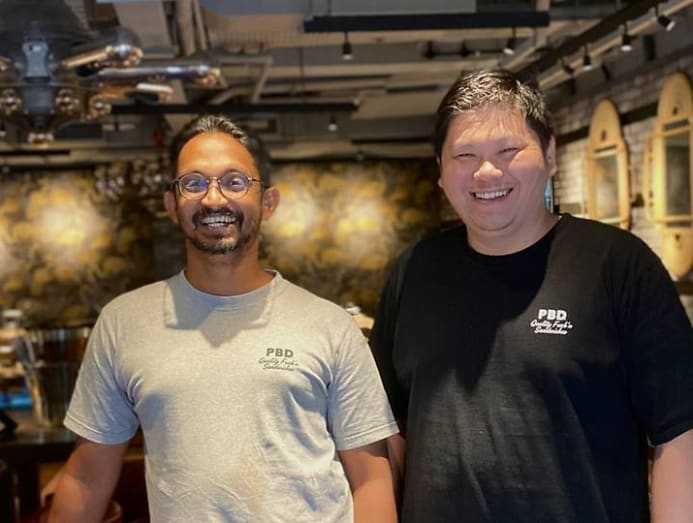 "I never even thought about it, to be honest," said the 35-year-old, who looked relaxed when CNA Lifestyle dropped by Kotuwa's industrial-chic dining room last week.
"But the opportunity came along and I thought, why not? It's where I'm from and what I miss, so I said, 'let's go for it'."
But first, he needed to learn how to cook Sri Lankan food.
MADE FROM SCRATCH
"You won't believe the number of calls I had to make to my mum," he recalled with a laugh. "Some recipes I got from my mother, others we researched on the Internet and then tweaked them."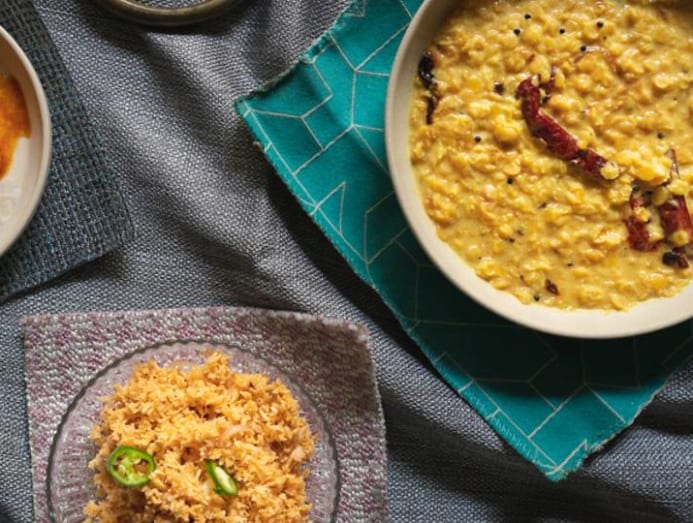 On the menu will be his exceptional traditional Sri Lankan crab curry, fiery and redolent of cinnamon and black pepper; and not-so-traditional renditions of dishes like poricha erachi. 
"Traditionally, this dish uses beef that is marinated in tamarind and lime. But here, we braise beef cheeks for 12 hours before deep-frying them and serve with a dressing of tamarind and lime, with some green chillies and chilli flakes folded through. It's just super tasty," he explained.
Hoppers, those quintessential Sri Lankan fermented rice flour crepes (what Singaporeans know as appam), proved to be the hardest thing to pin down. "I nearly didn't put hoppers on the menu because I just couldn't get them right," said Naleendra who left Sri Lanka at the age of 18 to study in Australia where he stayed until he moved to Singapore in 2014.
He and his team only perfected the recipe several days before our interview, having finally learned it from a generous Sri Lankan guest.
FOOD FROM THE HEART
Naleendra's original plan was to fly two native Sri Lankan chefs to head Kotuwa's kitchen, but COVID-19 came ahead of them and borders slammed shut. Enter Cheek's sous chef Alan Chan. "The best thing I did was take Alan with me to Sri Lanka earlier this year," Naleendra joked.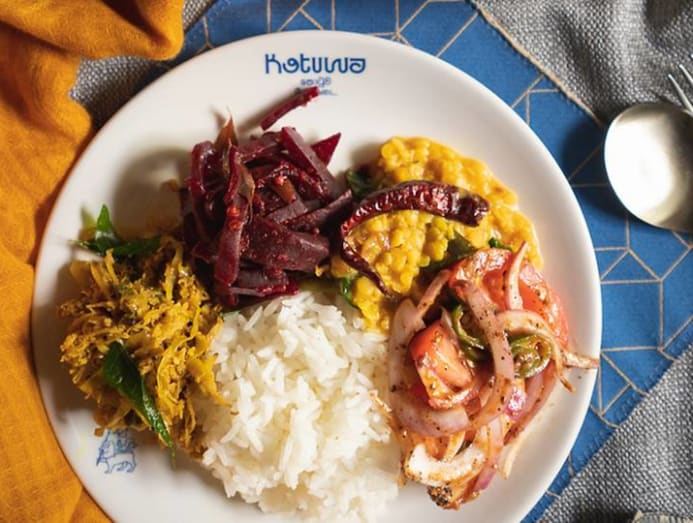 The Malacca-born Chan joined Naleendra at what was then Cheek By Jowl as senior chef de partie in late 2017.
Heading a Sri Lankan restaurant never even factored in his imagination, but life had its own plans and the 29-year-old is embracing these unexpected turns with relish. "It's definitely different from the food I used to cook before, but I'm enjoying learning and understanding it," said Chan.
Like the food of most historical trading posts, Sri Lanka's cuisine has absorbed the flavours of its broader region and the colonial influences of the British, Dutch and Portuguese.
"It uses a lot of fresh ingredients like onions and a lot of coconut cream, shredded coconuts and spices. The ratio of ingredients is different from Indian food and we like to use a lot of tamarind and lime, so there's a lot more acidity in the dishes," explained Chan. 
While Kotuwa's cuisine is unmistakably Sri Lankan, Naleendra said it will be "just a really good restaurant."
There are no stereotypical Buddha heads, bright pink walls or ritual masks on the walls to depict its provenance. Rather, the Sri Lankan spirit will be reflected in its music playlist ("we'll start with some reggae because we are island people and maybe some Bollywood disco"), the distressed wooden shutters, and the grey brick walls that are a nod to the subway tiles at Kotuwa station in Colombo.
Even before reservations opened, their phones were buzzing off the proverbial hook. "People have been texting us for reservations, so I think we'll do well," Naleendra predicted modestly just a few days ago. In other words, if you're thinking of snagging a reservation soon, best to slide into their emails now.
Kotuwa is located at Wanderlust, 2 Dickson Road. For reservations, go to https://cho.pe/dineatkotuwasg, for enquiries contact info [at] kotuwa.com.sg.