Why this Michelin star chef spends so much time on Singapore farms
With 90 per cent of Labyrinth's menu made up of local produce, Chef LG Han's truly Singaporean cuisine is only made possible by the relationships he shares with local farmers.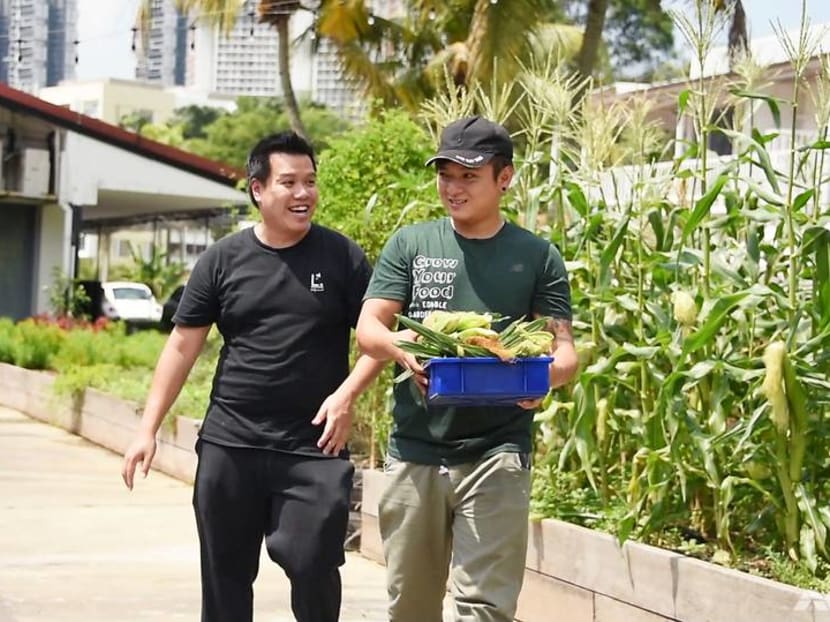 Recently, Labyrinth hosted a table of local vegetable farmers, giving them the full weight of its Michelin-starred experience. The urban farmers, who tend crops at Edible Garden City, weren't very much accustomed to fine dining. But they were pretty much the VIPs that night and, in fact, every night at Labyrinth – as they are the people who supply the restaurant with its herbs, flowers and vegetables.
When a chef puts food on a plate, it's the final step in a journey that begins at the source. Many chefs start their day at the market or placing orders online – but for Labyrinth's chef-owner LG Han, his market consists of farms all over Singapore.
From seafood kelongs to a quail farm, a goat's milk dairy and more, the 34-year-old makes it a point to visit the network of local farmers he works with on a regular basis.
That was why it was important to him to have Edible Garden City's farmers over for dinner – in the spirit of exchange and understanding.
Labyrinth is the only restaurant in Singapore where 90 per cent of the food is locally sourced, and the menu, which currently includes dishes like Local Wild-Caught Crab with chilli crab ice cream, Pulau Ubin Oyster Takoyaki and a lala clam tart, aims to carve out a truly Singaporean cuisine.
UNDERSTANDING AND RESPECT: PEOPLE, PLACES AND ENVIRONMENT
It's been five years since the restaurant opened, but it's only in the last year or so that Han has moved away from novelty-factor dishes such as Chendol Xiao Long Bao (served in a dim sum steamer with "vinegar" that's actually gula melaka syrup) towards a menu designed around local produce.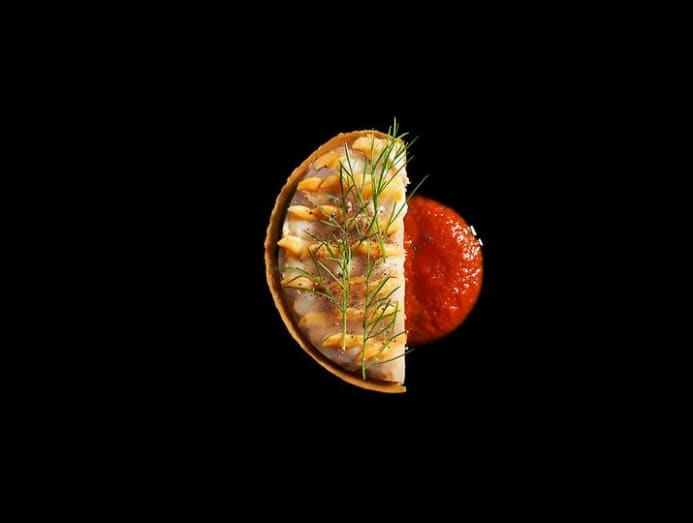 That came about simply when regular customers who introduced him to local farmers. "I was really impressed with what I found locally (and) I wanted to find out more. It just snowballed – and then I managed to find quite a large number of sources," he recounted.
Beyond food and how it tastes, "It's also about understanding our environment – how things grow here, why are they different, the seasons in Singapore – monsoon season; the hot and dry season. So, it's not just about using local and then walking around with a flag saying, 'I'm using local, hey, support me.' It's also really about digging deep to learn about our environment, our terroir, as well as to understand how the farmers grow things. And from there, we can create dishes that hopefully do justice to the hard work of the farmers," he said.
For instance, Edible Garden City supplies the restaurant with about 20 herbs, flowers and vegetables. "We use herbs like the oyster plant and Wandering Jew as part of a shaved ice dessert. And we have a rojak dish that is a salad of 14 types of herbs and vegetables – most of it comes from here," Han said. "Even herbs that are not native to Singapore – when they grow here, they taste different, if the conditions are right."
The most important element, he stressed, is the relationship he builds with the farmers. Sidney Chua, Edible Garden City's Head of Sales (Production), says Han has never asked for a list of products. "He just comes down here and says, 'I want this; I want this."
That modus operandi has resulted in a sweet corn that is grown specially for the restaurant.
"Sid taught me that the time frame from farm to kitchen is crucial in determining the sweetness level and the moisture of the corn," Han said. "In this case, yes, maybe a corn farm overseas might be great as well, but when you import the corn, it's just not as sweet any more. Sometimes, you have to look at produce in the context of, 'Is it better not just comparatively around the world, but is it better than what we can get in Singapore?' Things like corn, strawberries, herbs and microcress – they look alive when you get them imported, but the flavour has gone flat."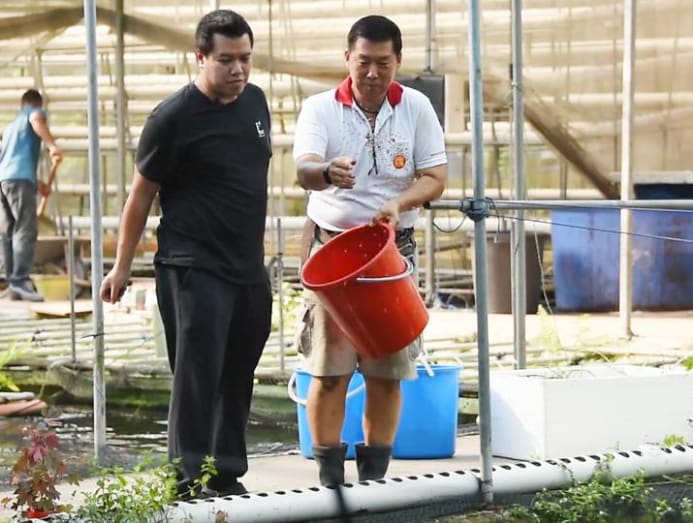 It is the same for seafood, which is why Han chooses to serve a dish of locally bred silver perch. He makes regular visits to Nippon Koi Farm, also known as Nippon Fish Farm Trading, in Choa Chu Kang, which breeds fish for food in addition to ornamental koi.
Managing Director Pay Bok Sing, known simply as "Ah Sing", is the only farmer in Singapore who has managed to find a way to make the notoriously difficult silver perch thrive here. He's adamant about breeding the fish in clean water, without antibiotics or chemicals. And as part of his tender care, he feeds them cooked eggs for breakfast and sweet potato leaves for supper. This sits well with Han, to whom it's important that the fish he serves is well nourished and free of harmful substances.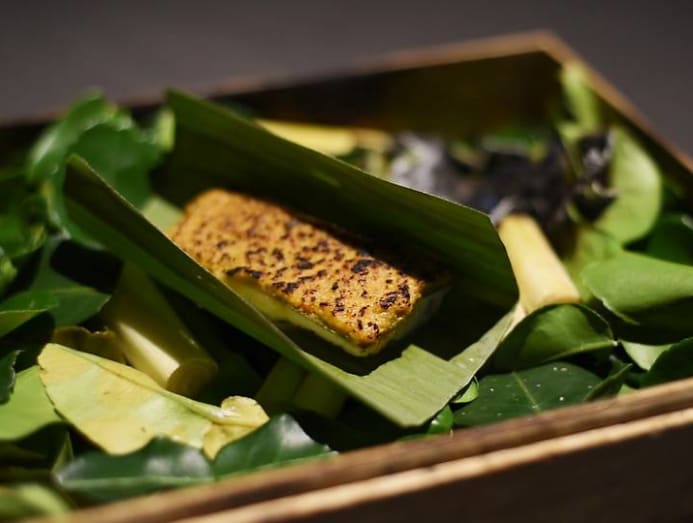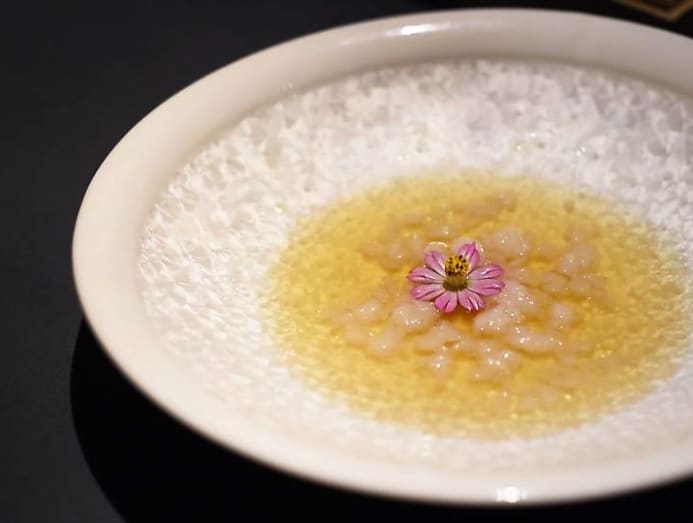 Ah Sing says he likes working with Han because while Chinese restaurants will only take large fish of a certain size, Labyrinth uses smaller ones. That's good for business and also good for sustainability. And, quipped the farmer, "He's like me. He's not afraid of a challenge."
REDEFINING SINGAPORE CUISINE
The quest for a truly Singaporean cuisine can indisputably be called a challenge, but it's one that Han feels is necessary to undertake.
"If I am cooking Singapore cuisine, whether it's 'modern Singapore', 'classic Singapore', 'rustic Singapore', whatever – the produce has to come from Singapore. The people, the ingredients, the flavours – all these have to flow. That's the only way to create a true Singapore cuisine; one that's not fusion," he said. "What I'd like to present and share with the diners, from local diners to diners from around the world, is the people growing the produce, the stories behind them. It's just my way of defining what Singapore is."
There is a trade-off to using so much local produce, though. "People expect the cost to be lower because it's local," he said. "Actually, the cost is the same." That's because the farmers he works with are generally small-scale producers who do things the natural way, without chemicals or fertilisers, and are subject to the vagaries of the seasons. That's on top of the high costs of land, manpower and operations in Singapore. But it's better because the food is better." 
Han is assured of the quality of his ingredients, he said, because he's personally witnessed responsible farming methods. "That also results in healthier and cleaner produce – something the world, I think, is sorely lacking these days."
Why don't more chefs use more local produce, then? "They don't bother finding out about it," he opined. "Singapore has been marketed as a country with zero output on agriculture and everything imported from overseas. Secondly, we can get produce easily from Japan, Europe, Australia, the USA – any time we snap our fingers. Young cooks these days are lazy. They've never interacted with a farm. All they know is picking up the phone and calling a supplier."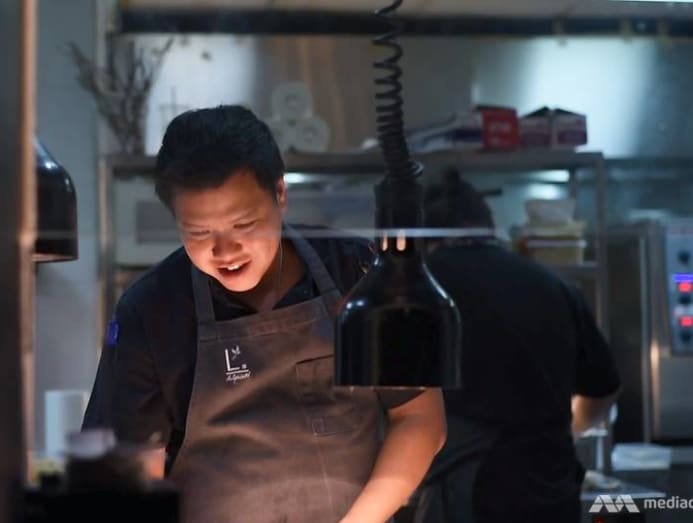 On the other hand, he conceded, there are limitations. "If you are a French restaurant, you'll have to serve French food; if you're a Japanese restaurant, you must serve Japanese seafood. That means you can't really go local, in a sense," he said.
"Also, when you think about it, there aren't many of us (local chefs) helming our own restaurants. Many of the younger students these days coming in through the schools are being taught the French syllabus and when they work in Singapore they end up working with non-local chefs, in kitchens that don't have the exposure or knowledge about what goes on in Singapore, although that's changing a bit."
The bottom line is, "They have to see the farm itself. They've got to erase that perspective that whatever is local is cheap, or should be cheap, and is inferior to whatever's happening in Japan, Australia, France. I always believe there's no such thing as bad produce if it's grown properly. There's no such thing as a bad part (of an animal) as well – it's about how we use and apply it. But there is such a thing as a bad chef."
NEXT-LEVEL CORN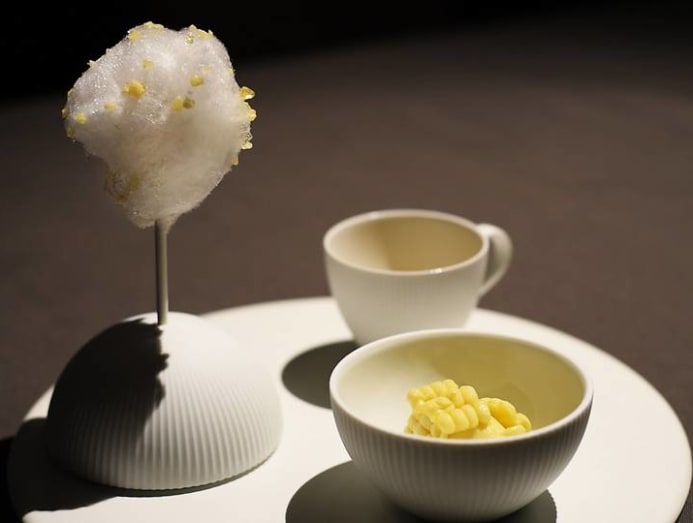 And so, when Edible Garden City's farmers dined at Labyrinth, it was a rewarding experience for all involved.
When Chua saw the corn he had grown transformed into a dessert named Pasar Malam – corn spun into cotton candy; a "cup corn" of sorbet, goat milk butter and gula jawa-salted egg popcorn; and corn husk tea – it was "really mindblowing", he said. "I thought corn was amazing on its own, but Han was able to take it to the next level. To us, it was very important because we farm all day and we don't really know how our produce is turned into magic."
On Han's part, as he spends time with the farmers, "You see the hard work involved. Respect comes into it. Sometimes, effort and outcome are not proportionately scaled. I just feel that they can charge more. But I'm the only one who is willing to pay more," he said. "I don't care (about the cost). It's good, it's fresh and I trust them – that's all I care about."
He added, "It's not just about wanting to go local – it's about having that drive to understand how ingredients are grown, and about having respect and social responsibility towards the environment, towards customers, and towards the food that you produce for them. That's what it should be."
Labyrinth is at Esplanade – Theatres on the Bay, 8 Raffles Avenue #02-23