Fancy a vegan laksa wrap? New eatery focuses on serving tasty vegan food
Quick Greens, a new quick-service restaurant in Singapore is determined to make plant-based eating affordable, fun and delicious.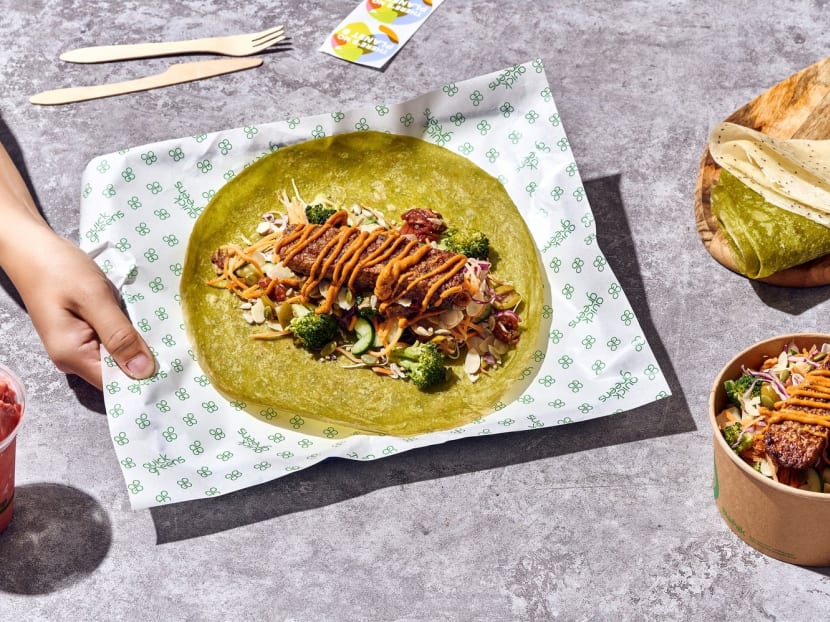 When you think of vegan food, bland and boring may be some of the words that come to mind. But the latest addition to Singapore's growing vegan food scene is determined to change that.
Quick Greens, a brand new quick-service vegan restaurant in Funan, wants to cater not just to those on a strict diet free of all animal products (that includes meat, fish, dairy and eggs). Their concept is also directed at those embracing the increasingly popular "flexitarian" diet.
According to a 2020 YouGov survey, two in five (or 39 per cent) of Singaporeans are currently on a "flexitarian" diet – a style of eating that encourages mostly plant-based foods while allowing meat and other animal products in moderation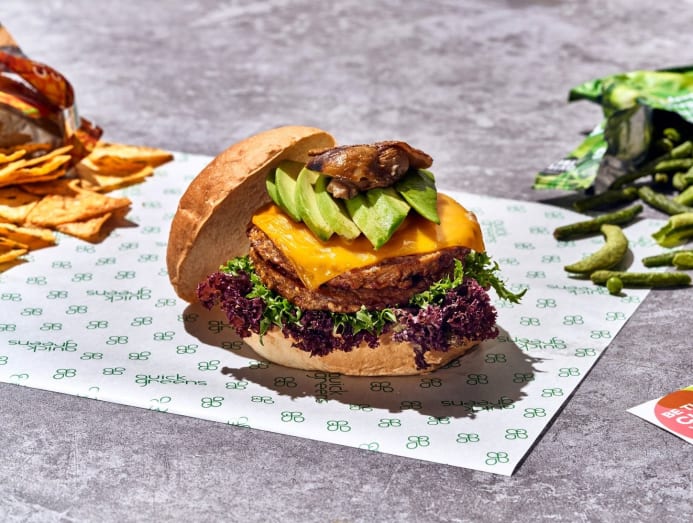 In the same article, it was stated that the biggest reason for Singaporeans in considering a plant-based diet is for health reasons.
Quick Greens aims to cater to the palates of this diverse fan base, resolute to making plant-based eating not only affordable but also fast and accessible for anyone (even the life-long meat eater), regardless of their dietary habits.
With a smorgasboard of healthy ingredients including specially-crafted 100 per cent plant-based kebab, kibbeh (a middle-eastern croquette of sorts with filling), falafel, burgers and house-made pickles, the menu boasts seven tried-and-tested internationally inspired recipes. All of which comes in either a bowl or a wrap – at S$13.80 each.
The locally inspired Laksa, Lah! Wrap comprises a savoury vegan kebab, quinoa, lettuce, beets, carrots, cucumbers, edamame, a roasted pepper and porcini-garlic pickle and an aromatic vegan laksa  dressing.
The Frenchy Bowl, features vegan falafel, purple and white cabbage, broccoli, cucumbers, carrots, pickled purple cabbage, capers, puffed quinoa and an umami-laden truffle dressing.
There are also three burger options, including bestseller Vegan Avo Stack (S$15.80), which features a delicious vegan patty, avocado, mixed lettuce, pickled porcini mushrooms and a spicy harissa dressing. The vegan kebab, vegan kibbeh and falafel can also be enjoyed as a side or as a quick, nutritious, delicious snack.
At S$8 per serving, you can enjoy your choice of hero item with one of seven house-made 100 per cent vegan sauces - all of which contain no emulsifiers or "nasties".
For the health-conscious looking for a quick but filling grab-and-go, there are also freshly-blended smoothies like the Quick Greens Cashew Butter Banana-Strawberry Smoothie (S$9.80), cold-pressed juices (S$8.80), organic, dairy-free mylks (S$7.80) and organic Tapped Birch Water (S$6.80), a delicately aromatic, mineral-rich birch sap tapped directly from Finnish birch trees.
According to co-founder Helene Raudaschl, the benefits of the flexitarian diet were the catalyst to the founding of Quick Greens.
"My son, who is a graduate of the elite IMG Academy for student-athletes, experienced increased energy levels, greater focus and less fatigue from adopting a flexitarian diet," she said. "Given his amazingly positive experience, I decided to do a deep-dive into a more plant-based diet and experienced many of the same benefits. After that, I was inspired to make this lifestyle choice more accessible for everyone in Singapore by offering tasty, high quality plant-based meals."
Quick Greens, #02-04, Funan Mall, 107 North Bridge Road, Singapore 179105