Kitchen Stories: Love, death and croissants: Le Matin's pastry chef whose sweet tooth conquered all
Le Matin has grown from the online bakery that started the pastry box delivery trend to a full-fledged cafe in the Central Business District, with new plans for a dessert tasting menu in the works. But although chef-owner Mohamed Al-Matin makes it look as easy as pain au chocolat, the journey to get here has been anything but.
I remember attempting to procure a Le Matin pastry box during the "circuit breaker". I set my alarm for the online release, jumped onto the website as soon as it rang, added a box to my cart, hurriedly keyed in my payment details and rushed to click "purchase".
But still, I was too slow. The boxes, filled with delectable-looking pastries like smoked cruffins, lacto-plum galettes, kouign amanns and caneles had sold out in less than two minutes.
That was my harsh introduction to the world of sought-after insta-bakes: Basically, if you didn't strategise like a Kardashian at a sample sale, or have fingers more dexterous than a Haidilao noodle man, you could only watch in envy as your friends posted Instastories of the elusive treats they'd managed to score.
Behind Le Matin – the name is French for "morning" – is Mohamed Al-Matin, the 33-year-old son of an Indian father and a Chinese mother who has always been motivated by one thing only: A deep and passionate love of sweets.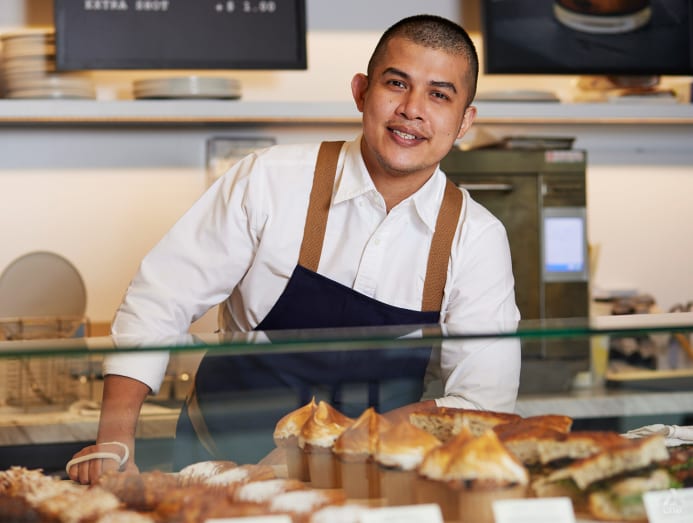 Growing up on a diet of Mrs Field's brownies and Famous Amos cookies, his dream was always to have his own pastry shop. And, after graduating from Le Cordon Bleu in Sydney and working in a host of Michelin-starred restaurants around the world including top-ranking Noma in Copenhagen, he put the wheels into motion two years ago and launched Le Matin with a bang, working mainly out of his friends' cafe and restaurant kitchens.
"Some people say I started the pastry box trend. But all I wanted to do was give people variety," Matin recalled.
Le Matin may have started out as the most difficult-to-attain viennoiseries in Singapore – not least because everything was handmade in small batches and there was no physical shop so you couldn't go there and refuse to leave unless they gave you a croissant – but now, pastry-loving keyboard sloths can easily enjoy the fresh bakes with a nice cup of coffee, right in the heart of town.
The new Le Matin Patisserie cafe opened about a month ago on Robinson Road, taking over the space formerly occupied by Mellower Coffee. And there's also a currently-ongoing pop-up cafe at the Porcelain Origins spa at Paragon Shopping Centre.
In terms of public accessibility, it's a step up from the budget-chic space that was in Raeburn Park, which now serves as a production kitchen.
And Le Matin has managed to get here with "no big investor" and "no sugar daddy", Matin quipped.
BLOOD, SWEAT, TEARS
The young chef recalls that the business started out with a bunch of second-hand equipment and a dough sheeter, purchased with some money borrowed from his close friends whom he'd met in the army. "We basically worked crazy hours and rode on our luck during the circuit breaker to get the business going," he shared, adding that there were times he only slept one or two hours a week.
It's hard to imagine how the business would have played out if not for the COVID-19 pandemic and the resulting demand for food deliveries. "I would say it really helped because of what I wanted to do – the deliveries and the boxes," he said. At the same time, although "I was lucky in a sense", "I trusted myself. I knew I could get the product out there".
What gave him that confidence? The fact that, with his goal in mind, he'd done everything he could to learn from and train with the best chefs in the world.
"It was all the blood, sweat and tears I put in in the last 12 years," he said. "I knew from the start that I didn't want a restaurant – I wanted my own pastry shop selling cakes. So, I set out to build my portfolio. I always needed to work at the best places. When I was studying in Australia, I'd send out my CVs to the best places and hope they'd accept me." He added, wryly: "It's totally different these days! These days, they come to you and demand a salary."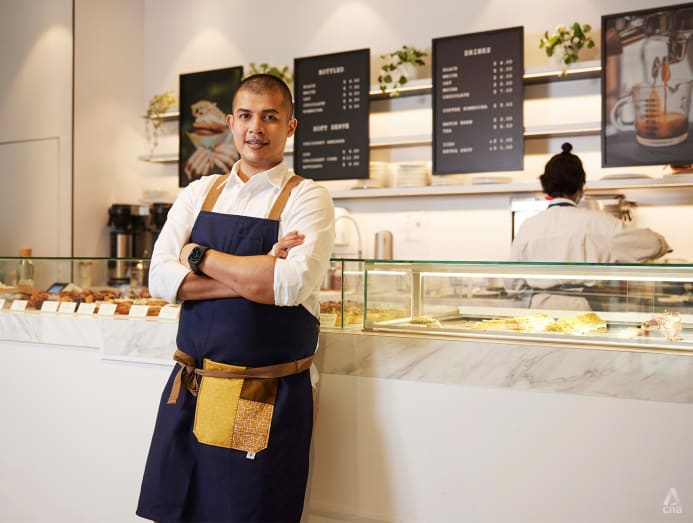 By a stroke of luck, he was called back by Adriano Zumbo Patisserie, by the celebrity chef of the same name; and Black Star Pastry, where the "world's most instagrammed" strawberry watermelon cake originated. "I didn't know which to choose, so, I chose both," he chuckled. "I worked four days at one place and three days at another place, while going to school, for free."
After three months, he was put on payroll. And then Black Star Pastry founder Christopher The got him a job at Sydney's celebrated Quay, kicking off Matin's foray into fine dining restaurants.
"I had the best of both worlds – fine dining experience and patisserie experience," he said. "I knew restaurants would train my discipline and organisation skills. It's a whole different ballgame there."
But, at the end of a one-month stage at New York City's famed Le Bernardin, one week from coming home to Singapore, he was in a near-fatal hit-and-run accident while riding his bicycle, landing him in a coma for one month and bedridden for four months.
During that time, there were "Singaporean doctors doing a course in New York. They heard of me, supported me and kept coming to check on me. One was a hand surgeon. Once I could walk, he rushed me back to get surgery on my hand. Two nerves were damaged."
To this day, his grip is less firm; he can't make tiny, intricate cuts with a knife; and writing is a struggle. "If I travel and I have to fill in an immigration form – that one damn shag," he quipped.
His body still bears numerous scars, and his family does, too. "My mum fears for me all the time that I'm outside. Sometimes she stays up late at night waiting for me to come home," he said.
But, not bouncing back from the debilitating accident was never an option. "Playing soccer in Anglo-Chinese Junior College, as well as my time in the army, taught me, 'Get shit done. Don't give up'," he said.
Before the accident, he'd arranged to work at Restaurant Andre once he returned. "All the time I was in hospital, (chef Andre Chiang) was constantly emailing me, saying, 'How are you doing?' He didn't need to do that. I wasn't anybody to him, you know…. I finally found the guts to tell him, 'My hand is like this – I don't think I can work for you anymore.'  He said, 'Don't worry. Come back to the kitchen. We've still got jobs for you."
Eventually, with the support of his chefs and using his diminished ability as motivation, Matin made it back to being at the top of his game.
"It just made me want to at least be on par with my peers. I can't chop as fast as you can, but maybe I pipe macarons faster than you. Working in restaurants teaches you this competitiveness, because working in places with a reputation means that most of the chefs have some sort of standard. And this friendly competition, which makes you want to be better than the person next to you, helps," he said.
"THE SWEET TOOTH OVERRIDES EVERYTHING"
If Matin were a pastry, he'd be pain au chocolat. Firstly, it's one of his favourites – he makes a version so amped up on chocolate that everyone who's ever eaten one in which the batons of chocolate didn't fill the whole pastry from end to end would sigh in collective relief.
Secondly, "It's a pastry – everybody likes pastries – and then you get that surprise inside, that piece of chocolate. It's this element of surprise. I like to surprise people. I like to create new things. Sometimes, it's a struggle – everybody's copying one another. But one thing I took away from Andre is that when you create something, it has to be different. Don't do something that has been done before. So, a lot of times, when I'm planning my menu, I take so long to create something. It is a lot of effort. Sometimes it hurts me. Whether it works or doesn't work, it's just a process.
"Every other bakery has a pain au chocolat, but how do you make it special? I started this business saying, 'I'm not going to do common stuff. I want to use my experience to bring people stuff they cannot easily access. So, it needs to be different."
One point of difference is that he generally steers clear of local flavours. "I told myself, no salted egg yolk, no durian, no gula melaka. It's been done too much already."
He makes savoury items, like a seafood pot pie, a fermented mushroom quiche and a wagyu and bone marrow sausage roll, because "it makes sense for the business and also I like these items."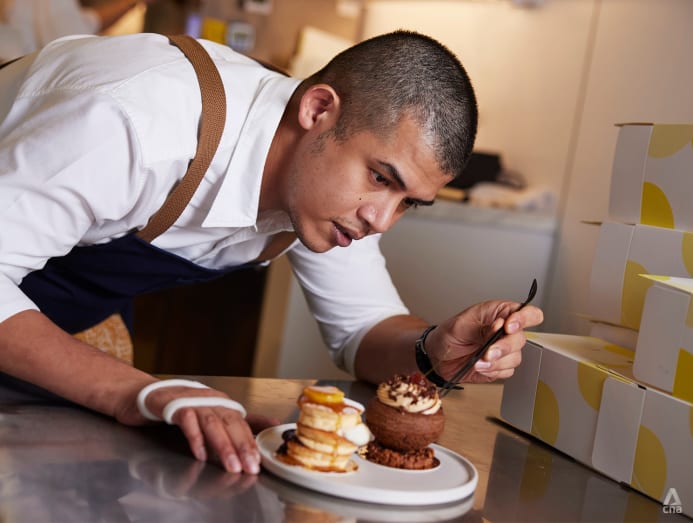 But sweets are irrevocably his first love. "The sweet tooth overrides everything," he said. "I could go to Japan and have sweets for breakfast, lunch, dinner and supper. And if I go to a fine dining restaurant that allows me to do it, I order all the desserts, just to see how they do it and to have a taste of everything."
Choosing to be a pastry chef also had a lot to do with his personality. "Pastry is just calmer," he said. "I didn't like the gory part of savoury – cleaning up fish, chicken livers. Also, it's a cool kitchen – you're always in air conditioning, there's not much sweating." He added, "There's always this banter between the hot side and the cold side: 'Hey, don't touch the pastry chef's stuff.' Because pastry chefs are very obsessive-compulsive: Always organising; always must have a certain spoon for scooping ice cream."
One thing he's sure of: "If I hadn't gone to the army, I wouldn't have survived being a chef. Especially pastry – all the early morning 2am or 4am starts; sleeping very little. Sometimes, when you go in, it's dark, and when you come out, it's dark."
But, "I just want to make the best product. I just want it to be delicious."
There's something exciting in the works at the Le Matin cafe: Matin plans to launch a dessert tasting menu next month. It will start small: "Maybe two or four nights a month, just exclusive invite only, and just to give everybody a taste of what's going to happen in the future. There'll be three small savouries just to get the palate going, then five or six courses of desserts with alcoholic and non-alcoholic pairings, and then petit fours to finish. I don't think anybody is doing that in Singapore right now."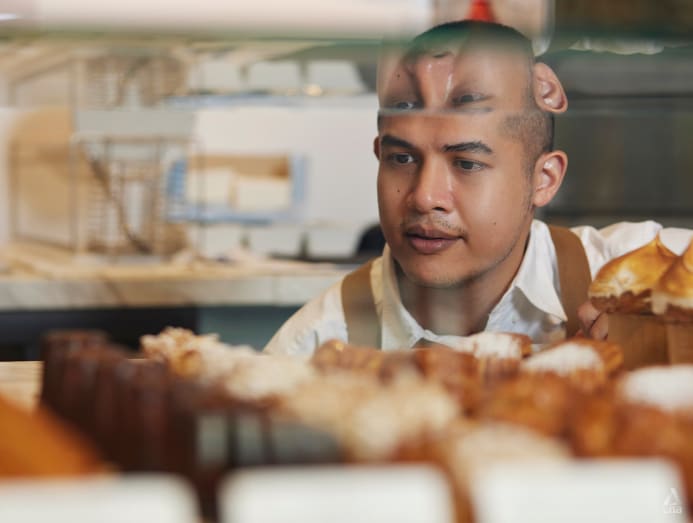 It's a step towards his dream of having a three-storey shophouse catering to a residential crowd, with a shop on the first floor, a dessert tasting bar on the second and a kitchen on the third.
Talking with other pastry chefs such as the owners of Kki Sweets, the common goal is to elevate the pastry scene in Singapore, he shared.
"People are paying S$15 for a bowl of bingsu, but they see a S$12 slice of cake, and they're like, 'Wah, so expensive.' That's the culture we have now. So, we're trying to bring up the pastry culture in Singapore.
"Hence, I'll be starting to increase my cake selection a little bit in the coming months, as well as doing snippets of my dessert concept."
Happily, for those of us who love sweets, in the hands of an accomplished pastry chef, a pain au chocolat is never just a pain au chocolat.
How hard is it to bake like Chef Mohamed Al-Matin? Check out this episode of MasterChef Singapore Season 3, where contestants were asked to replicate one of his chocolate tower desserts. The show airs every Sunday at 9.30pm, on meWATCH and Channel 5.